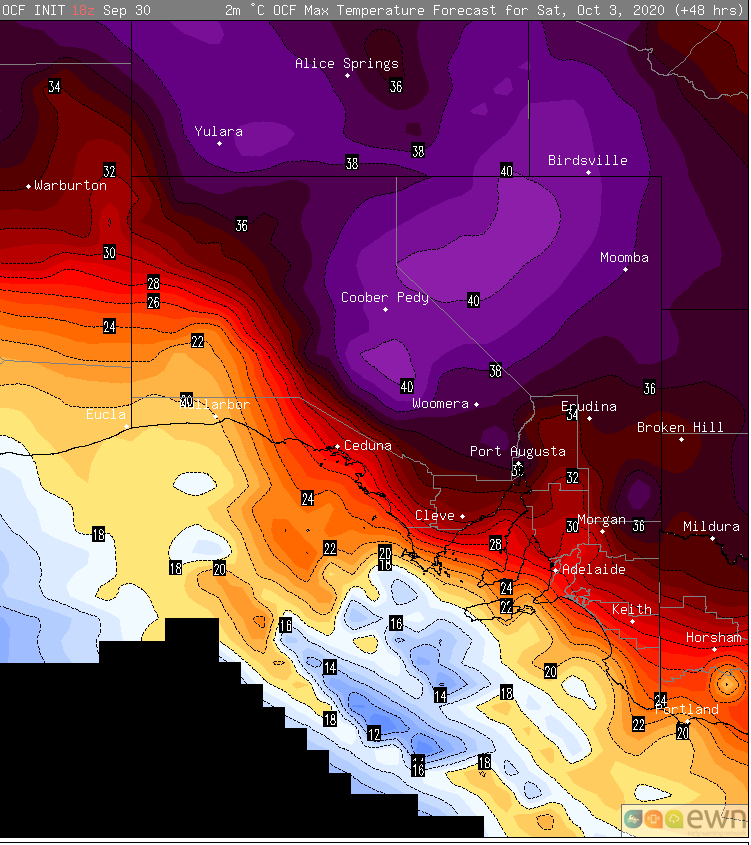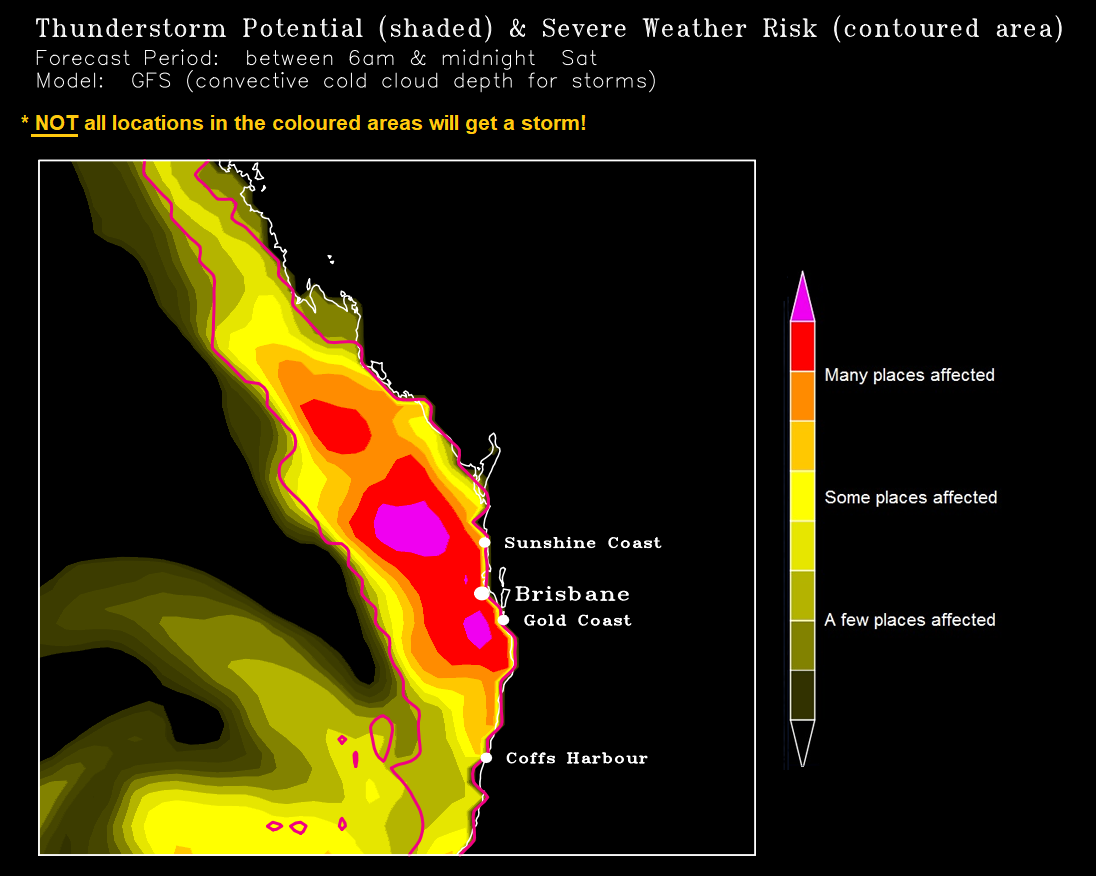 Image 1: Automatically generated thunderstorm map. Image via Ken Kato
Severe storms for eastern Queensland
Friday 30th October 2020
Severe thunderstorms will return to eastern Queensland during Saturday afternoon with damaging to locally destructive winds, large to giant hail and heavy rain.
Any isolated storms will be moving at blistering speeds from the northwest (storm-steering winds aloft exceed an impressive 110km/hr from the northwest on Saturday in some areas although the storms themselves won't move at this exact same speed).
Activity will sweep SEQ (although for the Downs, only some far eastern sections are in with a chance) on Saturday ahead of an approaching trough and front, with the main peak in the afternoon/early evening.
Most factors are very favourable ? very strong shear albeit a bit linear (up to 50 knots or more between the surface and middle atmosphere) and strong instability, aided further by cold air aloft moving across.
For those locations (not all) which get a severe storm, damaging winds will likely be the main threat, along with short bursts of locally intense rainfall and large hail are also possible but widespread high rainfall accumulations will be a bit difficult given the speed of the activity and a bit less moisture in the lower atmosphere (there may well be some more localised good accumulations though, likewise giant hail risk will probably be more localised than the wind hazard.
But how severe the cells get and how many there'll be, will depend on these factors: Whether many of the storms will remain as individual cells and therefore have a higher potential to cause giant hail and destructive winds (but they'd still be localised) due to less interference from other nearby storms, or whether they'll merge into a big rainy mess or a big band (in which case, there'd probably still be some severe cells embedded in it with damaging winds/hail/heavy rain, but the main threat would shift more towards locally heavy rainfall and straightline strong winds). If I had to bet money on it, I'd say the 1st scenario will probably occur during the early stages before starting to transition to the 2nd scenario later in the afternoon in some sections closer to the coast.
Whether any early development of cloud, showers, storms or patchy rain areas in the morning will remain localised enough for long enough so the atmosphere won't stabilise too much. Morning cloud cover and precipitation is always a risk whenever we have a strong upper level trough approaching but in tomorrow's case, the models I've seen don't have a huge amount of prolonged cloud and only a few have some brief localised precipitation in southwestern parts.
Whether there's enough of a moister north-northeasterly afternoon seabreeze onto the coast to add extra moisture. This can also cause a bit of a seabreeze front near the coast which in turn causes winds to change direction a bit more with height in the lower atmosphere ? this extra directional shear can then increase the chance of a few of the storms approaching the coast to start taking on supercell characteristics (tomorrow's shear away from the coast is fairly linear).
Whether or not the steering winds aloft as well as the shear will be too strong. Very strong steering winds can sometimes mean that storms don't have much time while still over land to reach their full potential after interacting with the seabreeze front before they race out to sea. Likewise, excessively strong shear can lean storms over so much that it starts disrupting the ideal structure they need for supercell development. Despite this though, the volatility of Saturday's setup means that severe storms and localised supercell development can't be ruled out.
Although there's no southerly wind change due on Saturday to lend a helping hand, this aspect shouldn't be much of a problem since there'll still be more than enough instability and shear to support strong storm potential.
---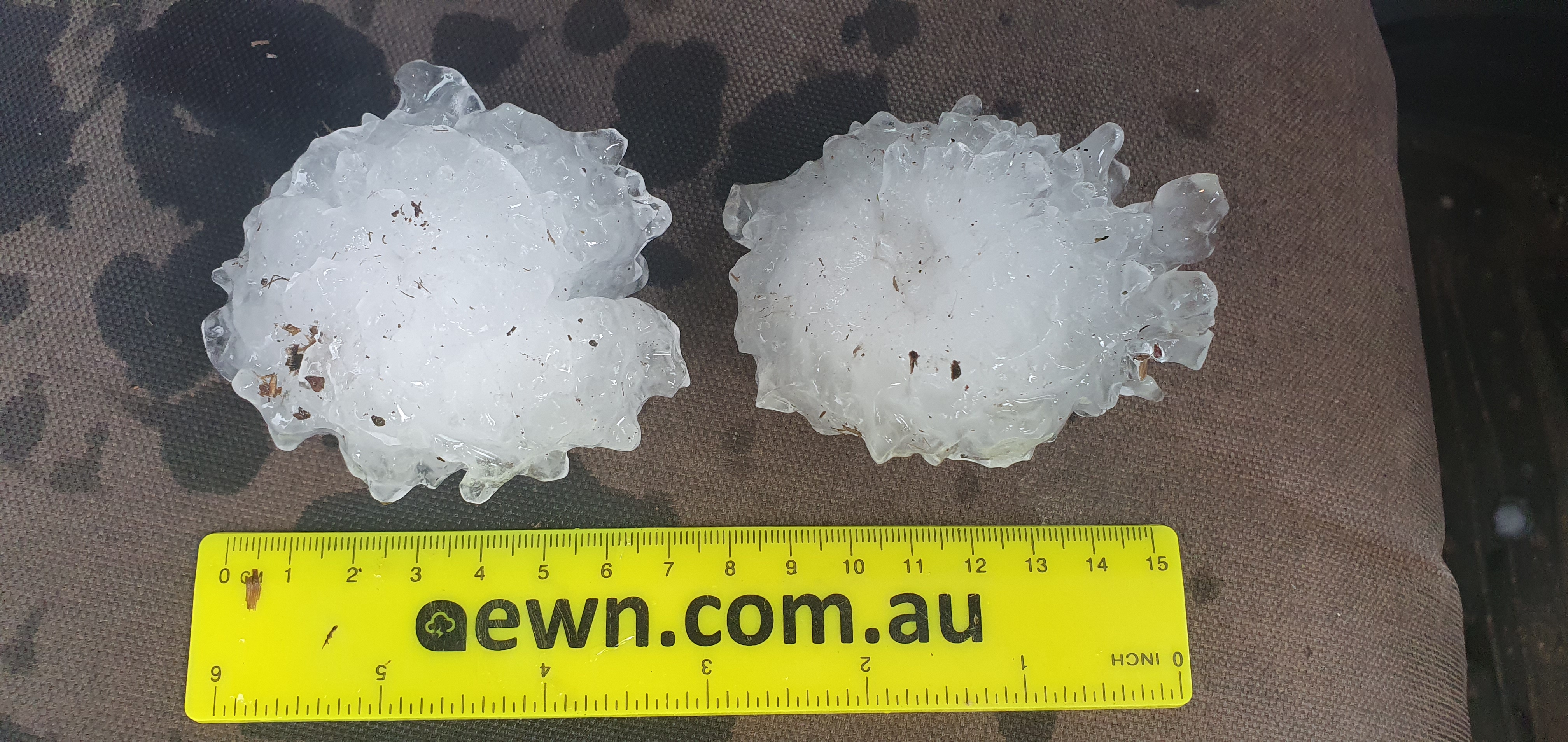 Image 1: 6-8cm hail recorded just west of Cabarita Beach, northern NSW. Taken by EWN's Justin Noonan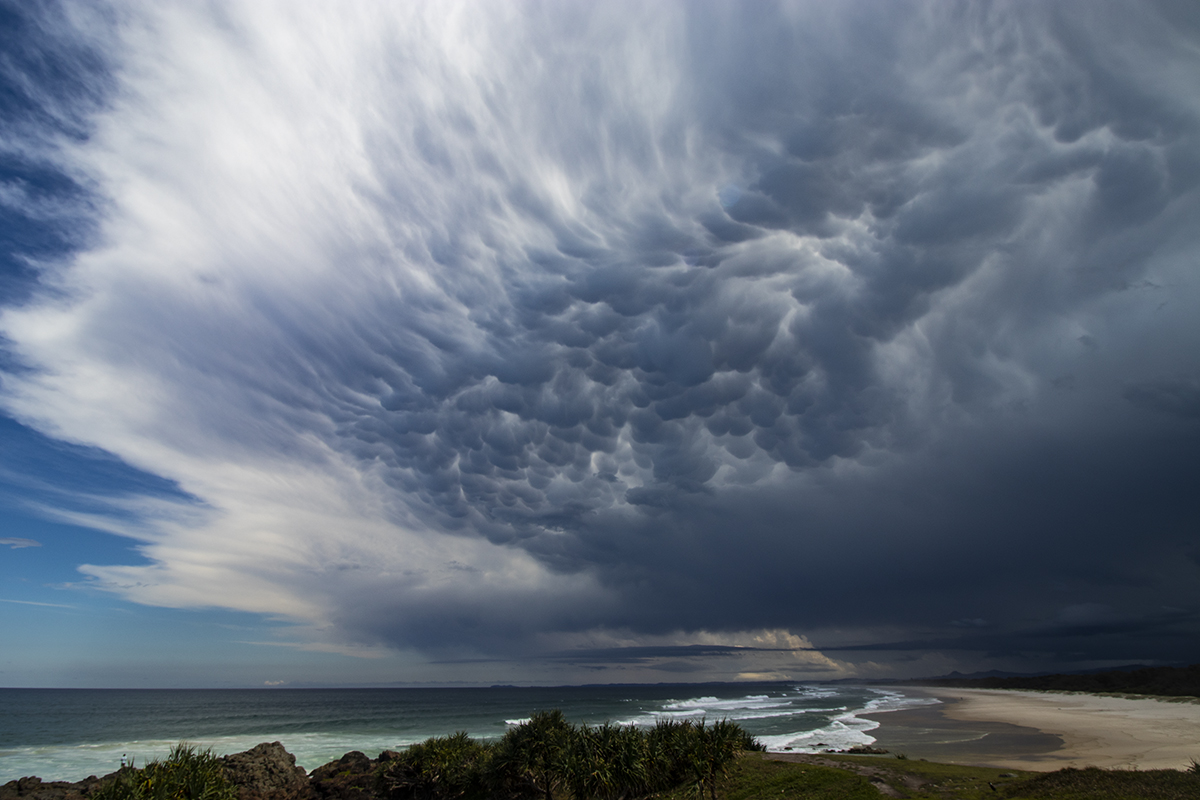 Image 2: Mammatus under the anvil of the approaching supercell. Image from EWN's Ben McBurney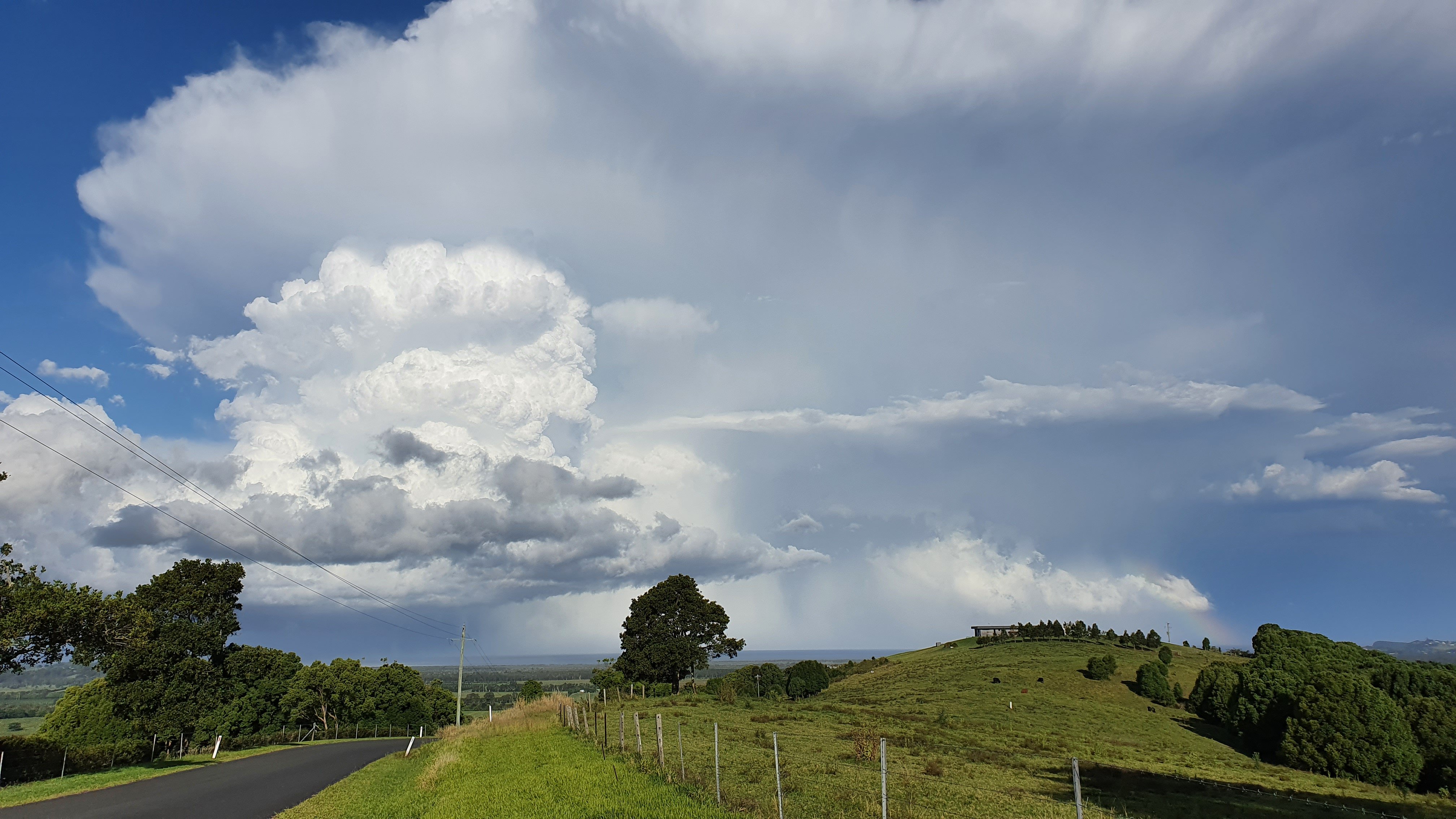 Image 3: Nuclear updraft as the supercell moves off the NSW coast. Image taken by EWN's Michael Bath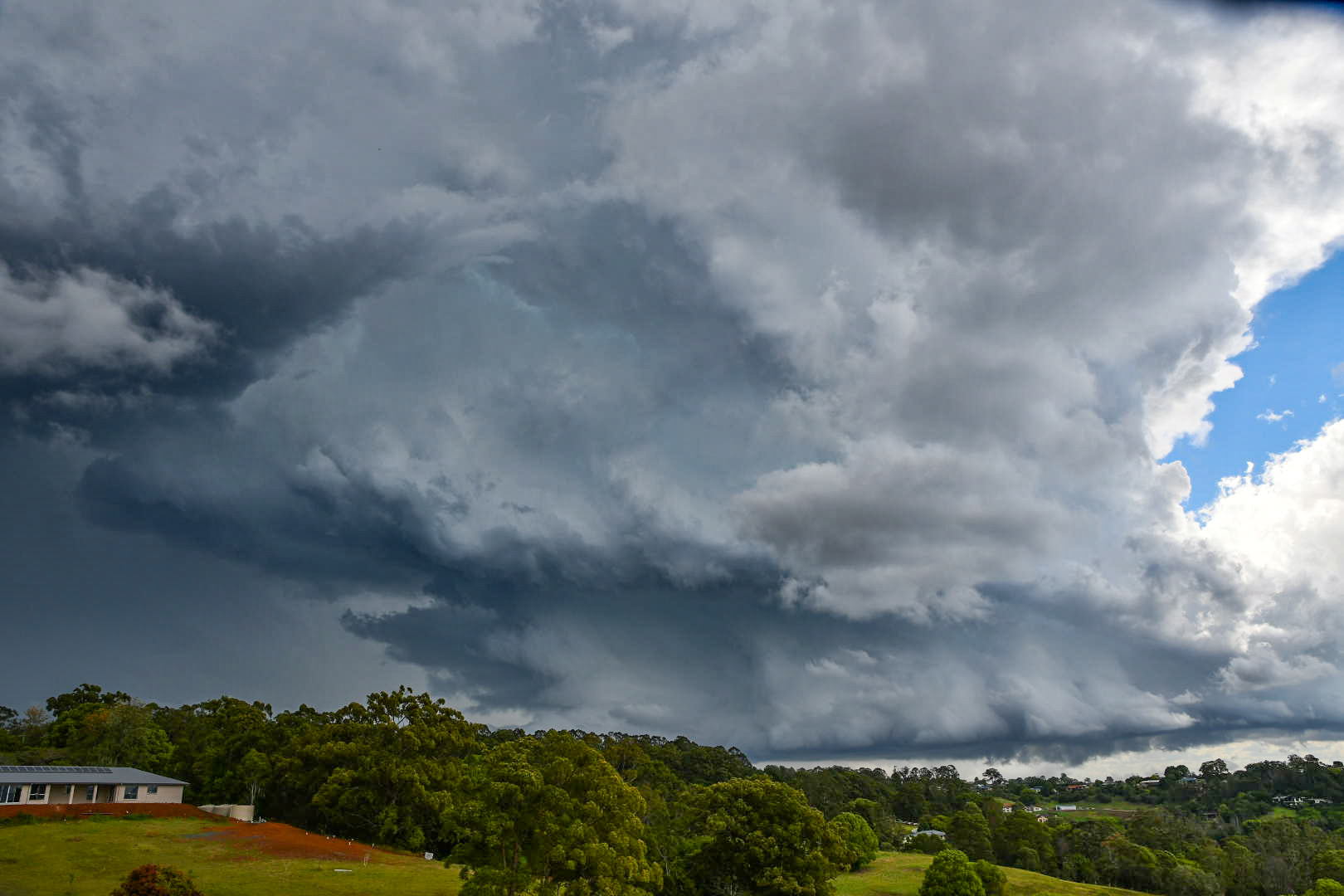 Image 4: Impressive supercell structure near Lismore yesterday afternoon. Image via EWN'S James Harris
Monster hail pummels northern NSW
Friday 30th October 2020
Explosive thunderstorm activity developed across the Mid North Coast and Northern Rivers of NSW on Thursday afternoon, as a very cold pool of air associated with an upper trough moved directly over the region.
Isolated supercell thunderstorms develop during the mid to late afternoon, producing large to giant hail from Grafton, north to Casuarina in the Tweed region.
Hail to 9cm and above was reported at The Whiteman and Seelands just northwest of Grafton, with 6-8cm hail (cricket ball sized) reported south of Lismore, Cabarita and Casuarina. Cars were badly beaten, with windscreens shattered and trees shredded as the monster stones tore through the region.
Activity moved off the coast into the early evening, producing a spectacular light show after sunset.
Whilst clear and calm conditions returned to northern NSW today, Saturday continues to shape up as a potentially significant storm day once again, with large to giant hail, damaging to destructive winds and heavy rainfall all possible.
From Sunday onwards, storm activity will clear the region, with southeasterly winds developing Monday with more settled conditions into next week.
---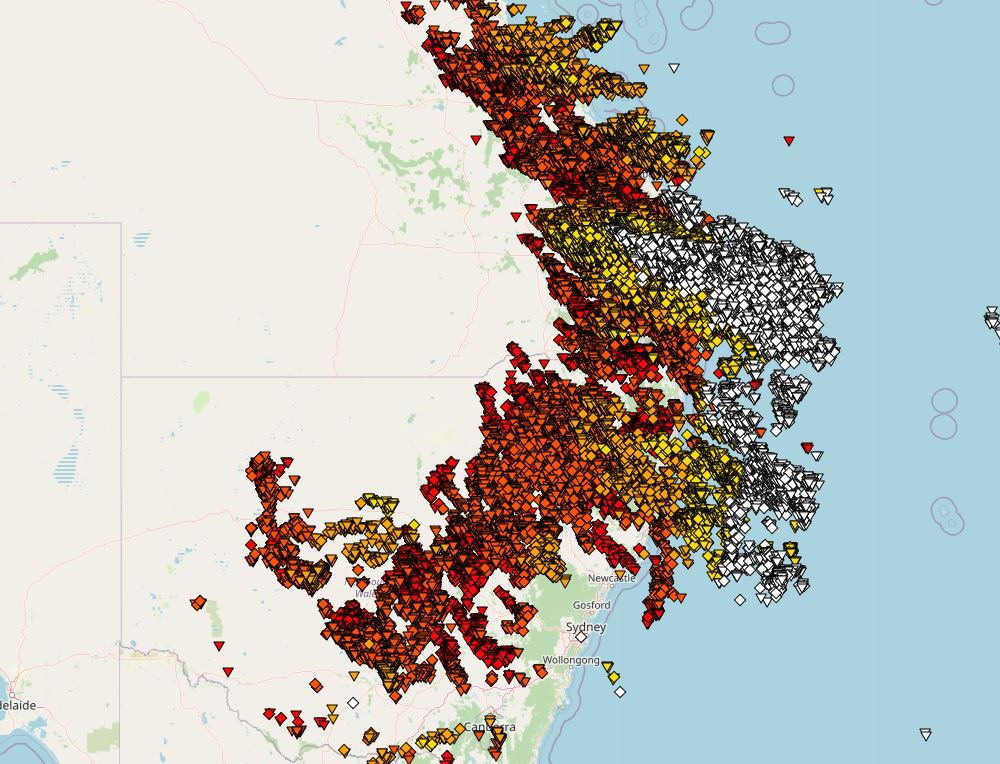 Image 1: EWN Lightning Tracker from Wednesday afternoon. 28/10/2020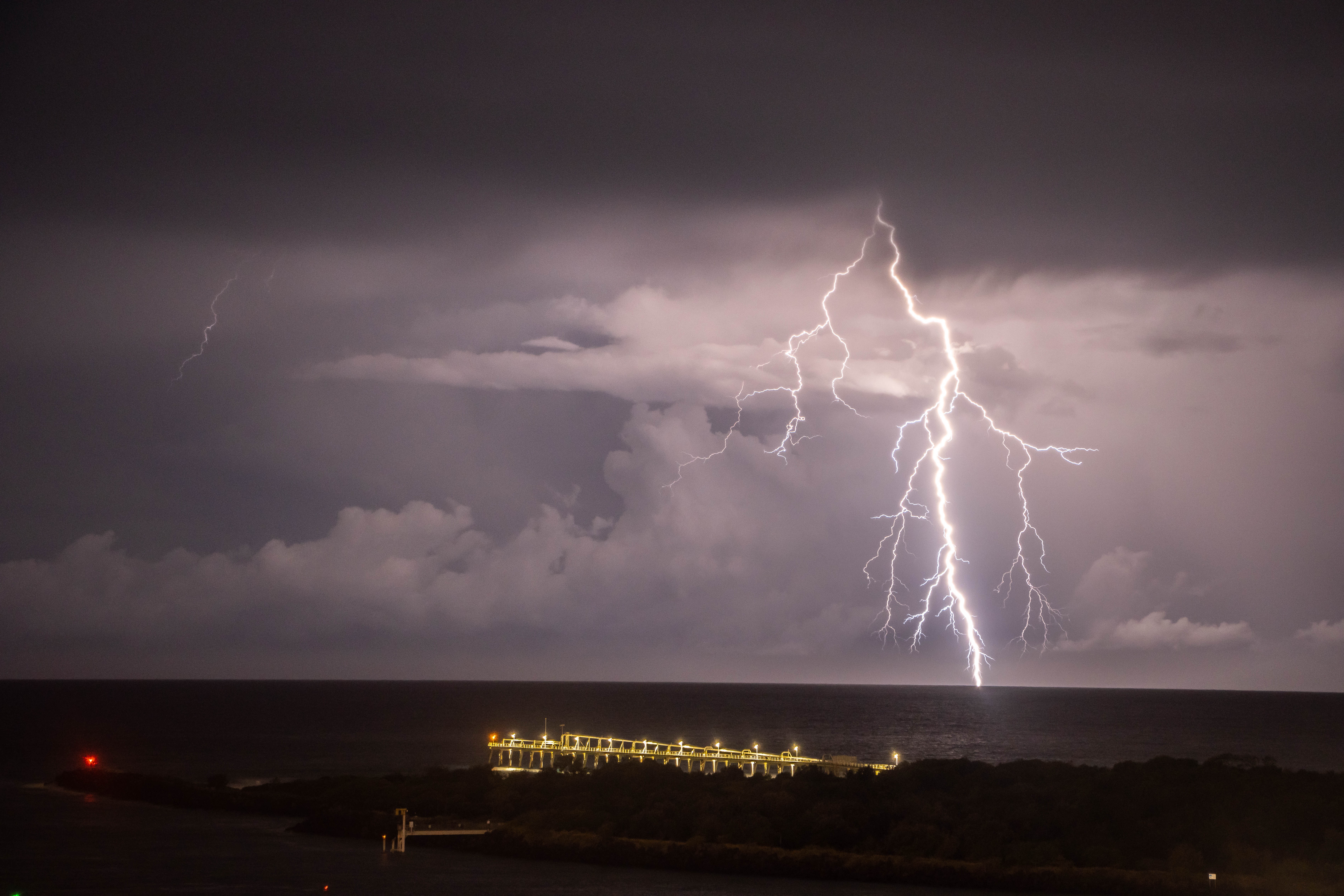 Image 2: Cloud to ground lightning shot off Tweed Heads. Taken by EWN's Justin Noonan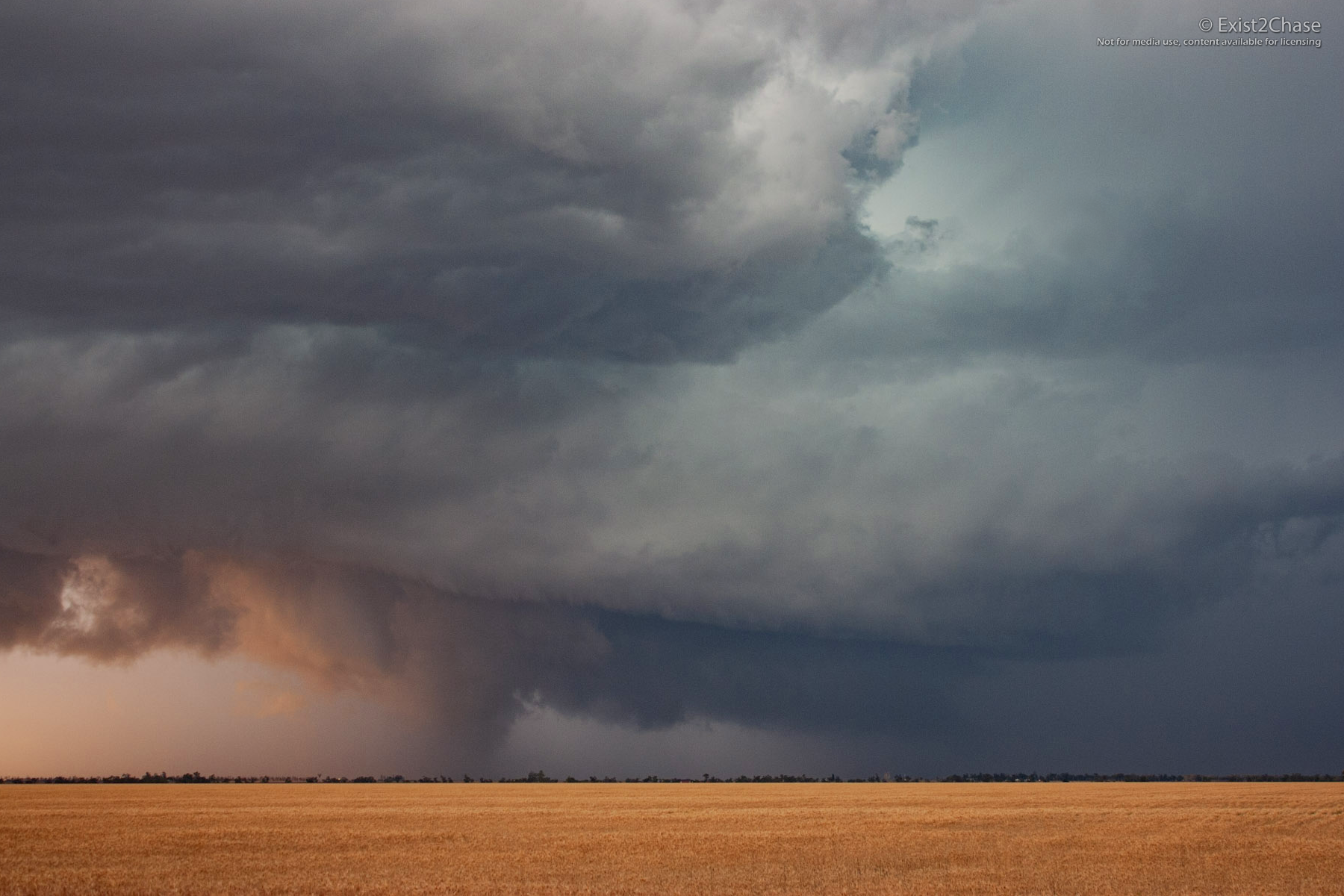 Image 3: A supercell spins across the Darling Downs Wednesday afternoon. Image taken by EWN's Andy Barber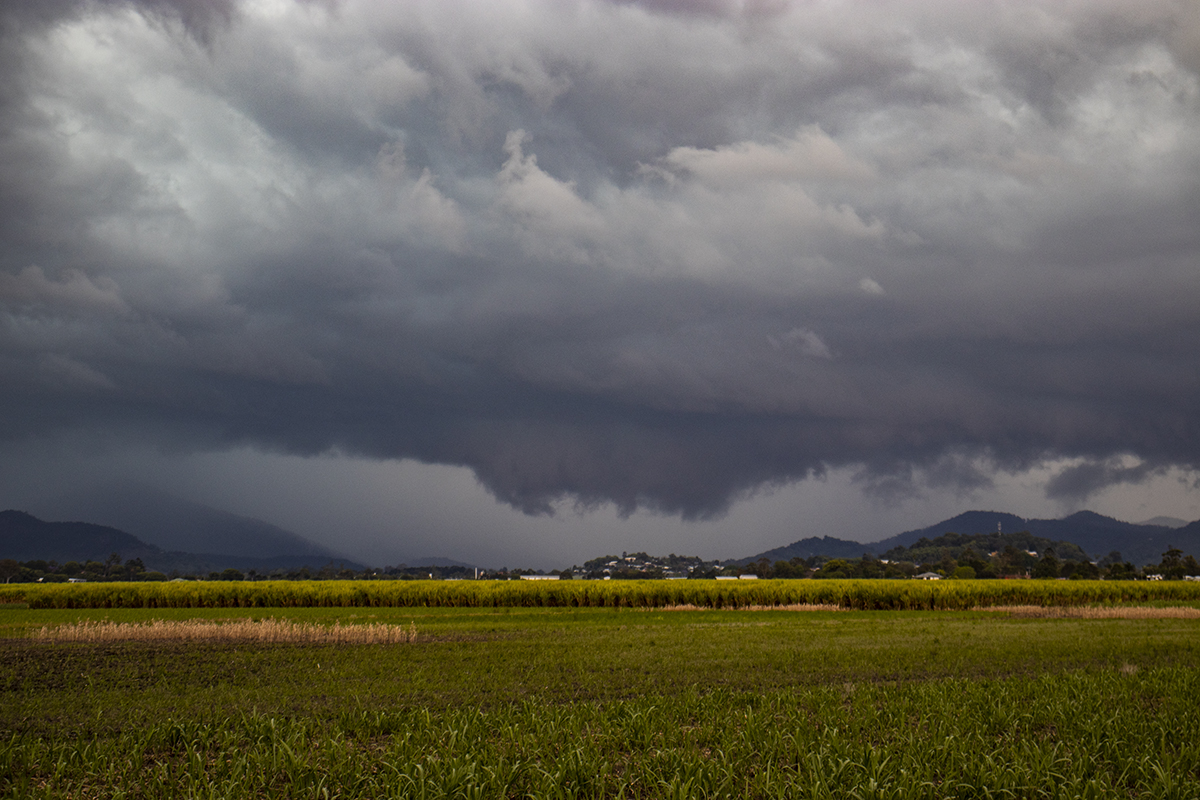 Image 4: A strong thunderstorm takes shape across northern NSW. Image taken by EWN's Ben McBurney
Severe storms unleash on eastern Australia
Thursday 29th October 2020
An extremely active period for thunderstorms continued across eastern Queensland and NSW during Wednesday afternoon and evening, with numerous severe thunderstorms producing large to giant hail, heavy rain and damaging winds.
A series of upper trough have traversed across eastern Australia over the last ten days, interacting with a moist tropical airmass to produce widespread thunderstorm activity.
Late Wednesday afternoon, thunderstorms fired up across eastern Queensland and northern NSW, with a few supercells developing in favourable conditions. Hail up to 7cm was recorded across parts of the Wide Bay and Burnett and Darling Downs in Queensland, with golf ball hail reported at Dubbo and Narrabri in NSW.
Locally heavy falls developed with thunderstorms during the afternoon and evening with many locations registering falls over 50mm across eastern Queensland. Parts of the Sunshine Coast scored the best totals with Zachariah registering 85mm, Pomona 76mm, Cooran 63mm and Mt Joseph 68mm. Brisbane picked up a handy 23.8mm with Hays Landing (Wivenhoe Dam region) registering 54mm. Brisbane has recorded 182.6mm for October, with 167.6mm falling since the 25th which is more than two times the October average (77.8mm) and the highest October rainfall since the La Niña event of 2010 (306.4mm).
Central and northern NSW also reported solid falls, with widespread totals of 25-49mm with isolated falls exceeding 50mm. Aldavilla D/S (Macleay River) scored a very impressive 90mm, Bellingen 62mm, Tuncester 50mm, Gleniffer 66mm and Ulan 50mm.
Thunderstorms didn't just provide hail and rain with the eastern seaboard being treated to an incredible light show, with over 250,000 lightning strikes recorded across NSW and Queensland on Wednesday.
This afternoon, the threat for storms will continue across eastern Queensland and NSW, albeit remaining very isolated for QLD. A severe thunderstorm warning is current for the Mid North Coast and Northern Tablelands of NSW for large hail.
---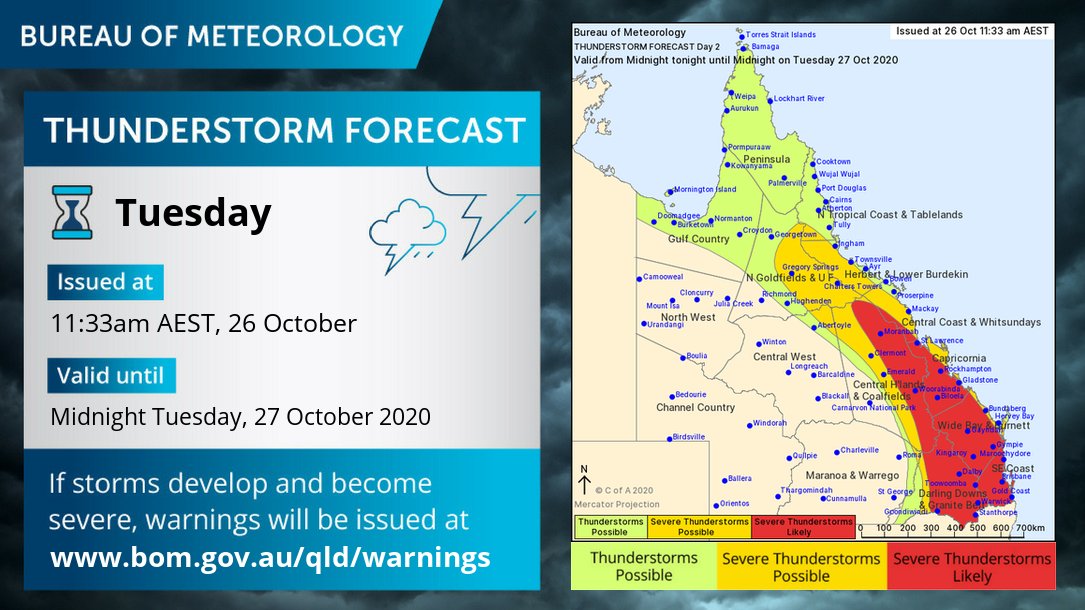 Image 1: Bureau of Meteorology thunderstorm map. Tuesday 26/10/2020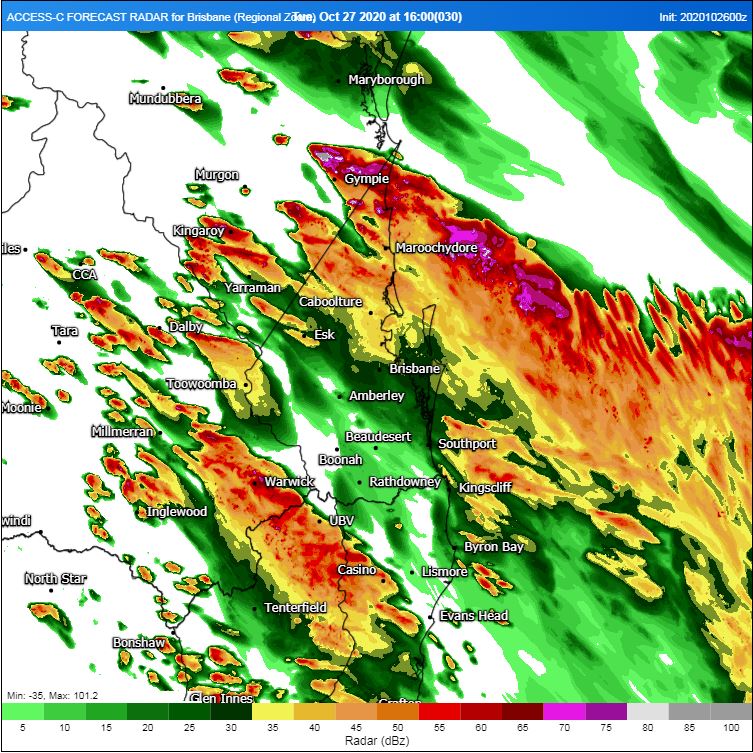 Image 2: High resolution ACCESS C model (forecast radar) showing the general overview of intense thunderstorms. Image via WeatherWatch Metcentre
Savage spring storms tear through South East Queensland with more to come
Monday 26th October 2020
After a dry start to spring, rain and severe thunderstorm activity ramped up across South East Queensland over the weekend with heavy rain, damaging to locally destructive winds and large hail.
On Saturday, heavy falls were recorded across the Brisbane region temporarily putting fears in AFL bosses about having to reschedule the Grand Final played the Gabba, with Camp Hill registering 68mm in an hour.
Whilst conditions cleared overnight Saturday, further shower and storm activity returned on Sunday, with a couple of intense supercells developing. Storms developed to the northwest of Brisbane, before tracking in a southeasterly direction, with Karalee, Chuwar and Mount Crosby hit hardest, brining down trees and powerlines.
As this storm tracked further east, it re-intensified across southern and eastern Brisbane dropping 4-5cm hail stones at Oxley, Victoria Point and Mount Cotton. Brisbane Airport registered a wind gust to 93km/h with 190,000 lightning strikes recorded during the height of yesterday's storms.
Whilst a few isolated storms are possible across parts of the Sunshine Coast and northern NSW this afternoon, calmer conditions are expected for Brisbane.
Scattered, tending widespread storm activity will return to SE QLD and the Darling Downs during Tuesday and Wednesday afternoon, as a strong shortwave trough interacts with a southeasterly change and surface trough to generate a moderately to strongly unstable environment. Instability coupled with a good lifting mechanism and with favourable wind shear will promote a few supercell structures across the region, with damaging to locally destructive winds, large to giant hail and heavy rainfall that may lead to flash flooding, particularly for regions north and west of Brisbane.
---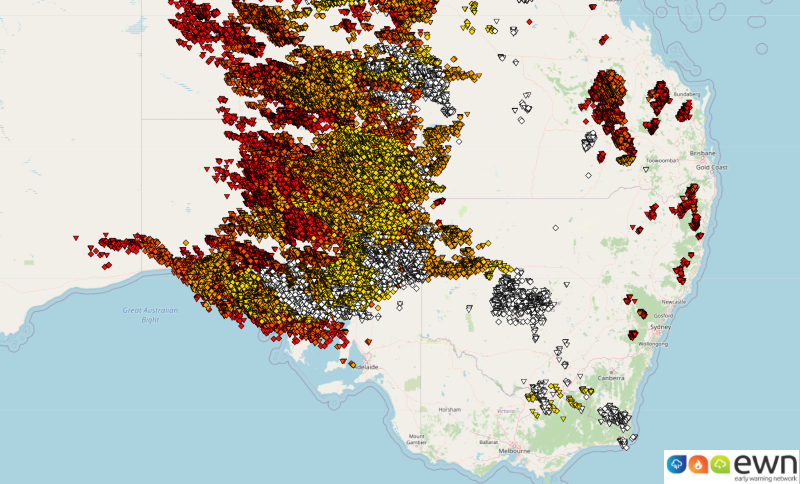 Image 1: Cloud to ground lightning strikes across the last 24 hours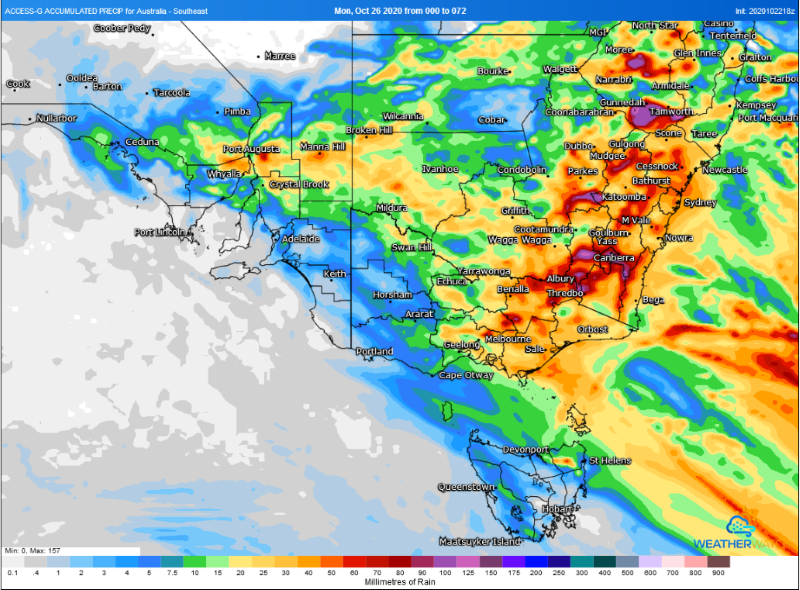 Image 2: Forecast accumulated rainfall across the next 72 hours (Source: Weatherwatch Metcentre)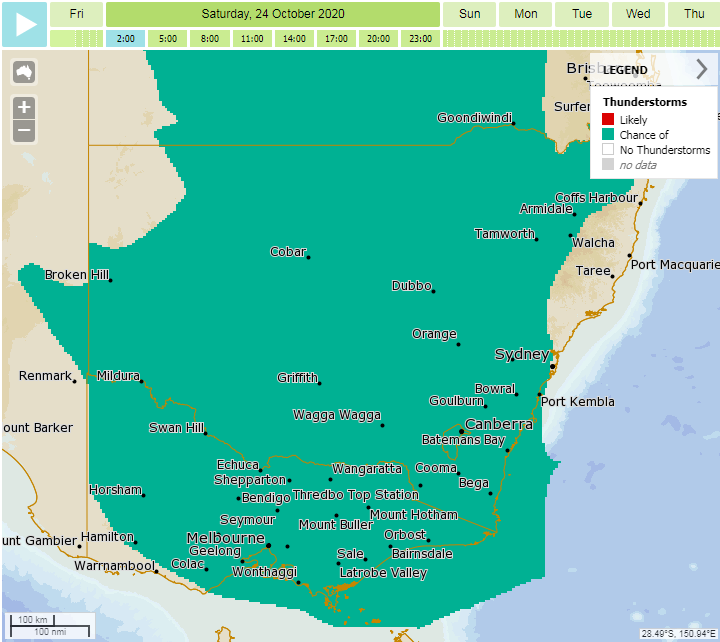 Image 3: Meteye thunderstorm possiblity map (Source: Bureau of Meteorology)
Heavy rain and severe thunderstorms spreading across southeast Australia
Friday 23rd October 2020
A dynamic weather pattern is unfolding across the southeast of Australia as a complex low pressure system and trough spread across the region, generating widespread rain and potential for severe thunderstorms over the next few days.
With a La Nina event underway, the system is being fed by humid onshore winds due to stronger than normal trade winds, pumping the system full of moisture which is also being amplified by cooling upper level temperatures.
Near the low pressure system, severe thunderstorms lashed South Australia last night with wind gusts reaching 124km/h at Woomera and 108km/h at Marree, with thunderstorms continuing across the state today. These thunderstorms bring the risk of heavy rainfall leading to flash flooding, large hail and damaging wind gusts above 90km/h, with localised gusts above 125km/h possible. Heavy rainfall is also possible, with a flood watch current for Northern Agricultural areas and southern parts of the Pastoral districts, with potential for falls of 20-60mm and isolated totals above 100mm. This activity will clear the state early tomorrow morning.
Thunderstorms are also affecting New South Wales today, with many locations west of the Great Diving Range and in the state's south (including the coast) likely to see storms. Severe thunderstorms are also possible today, mainly in the state's west and south where wind shear is stronger. Thunderstorms and rain will continue across most of the state on Saturday, with heavy rain and damaging winds the main threat in storms (with one or two storms possibly bringing the threat of large hail). This activity will contract to the east of the state on Sunday. Widespread totals of 10-30mm are likely, with heavier falls of 30-70mm on the Great Dividing Range, with falls in excess of 70mm possible over the state's southern slopes and ranges.
In Victoria, thunderstorms will be most widespread across the north and east, although more isolated activity may also affect southern parts including Melbourne. Whilst not being affected as much by thunderstorms (compared to SA and NSW), rain will be widespread across the state, with the lightest falls over western areas and the heaviest in the northeast. This rain will spread across the state today and peak overnight and into Saturday morning as it moves into the east of the state. Widespread falls of 10-35mm are likely, with falls in excess of 70-80mm likely over the northeast of the state. A flood watch for minor flooding is current for northeast VIC, Central VIC and Gippsland.
Much cooler conditions are likely in the system's wake, with Melbourne only expected to reach 14 degrees on Sunday, and Sydney 19 degrees. Cooler conditions will persist into early next week before gradually warming.
---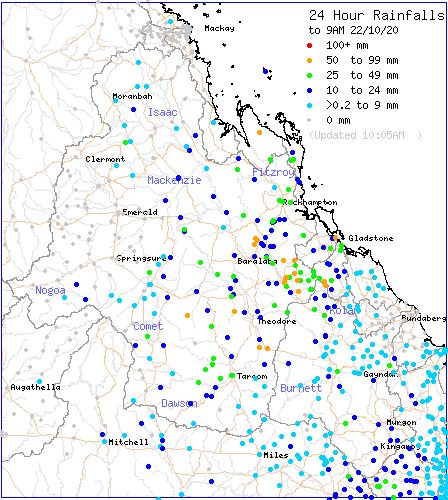 Image 1: BoM rainfall totals to 9am 22/10/2020
Severe storms provide excellent rainfall for central Queensland
Thursday 22nd October 2020
Wednesday afternoon saw multiple severe thunderstorms develop across central Queensland, bringing the threat of large hail, damaging wind and heavy rainfall.
Numerous locations recorded falls in excess of 50mm to 9am this morning. Linkes Causeway topped the rainfall charts with a massive 82mm, Krismark Downs scored 78mm, Pheasant Creek 71mm. Mt Kroombit 63mm, Gladstone 57mm and Rockhampton 49.8mm
Thunderstorm activity will redevelop throughout Thursday for central and southern Queensland, as a large multi-day storm outbreak intensifies. A few of these storms will become severe with damaging winds, heavy rainfall leading to flash flooding and large hail.
---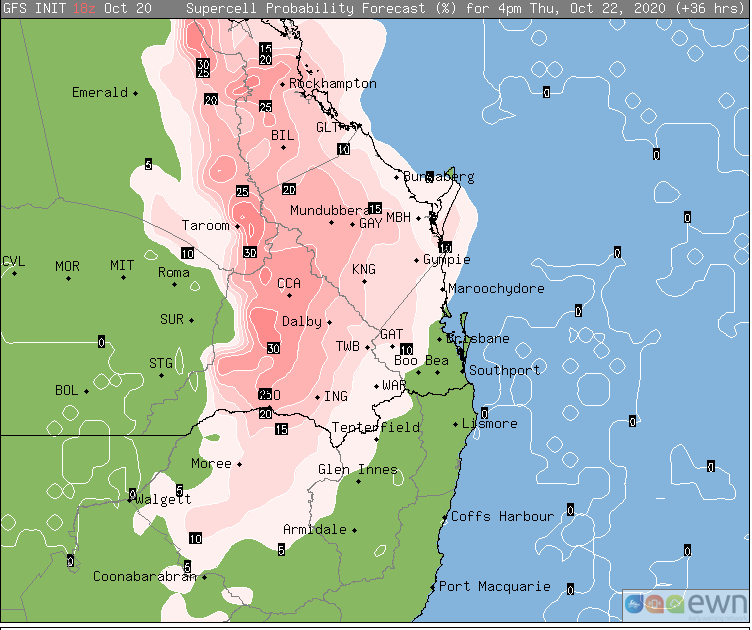 Image 1: Supercell probability over northern NSW, southern QLD and central QLD on Thursday 22 October, 2020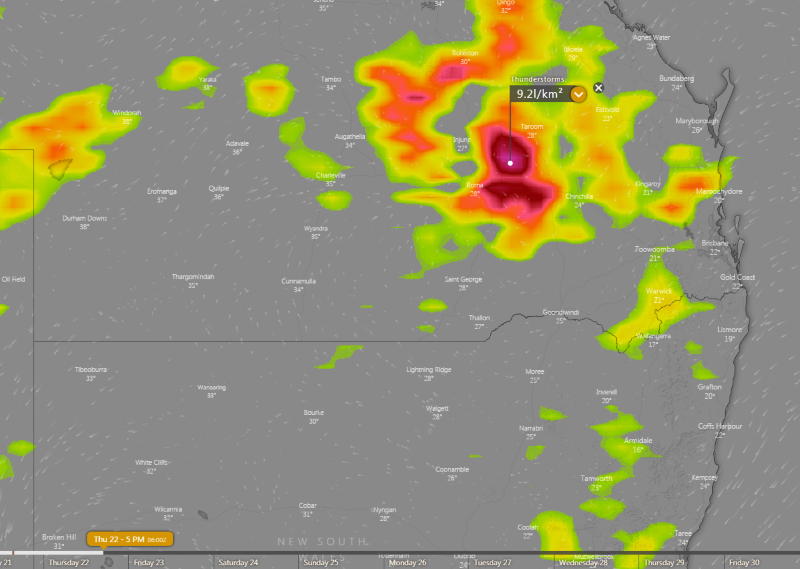 Image 2: Thunderstorm forecast at 4pm EST Thursday 22 October, 2020 (Source: Windy.com)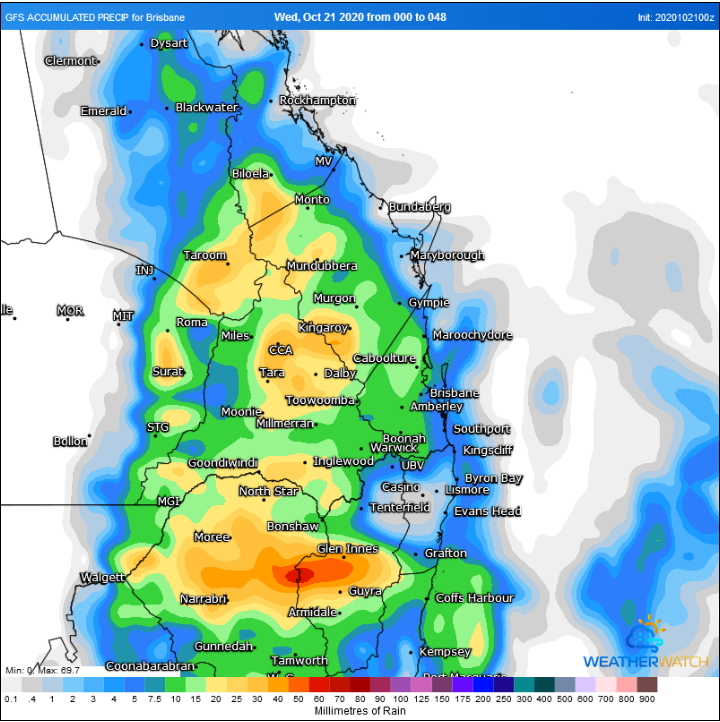 Image 3: Accumulated rainfall over the next 48 hours (Source: Weatherwatch Metcentre)
Severe thunderstorms developing from central NSW to central QLD
Wednesday 21st October 2020
Severe thunderstorms are firing up today from inland parts of central NSW into central Queensland, bringing the threat of heavy rainfall, damaging winds and large hail, with more activity likely over the coming days.
A broad low pressure trough lying over the eastern interior is being fed by a humid onshore flow, triggering the thunderstorms. A combination of moderate strength wind shear in the mid to upper levels and moderate low level wind shear (thanks to the moist onshore airflow extending well inland) are creating ideal conditions for severe thunderstorms.
As of 2pm EST, a thunderstorm warning is current for the Maranoa and Warrego and Darling Downs and Granite Belt regions in QLD, with the main threat of large hailstones and damaging winds. Severe thunderstorms have already being reported in the Capricornia district earlier, with Rockhampton recording a 95km/h wind gust and 25mm of rain, with 15mm falling in just 10 minutes. A severe thunderstorm warning is also current for the North west and Central West Slopes & Plains and Upper Western in NSW.
Tomorrow, activity will occur over a similar region although severe thunderstorm activity is even more likely, mainly over inland southern and central QLD. In this region, large to very large hail is possible as well as the threat of damaging wind gusts due to a combination of moderate wind shear, ample low level moisture and drier air in the upper levels (which is conducive to microbursts and large hail).
From Friday, another trough will move into eastern Australia, creating widespread rain and thunderstorms stretching from the Northern Territory to Tasmania, with potential for heavy rainfall over many regions. EWN will provide more information on this in the coming days.
---
Central and eastern Australia is set to see a large storm outbreak over the next 7 days, as a series of upper troughs traverse Australia.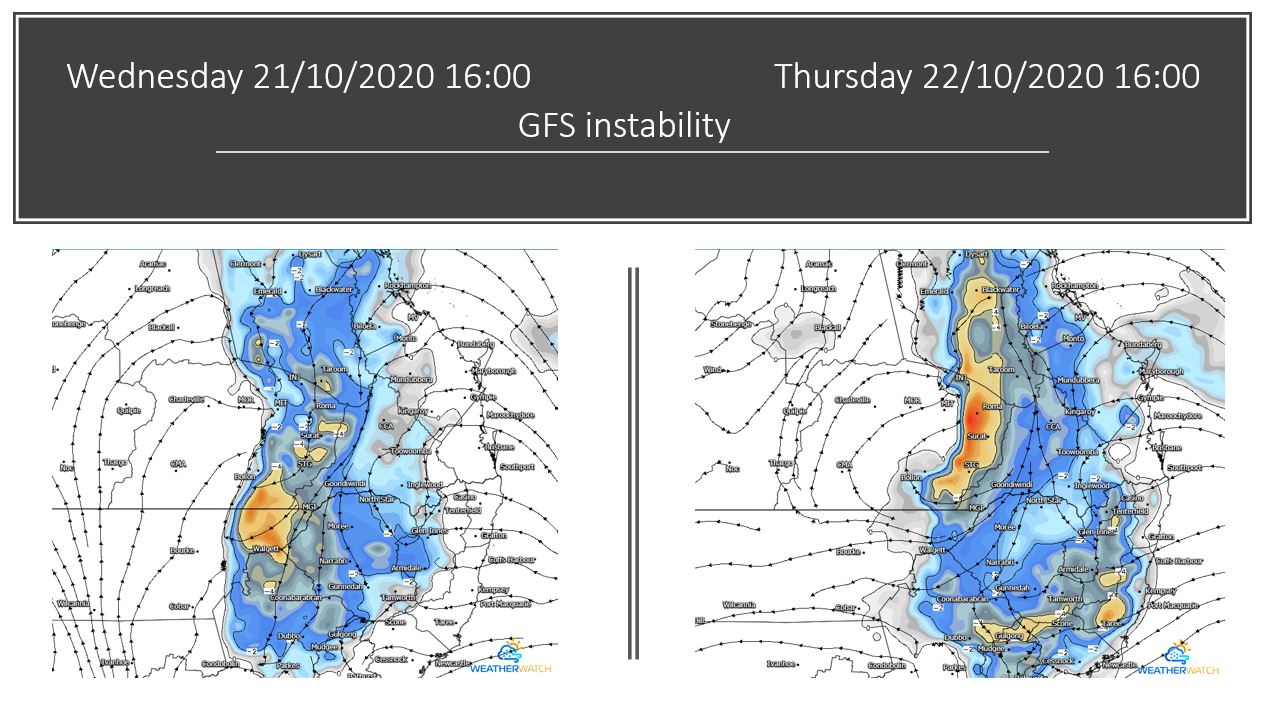 Image 1: GFS instability Wednesday and Thursday. Images via WeatherWatch
On Friday, the large system across central Australia will progress east, with a large band of thunderstorm activity likely to extend from the Top End in the NT into southern part of South Australia, with several thunderstorms likely to be severe across central Australia with damaging winds, large hail and heavy rainfall. Further east, storm activity will continue across central and southern Queensland, NSW and northern Victoria, with locally heavy falls, damaging winds and hail possible.
During Saturday, the complex low and trough will shift east into western NSW and merge with the trough across inland NSW and QLD, with widespread instability and thunderstorm activity continuing from the Gulf of Carpentaria all the way south into central Victoria. Locally heavy falls, damaging wind and the threat of hail will exist with some storm activity.
Image 2: GFS instability Friday, Saturday and Sunday. Images via WeatherWatch
This system will continue to progress east from Sunday into Monday before clearing off the coast late Tuesday, ahead of another developing system in central Australia. This follow-up system is likely to produce a renewed threat of storm activity across QLD, NSW, SA and the NT into next week.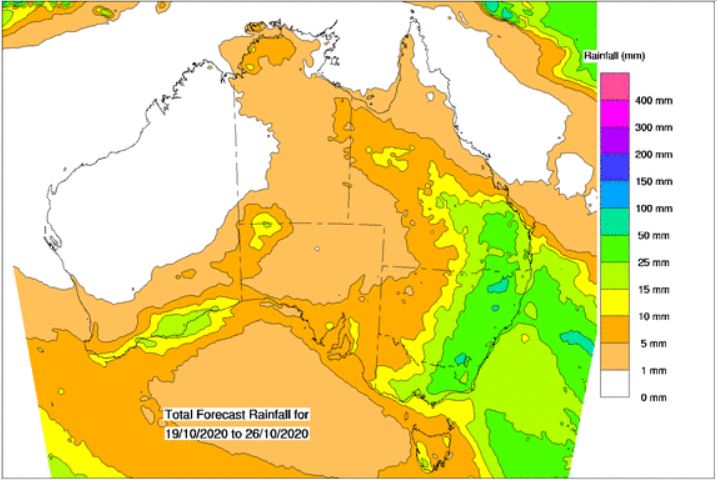 Image 3: Rainfall totals next 8 days. Image via Bureau of Meteorology.
Large multi-day storm outbreak for Central and eastern Australia
Monday 19th October 2020
After yesterday's thunderstorm activity across eastern Western Australia, Queensland and NSW, another round of storms is expected to develop across the Southern Interior of WA, during Monday afternoon and evening. A few severe storms may develop with locally damaging winds and hail.
Whilst individual storm days during this week will differ due to ongoing morning activity and cloud cover, widespread thunderstorm activity is expected to increase throughout the week with severe activity possible on each day.
A southerly change moved through northeastern NSW and South East Queensland this morning, with southeast winds expected to shift northeast and develop an RCT (Ridge Cradled Trough) on Tuesday into the Darling Downs and southern Wide Bay region. This will produce a few isolated storms during the afternoon hours and will begin a large stretch of thunderstorm days across inland Queensland.
During Wednesday, this trough will retreat west slightly and interact with an upper system moving across southern Queensland to generate further instability and thunderstorm activity. One or two storms may become severe and produce damaging winds, locally heavy falls and hail. Similar conditions will persist into Thursday, although increasing shear may favour a few more organised storms during the afternoon and evening hours with all severe threats possible.
Across central Australia, a complex low and trough will develop and steadily move east, with showers, thunderstorms and patchy rain periods likely across central and southern parts of the NT and northern SA on Wednesday, with activity increasing during Thursday as tropical moisture is dragged south into this developing system. Damaging wind gusts in the form of microbursts will be possible with storms across this region, particularly during Thursday as instability increases throughout the day.
---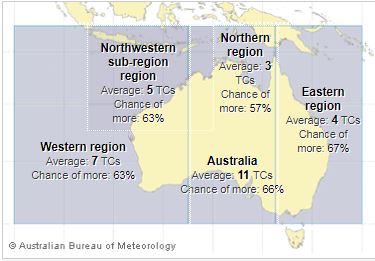 Image 1: Image via Bureau of Meteorology.
Source via Bureau of Meteorology.
Bureau of Meteorology releases their 2020/2021 Australian Tropical Cyclone Outlook
Monday 12th October 2020
The Bureau of Meteorology has released their 2020/2021 tropical cyclone outlook, with Australia expecting to see above average tropical cyclone activity across the 2020-2021 season (November to April).
On average, there are 9 to 11 tropical cyclones in the Australian region each season, four of which generally cross the coast. However, due to the development of a La Niña, an increase in tropical cyclone activity is expected, with the potential for more cyclones and coastal crossings during this season.
At least one tropical cyclone has crossed the Australian coast each season since reliable records began in the 1970's.
---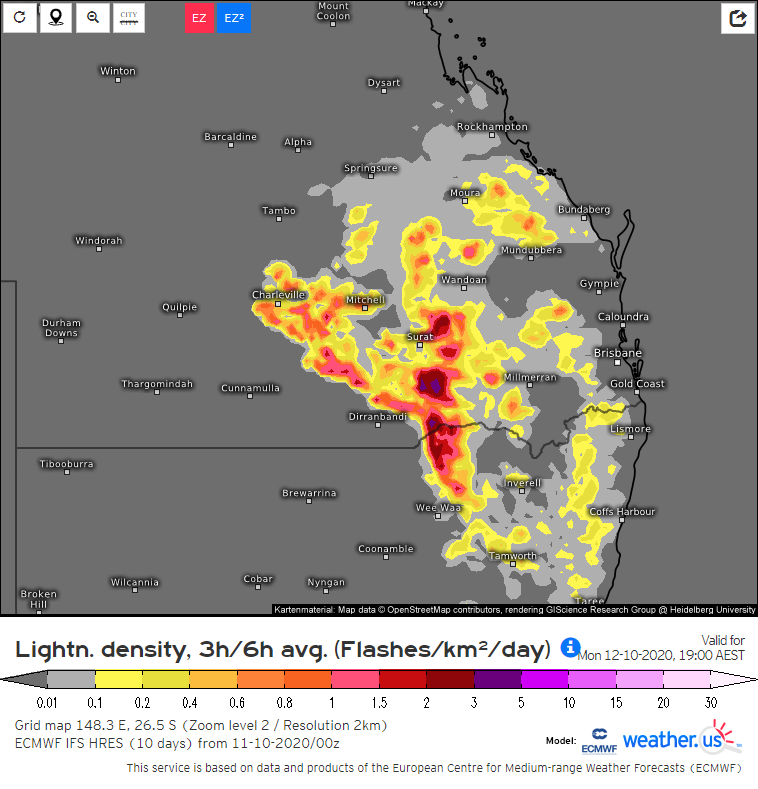 Image 1: EC Model Lightning for 7pm Monday. Image via Windy.com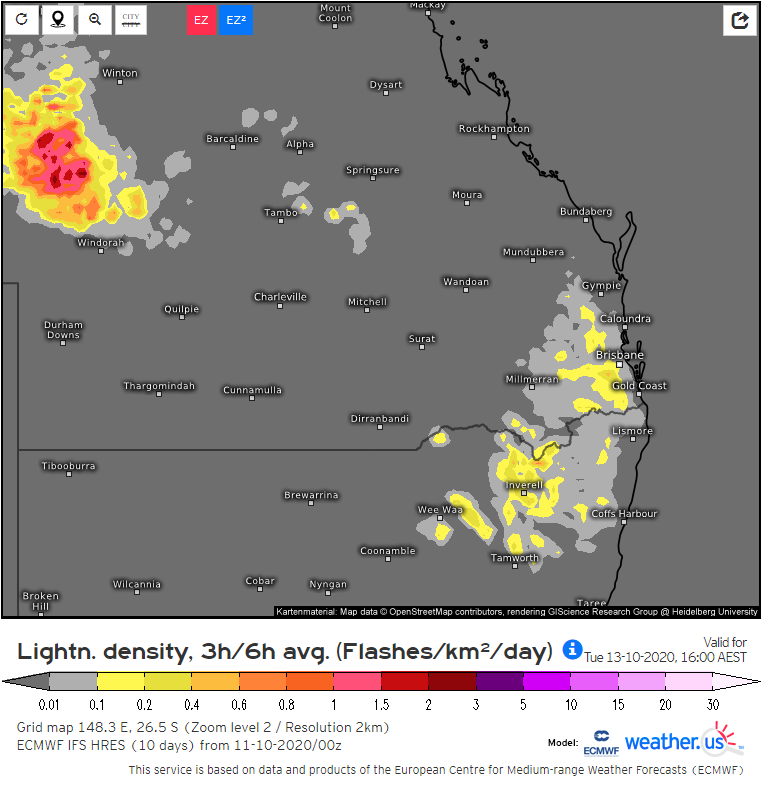 Image 2: EC Model Lightning for 4pm Tuesday. Image via Windy.com
Showers and storms to spread to parts of southern Queensland and northeast New South Wales
Sunday 11th October 2020
An inland surface trough combined with moist winds feeding into it and some colder in the midlevels of the atmosphere is expected to cause showers and storms to spread further down into parts of Queensland's southeast and New South Wales' northeast on Monday. The bulk of these showers and storms is likely to be inland of the coast. Storm risk will be generally lower closer to the coast though some isolated activity is still possible there as well.
These showers and storms are expected to linger in parts of southeastern Queensland and northeastern New South Wales on Tuesday.
For the locations which do get showers and storms, an average of 1 to 10 mm of rain is expected on any of the two days and while higher totals of 10 to 30 mm or more can't be ruled out for towns which experience a heavier storm, these higher amounts are likely to be rather localised.
Most of these storms are unlikely to be severe though one or two may cause brief strong winds as well as the locally heavier rainfall.
---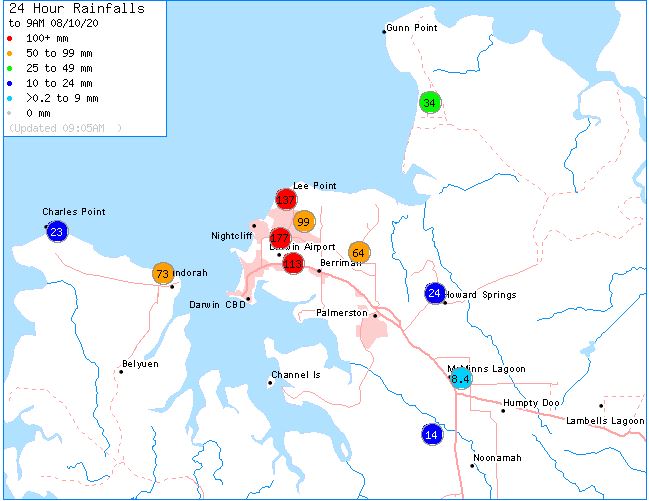 Image 1: 24 hour rainfall totals for the Darwin region. Image via BoM
Record October rainfall for Darwin
Thursday 8th October 2020
Darwin and surrounds have seen record October rainfall fall overnight, as thunderstorm activity spread into rain during the early hours of Thursday morning.
Darwin Airport has recorded 113mm over the past 24 hours, making it this site's wettest October day in history, eclipsing the previous record of 95.5mm back on 25th October 1969 and just shy of the all-time October record for any Darwin site of 116.6mm which was set back in 1880. Marrara picked up a whopping 177mm overnight smashing the previous daily October record of 58.8mm set back on the 31st October 2010.
This activity has led to flash flooding for parts of the city, with local creeks swelling in response to the localised heavy falls, whilst also cause issues for morning commuters.
Whilst the heaviest falls were concentrated across the greater Darwin region, solid October rainfall was also recorded on the outskirts of town. Darwin Hospital picked up 137mm, Wagait Beach 73mm, Leanyer 99mm, Thorak Cemetery 64mm, Adelaide River34mm, Gunn Point 33mm, Dum-In-Mirrie 30mm, Middle Point 23mm and Noonamah 13mm.
Patchy rain and isolated storms will continue during Thursday, becoming more isolated into Friday across the Darwin region.
---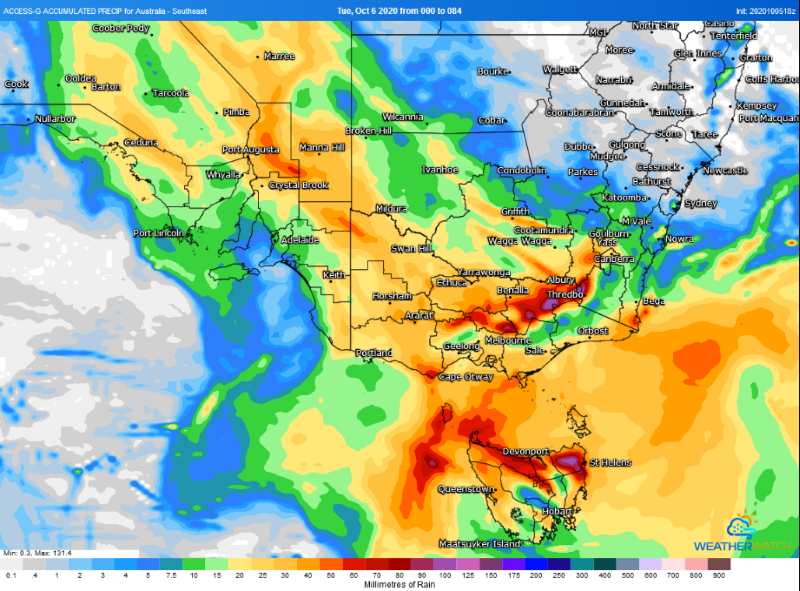 Image 1: Accumulated rainfall across the next 3 days from the ACCESS G Model (Source: Weatherwatch Metcentre)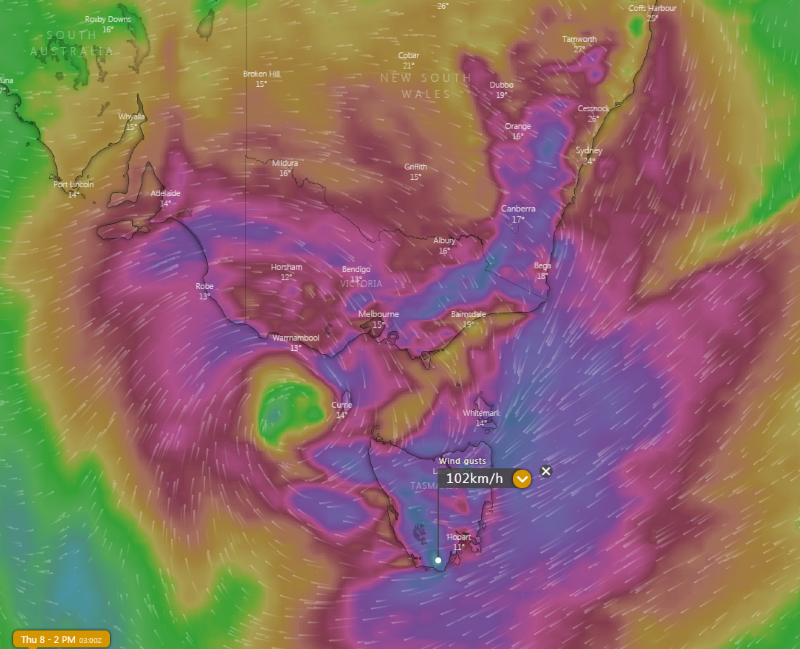 Image 2: Wind gust forecast on 2pm 8th October, 2020 (Source: Windy)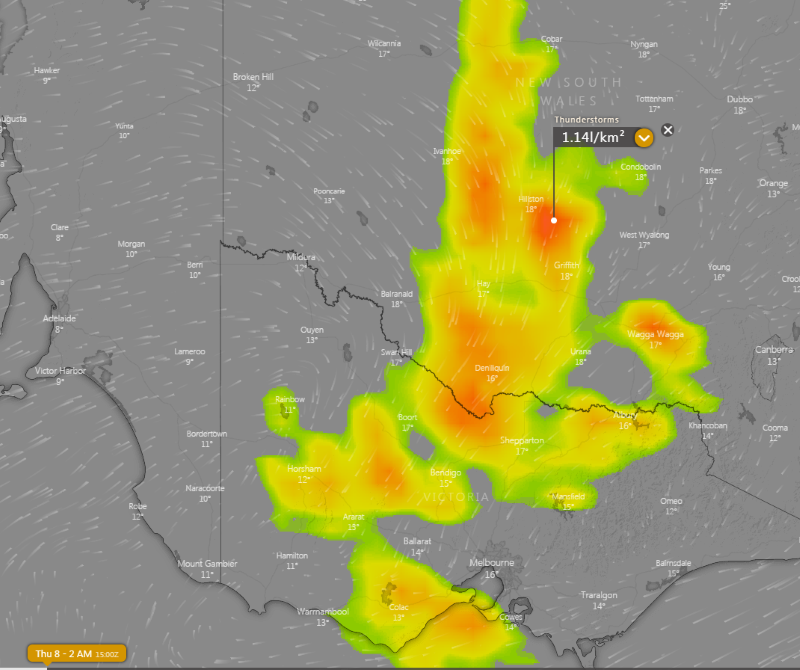 Image 3: Thunderstorm forecast on early Thursday 8 October, 2020 (Source: Windy)
Widespread rain, thunderstorms, strong winds for southeast Australia
Tuesday, October 6th 2020
Widespread follow up rain, strong winds and thunderstorms are likely over the next few days across Australia's southeast as a trough and complex low pressure system moves across the region.
A thick band of cloud and rain is currently stretching from central Australia through to the nation's southeast as a humid northeasterly flow interacts with a low pressure trough. This band brought the best rain in years for parts of the interior overnight, including Boullia in northwest NSW (27mm) which saw its best rain since a similar amount fell in October 2017. The Garden in Central Australia recorded 36mm, its best rain since March and heaviest for October since 1998. The thick cloud has also kept temperatures very low in some areas, with Alice Springs reaching just 13 degrees yesterday and similar today, the coldest October days since 1968.
Over the next 24 hours, this system will deepen as an upper level cold pool interacts with the trough, causing a low pressure system to develop rapidly and move southeast. This will cause a dynamic weather situation over the southeast of the country on Wednesday and Thursday.
Widespread rain will spread across the southeast, including South Australia, Victoria, Tasmania and western and southern New South Wales. Many areas will see falls of 10 to 30mm are likely, with some areas seeing 30-40mm. Parts of northeast TAS, northeast VIC and alpine NSW could see totals in excess of 100mm, with the risk of minor to moderate flooding.
Thunderstorms will also accompany the system, with far east SA, western, central and southern NSW, VIC and northeast TAS most likely to see thunderstorms. Some of these storms have potential to become severe, with damaging winds and flash flooding the greatest threats.
As the low spins up, strong winds are also expected to develop, particularly on Thursday. Widespread gusts of 60-90km/h are likely across southeast SA, VIC, central east and southeast NSW and TAS, with exposed areas seeing gusts up to 100-110km/h.
Rain will clear southeast with the low, with most areas likely to see clearing by Friday (except TAS). A large region of high pressure will move in over the weekend, causing settled conditions for most areas (except eastern NSW) into mid next week.
---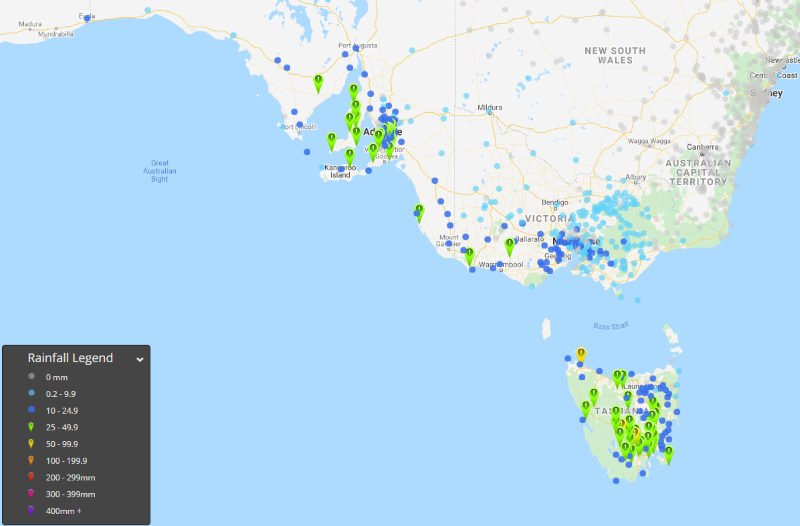 Image 1: Rainfall in the 24 hours to 9am Monday 5th October, 2020 across southeast Australia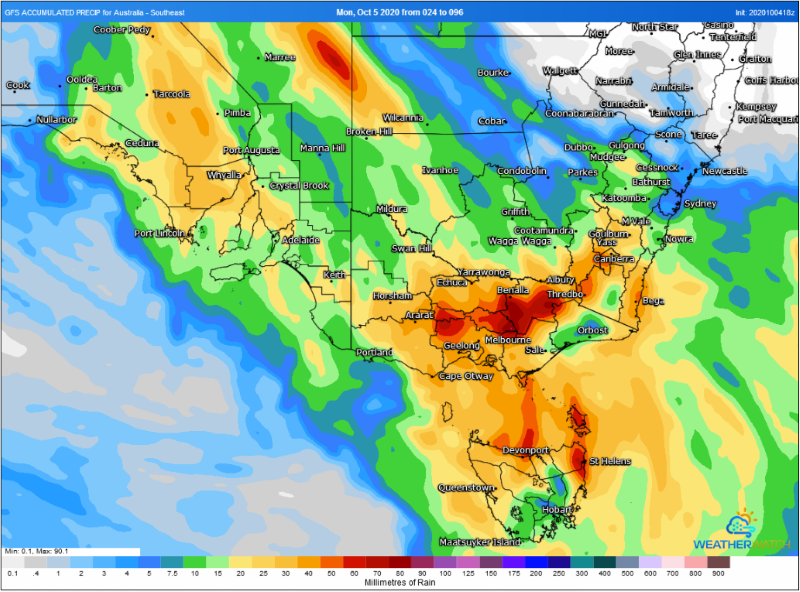 Image 2: Forecast rain across southeast Australia for Wednesday 7th and Thursday 8th October, 2020 from the GFS Model, when more rain is expected (Source: Weatherwatch Metcentre)
Heaviest rain in years drenches parts of SA, TAS
Monday, October 5th 2020
The heaviest rain in years fell in some parts of South Australia and Tasmania over the past 24 hours, as a thick cloudband brought widespread rain to the nation's southeast.
A complex weather setup is currently occurring over Australia, with a low pressure trough over the interior being fed by a humid northeasterly airflow, helped due to stronger than normal trade winds at this time of the year due to La Nina event. This system is being significantly amplified by an upper level cold pool that lies over southeast WA/far west SA, helping generate the widespread moderate to heavy rainfall.
Most areas in the path of the rainband saw at least 10-20mm of rain, however a zone stretching from SA's northwest pastoral, through the Lower/Eastern Eyre Peninsula, south of Adelaide, far southeast SA, far southwest VIC and into western and southern TAS saw heavier falls, where 20-50mm was more commonplace.
In South Australia, Cleve registered its wettest October day on record and heaviest total since November 2015, with 45.4mm falling in the 24 hours to 9am. Minlaton in the Yorke Peninsula collected 42mm, its heaviest October fall in at least 15 years, and for any month since February 2014. Numerous other stations saw great falls including Cummins (35mm) Tarcoola (22mm), Wudinna (30mm), Parawa (44mm) and Adelaide (23mm).
In Tasmania, Maydena registered 41mm to 9am, its heaviest fall since June 2018, and wettest October day in more than two decades. Hobart recorded 39mm (on the back of 20mm on Sunday), its wettest October day since 1975.
Cold conditions will linger over southeast Australia over the coming days, whilst moderate rain focuses over central Australia over the next two days. On Wednesday and Thursday, a complex low pressure system is expected to bring another burst of rain, with potential for strong winds and thunderstorms. EWN will provide further details on this over the coming days.
---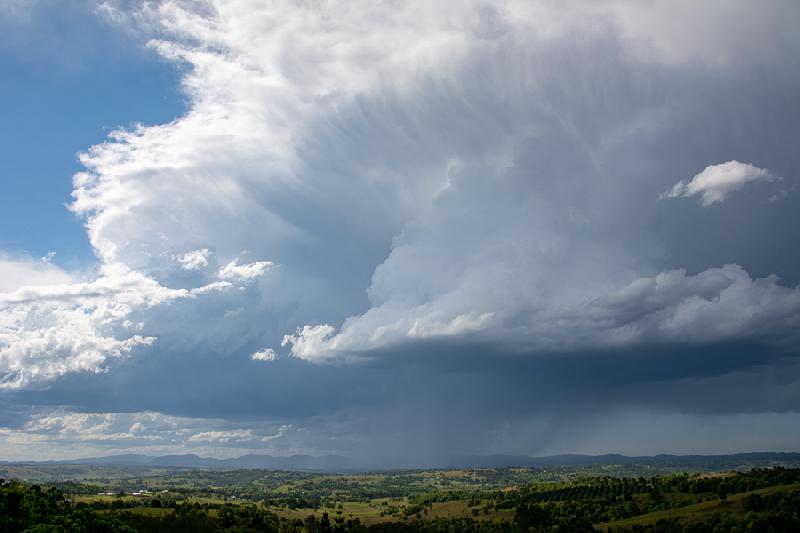 Image 1: Severe Thunderstorms - Northern Rivers, NSW by Early Warning Network's Michael Bath. 1st October, 2020.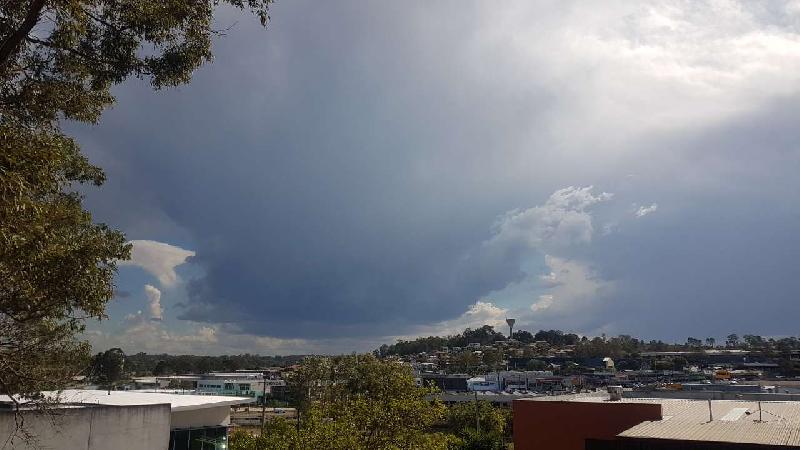 Image 2: Severe Thunderstorms - Southeast QLD, by Early Warning Network's Andy Barber. 1st October, 2020.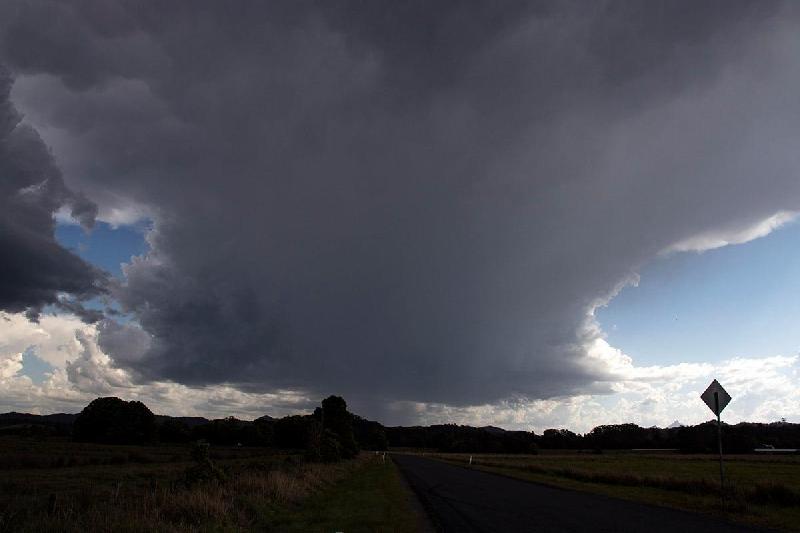 Image 3: Severe Thunderstorms - Northern Rivers, NSW by Early Warning Network's Ben McBurney. 1st October, 2020.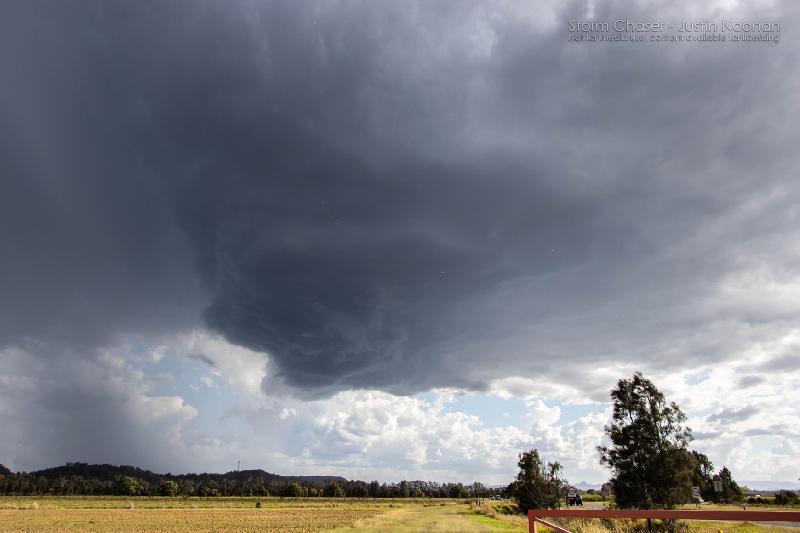 Image 4: Severe Thunderstorms - Northern Rivers, NSW by Early Warning Network's Justin Noonan. 1st October, 2020.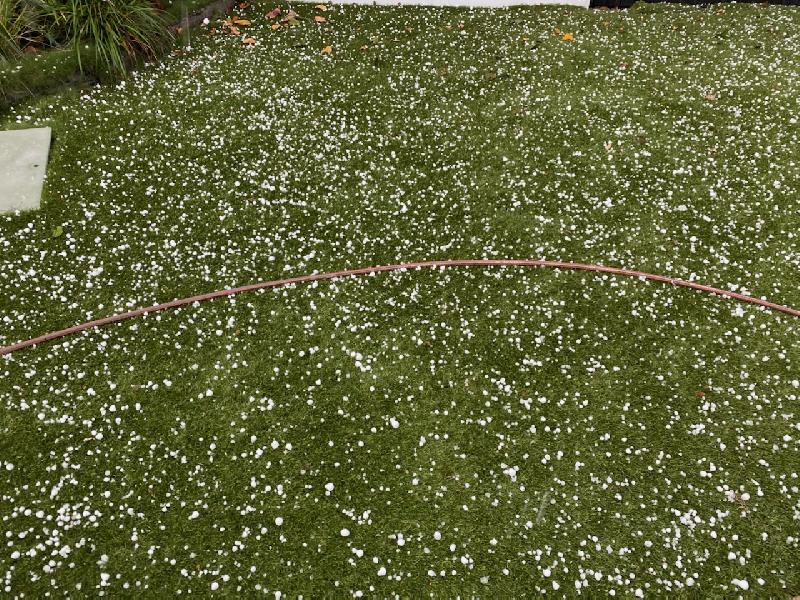 Image 5: Severe Thunderstorms - Northern Rivers, NSW by Early Warning Network's Kerry Plowright. 1st October, 2020.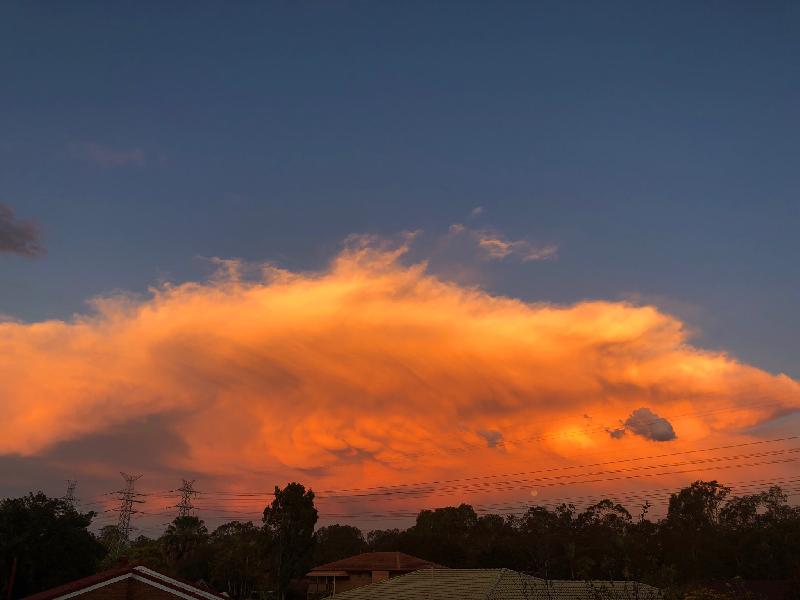 Image 6: Severe Thunderstorms - Southeast QLD, by Early Warning Network's Ken Kato. 1st October, 2020.
Severe thunderstorms return to NE/NSW and SE/QLD
Friday, October 2nd 2020
Thursday saw a welcome return to thundery skies for parts of northeastern New South Wales and also southeastern Queensland. Thunderstorms developed through parts of both regions yesterday afternoon producing localised strong wind gusts and large hailstones across multiple locations. Activity remained quite slow moving and isolated, therefore only a few locations experiencing severe weather.
The first Severe Thunderstorm Warning for the region was issued by BoM NSW at 2:26pm, warning for severe thunderstorms that could potentially produce damaging winds and large hailstones for the Lismore, Murwillumbah, Byron Bay, Ballina, Casino and Kyogle areas.
Just over an hour later, the Bureau of Meteorology QLD issued a Severe Thunderstorm Warning for damaging winds and large hail at 3:38pm for slow moving thunderstorms along the coast moving northeast, and affecting parts of Caboolture, Deception Bay and Beachmere.
A secondary thunderstorm over the northern Gold Coast yesterday afternoon also prompted a Severe Thunderstorm Warning from the Bureau, for the areas of from Mount Tamborine through to Coomera for damaging winds and large hail.
Large hail was observed in numerous locations across the South East yesterday with 2-3cm hailstones observed at Caboolture and Morayfield, with a large accumulation of small hail observed at Springbrook during the early afternoon. South of the QLD border, hail to 3.5cm was reported from the Clothiers Creek with hail to 2cm reported from Dunoon, Federal and through to Casuarina and Kingscliff, as thunderstorms tracked to the northeast over the Northern Rivers and the Tweed Valley region of NSW late yesterday.
Despite the lack of surface moisture, thunderstorms did produce some nice structure as detailed in the photos below.
---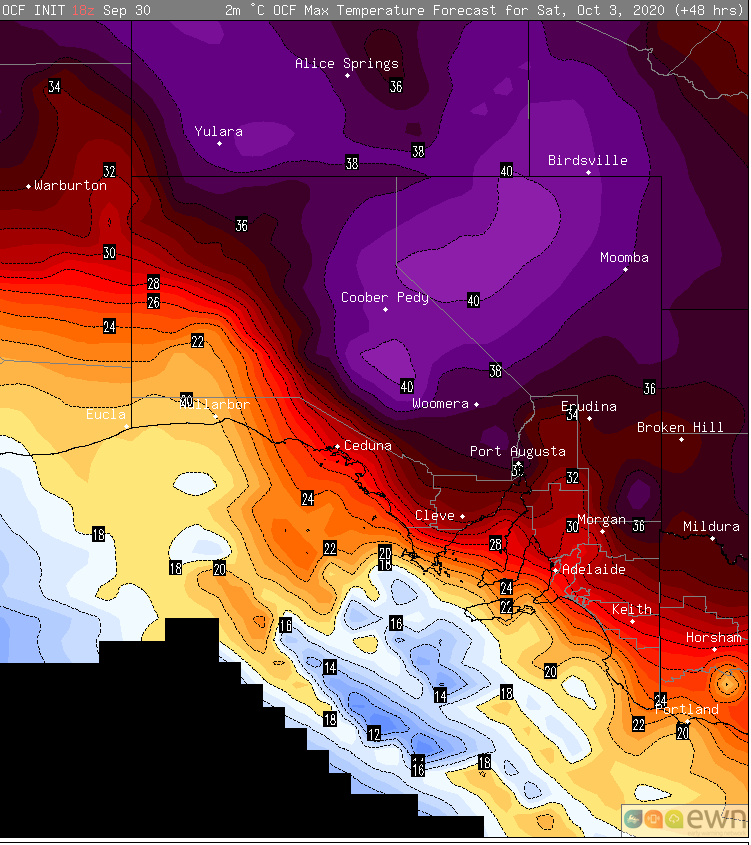 Image 1: OCF Forecast maximum temperatures for Saturday 3 October, 2020
Thunderstorms will develop over western areas during Saturday afternoon and evening, and spread east and turn into a widespread band of rain, stretching from the state's northwest to southeast. Within this band, widespread falls of 10-20mm are likely, although some coastal areas and parts of the Mount Lofty Ranges could see falls of 30-40mm. Temperatures will also be significantly cooler, only reaching into the mid to high teens in the wake of the change.
Rain will shift into the northeast of the state on Monday. Beyond this, there is significant model uncertainty, however there are some indications of follow up rain mid to late next week.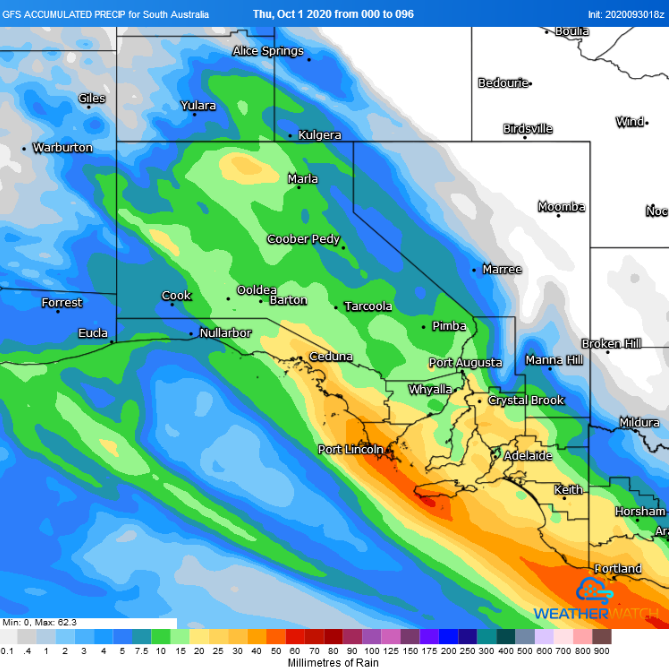 Image 2: Accumulated precipitation across the next 4 days from the GFS Model (Source: Weatherwatch Metcentre)
Hot start to October for SA, before widespread rain and a cool change
Thursday 1st October 2020
Hot conditions with severe to extreme fire danger is likely to affect parts of South Australia over the first few days of October, before a cool change and widespread rain arrives later on Saturday and into Sunday.
A low pressure trough is moving into the west of the state today from Western Australia, and is directing hot and dry northerly winds sourced from northwestern Australia over the region.
Tomorrow, the hottest part of the airmass will affect western areas, whilst northerly winds will become fresh and gusty with gusts reaching 60-70km/h in some areas, causing very high to severe fire danger stretching across the state's west to the Mount Lofty Ranges, with fire danger reaching extreme over some western areas. Nullarbor is forecast to hit 39 degrees (15 degrees above average), Streaky Bay 37 degrees and Ceduna and Wudinna 35 degrees. Further east, Cleve is forecast to reach 33 degrees, Port Augusta 34 degrees, Murray Bridge 33 degrees and Adelaide 30 degrees.
On Saturday, the hot airmass will shift a little further east and north, as a southerly change starts to push into coastal regions. Those ahead of the change will remain hot, with Renmark expected to reach 36 degrees, Port Pirie & Hawker 34 degrees, Port Augusta 37 degrees, and Coober Pedy & Tarcoola 39 degrees. Adelaide will reach the high 20s. Fire danger is also likely to reach very high to severe ahead of the change as wind gusts reach 50-70km/h.
---
Subscribe Today To Our Newsletter