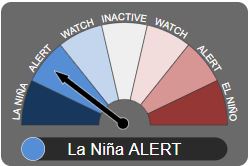 Image 1: La Nina Alert. Image via Bureau of Meteorology
Now is the time to ask, are you prepared for a natural disaster should one eventuate? You still have time to prepare, and here are a few tips to help for the upcoming storm season.
Have an emergency plan for yourself and any pets, emergency contact numbers, evacuations points, areas of the house to take shelter (underground, an inner room or bathroom is best).
Prepare an emergency kit for the worst-case scenario. Emergency kits should contain the following: Three (3) days of non-perishable food, portable radio, spare batteries for a torch, radio and mobile phone, essential medication, phone charger, gloves, fresh water for three (3) days, toiletries, water proof bags, first aid kid and any important documents.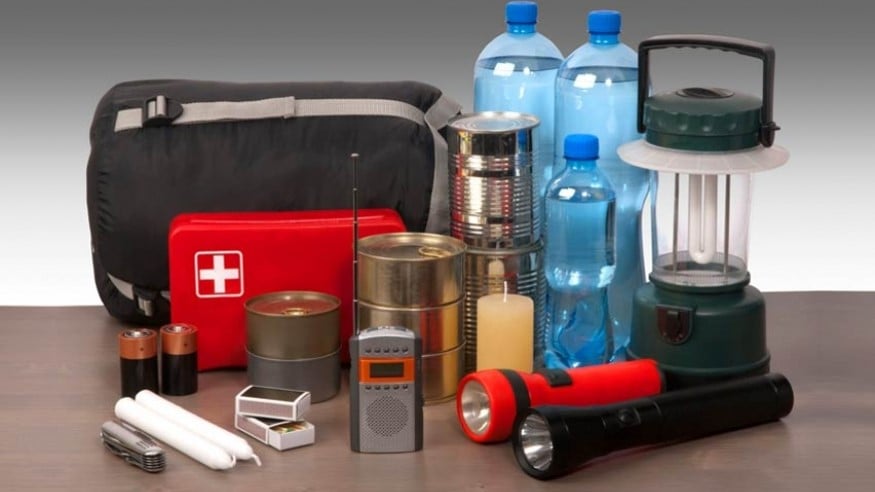 Image 2: Emergency prepared kit
When preparing your house, clean out gutters for any debris, tie down loose objects that may become flying missiles during severe weather events eg: trampolines, garden furniture and toys, cut down large or over hanging trees and branches that may be able to come down onto your roof during a severe weather event, disconnect electrical appliances, store cars under cover where possible (not under trees), pay attention and heed all warnings from the Bureau of Meteorology and take shelter in the strongest parts of the house, usually a bathroom or interior room and stay away from windows.
These may seem like extreme measures, however on the day that severe weather does strike, they may just be life saving for you and your family.
Spring has sprung, which means storm season now upon us
Monday 31st August 2020
Tomorrow, Tuesday 1st September marks the start of spring across Australia, which means we are now officially entering our storm season.
Australia is currently on La Nina alert, with a 70% chance of a La Nina developing over the next few months, which may bring the prospect of flooding rains, increased tropical cyclone activity and the potential for severe thunderstorms to develop.
---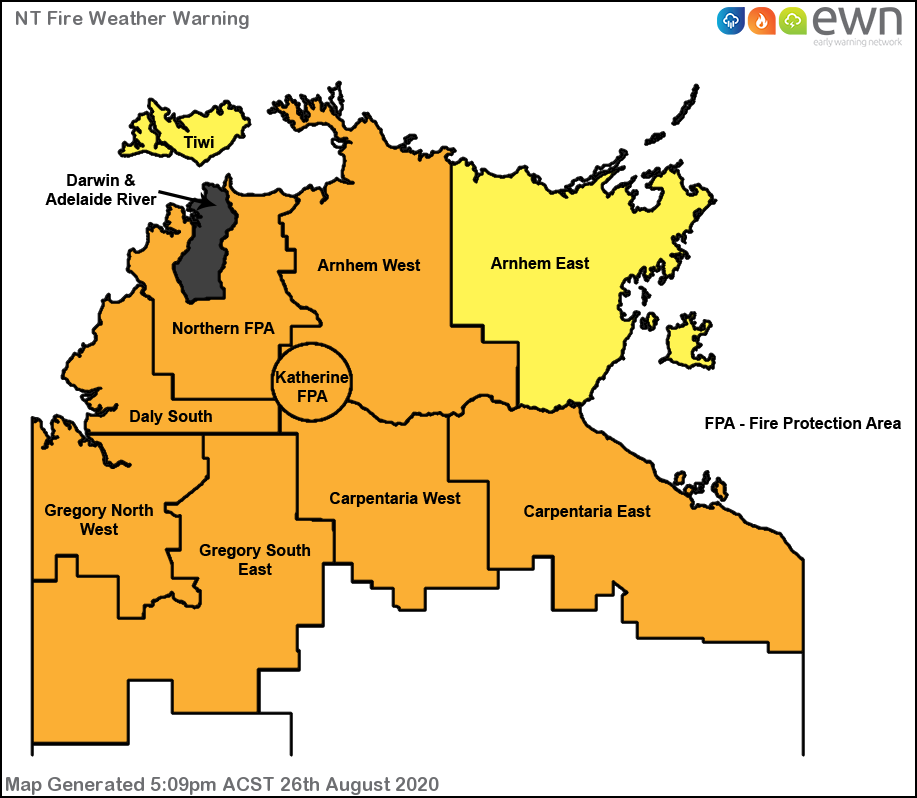 Image 1: Early Warning Network Fire Danger Map from Thursday, 27th August 2020 detailing the Darwin and Adelaide River's first ever catastrophic fire danger.
Bushfires in full swing for the Northern Territory
Friday, 28th August 2020
We are well past the halfway mark through the bushfire season for the Top End with a Catastrophic Fire Danger issued yesterday for parts of the Darwin and Adelaide River fire forecast district. This was the first catastrophic fire danger ever issued for the Darwin and Adelaide River region. The combination of dry fuels, low humidity, windy conditions and hot temperatures provided ideal conditions for dangerous bushfires to occur during Thursday and continuing into today.
Earlier this morning the Bureau of Meteorology updated their Fire Weather Warning and upgraded the Darwin and Adelaide River fire weather district from severe to extreme, due to the onset on the dry conditions.
Grass and scrub fires were ongoing yesterday, with bushfires present for the Adelaide River, Batchelor and Howard Springs districts. Both the Adelaide River and Howard Springs bushfires are currently back to an Advice, however these may be subject to flare ups as firefighters work to contain the fire areas. Aerial bombing from firefighter aircraft have been in operation during yesterday and also earlier this afternoon.
A Bushfire Watch and Act is current this afternoon for Fowler Road, Batchelor where a bushfire is ongoing under extreme fire weather conditions. This fire in particular is burning to the south of Litchfield Park between the area of Scotts and Poetts Road, including Windmill Road in Rum Jungle. Fire crews are currently back burning this region to contain the fire with spot fires occurring near the vicinity of the above listed locations.
Fire dangers to severe levels are prevalent for the Northern Protection Fire Area, Daly South, Arnhem West, Katherine Fire Protection Area, Carpentaria East and West, and the Gregory North West and South East fire weather districts.
A severe fire danger is forecast again tomorrow for the Darwin and Adelaide River districts, with fire dangers relaxing somewhat back to very high levels for the northern and western portion of the territory into tomorrow, partly due to the increase in humidity. These fire danger ratings are subject to change, however the risk is starting to minimise into Sunday and rolling on into early next week.
---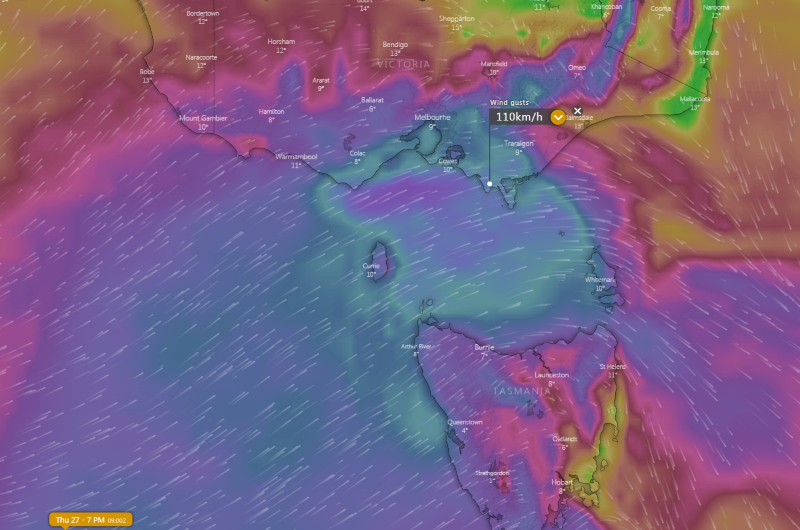 Image 1: Wind gust forecast across southeastern Australia at 7pm Thursday 27 August, 2020 from the ECMWF model Image via windy.com
Cold front set to send a burst of wind across NSW, VIC and TAS
Thursday 27th August 2020
A fast moving cold front will cause a burst of wind across parts of southeast Australia this afternoon and into Friday morning, with wind gusts reaching 100-120km/h in some areas.
The frontal system will have a tight pressure gradient as it pushes into a broad high pressure region which is currently lying across the country and causing widespread dry conditions. This gradient will help generate the windy conditions, which are expected to be among the strongest seen this winter for some areas.
Winds are increasing gradually throughout the day as the cold front approaches, but are expected to peak this afternoon and evening just ahead of and with the frontal boundary. In Tasmania, the north and west will be most affected, with wind gusts reaching 100km/h about coastal and exposed elevated areas. About the Bass Strait Islands (King Island and Furneaux Island), gusts of 110km/h are possible.
In Victoria, gusts of 100km/h are likely about elevated areas above about 600 metres, with gusts peaking around 120km/h. Gusts of 100km/h are also possible about the southwest coast this afternoon, and about the central coast in the early evening, and Gippsland coasts in the late evening.
In New South Wales, the main threat will be over the Snowy Mountains where gusts in excess of 120km/h are possible this evening and into Friday evening. Strong winds will also develop late this evening and into Friday morning about the South Coast & ranges and up to the Central Tablelands, with gusts reaching 70-90km/h, before easing towards sunrise.
Winds will be significantly lighter on Friday as the high takes hold once again.
---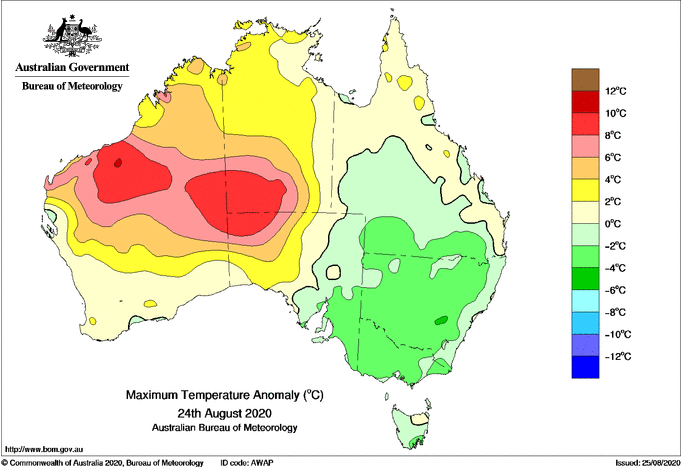 Image 1: Temperature anomalies across northern Australia on Monday 24 August, 2020 Image via BoM.
Fire danger has been reaching severe levels over the Northern Territory across the last week and has been gradually increasing, and will spread into northern Western Australia tomorrow as east-southeasterly winds strengthen. Across the NT, fire dangers are likely to reach extreme from tomorrow about the Darwin and Adelaide River fire forecast area. Whilst this is typically northern Australia's fire season, the fire threat will be enhanced due to the drier than average wet season and unusually hot conditions, with any fires that start likely to spread fast and be unpredictable.
Over southern Australia, it is beginning to warm up again after a widespread cold snap. As a cold front and trough approach southern WA later this week (Friday), record challenging heat is expected to be dragged south into parts of WA, with Kalgoorlie forecast to reach 31 degrees on Friday (record 32.0 degrees).
This warmth will push into southeast Australia over the weekend, albeit not as hot. Adelaide and Melbourne will reach the low 20s on Saturday, whilst Sydney will reach into the mid 20s on Sunday.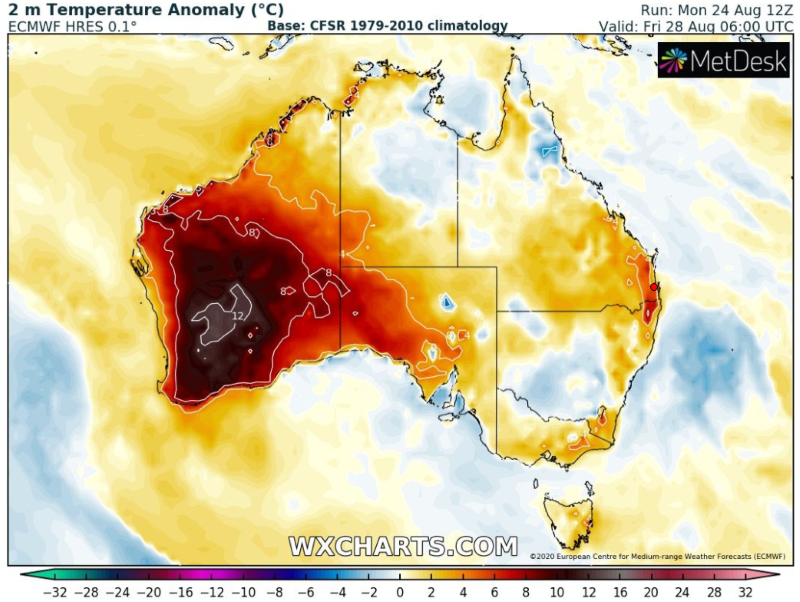 Image 2: Temperature anomaly forecast for Friday 25 August, 2020 Image via WXCharts.com
Extreme fire danger over northern Australia, heat set to spread south
Tuesday 25th August 2020
As August records continue to fall over the nation's north, fire danger is set to surge over the next few days as fresh and gusty east-southeasterly winds affect the region.
Unseasonably hot conditions have been affecting the north of the country over the last several days, as temperatures soar up to ten degrees above average. Over the weekend, the Australian August record of 40.0 degrees set in 1970 was broken twice, with West Roebuck claiming the new hottest August day of 41.2 degrees on Sunday. Monday brought similarly hot conditions, with stations such as Telfer (36.4 degrees), Pardoo (38.1 degrees) and Marble Bar (38.9 degrees) all setting new August records.
---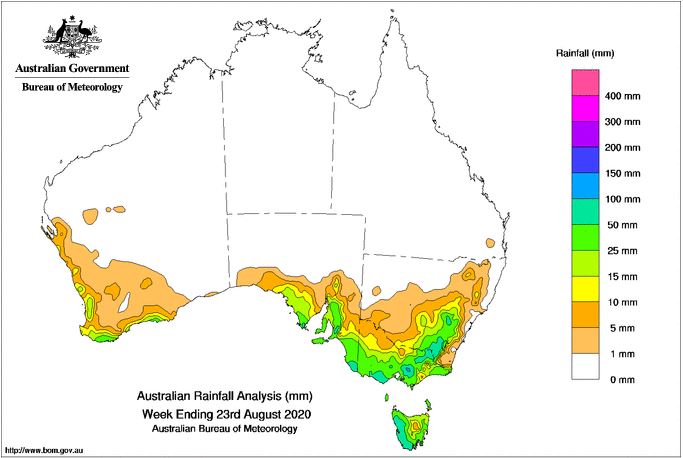 Image 1: Rainfall totals over the past 7 days across Australia, ending 23/08/2020. Image via BoM.
Heavy snow hit some areas, with ski resorts recording close to 1 metre of fresh snow from the system, which has given the ski season a much needed boost with resorts seeing their worst snow falls since 2006 this late in the season until this system arrived. The Oberon area had its heaviest snowfalls in years, with reports of snow falls of 30-40cm prompting widespread road closures. Snow was reported as far north as Guyra on the NSW Northern Tablelands, with small hail reported on QLD's Granite Belt.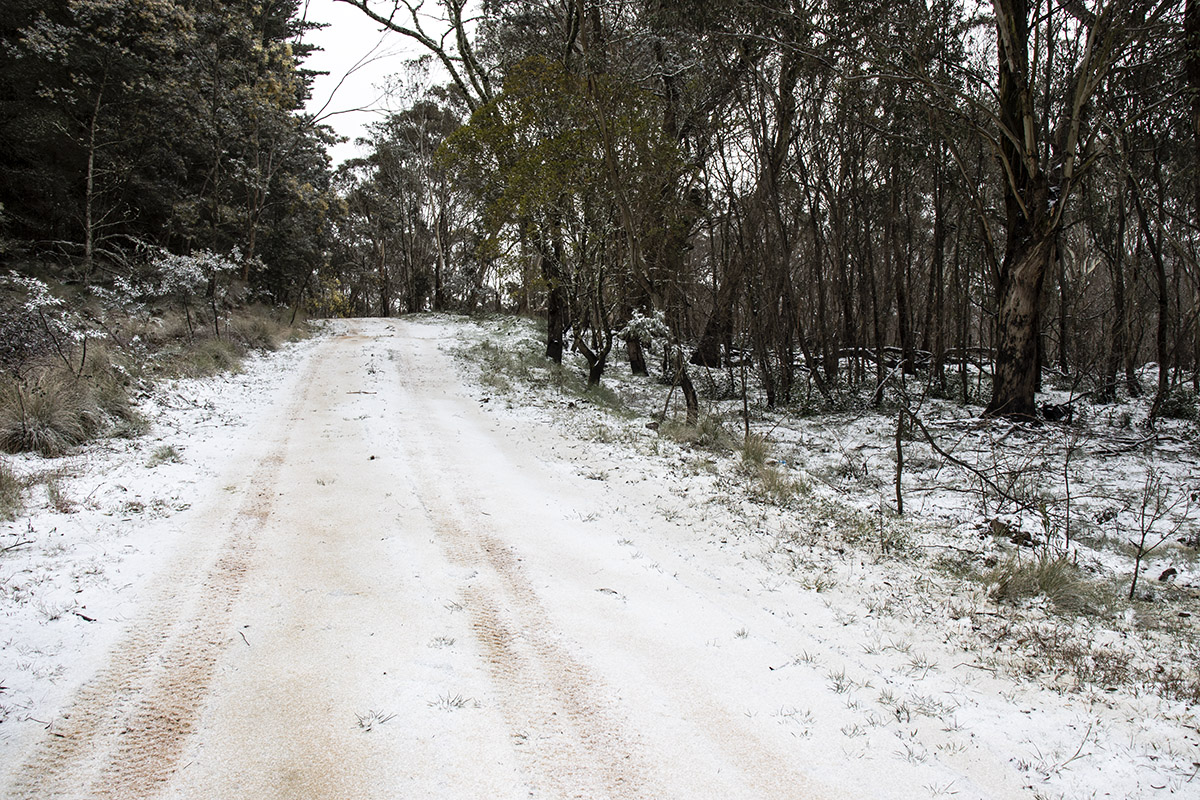 Image 2: A dusting of snow falls in the Nudle State Forest - south of Tamworth, NSW. Image vai EWN's own Ben McBurney
Meanwhile, the nation's north has been sweltering in record breaking heat for this time of the year. A new August record was set on Saturday as Yampi Sound (north of Derby) reached 40.7 degrees, the nation's hottest August day on record (breaking the 40.0 degree day set at Kalumburu on 27 August, 1970). More long standing records fell on Sunday as Port Hedland reached 37.0 degrees (previous record 36.8 degrees), and Broome 38.9 degrees (previous 38.9 degrees). The Australian August record was broken again as West Roebuck reached 41.2 degrees.
Hot conditions will persist over northern Australia over the next several days with gusty southeast-east winds causing fire danger to reach severe in some areas. A high will cause settled conditions to return to the nation's southeast.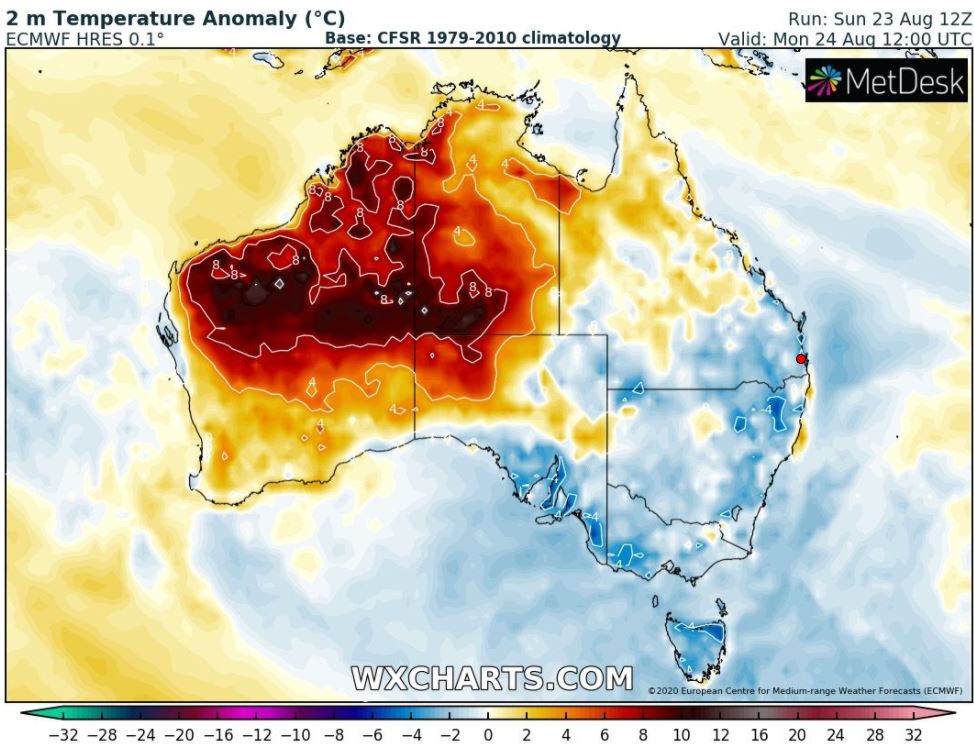 Image 3: 2m temperature anomaly across Australia during Sunday 23/08/2020. Image via WXCHARTS.
Heavy snow in southeast Australia as record August heat scorches Australia's north
Friday 21st August 2020
As the southeast of Australia experienced days of strong winds, showers and the heaviest snow in years in places, the nation's north has broken numerous August records over the past few days as temperatures exceed 40 degrees.
A strong cold front swept through the nation's southeast on Friday and over the weekend, bringing one of the coldest blasts of the year so far. Temperatures plunged several degrees below average across most of the region, with Canberra seeing its coldest day in four years on Saturday reaching just 7.5 degrees.
Widespread showers brought useful rainfall totals as well, with some areas seeing their best rain in almost two years, including Wilsons Promontory that recorded 52mm in the 24 hours to 9am Saturday. Widespread strong wind gusts were recorded, with many parts of the southeast seeing gusts of 60-80km/h, with those on the ranges recording gusts up to 90-100km/h, and some exposed coastal areas up to 125km/h.
---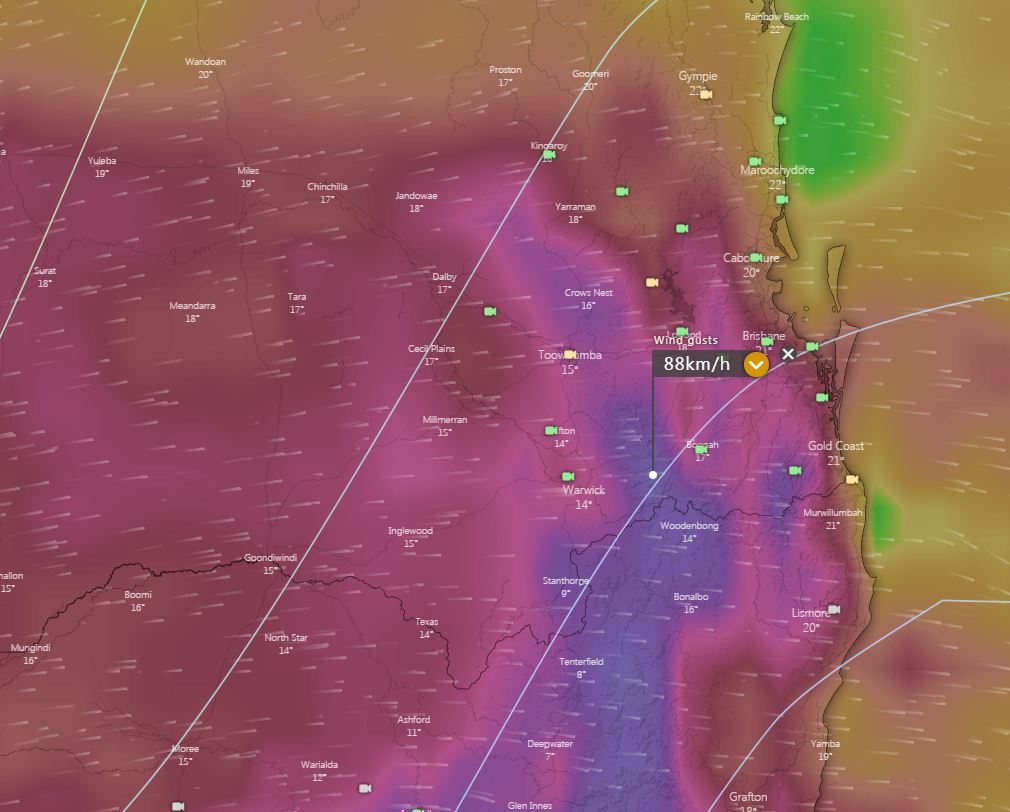 Image 1: EC potential wind gusts for Saturday afternoon. Image via windy.com
Dry and gusty winds will also increase the fire danger across the state, with very high fire danger likely for numerous location, including the Darling Downs and South East Coast however conditions are not as favourable for severe bushfires in comparison to this time last year due to recent rainfall.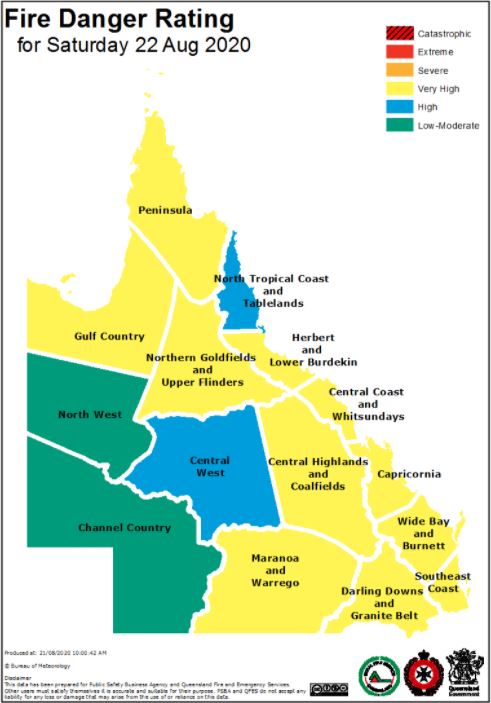 Image 2: Very high fire danger across southern and eastern QLD, Saturday 22/08/2020. Image via Queensland Rural Fire Service.
During Sunday, windy conditions will persist, albeit easing slightly as the low in the Tasman Sea moves towards New Zealand. The easing trend will continue into Monday and Tuesday, with minimum temperatures dropping to single digits across southern QLD, with the potential for frosts to develop.
Southeasterly winds are likely to redevelop mid next week, with the potential for an isolated coastal shower or two developing in the onshore flow.
Windy weekend for southern Queensland
Friday 21st August 2020
Southern regions of Queensland have experienced a windy week however the worst is yet to come.
A series of fronts and associated low pressure system continues to sweep across southern Australia, with gusty to strong west to southwesterly winds. During Saturday, these winds will strengthen to storm force as a strong pressure gradient develops between the low in the Tasman Sea and a high across southern Western Australia.
Widespread gusts of 40-70km/h is expected on Saturday, with isolated gusts potentially reaching 80km/h during the early afternoon, particularly across The Great Dividing Range and exposed locations. Maximum temperatures will be kept in the early 20's across the coastal fringe, with locations on the Darling Downs expected to struggle into the mid-teens, with gusty winds also making the 'feels like' temperatures 5-10 degrees cooler.
---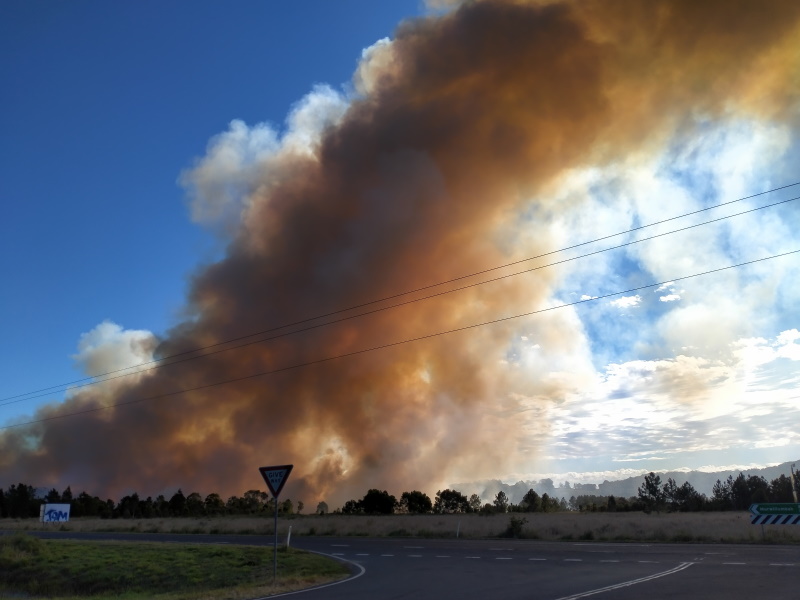 Image 1: A bushfire burns out of control near Cabarita Beach in northern NSW
Another front is currently making its way across Tasmania, Victoria and southeast South Australia, bringing showers, highland snow and causing westerly winds to increase again. Wind gusts aren't expected to be as strong as the previous system in SA, however widespread gusts of 60-80km/h and localised gusts to 90km/h are likely (mainly in any showers or isolated thunderstorms) across SA, VIC and parts of TAS.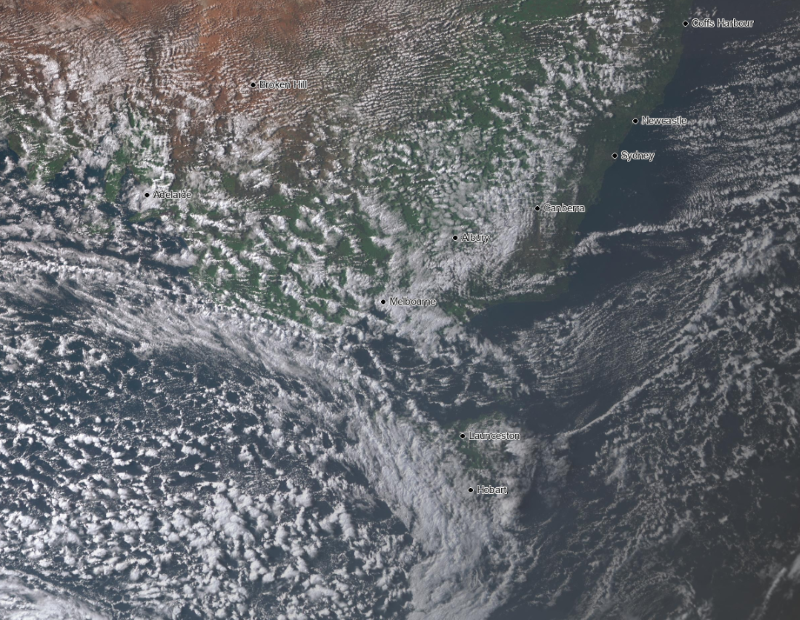 Image 2: Visible satellite image of 'speckled' cloud spreading across TAS, VIC and SA, demonstrating the cold airmass
This front will push into NSW tomorrow and reach southern QLD on Saturday, with the cold air expected to reach north into central QLD. Strong wind gusts of 60-80km/h, reaching 100km/h in more exposed areas (>120km/h in alpine areas) will spread up the NSW ranges, and push into southern QLD on Saturday, with Saturday likely to be the windiest day across NSW and QLD. The winds are likely to whip up more dust, raise bushfire potential (and increase spread of fires if they begin) and bring the risk of fallen trees and powerlines.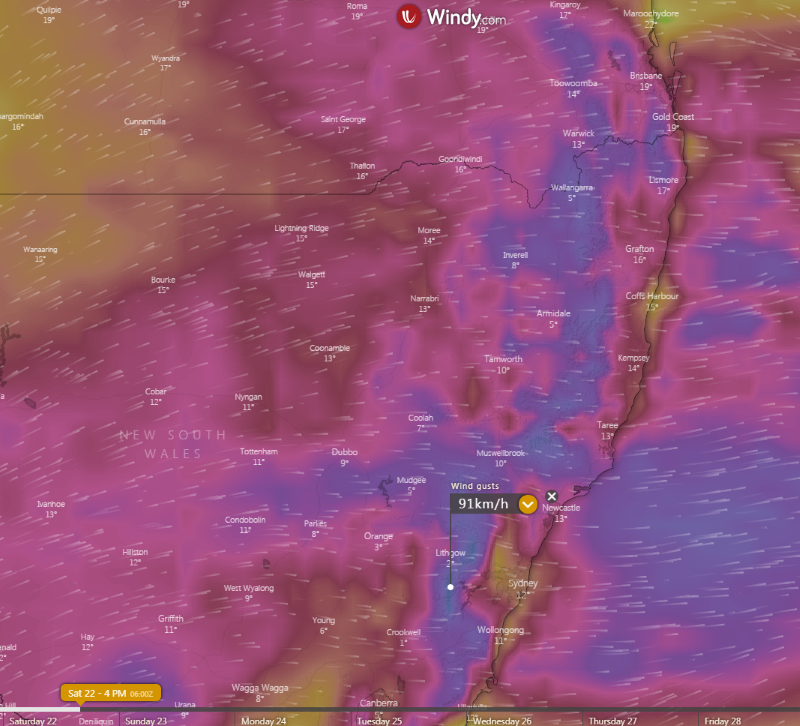 Image 3: Strong wind gusts are expected to affect large parts of eastern NSW and southeast QLD on Saturday (Source: Windy)
One of the features of the system will be low level snow which is expected to reach up to the northern NSW ranges, with even the chance of a few brief flurries on higher parts of the NSW/QLD border region. Snow is expected to fall above 400 metres in TAS, 500 metres in VIC, 600 metres in southern NSW and 900 metres in northern NSW. Alpine areas will see a further 50cm or more of fresh snow, while parts of the central NSW Tablelands could see more than 20cm of fresh snow, which would be one of the more significant snowfalls in recent years for the region. In northern NSW, 5-10cm of fresh snow is likely in some areas.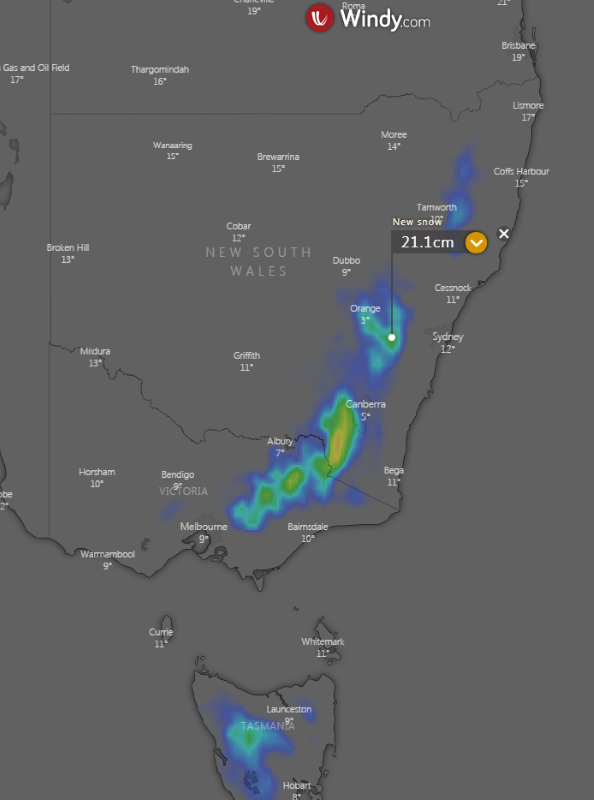 Image 4: Snow is expected to fall to low levels across southeast Australia, with moderate snowfalls possible on the central NSW Tablelands (Source: Windy)
Rain totals will be light to moderate, with the heaviest falls confined to the NSW/VIC alpine areas (30-60mm), coastal SA (15-30mm), western TAS (20-40mm), southern VIC (25-50mm) and the southern and central NSW Slopes/Ranges (20-50mm), with some of this falling as snow.
Strong winds are likely to persist over far east VIC, eastern NSW and far southeast QLD on Sunday, before easing from Monday.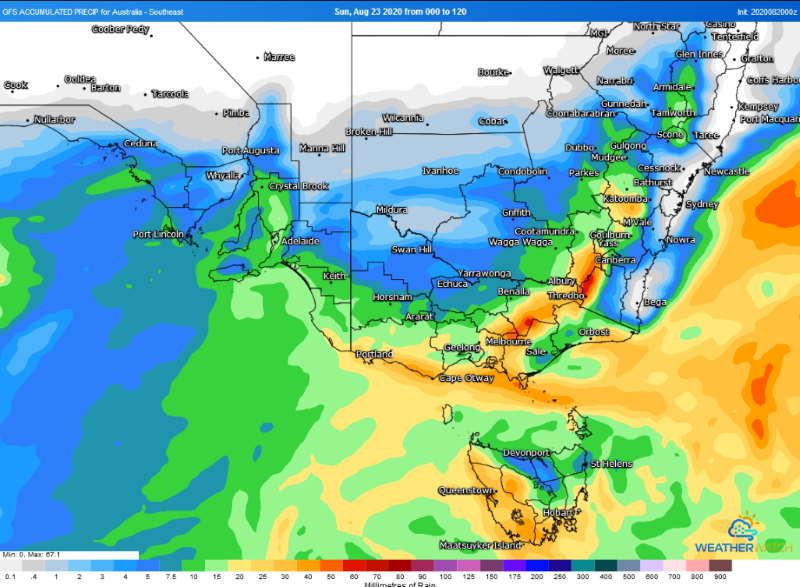 Image 5: Rainfall accumulation across southeast Australia across the next 5 days from the GFS Model (Source: Weathwatch Metcentre)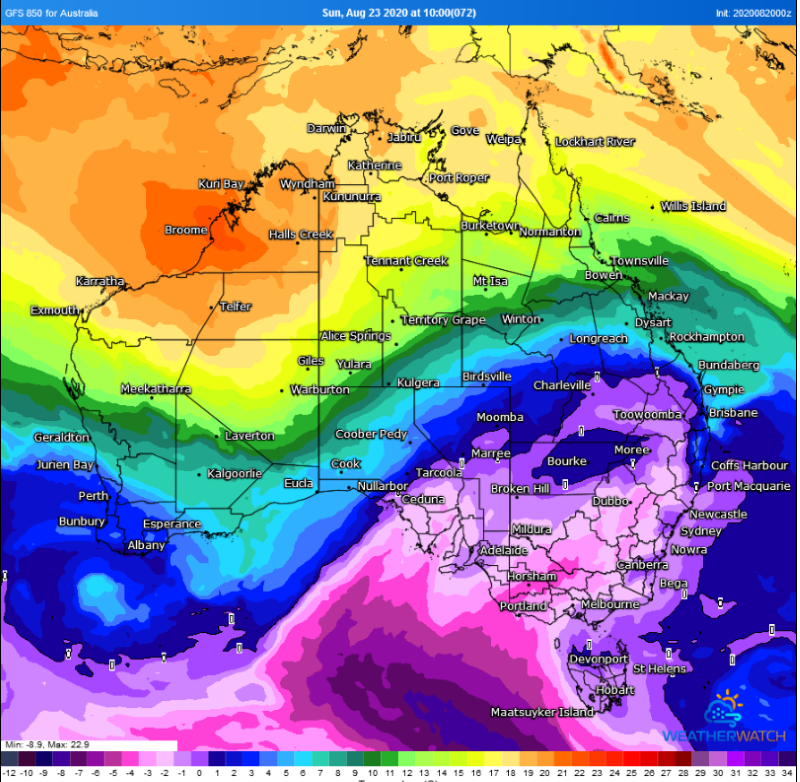 Image 6: Cold air reaching into central QLD (Source: Weatherwatch Metcentre)
Strong cold front to send another burst of showers, strong winds and low-level snow across Australia's southeast
Thursday 20th August 2020
An even stronger cold front is set to bring another burst of damaging wind gusts and showers to large parts of Australia's southeast over the next few days, however a colder airmass with the system is set to see snow fall to low levels and possibly reach close to the Queensland border.
The nation's southeast was lashed on Tuesday night and on Wednesday by a cold front, which caused widespread wind gusts of 60-90km/h, heavy snow and blizzards in alpine areas, a tornado in Adelaide's south, a few bushfires as well as a duststorm that has stretched from eastern South Australia into southeast Queensland and northeast New South Wales.
---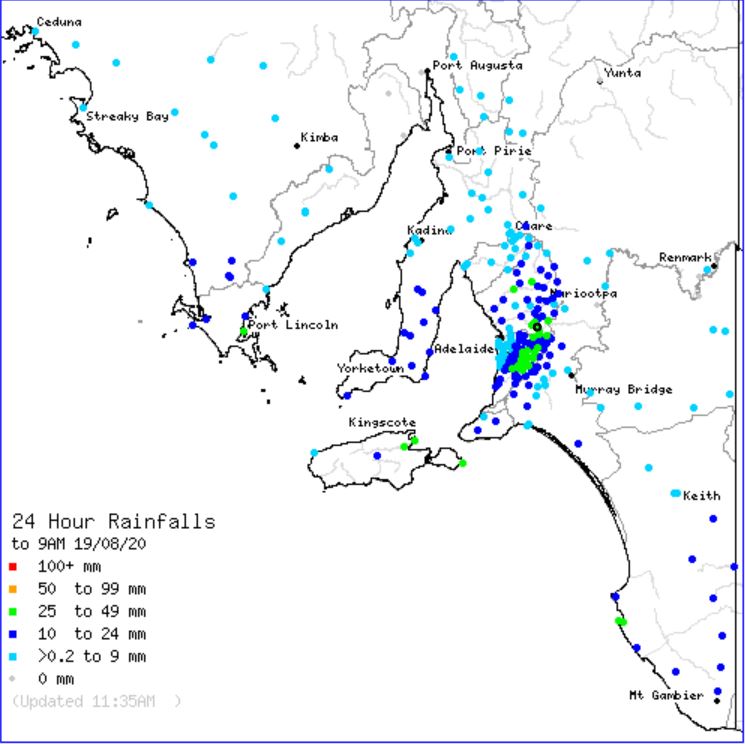 Image 1: BoM rainfall totals to 9am 19/08/2020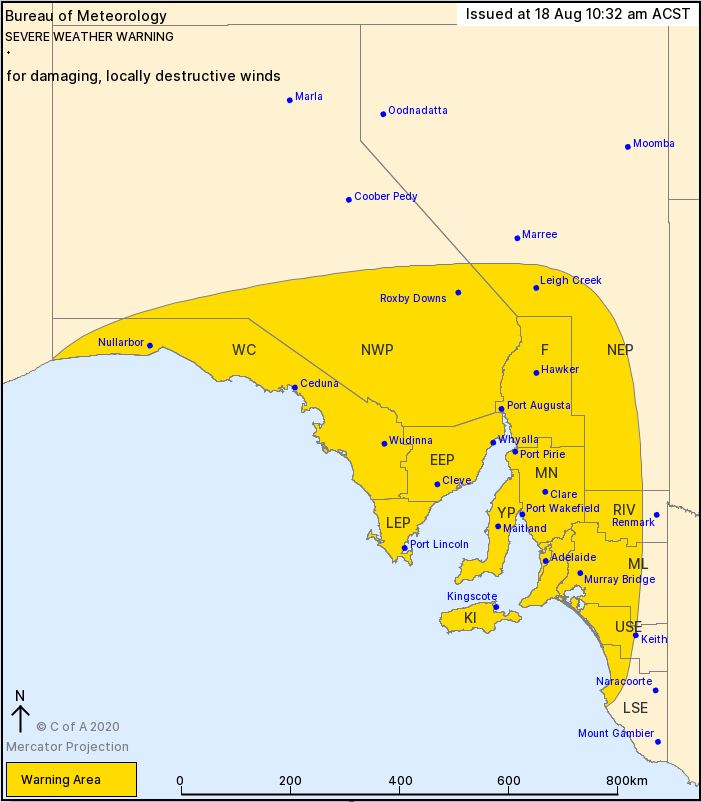 Image 2: Severe Weather Warning issued by the BoM 18/08/2020
Severe weather strikes South Australia
Wednesday 19th August 2020
A multi-day severe weather event kicked off in South Australia on Tuesday, with damaging to destructive winds and impressive rainfall totals across central and eastern parts of the state.
At 10:30am Tuesday morning (local time) the Bureau of Meteorology sent a severe weather warning for western, central and eastern parts of SA. Damaging to locally destructive winds were expected to develop during the afternoon and overnight with the passage of a vigorous cold front and associated low pressure system. A suspected tornado roared through the suburb of Morphett Vale, with a narrow damage path noted. Local resident Paul said he was sitting down to watch a movie when winds picked up out of nowhere.
It wasn't just damaging winds that residents had to deal with, with scattered showers and thunderstorms lashing the region, particularly across the Adelaide, Mid North, Lower Eyre Peninsula and Kangaroo Island regions.
Kingscote, on Kangaroo Island picked up 29mm to 9am this morning, making it the wettest single day in 7 years. Cape Willoughby scored 31mm, Port Lincoln 26mm, Mt Crawford AWS 33mm and Warren Reservoir 35mm.
Windy and showery conditions will continue during Wednesday and Thursday, before a stronger cold front moves through the region on Friday. Southwesterly winds will strengthen once again, with a continuation of shower activity, isolated storms and small hail. Further totals of 10-20mm are likely for coastal areas, with up to 50mm possible across the Adelaide Hills over the next 72 hours.
---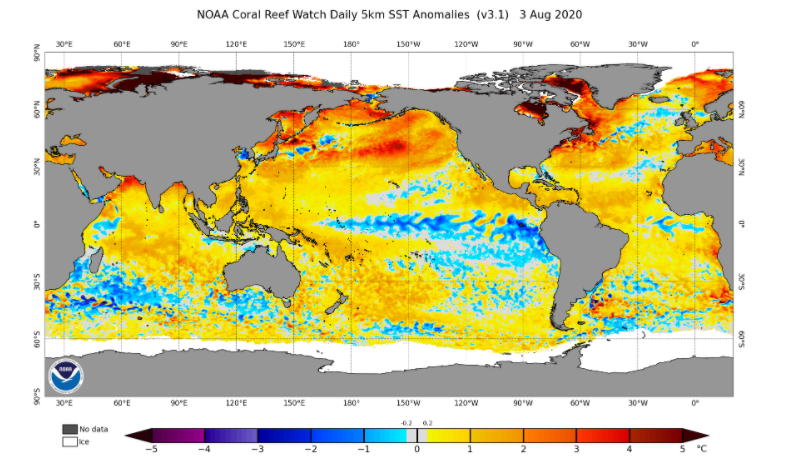 Image 1: Sea Surface anomoly, showing the cooling over the central and eastern Pacific Ocean (Source: https://www.ospo.noaa.gov/Products/ocean/sst/anomaly/)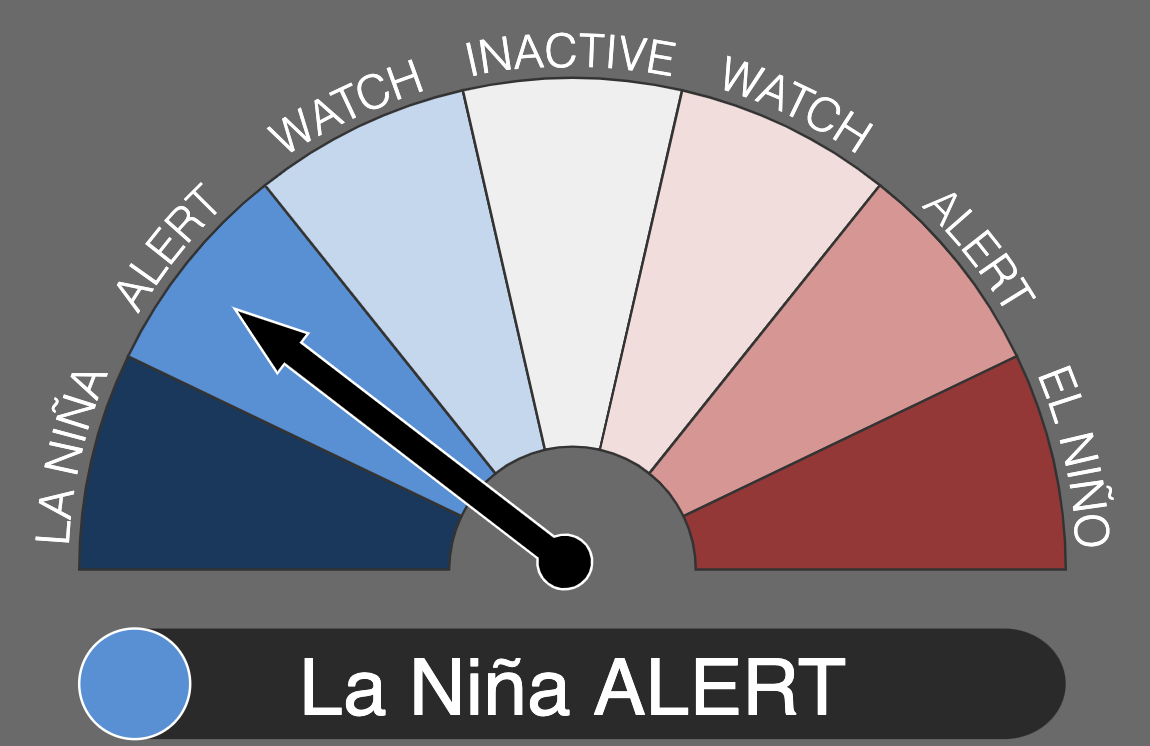 Image 2: La Nina Alert. Image via Bureau of Meteorology (http://www.bom.gov.au/climate/enso/outlook/)
Australia put on La Nina Alert
Tuesday 18th August 2020
Australia has been put on a La Nina Alert, according to the latest ENSO (El Nino Southern Oscillation) outlook today, with the chances of a La Nina event developing by spring increasing to 70 percent.
Cooling has continued in the central and eastern tropical Pacific Ocean over the past few weeks, as well as strengthening of the trade winds across the past three months. A number of computer models are also in agreement that further cooling towards La Nina thresholds is likely during spring, and possibly persist into the summer. Currently, the chances of a La Nina event forming in the coming months is considered 70%, around three times the normal.
During La Nina events, rainfall typically increases over northern and eastern Australia as well as leading to cooler than average maximum temperatures, although this is not always the case.
It is worth noting that a La Nina Alert does not guarantee a La Nina will occur, however computer guidance and the current trend suggests this is the most likely scenario.
---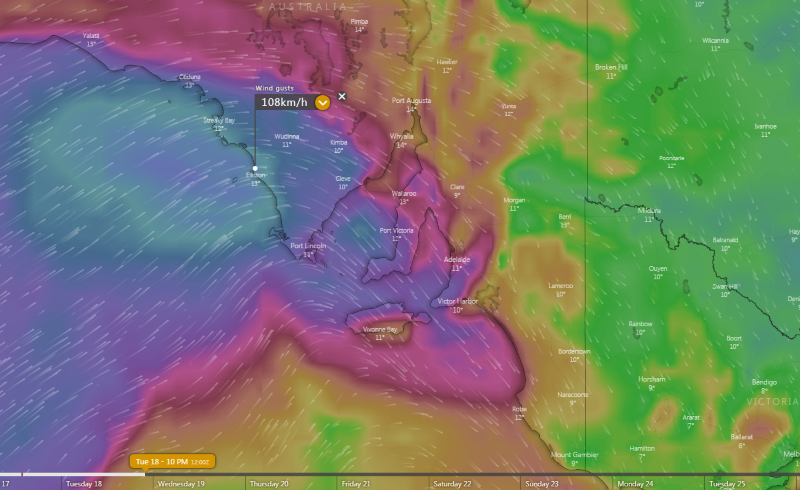 Image 1: Wind gusts expected across South Australia on Tuesday evening/Wednesday morning from the EMCWF Model (Source: Windy)
On Wednesday, these winds will shift into New South Wales, with large parts of the state also seeing gusts reaching 60-80km/h. Over parts of the inland, much of the Great Dividing Range and Slopes and some central coastal areas, widespread gusts of 80-100km/h are likely. As the cold airmass makes its way north, blizzard conditions and heavy snow are likely over the ski fields, with some of the heaviest falls of the season likely on Wednesday and over the following days.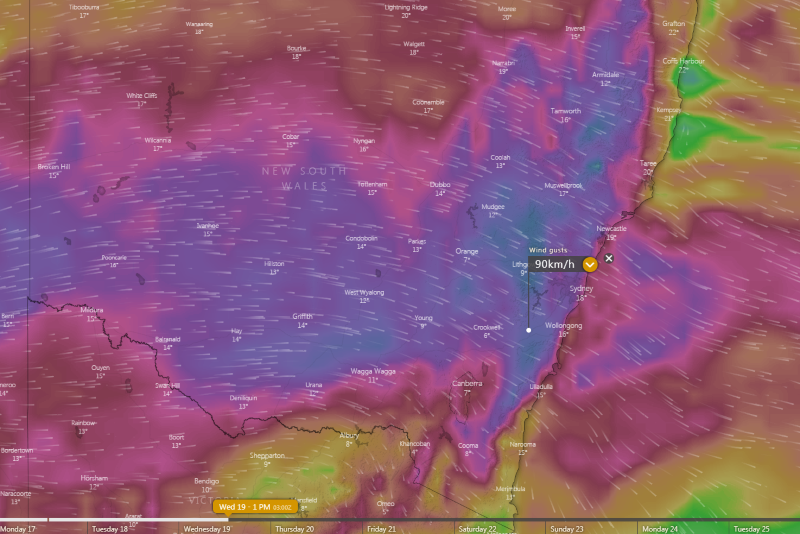 Image 2: Wind gusts expected across NSW on Wednesday from the EMCWF Model (Source: Windy)
For Queensland, this means a sustained run of dry weather and westerly winds traditionally known as the 'Ekka winds'. These dry and gusty winds will develop from Wednesday and cause increased fire danger across the state, however due to recent rains the bushfire danger is not expected to be anywhere near as high as seen as this time last year. Towards the end of the week and into the weekend, winds may approach 80-90km/h across the southeast as another cold front pushes significantly further north than the first.
Snow is likely to extend from TAS up to the NSW Northern Tablelands with this system and possibly even the QLD Granite Belt on late Friday/Saturday, whilst another burst of wind is likely across the southern states as well. This system is still several days away, however we at EWN will give more details of this second system in coming days as it unfolds and model data becomes clearer.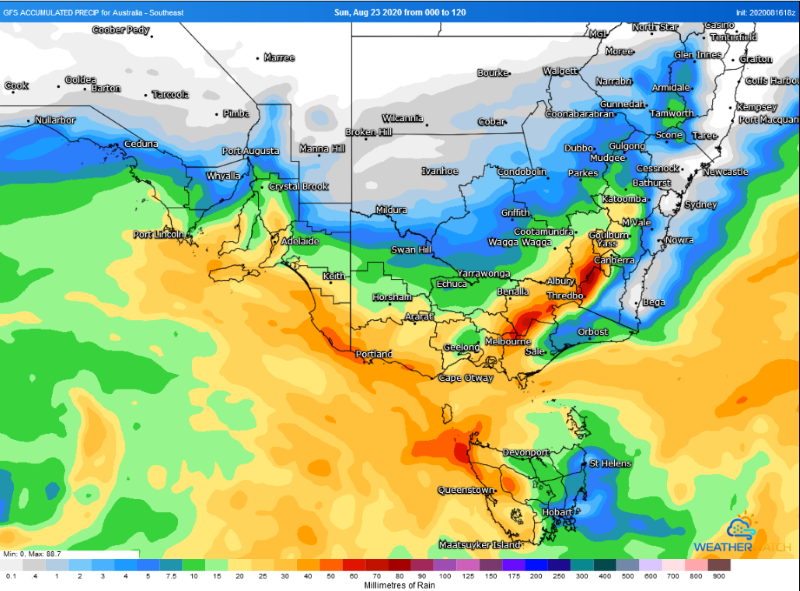 Image 3: Rain accumulation across southeastern Australia over the next 120 hours from the GFS Model (Source: Weatherwatch Metcentre)
Image 4: Snow accumulation across the next five days over southeastern Australia (Source: Windy)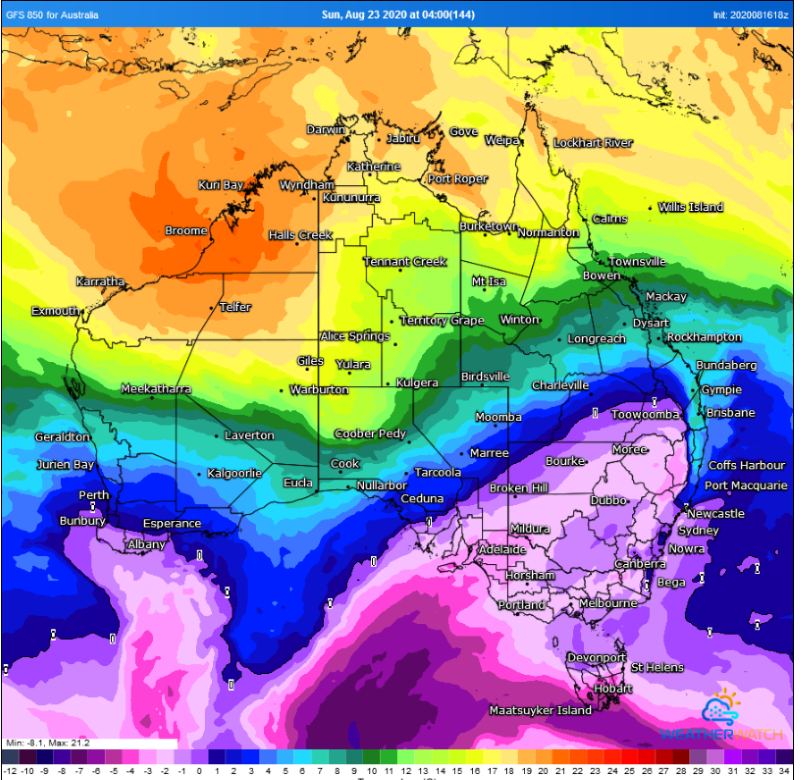 Image 5: Cold air extending into southeast Queensland later this week and into the weekend (Source: Weatherwatch Metcentre)
Wild winds set to lash southeast Australia as another cold blast hits the region
Monday 17th August 2020
Wild weather is on the way to parts of southeast Australia over the coming days as a series of cold fronts hits the region, with wind gusts in excess of 100km/h, showers, thunderstorms, small hail and snow all possible.
Conditions will begin to deteriorate across South Australia, Victoria and Tasmania tomorrow as the first of these fronts approaches. Cloud and showers will increase across all three states, whilst isolated thunderstorms are also expected across eastern SA and Victoria during the daytime, which bring the risk of small hail and localised gusty winds.
The strongest impacts will be felt across South Australia from Tuesday evening and into Wednesday morning, with widespread wind gusts of 60-80km/h developing about the state's southern half. For the West Coast, Lower Eyre Peninsula, Eastern Eyre Peninsula, parts of the Mid North, Flinders Ranges and Mount Lofty Ranges, wind gusts may reach up to 100-110km/h, whilst in the Adelaide area itself gusts up to 90km/h are likely. These winds bring significant damage potential, including bringing down trees and powerlines and causing power outages.
---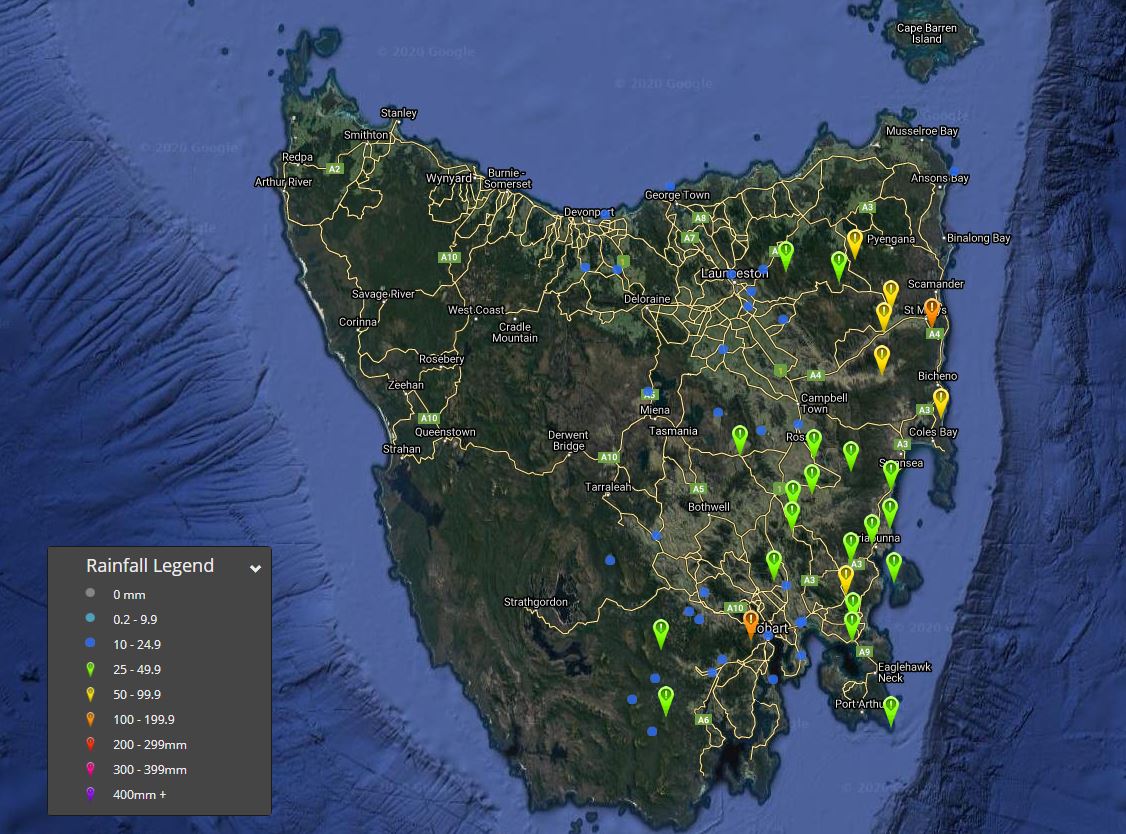 Image 1: 72 hour Rainfall totals to 9am 17/08/2020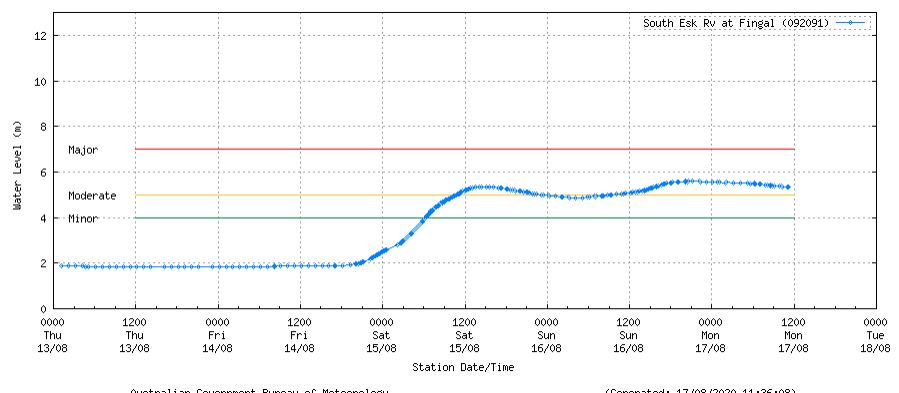 Image 2: South Esk River flood height. Image via BoM
Tasmanian weekend rainfall wrap
Monday 17th August 2020
Eastern Tasmania saw wet conditions across the weekend, as a low pressure system off the southern NSW coast shifted south, producing areas of heavy rain.
Mt Wellington, in the states South East, registered its wettest August day in 10 years with 57mm falling in the 24 hours to 9am 17/08/2020, with 100.8mm falling in the last 72 hours. Fingal's 37.6mm on Saturday was also its wettest August day in 9 years, scoring 57.4mm in the 72 hours to 9am 17/08/2020
Further widespread totals of 25-49mm were recorded across eastern Tasmania throughout the weekend, with isolated heavier falls exceeding 100mm. Gray, registered 102.8mm in the 72hours to 9am this morning, with Friendly Beach picking up 68.2mm, Nonameta 65mm, Mount Victoria 55.2mm, Lewis Hill 53.6mm, Nugent 52.9mm, Little Swanport 48.4mm, Grindstone 37.9mm, Maria Island 42.4mm and Hobart 23.8mm.
The Bureau of Meteorology issued a flood watch for rivers and streams across eastern Tasmania in response to heavy falls, with minor flooding developing for many locations. The South Esk River at Fingal recorded a moderate flood level during Sunday, and was still just above the moderate level this morning.
Whilst conditions have eased today, another deep low and series of fronts are expected to impact the region this week, with an increase in shower activity likely from Wednesday through until the weekend. At this stage no further heavy falls are expected, however another 5-15mm is likely.
---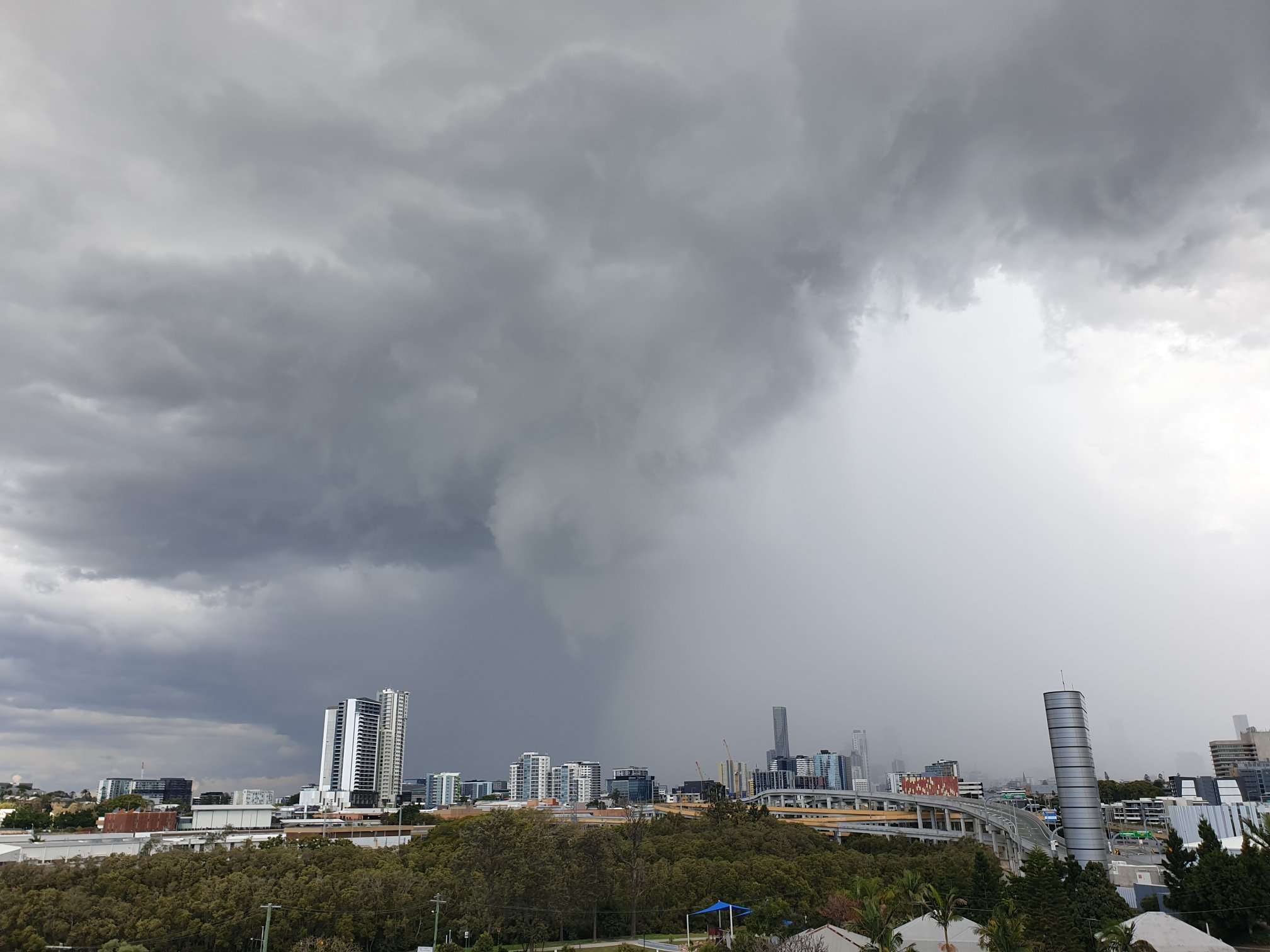 Image 1: Isolated thunderstorms affecting Southeast Queensland as viewed from Windsor by Early Warning Network's very own Cameron Hayes.
Thunderstorms rumble through parts of Southeastern Queensland
Saturday, 15th August 2020
A few lines of shower and thunderstorm activity are actively sweeping through southeastern Queensland and also parts of the eastern Darling Downs and parts of the Wide Bay and Burnett district. This activity is due to a cold front lying over the southeastern interior of the state and moving towards the east, with more settled conditions expected behind the front leading into tomorrow.
Earlier today, showers and thunderstorms produced localised strong to damaging winds, along with hail with reports of hail occurrences to pea sized including the areas of Bundamba in Brisbane's west, Parkinson and also at Alexandra Hills near the bayside.
Only modest rainfalls have occurred with isolated thunderstorm activity, with moderate rainfall rates producing rainfall over 10mm in some cases. Parts of the Scenic Rim have received rainfall up to 15mm and southern inland parts of the Gold Coast since 9am this morning. Wind gusts are the primary threat today and already there have been gusts over 70km/h recorded for a few locations including 78km/h at Dalby at 4:16pm and 72km/h wind gusts recorded at both Archerfield at 12:25pm and Cape Moreton respectively at 3:22pm.
New Severe Thunderstorm Warnings for Damaging Winds have been issued a short time ago, which includes the Darling Downs and Granite Belt, Southeast Coast and Wide Bay and Burnett regions for thunderstorm activity that may produce localised strong to damaging winds. These are forecast to affect such areas as Mt Mowbullan, Cooyar, Crows Nest, Linville, Yarraman, Hervey Bay, Fraser Island, Maryborough, Childers, Biggenden, Tiaro and Rainbow Beach over the next few hours.
If you have observed any significant weather at your location, including wind gusts, hail and/or heavy rainfall, then feel free to share your observations with us via our Early Warning Network social platforms on both Facebook and Twitter.
---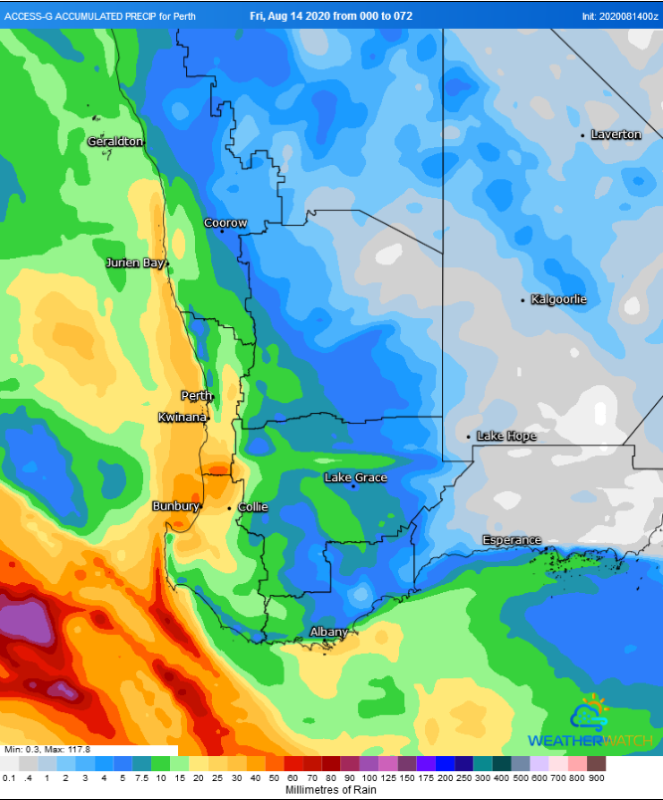 Image 1: Forecast rainfall across the next 72 hours from the ACCESS G Model (Source: Weatherwatch Metcentre)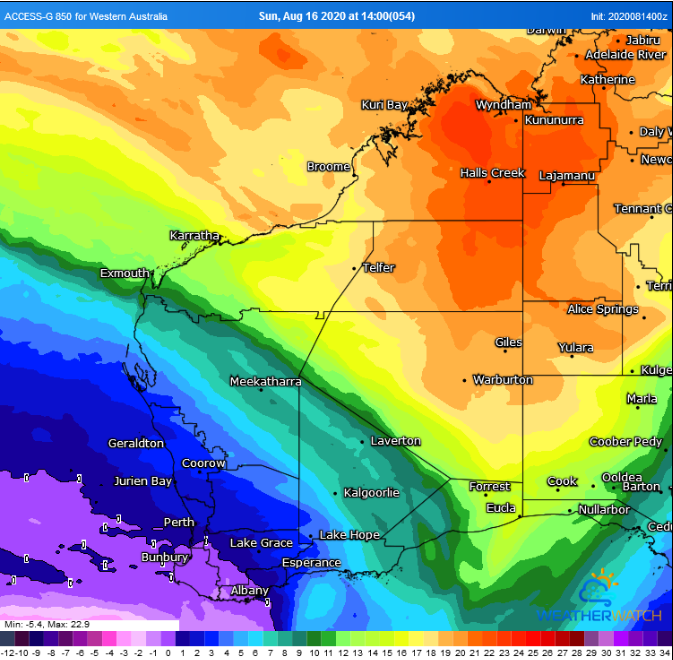 Image 2: 850 temperatures showing the cold front over southwest WA over this weekend (Source: Weatherwatch Metcentre)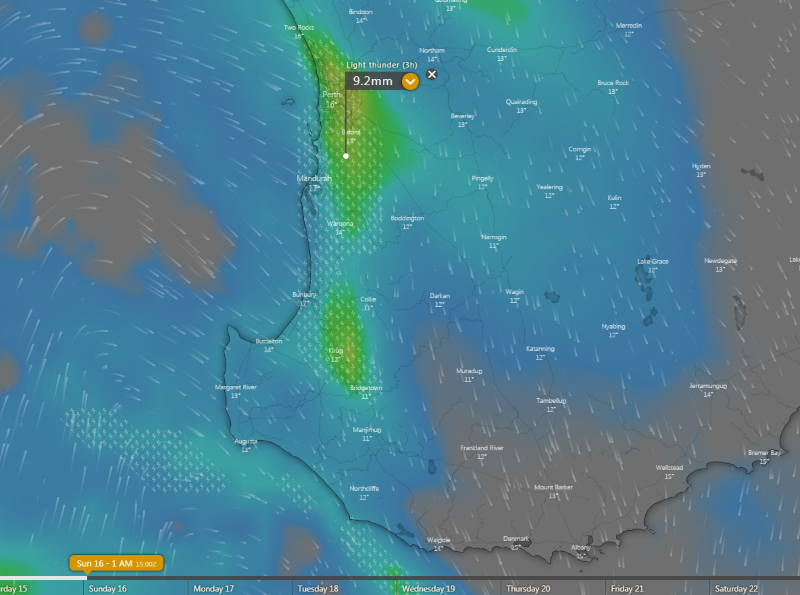 Image 3: Thunderstorm forecast from the ECMWF Model For Saturday 15th evening/Sunday 16th morning (Source: Windy)
Cold front set to bring rain, thunderstorms and chilly conditions to southwest WA
Friday, 14th August 2020
A cold front is set to sweep across southwest WA on Saturday and into Sunday, bringing widespread rain, possibly severe thunderstorms and chilly conditions in its wake.
The weekend will begin balmy across the region as the mercury rises several degrees above average on Saturday (into the low-to-mid 20s in many areas) before the front arrives. The front will affect the southwest capes during the morning, before reaching the Perth region during the late afternoon/evening and spreading east into the evening and on Sunday.
Widespread rain and showers are likely as far north as Shark Bay, east into the Goldfields and across WA's south coast, although for many areas these falls will be light (less than 5mm). The heaviest totals are likely along coastal areas from around Jurien Bay to Albany, where widespread totals of 15 to 30mm are likely with isolated falls up to around 50mm.
Thunderstorms are also likely to accompany the front in some areas, with strong wind shear associated with the system bringing the risk of localised damaging wind gusts in any thunderstorms, most likely during the evening. However, in the wake of the front on Sunday there is also the risk of isolated cold air thunderstorms in coastal areas, bringing the chance of localised small hail.
Outside of thunderstorms and showers, damaging wind gusts above 90km/h are not expected to be one of the main features with this front. Gusts may approach this strength on the southwest capes on Saturday & Sunday, and in the South East Coastal and southern Goldfields on Sunday, however widespread strong winds are not expected.
As a high moves in early to mid next week, days will clear up however cold nights will develop by mid next week.
---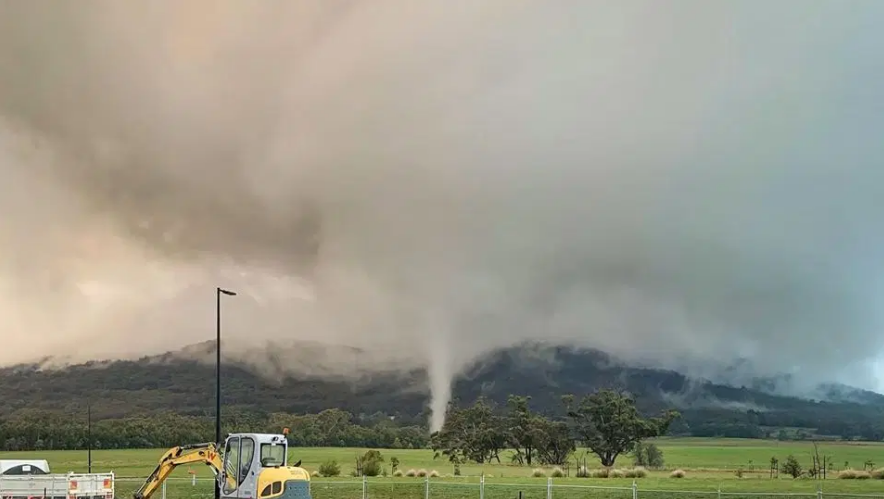 Image 1: Woodend Tornado, August 13th 2020 in Victoria
Confirmed tornado for Victoria
Friday, 14th August 2020
A tornado touched down in Woodend, Victoria late yesterday afternoon around 5.30pm and was relatively short lived. This came as a surprise to some residents, especially when the tornado lofted hay bales into the air while remaining slow moving.
The majority of thunderstorm activity yesterday across northern and central parts of Victoria delivered up to 17mm at Hillside, however the majority of regions recorded less than 5mm.
The short lived EF0 tornado did leave some damage in it's wake, and from we can ascertain the tornado moved in a northwest to southeast direction crossing Boundary Road before dissipating three minutes thereafter.
This was considered a 'cold air' tornado, which form beneath showers and/or weak thunderstorms when the air aloft is especially cold from an upper level trough or cold pool combined with sufficient localised wind convergence. This was the case relating to the Woodend, Victoria tornado.
---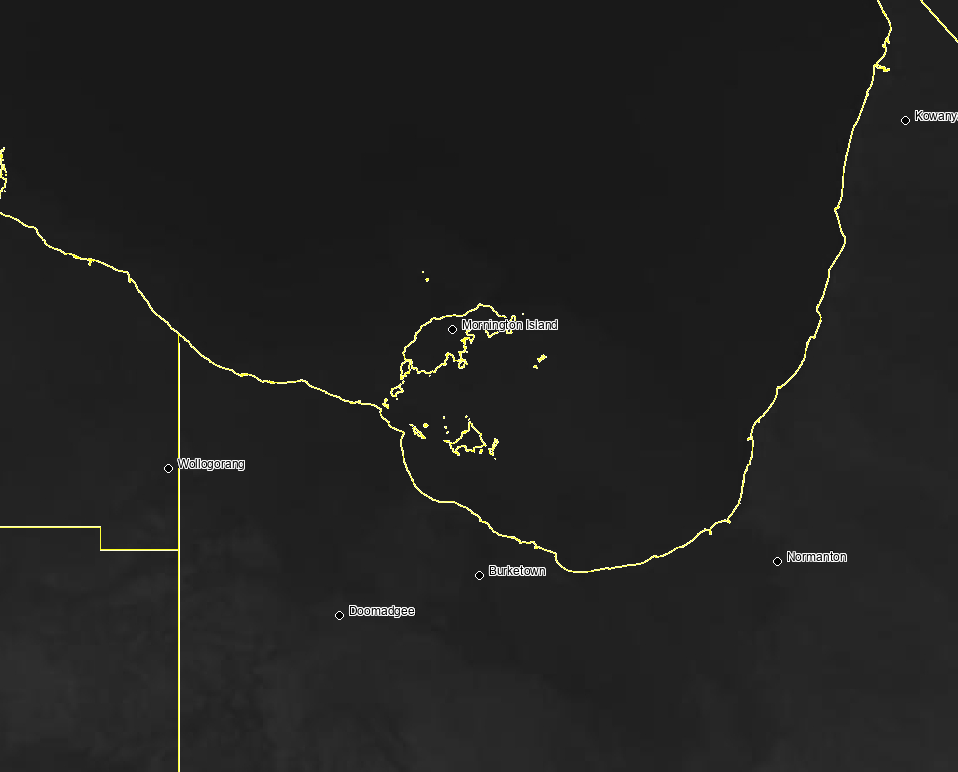 Image 1: Morning Glory Satellite GIF Animation (Vis) Thursday 13th August 2020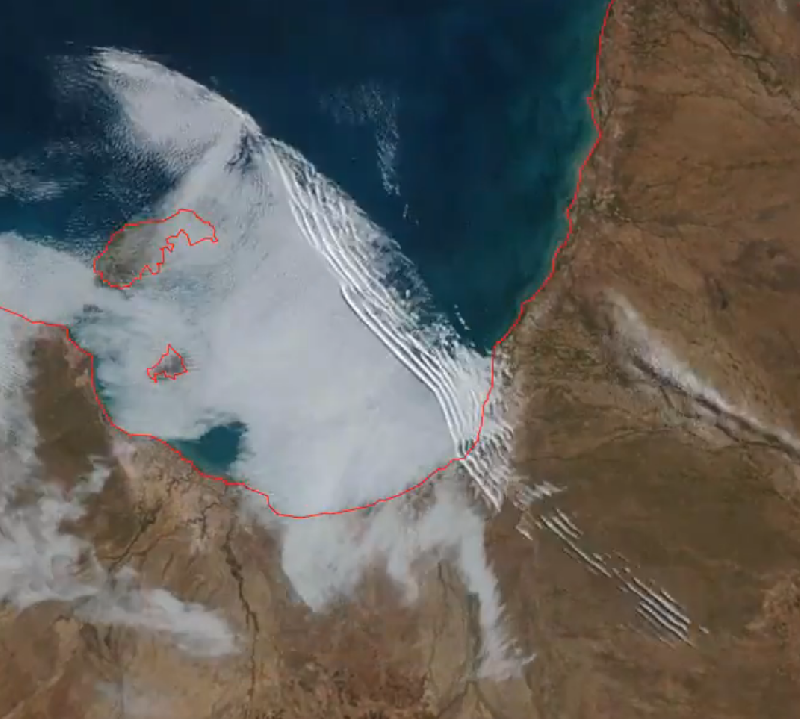 Image 2: Morning Glory Satellite Image (Vis) Thursday 13th August 2020
Morning glory for the Gulf of Carpentaria
Thursday, 13th August 2020
Residents situated along the Gulf Coast of Queensland were treated to a spectacular morning glory cloud formation this morning as the low-level cloud traversed across the Gulf waters earlier.
Usually during the afternoon, sea breezes from the east and west coasts of Cape York collide over the peninsula and collapse back towards the surface, effectively creating a wave low level atmosphere like a ripple effect as it moves over the body of water
When conditions are just right the moist air ascends and condenses into cloud along the leading edge of the westward-moving front, descending at the rear to form turbulent creating a wave effect. It reaches the southern Gulf coast in the early morning as a spectacular roll cloud as detailed in the satellite image animation from this morning attached below.
When conditions are just right the moist air ascends and condenses into cloud along the leading edge of the westward-moving front, descending at the rear to form turbulent creating a wave effect. It reaches the southern Gulf coast in the early morning as a spectacular roll cloud as detailed in the satellite image animation from this morning attached below.
---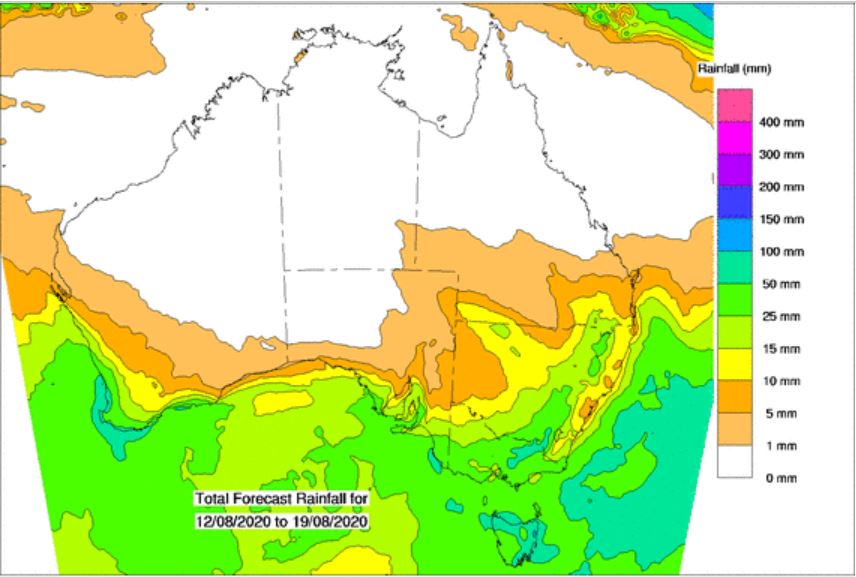 Image 1: BoM PME rainfall over the next 8 days.
Heavy rain for Tasmania, Victoria and South Australia
Wednesday 12th August 2020
It's going to be a wet end to the week for southeastern Australia, with a large low pressure system and series of troughs to sweep across parts of South Australia, Victoria and Tasmania.
During Wednesday, scattered showers, rain periods and isolated thunderstorms are possible across central and eastern SA, VIC and northern TAS, with 5-15mm possible throughout the day.
Showery conditions will continue into Thursday, as moisture wraps around the large low in the Bight, with a further 5-15mm possible for coastal parts of SA and VIC. Rain across northwestern TAS may become a little heavier late Thursday and into Friday as a series of troughs moves across this region. Localised falls of 15-30mm will be possible, with isolated falls to 50mm which may lead to localised flash flooding and minor river rises.
Shower activity will slowly decrease across parts of SA and VIC late Friday, as onshore winds ease as a high pressure system moves through central Australia.
Rainy conditions will continue for northern TAS throughout Friday and into Saturday, with further moderate to locally heavy falls which may lead to areas of flash flooding and minor riverine flooding. These conditions will gradually shift towards eastern TAS as a low pressure system develops off the eastern Victoria coast during the weekend.
The forecast becomes a little murky after this, as rainfall amounts and potential for damaging winds gusts will be highly dependent on where this low develops, and its movement. At this stage, it is forecast to drift in a southerly direction towards TAS, which would see showers increase across eastern TAS once again and the potential for winds to reach 80-100km/h late Sunday.
---
Image 1: Rainfall totals across Australia across the past week to Tuesday 11th August, 2020
Another rain bearing low pressure trough will cross the region on Friday and Saturday and will bring more widespread totals, with the heaviest totals likely to fall across parts of the southern NSW Slopes & coast, central NSW slopes and inland as well as the northern NSW ranges/slopes and QLD Darling Downs & Granite Belt.
Many areas across NSW and QLD will record at least 5-15mm, however across the previously mentioned areas totals of 30-50mm are likely. This is especially true for those areas that receive thunderstorms, which will be isolated to scattered across the region due to strong lifting created by a warm airmass ahead of the trough and an associated sharp upper level trough.
Thunderstorms overall are not expected to be severe for most areas, although in central and southern NSW storms may contain small hail due to the associated cold upper level airmass and will generally be slow moving due to weak wind shear.
Across northeast NSW and southeast QLD (including Brisbane), the combination of a warm and humid airmass and stronger wind shear makes the chances of severe thunderstorms more favourable. However, the most likely scenario for the region will be a line of rain and thunderstorms to move through the region during the afternoon and evening. Within this line, localised strong winds and flash flooding are possible.
The trough will move rapidly offshore on Sunday, clearing rain and thunderstorms and leaving a much drier airmass in its wake. A westerly pattern is likely across the next week, confining showers to southern and central NSW, with northern NSW and QLD likely to remain dry.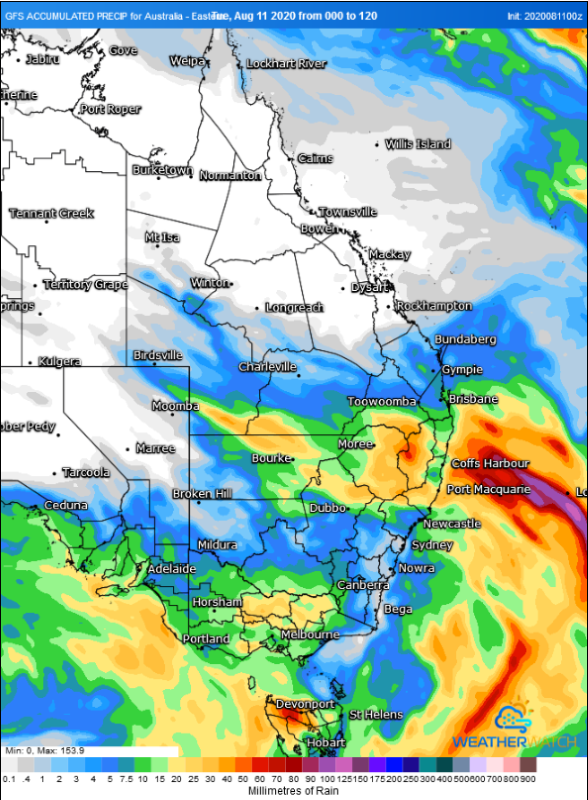 Image 2: Forecast accumulated rainfall totals across the next 5 days from the GFS Model (Source: Weatherwatch Metcentre)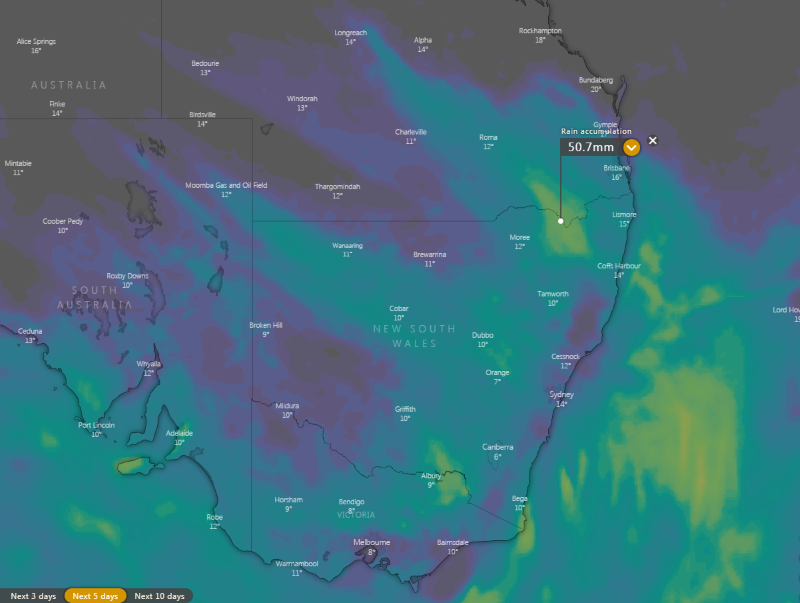 Image 3: Forecast accumulated rainfall totals across the next 5 days from the ECMWF Model (Source: Windy.com)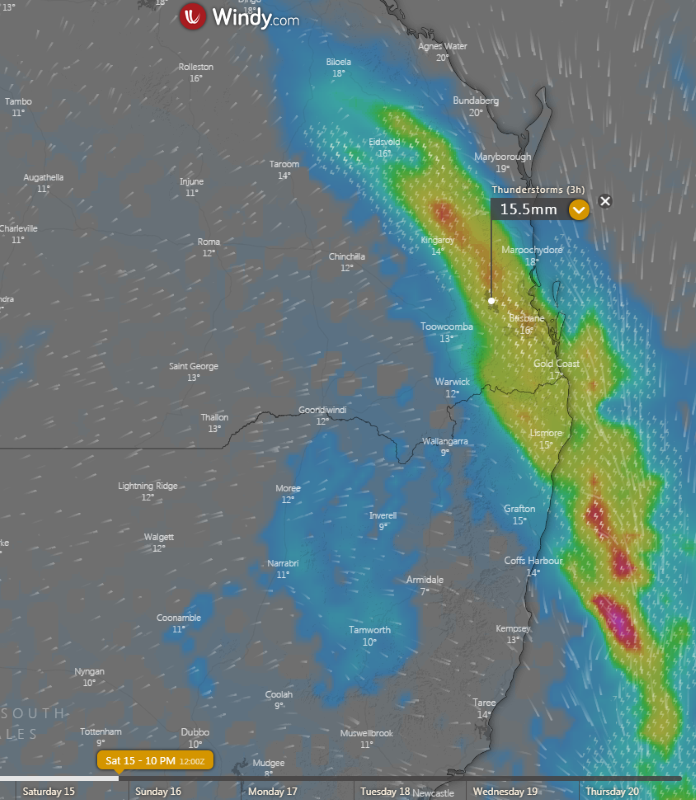 Image 4: Thunderstorm and rain prediction from the ECMWF Model at 10pm AEST Saturday 15th August, 2020 (Source: Windy.com)
Rain and thunderstorms to spread across NSW and QLD
Tuesday 11th August 2020
Rain and thunderstorms are set to sweep across New South Wales and southern Queensland on Friday and Saturday, bringing some fantastic follow up falls on the back of recent rains the last few weeks.
Frequent rain bearing systems have been commonplace recently, with large parts of eastern, western and southern Australia receiving healthy totals after a very dry June and July across large parts of the country.
---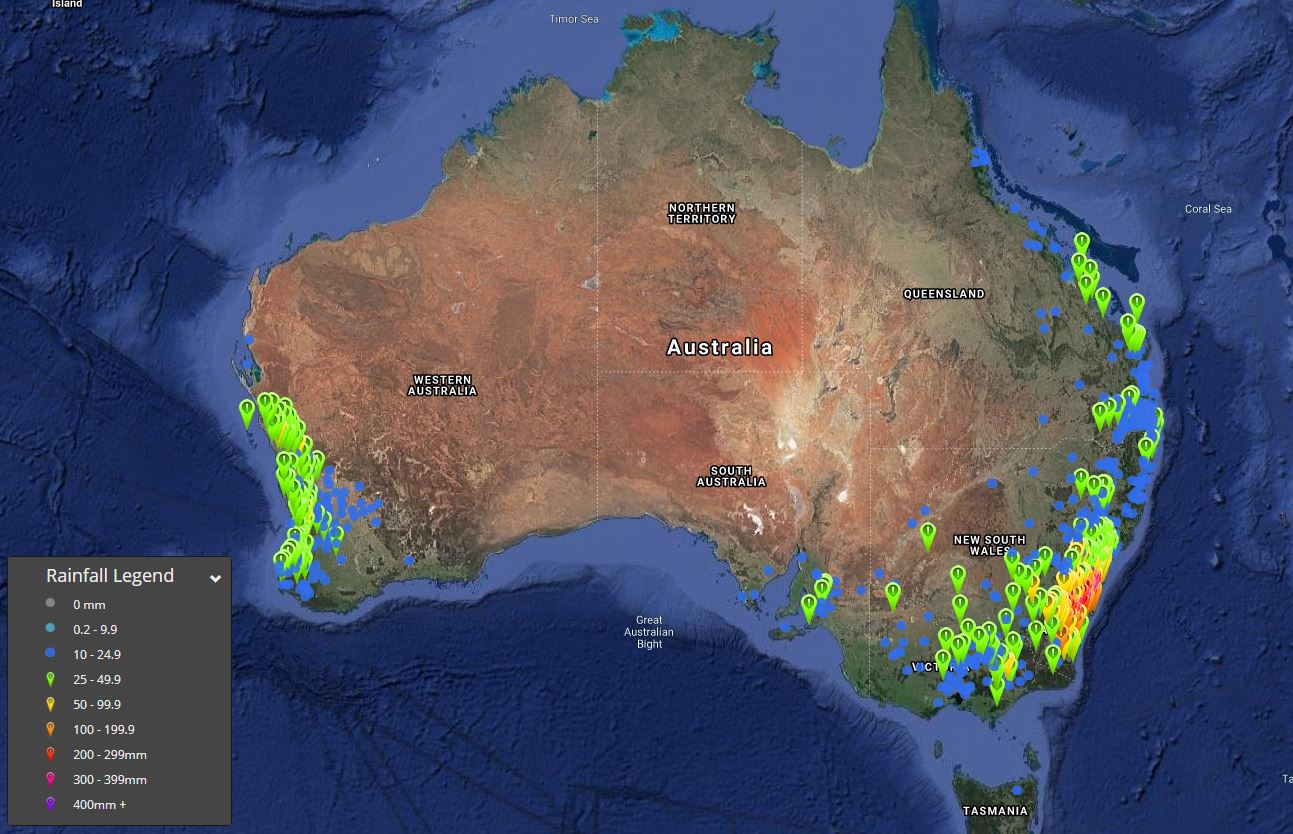 Image 1: 72 hour rainfall totals to 9am 10/08/2020.
Weekend Weather Wrap
Posted Monday 10th August 2020
It has been an extremely active last 7 days across Australia, with multiple low pressure systems providing widespread severe thunderstorms across parts of the NT/SA/QLD, before an East Coast Low developed off the NSW coast, producing flooding rains across parts of the Illawarra and South Coast.
Low level snow was recorded in the suburbs of Hobart, with flurries even falling on high rise buildings in the Melbourne CBD. During Sunday, snow was recorded across central and northern parts of NSW, with 7-day snow totals up to 40cm recorded across the ski fields.
A multi-centred ECL off the NSW coast produced widespread falls of 150-300mm over the last few days, leading to widespread flash flooding and multiple flood warnings across southern NSW, with major flooding continuing for the Shoalhaven River. In the 72 hours to 9am 10/08/2020, Nowra Boat shed (Shoalhaven River) has received 343.3mm, including 204mm in a 24hr period (9am to 9am) on Saturday the 8th of August, making it the single wettest day in the sites history, eclipsing the record set back in February 2020 however data only goes back to the year 2000.
Other notable 72 hours falls to 9am 10/08/2020 include Robertson 304.2mm, Broughton Creek 334.8mm, Nowra AWS 338mm, Porters Creek Dam 301.1mm and Mongarlowe 343mm.
This ECL didn?t just produce flooding rain, but damaging winds also developed across the weekend, with Bellambi recording a gust to 106km/h, Kiama 95km/h, Sydney AP 82km/h, Norah Head 96km/h and North Head 85km/h, with waves over to 5m leading to further beach erosion.
The action wasn?t just confined to southeastern Australia, with a powerful cold front sweeping across parts of Western Australia on Sunday, with a severe weather warning issued for damaging winds and heavy rain.
Cape Naturaliste recorded a gust to 109km/h, Mt Magnet Aerodrome 104km/h, Rottnest Island 102km/h, Ocean Reef 82km/h, Perth 78km/h, North Island 98km/h, Bickley 85km/h and Swanbourne 80km/h. Bickley also scored the highest rainfall total with 63mm with further widespread falls of 25-49mm, including Moascar 51.7mm, Perth Metro with 35.4mm, Busselton AP 25.4mm, Highbury East 30.4mm, Geraldton AP 49.6mm (new daily site record).
Across the Top End in the Northern Territory, fine and dry conditions continued with fire dangers steadily increasing. Whilst no watch and act fires are ongoing, high to very high conditions remained over the weekend and will continue this week. This is common for this time of year, as the build up to the wet season steadily begins.
Looking ahead, a large cold front and deep low responsible for severe weather across WA will continue to progress east today, with a band of showers and isolated storms possible across eastern parts of WA and into SA. As the week progresses, with system will continue to move in an east to southeasterly direction, with further showers and isolated storms once again developing across southern and eastern Australia. Another rain band looks likely to develop across western QLD and NSW late this week too, with another round of impressive back-up winter rain on the way.
---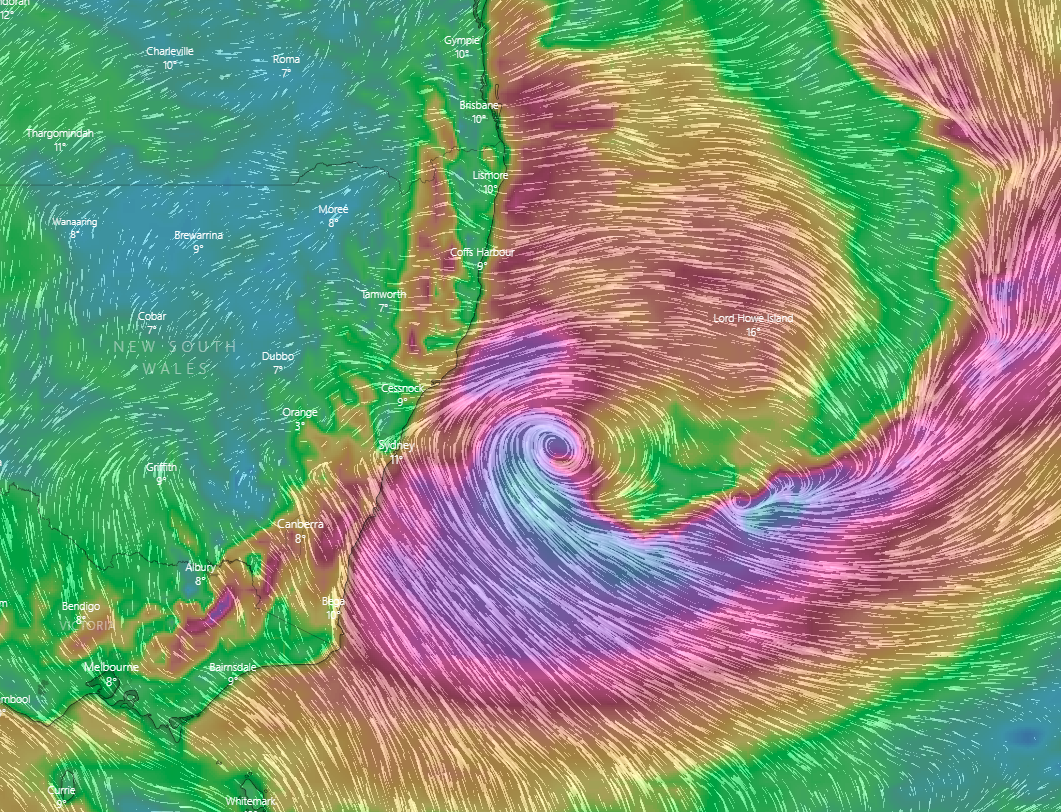 Image 1: EC model wind gusts for 10 pm Sunday (Source: Windy )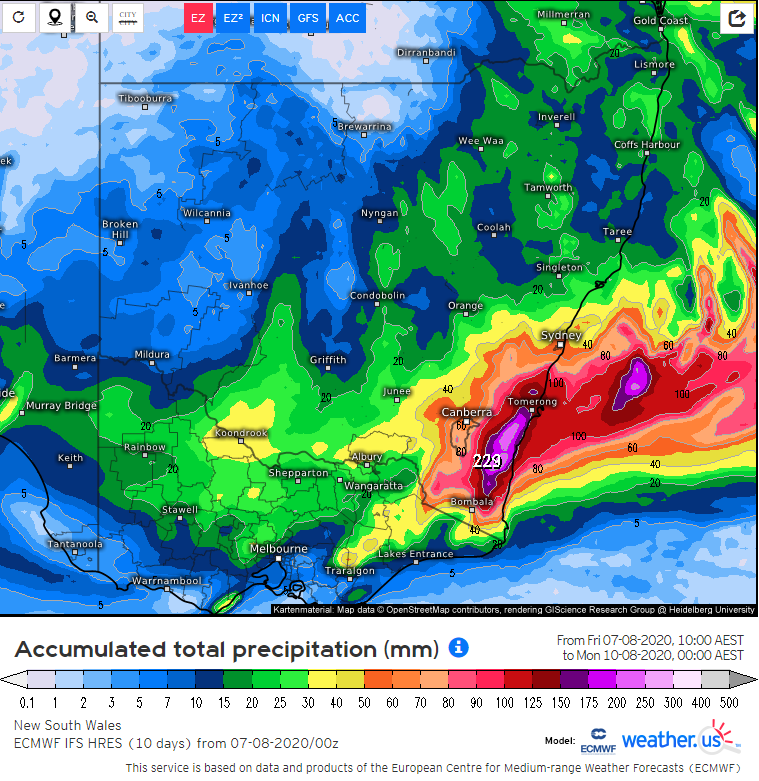 Image 2: Accumulated rain from Friday up to the end of Sunday from the EC model (Source: weather.us)
Another big drenching looming for the southern NSW coast this weekend
Posted Friday 7th August 2020
Yet another heavy rain event with flooding potential is aiming its sights on the southern coast of New South Wales this Saturday and Sunday.
The third strong Tasman Sea low pressure area in almost as many weeks is expected to consolidate on Sunday and Monday off the New South Wales coast after the current low over western NSW moves offshore but as it does so, it's expected to start directing a strong east to southeasterly flow onto the southern coast. This is then likely to cause heavy rain to start focusing on the area on Saturday and Sunday.
At this stage, total rain amounts of 100 to 150mm are expected on average along the coast, grading to 40 to 100mm a bit further inland but locally higher amounts up to 200mm or more are possible in some spots along the coastal fringe. If these totals eventuate, flash flooding will become very likely along with some river flooding.
Gusty winds may also start developing along the southern coastal fringe this weekend before spreading further up along the central and possibly northern parts of the coast on Monday while strengthening. These winds carry some damage potential along parts of the coastal fringe on Monday.
Thankfully though, the surf and beach erosion isn't expected to be quite as severe as the last two events but a significant increase in swells is still expected along much of the coast.
However it should be emphasised that if the low happens to stay further out to sea than expected during this whole time, rain amounts and winds will be less.
---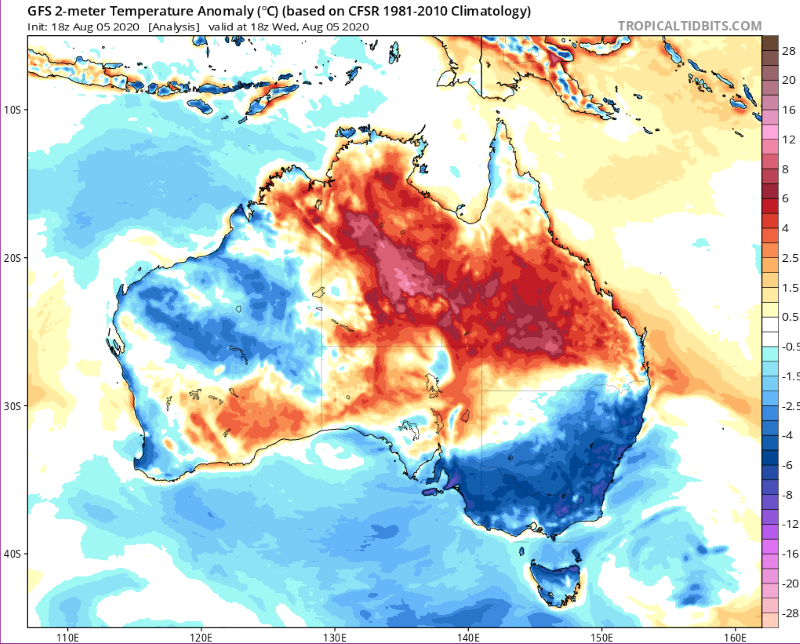 Image 1: Minimum anomoly from the GFS Model at 18z Wednesday 05 August, 2020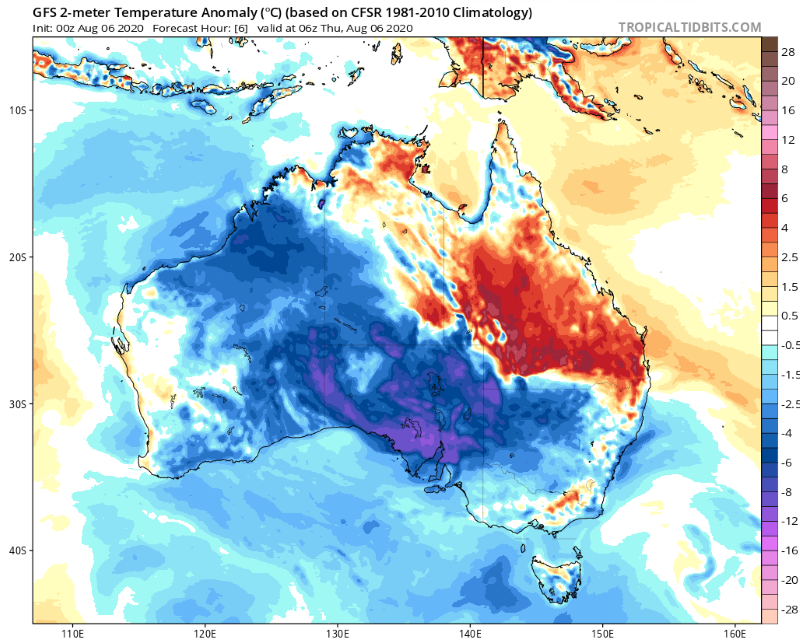 Image 2: Maximum anomoly from the GFS Model at 06z Thursday 06 August, 2020
Image 3: Satellite image on the afternoon of Thursday 6 August, 2020 showing thick cloud over the continent
Southeast Australia shivers through frigid morning followed by cold days and rain
Thursday 6th August 2020
Temperatures plumetted on Thursday morning across Australia's southeast as the mercury approached -10 degrees, with some places seeing their coldest morning in years.
A very cold airmass left the wake of a cold front combined with clear skies to allow temperatures to fall rapidly after dark. The southeast of South Australia, northern Victoria and inland New South Wales felt the cold the most as the mercury fell up to 10 degrees below average.
Some standout temperatures in NSW included -9.7 degrees at Glen Innes Airport, -8.7 degrees at Armidale (the site's coldest August temperature since it opened in 1997), -9.3 degrees at Thredbo and -8.7 at Perisher.
In VIC, both Hopetoun and Nhill had their coldest morning since 2006, dropping to -5.3 and -3.0 respectively, whilst other notable temperatures were -4.8 degrees at Rutherglen, -2.5 degrees a Hamilton and -3.7 degrees at Swan Hill (equal coldest August minimum in site's history).
In SA, Pathaway dropped to -2.4 (after -3.8 the previous morning), Keith -3.0, and Adelaide Airport 2.6 degrees (after dropping to a record cold August minimum of -0.3 degrees the previous morning).
As cloud moves over the region due to a complex low pressure system, nights will become warmer. However, the cold night and lingering cold airmass has lead to a very cold day today across many areas as well.
As of 3pm AEST, in NSW Bourke has struggled to just 12.1 degrees and White Cliffs 11.3 degrees, the coldest August maximum temperatures at the current sites (providing it does not get any warmer). In SA, Woomera has managed to reach just 8.2 degrees so far, Coober Pedy 11.7 degrees and Whyalla 11.0 degrees (all currently August records at their current site, if they do not warm further).
Tomorrow may be even colder across many areas as thick cloud and rain envelopes the region, with Adelaide forecast to top just 10 degrees and Broken Hill 9 degrees.
---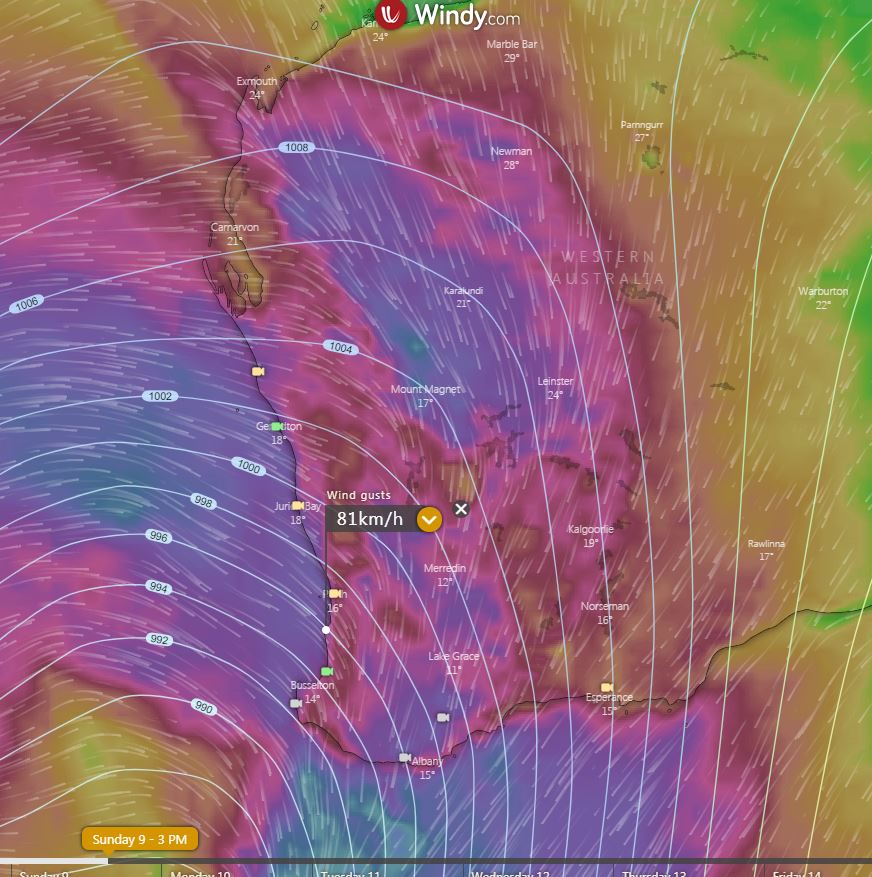 Image 1: EC wind gusts for Sunday afternoon. Image via windy.com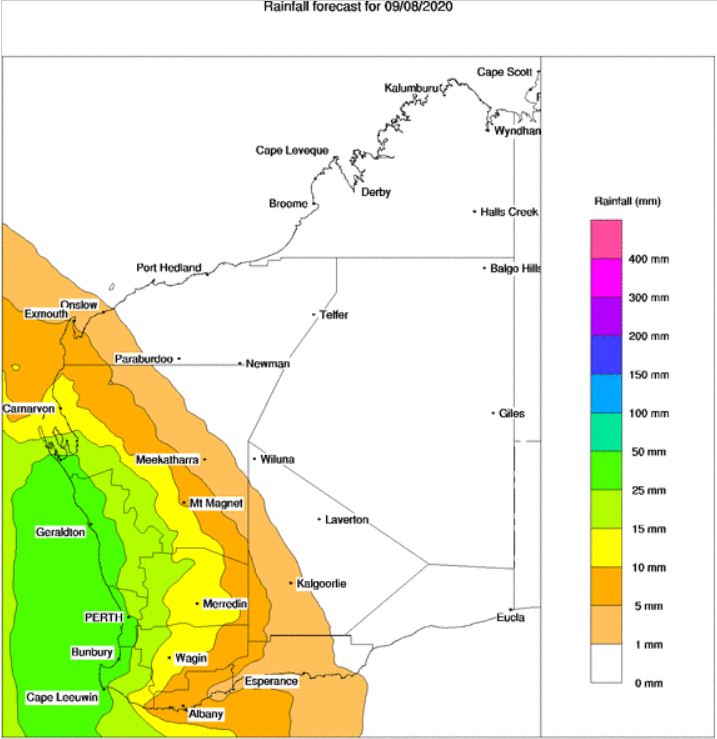 Image 2: BoM PME rainfall for WA Sunday 9/08/2020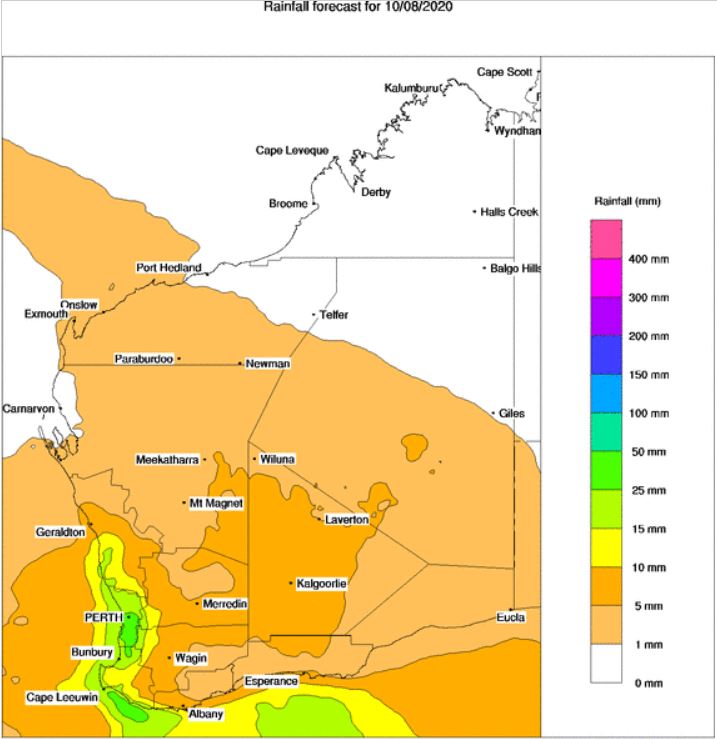 Image 3: BoM PME rainfall for WA Monday 10/08/2020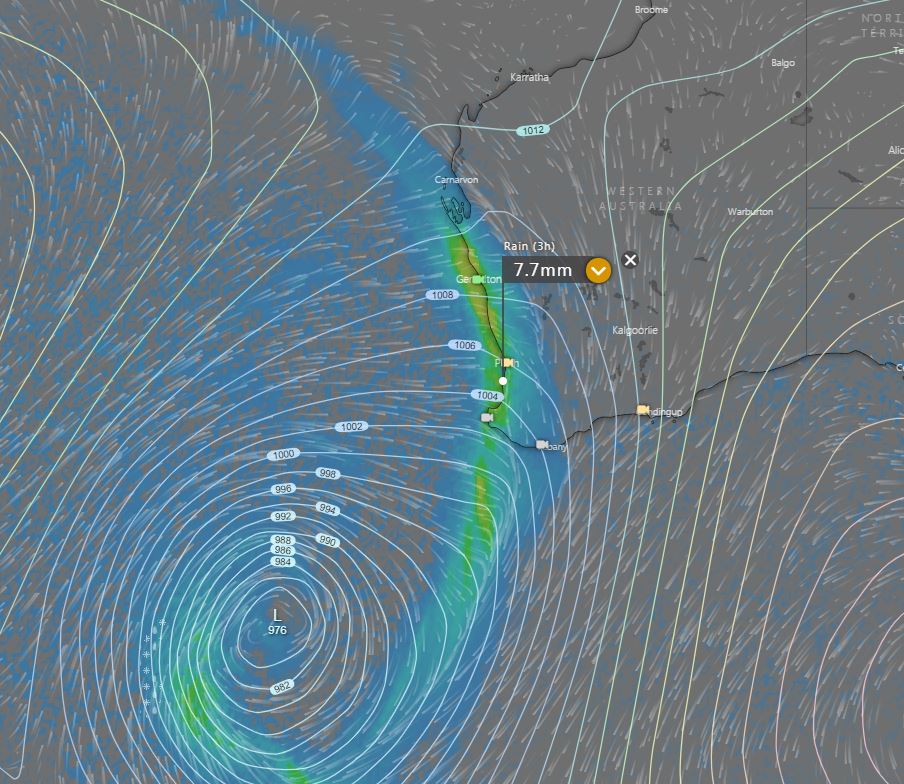 Image 4: Second front approaches Saturday 15/08/2020. Image via Windy.com
Savage cold front to blast Western Australia
Thursday 6th August 2020
Western Australia is expected to be blasted with a savage cold front and associated low during Sunday, with heavy showers, rain and thunderstorms.
Late Saturday and early Sunday, a strong pressure gradient will develop across central and western WA as northerly winds are filtered down and squeezed ahead of a vigorous cold front. Widespread gusts of 50-70km/h are expected, with isolated gusts to 90km/h likely across elevated terrain.
During Sunday, a narrow but intense band of showers, thunderstorms and rain periods are expected to develop, extending from the Pilbara to the South East Coastal region of western WA.
Widespread falls of 15-30mm are likely, with isolated heavier falls to 70mm possible during Sunday. This may lead to localised flash flooding for some locations. Embedded thunderstorms will also have the potential to produce locally damaging wind gusts during the day.
In the wake of the initial front, a continuation of embedded troughs will sweep through the South West Land Division on Monday, reinforcing a vigorous west to southwesterly flow. Sustained winds of 50-70km/h will continue, with isolated gusts to 100km/h across exposed coastal locations.
Heavy showers, isolated storms and small hail will continue within this southwesterly flow, with further falls of 15-30mm expected although not as widespread as the initial front on Sunday.
Conditions will steadily improve throughout the week, with all eyes then focusing on the following weekend, where the potential will exist for another large frontal system to slam into WA.
---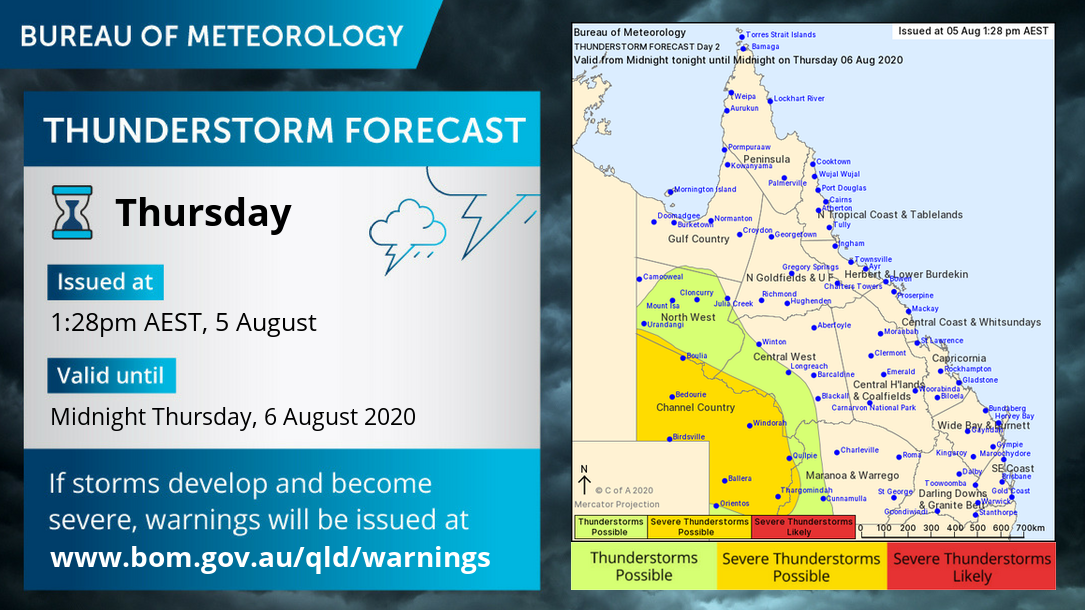 Image 1: BoM thunderstorm map for Thursday 6/08/2020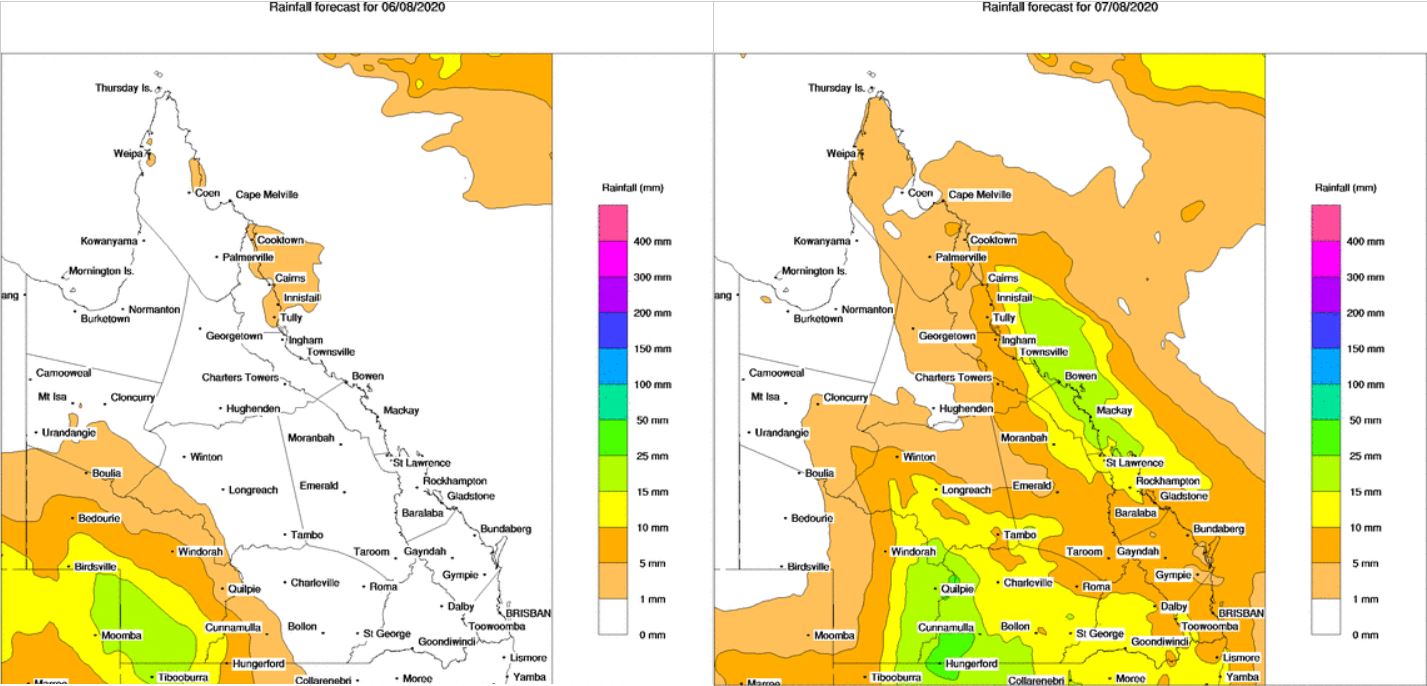 Image 2: BoM PME rainfall for QLD Thursday 6/08/2020 and Friday 7/08/2020

Image 3: BoM PME rainfall for NSW Thursday 6/08/2020 and Friday 7/08/2020
Storms and wet weather for western Queensland & NSW
Wednesday 5th August 2020
Thursday is looking rather stormy and damp across western Queensland, with the potential for storms to become severe.
A low pressure system and surface trough responsible for severe storms through the Northern Territory and South Australia today, will shift into western Queensland during Thursday, with a large band of showers, rain periods and thunderstorms.
Whilst instability will be marginal across western Queensland, strong wind shear and dry air at the surface will promote the potential for damaging winds in the form of microbursts, with hail and localised heavy rainfall also possible into the evening hours.
During Thursday morning, shower and storm activity is likely to develop for Bedourie, Birdsville and Boulia before steadily spreading east towards Thargomindah, Eromanga, Windorah and Quilpie later in the day. Isolated falls of 25-50mm will be possible under storms, particularly across the extreme southwest of Queensland.
Overnight Thursday and into Friday, this activity will continue moving east, with a large rain band with embedded storms likely to extend from central QLD down towards the Victorian border. Further moderate falls are likely to develop, with widespread totals of 10-20mm expected, with isolated heavier falls to 75mm possible.
During Friday, a secondary burst of storm activity is likely across the western half of NSW, as an upper cold pool of air moves into the region. Locally heavy rain, hail and gusty winds are expected with this secondary burst, as it shifts from northwestern NSW Friday morning into central-eastern NSW late Friday evening.
---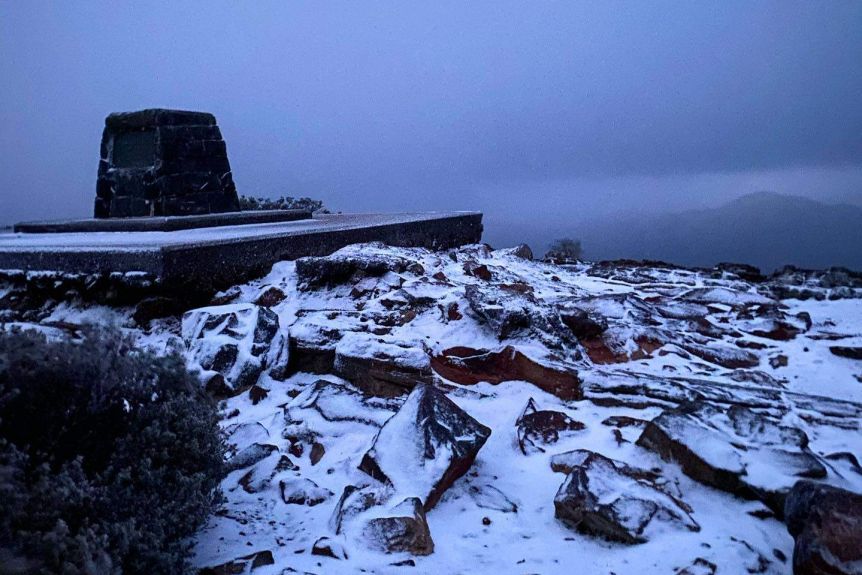 Image 1: Snow on Mount William (VIC) in Grampians National Park. Credit: Livefast Cafe At Halls Gap (Source: https://www.abc.net.au/news/2020-08-04/south-west-victoria-turned-into-winter-wonderland-from-snow/12521382)
Image 2: Snow on Mount Wellington. Credit: Gary Tew (Source: https://www.abc.net.au/news/2020-08-04/tasmania-weather-no-snow-in-hobart-but-falls-elsewhere/12520262)
Snow falling to low levels across Tasmania and Victoria
Tuesday 4th August 2020
A bitterly cold airmass is causing snow to fall to low levels across many parts of Tasmania and Victoria today, with reports of snow falling as low as around 100 metres above sea level.
A cold front that swept across the region yesterday and into this morning has brought with it the coldest airmass seen in at least five years, with snow falling in many locations that haven't seen falls in years.
In VIC, snow has been confirmed to fall at Birregurra (117 metres above sea level), Colac (134m ASL), Mirboo North (200m ASL) and Warncoort (200m ASL). Snow was also reported on parts of the Great Ocean Road.
On Tasmania's west coast, snow fell as low as 150 metres, whilst flurries were reported in Launceston and Devon Hills had only its second snow fall in the past 35 years. This afternoon, flurries and sleet have been reported around parts of Hobart, whilst dry, powdery snow fell at Mount Wellington, as the mercury fell to -7.2 degrees.
The cold airmass will continue into tomorrow, although snow will be confined to the higher parts of TAS, eastern Victoria and the far southern NSW ranges. Conditions will clear by Thursday, before a band of rain moves in on Friday and into the weekend.
---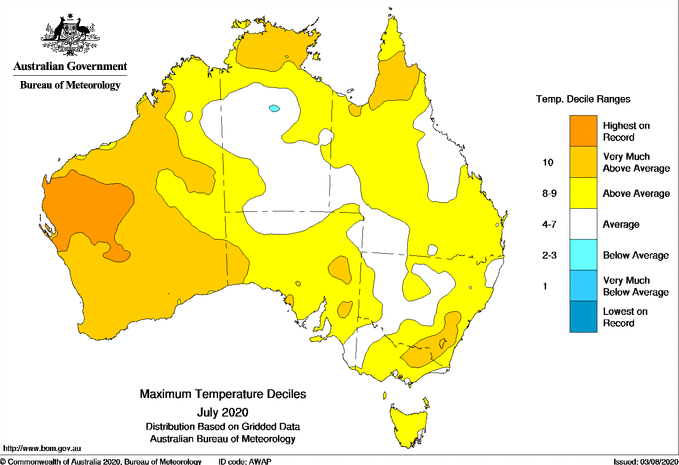 Image 1: Maximum temperature deciles for July 2020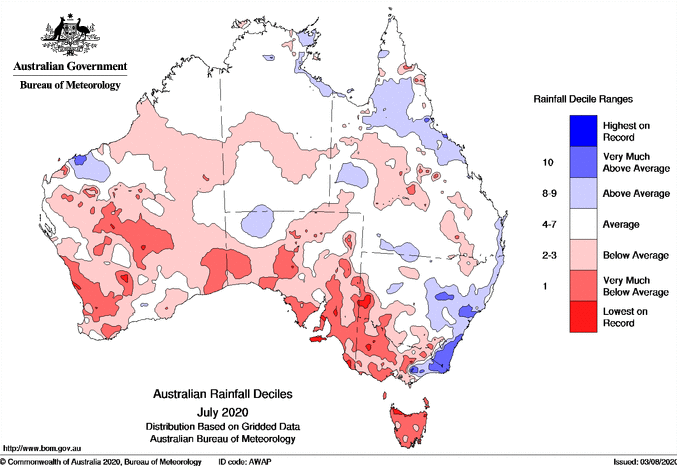 Image 2: Rainfall deciles for July 2020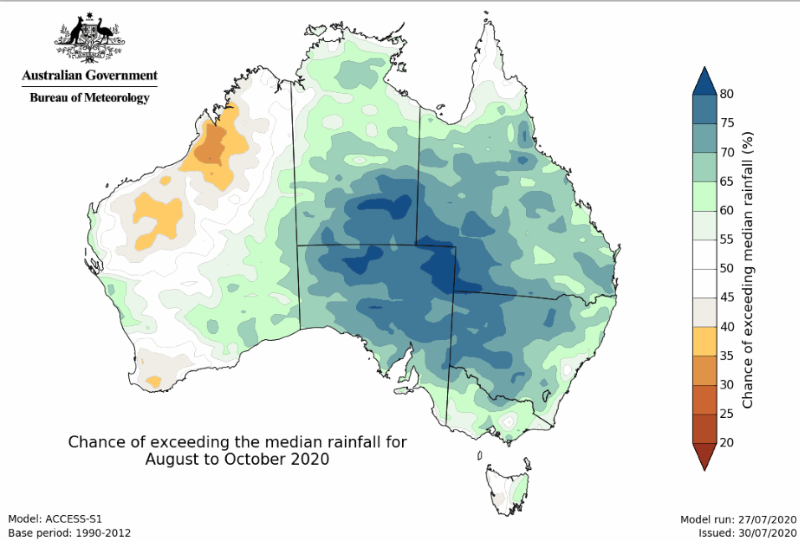 Image 3: Forecast rainfall from August-October 2020
Australia registers a dry and warm July, but wet spring ahead
Monday 3rd August 2020
July was another warm and dry month for much of Australia(after a warm and dry June), however a wetter pattern is likely over the comings months as a La Nina looms.
After good rain over parts of Australia during summer and autumn, winter has shifted back into a dry pattern for large parts of the nation. June was the third driest on record and third warmest since records began, with a similar story in July.
Daytime temperatures for July were 1.54 degrees above average, making it the seventh warmest July on record for the country. This was driven largely by the consistent lack of frontal activity and cloud over the country, with rainfall 43% below average for much of the country.
The dry weather was particularly pronounced in the south, with Tasmania registering its 2nd driest July on record (with Hobart itself seeing its 4th driest). Dry conditions extended into western Victoria, South Australia and Western Australia, with small pockets seeing their driest July on record. Adelaide had its 5th driest July, with records dating back to 1839, and the driest since 1924.
Over the east of the country, rainfall was much higher due to two east coast lows. Some sites in East Gippsland (VIC) and central and southeast NSW saw their wettest July days on record, whilst parts of southeast NSW registered their wettest July on record (monthly totals). These low pressure systems also caused significant beach erosion over parts of the east coast.
Thankfully there is good news ahead with Australia currently on a La Nina watch, with the central and eastern tropical pacific expected to cool in the coming months. The Indian Ocean Dipole is expected to remain neutral in the coming months, however the influence of La Nina is expected to increase the chances of rainfall over the eastern two thirds of the country.
With the increased cloud cover, temperatures are likely to to cool closer to average across many parts of the country, but will likely remain warmer in the north.
---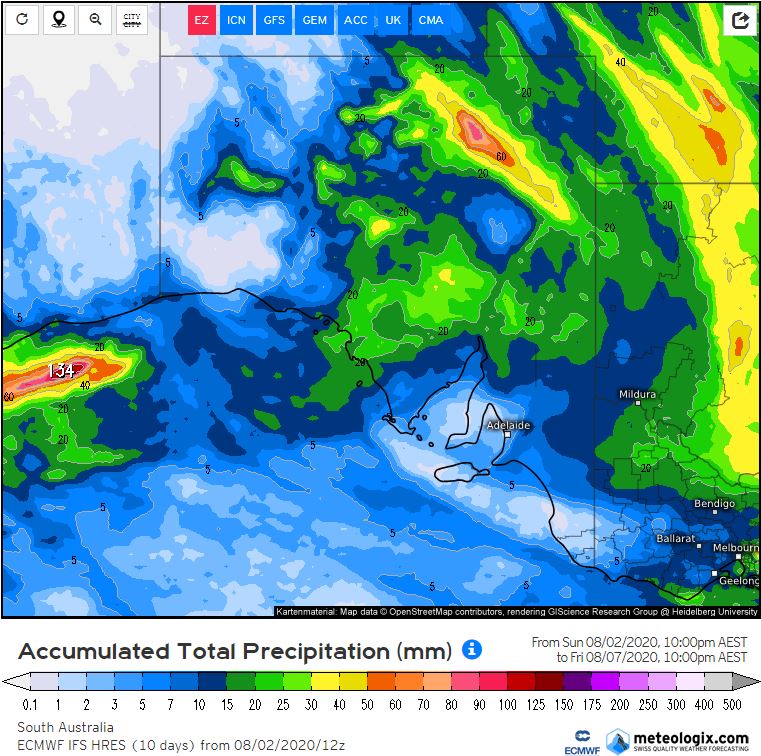 Image 1: Accumulated precipitation for SA to Friday 10pm. Image via weather.us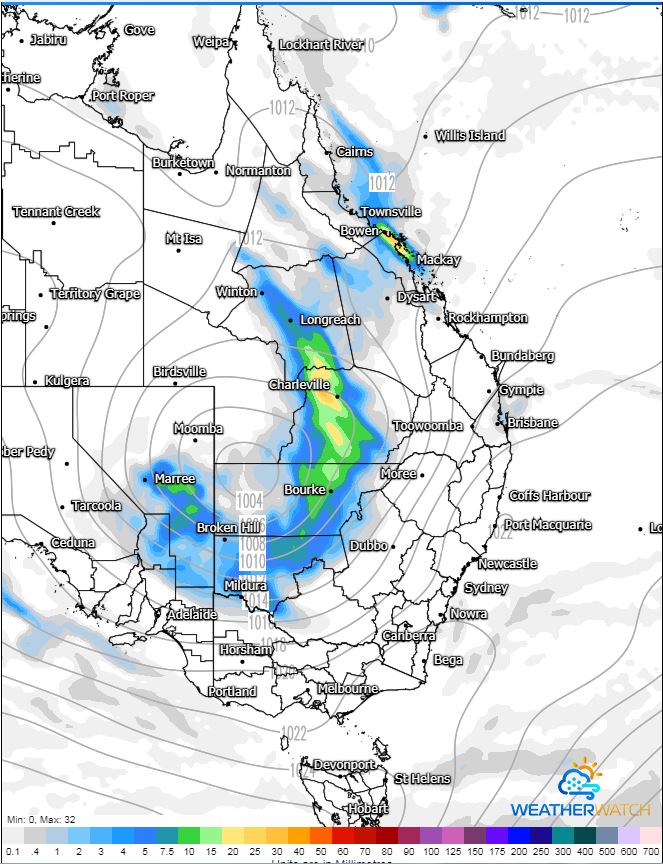 Image 2: MSLP for eastern Australia, 7am Friday 7/08/2020. Image via WeatherWatch.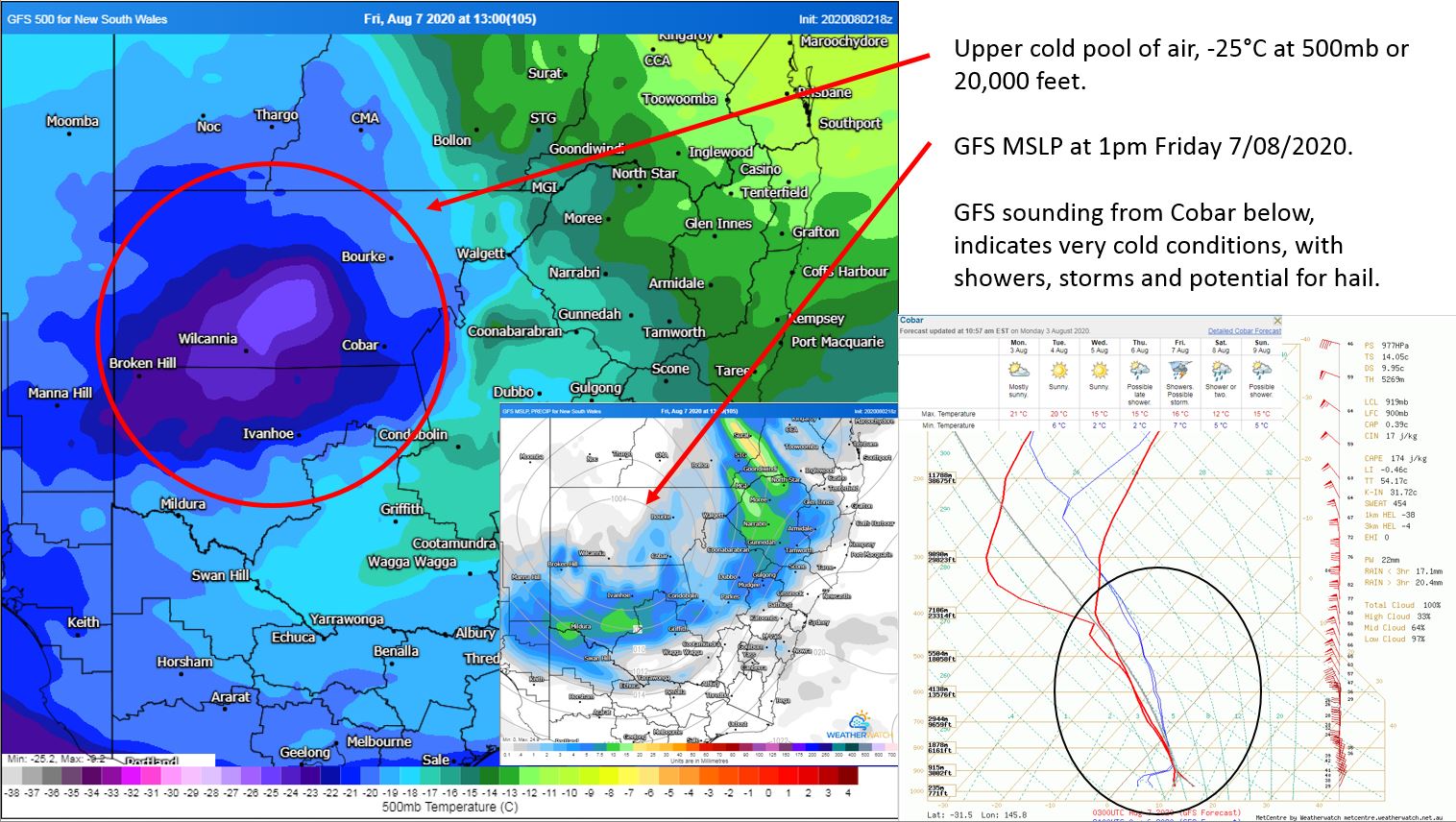 Image 3: Upper cold pool of air, MSLP and sounding for Cobar, NSW. Friday 7/08/2020. Image via WeatherWatch.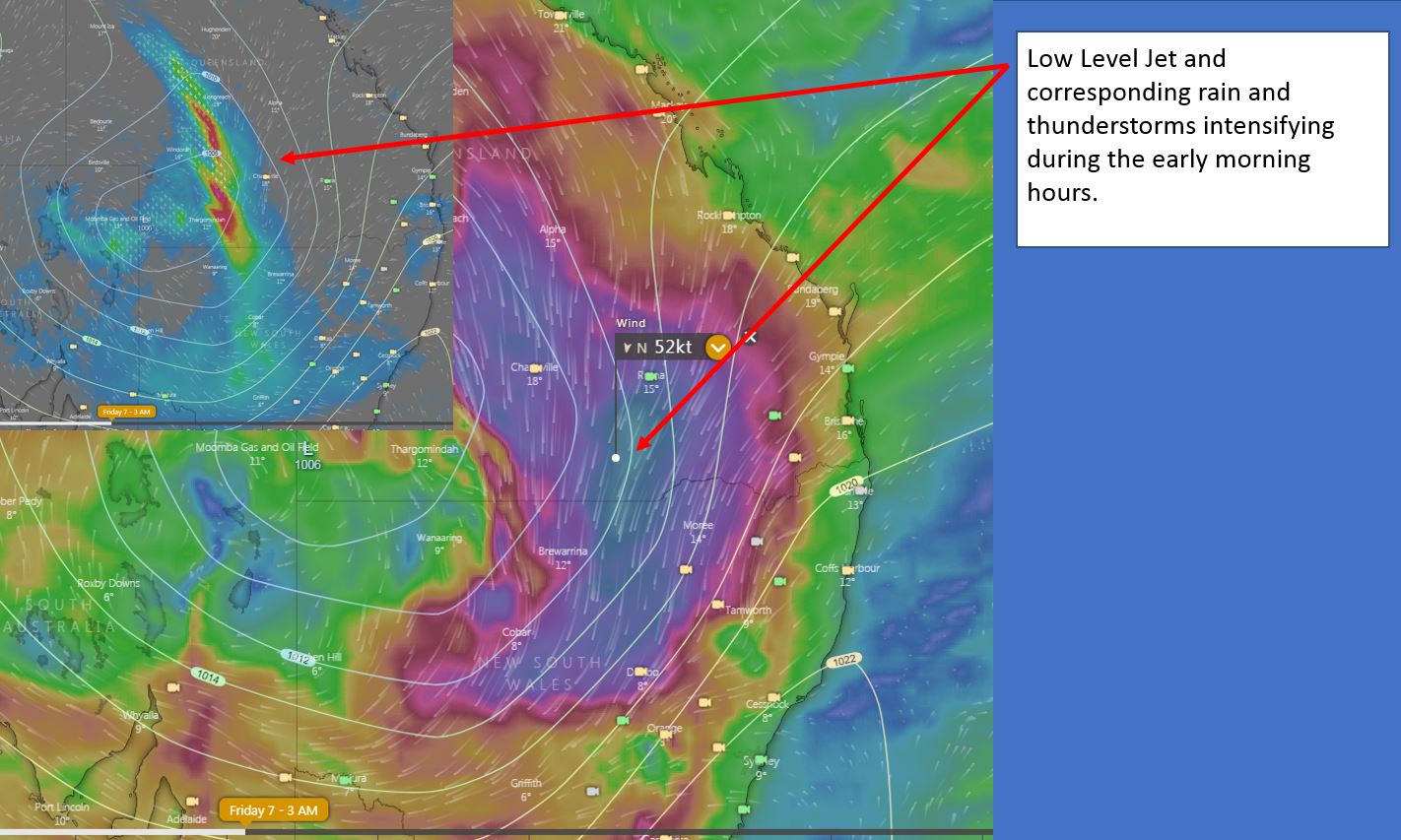 Image 4: Low Level Jet and corresponding rain and thunderstorms. Image via windy.com
Wet and stormy week for inland Australia
Monday 3rd August 2020
This week is expected to be wet and stormy across inland Australia, as a low pressure system moves through the interior of the country.
An upper low across southwestern Western Australia, will become 'cut off' from the westerly flow over the next 24hrs, shifting in a northeasterly direction across inland WA and the Northern Territory.
This cut off low in combination with a surface low will interact with increasing moisture to its east, generating widespread instability, with showers and thunderstorms across southern parts of the Northern Territory, central South Australia and southeastern Western Australia.
Strong wind shear and steep lapse rates may lead to a few of these storms becoming severe across central and northern SA and southern parts of the NT on Wednesday, with damaging winds in the form of microbursts possible, along with the potential for small hail.
Moderate falls are expected to develop, with 10-30mm likely across inland parts of South Australia in particular, with isolated higher falls possible with storm activity.
During Thursday, the cut off low will shift east and is expected to open up, amplify and take on a negative tilt, strengthening the low level jet (LLJ) and helping to induce a large band of heavy showers, thunderstorms and rain periods across western-central Queensland and New South Wales.
Moderate to locally heavy falls may develop across parts of the Maranoa and Warrego region of QLD and the Upper Western, Central West Slopes and North West Slopes and Plains of NSW which may lead to localised flash flooding.
During Friday, the rain band will shift across eastern Australia, with further falls of 10-20mm expected, and isolated falls to 40mm possible. The upper cold pool of air associated with the large upper system, will shift into northwestern NSW and slide in a southeasterly direction, with cold core showers and storms likely. Accumulation of small hail is expected under any activity throughout Friday and into Saturday.
---
Image 1: Visable Satellite Imagery - Himawari 8 as of 4:10pm AEST (6:10 UTC)
Snow showers and blizzard conditions inbound for Victoria, Tasmania and New South Wales early next week
Saturday, 1st August, 2020
A high pressure system situated over the eastern portion of the Great Australian Bight is directing a strong northwesterly wind flow over the state of Tasmania tonight, ahead of a cold front expected to cross the state overnight and into tomorrow. A secondary cold front is then forecast to cross the state during Monday, with an accompanying very cold antarctic airmass directing southerly winds across the state, passing to the southeast of the state into early next week.
As a result, snowfalls will be likely about the usual elevated regions of TAS, lowering to 300m during Tuesday. Small hail is also possible with scattered shower activity with accompanying strong to localised gusty winds chiefly during the afternoon. There is a moderate to high chance of Severe Weather Warnings being issued from tomorrow, for the element of localised strong to damaging winds for elevated areas across all three above mentioned states.
The secondary cold front during Monday will also have an also have an effect on Victoria, and is forecast to move through the VIC snow and ski resorts during the day and into the evening, with snow showers, small hail and blizzard type conditions that will likely develop and extend up into southern NSW into Tuesday and briefly on Wednesday.
Snowfalls will possibly become heavy at times with low level snow lowering to 200m-300m in elevation with emphasis on the alpine regions of the Australian Alps and adjacent inland districts of southeastern Australia.
Very cold conditions and cool daytime maximum temperatures are expected to follow in wake of the frontal systems and movement of the upper low, especially above elevated regions of VIC, the eastern coastal districts of VIC and also the southern portion of NSW into early next week. Cold southerly winds are expected to ease during Wednesday at this stage as the upper low pressure system shifts further eastward into the Tasman Sea during mid-next week.
Additional snowfalls lowering down to 400m may be possible during Wednesday for regions of southern NSW during this time, however may be subject to change with the real-time positioning and timing of the upper level system.
---
Subscribe Today To Our Newsletter