Australia's most comprehensive hail protection technology.
From cutting-edge hail forecasting to real-time tracking and timely alerts, our innovative hail suite helps you proactively mitigate hail risk and protect your assets, ensure staff and patron safety, and minimise downtime.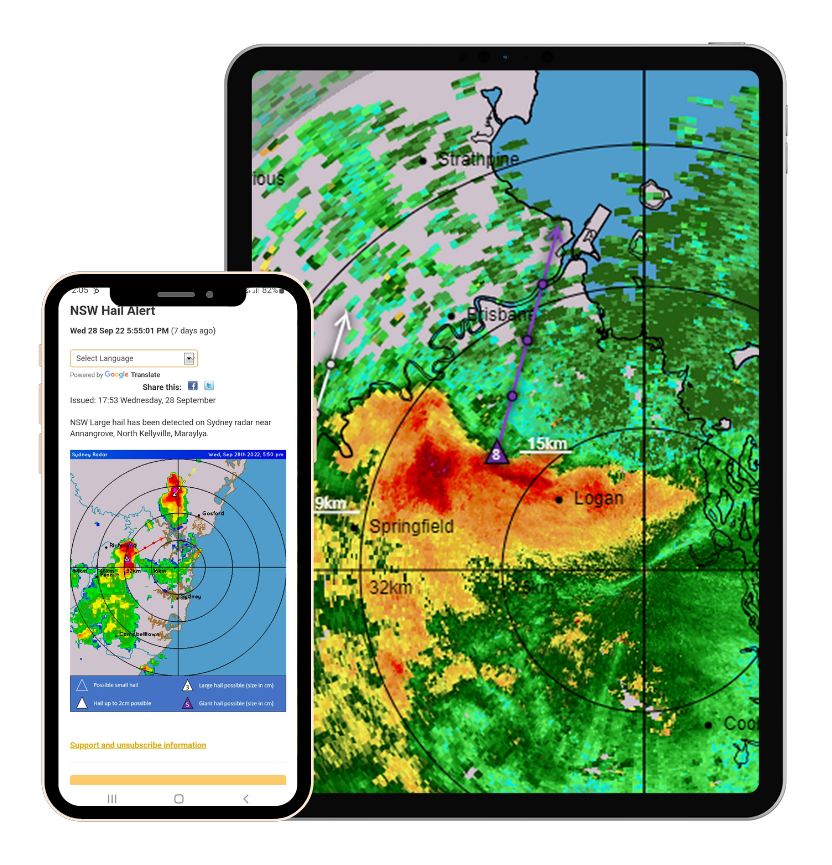 The Full Hail Solution
Hailstorms form rapidly and can cause significant damage to homes, businesses, and vehicles. With a warming climate, they are also expected to become more frequent and more intense, costing the Australian economy millions of dollars in damages every year.
With decades of thunderstorm experience and involvement with hail research projects with some of Australia's leading universities, EWN provides hail services to leading organisations and government departments across Australia.
Receive detailed hail forecasts direct to your team, confirmed by our specialised Severe Weather Meteorologists.

Using a range of high-resolution weather modelling and upper air observations, we pinpoint areas of risk across Australia through mapped polygons and highlight potential hail sizes expected from storms.

Geospatially targeted forecasts provide you with up to 4 days notice of impending hail and severe weather threats, allowing you to prepare operations prior to any potential damaging hail event.
EWN Live Hail Alerting system uses Australia-first hail algorithms to monitor all BOM-owned weather radars across Australia and scan for the detection of hail at all heights of the atmosphere.

Where large hail is detected (2cm +), EWN Alert Operators will confirm the data and send an immediate alert for the area in the path of the storm advising of the storm's location and hail size plus areas likely to be impacted over the next 5 to 60 minutes.

Alerts are sent via both email and SMS, with landline calls and API

also available.

All data is verified by our operations team to

remove false alerts, so you only receive intelligence you can rely on, and avoid alert fatigue.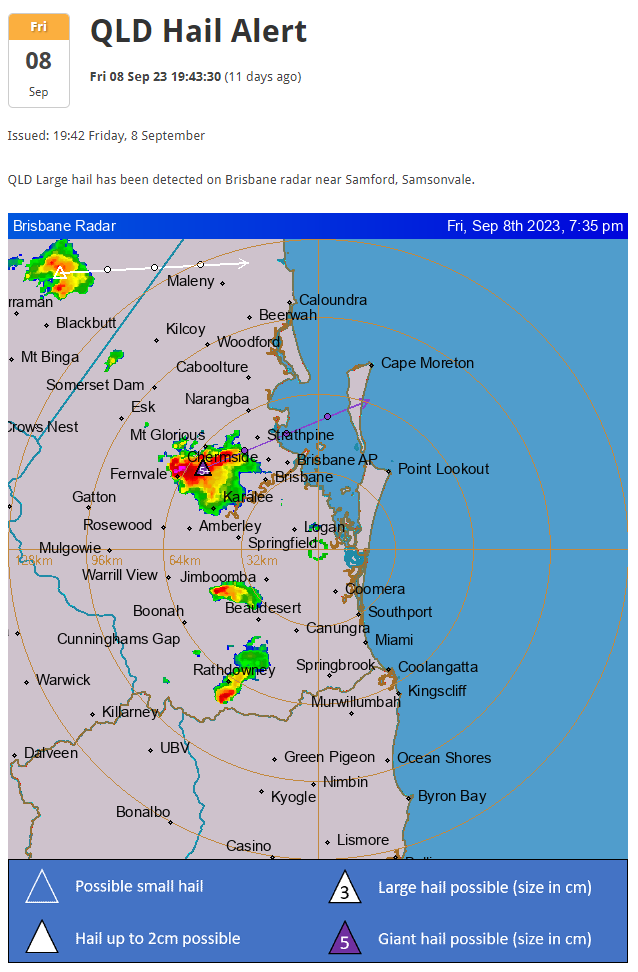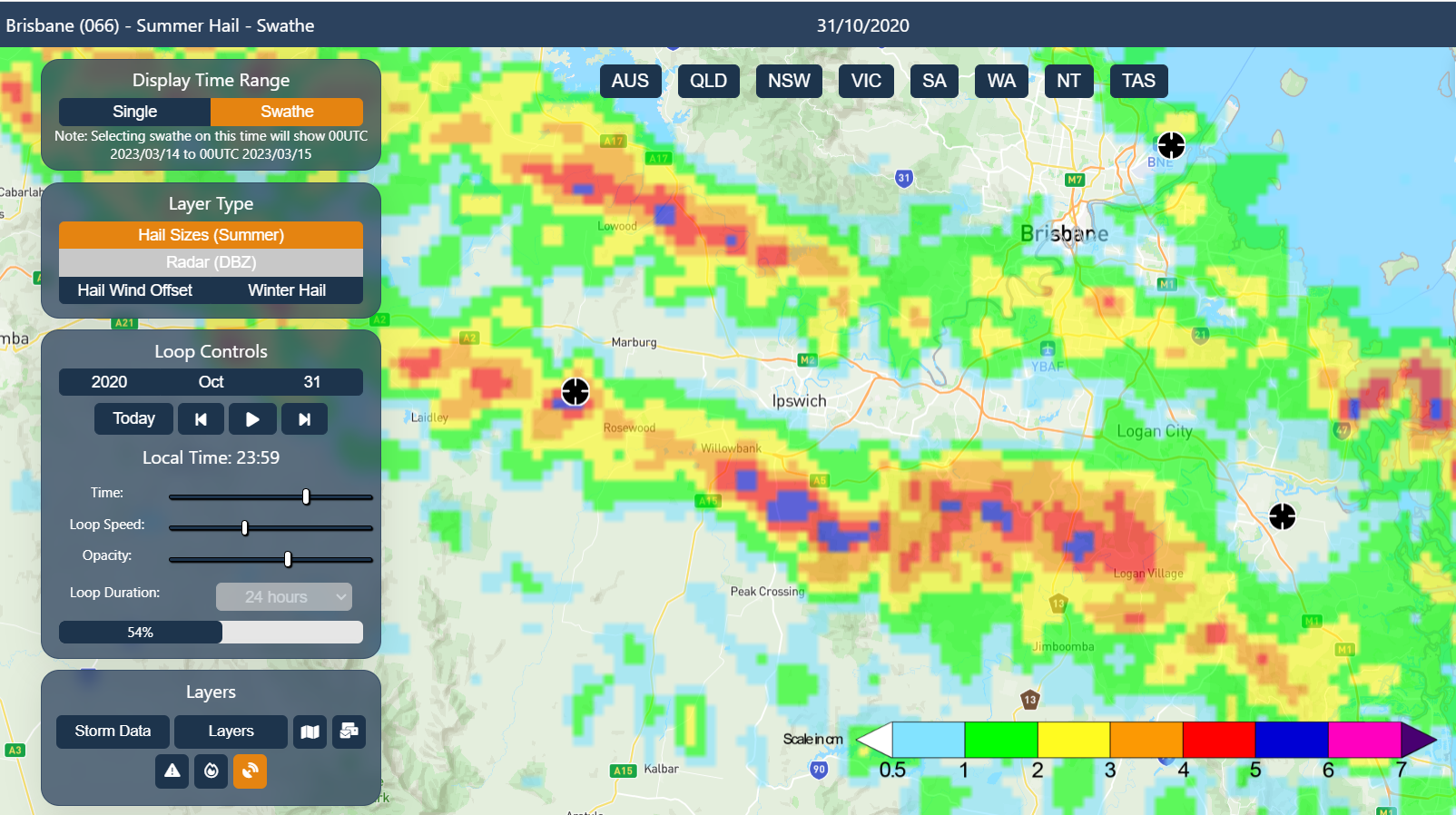 EWN provides Australia's most advanced hail tracking platform, allowing you to monitor hail events in real time or review historic hail events, down to street level.

Real-time tracking assists you in making timely decisions regarding the safety of your people, protect your assets and equipment, and assess the duration and severity of the weather event for operational continuity.

Using data from all BOM radar stations across Australia, replay historic hail events and hail size observed to further prepare for any future severe weather.
Where large hail events (2cm+) have affected a populated region, we provide a rapid report via email outlining the areas where hail has been reported and the largest size measured.

These reports help you effectively manage the aftermath of hailstorms, streamline recovery efforts, support insurance claims, enhance future preparedness, and maintain stakeholder confidence.

Data can further be used to enhance forecasting models and develop improved risk management strategies for the future.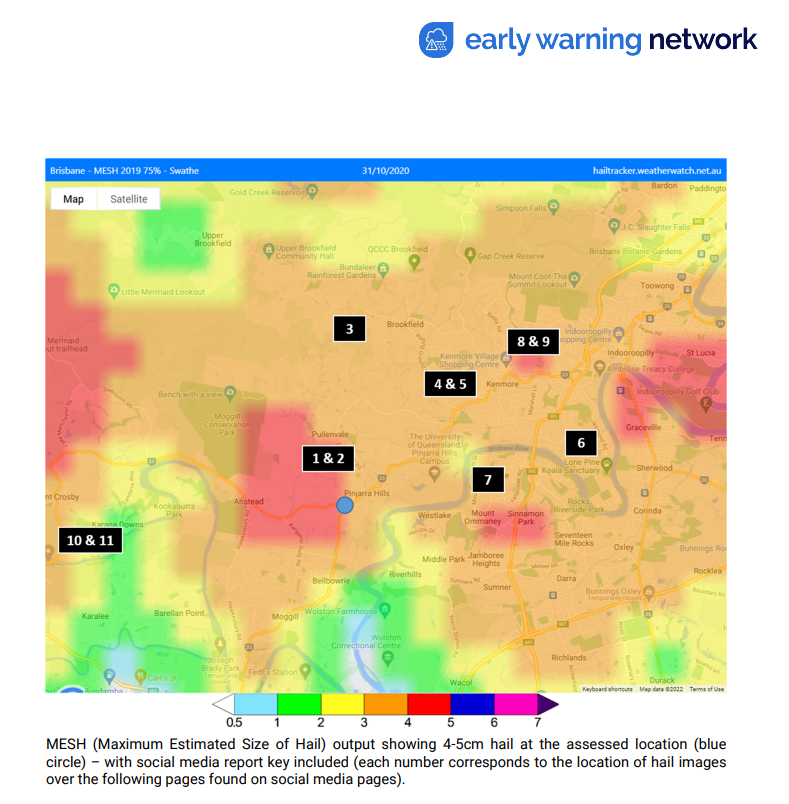 EWN's advanced technology, accurate forecasting, real-time tracking, and prompt alerting capabilities empower you to proactively mitigate hail risks, protect your assets, and optimise your operations
The EWN Integration Advantage
Our hail protection technology are available through API, meaning you can easily incorporate data into your existing systems, websites, or applications. This means you can harness the power of our advanced hail forecasting, protection, and alert solutions, tailored to your specific needs, without any hassle.
Whether you're an insurance provider looking to enhance your coverage, a fleet management company safeguarding vehicles, or an agriculture operation protecting crops, our API allows you to seamlessly integrate our hail products, ensuring your assets remain secure and your operations uninterrupted.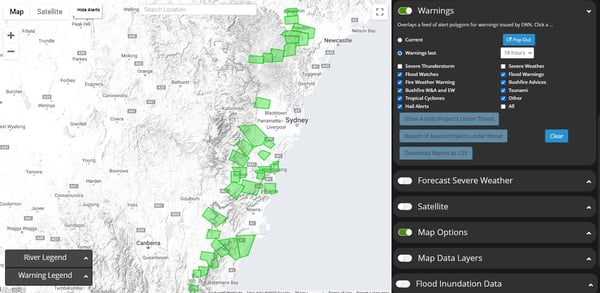 Want to join the network?
If you would like to work with Early Warning Network or chat to a member of our team,
please contact us below - we would love to talk!