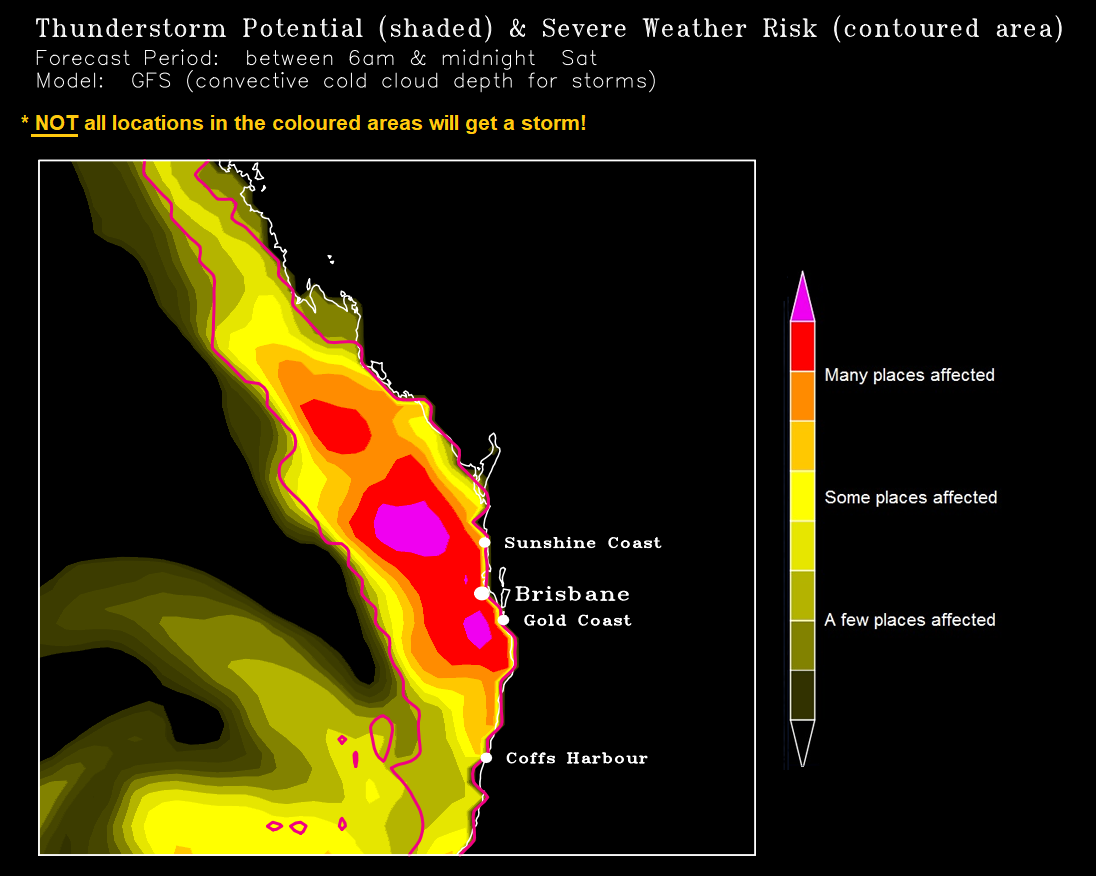 Severe thunderstorms will return to eastern Queensland during Saturday afternoon with damaging to locally destructive winds, large to giant hail and heavy rain.
Any isolated storms will be moving at blistering speeds from the northwest (storm-steering winds aloft exceed an impressive 110km/hr from the northwest on Saturday in some areas although the storms themselves won't move at this exact same speed).
Activity will sweep SEQ (although for the Downs, only some far eastern sections are in with a chance) on Saturday ahead of an approaching trough and front, with the main peak in the afternoon/early evening.
Most factors are very favourable ? very strong shear albeit a bit linear (up to 50 knots or more between the surface and middle atmosphere) and strong instability, aided further by cold air aloft moving across.
For those locations (not all) which get a severe storm, damaging winds will likely be the main threat, along with short bursts of locally intense rainfall and large hail are also possible but widespread high rainfall accumulations will be a bit difficult given the speed of the activity and a bit less moisture in the lower atmosphere (there may well be some more localised good accumulations though, likewise giant hail risk will probably be more localised than the wind hazard.
But how severe the cells get and how many there'll be, will depend on these factors: Whether many of the storms will remain as individual cells and therefore have a higher potential to cause giant hail and destructive winds (but they'd still be localised) due to less interference from other nearby storms, or whether they'll merge into a big rainy mess or a big band (in which case, there'd probably still be some severe cells embedded in it with damaging winds/hail/heavy rain, but the main threat would shift more towards locally heavy rainfall and straightline strong winds). If I had to bet money on it, I'd say the 1st scenario will probably occur during the early stages before starting to transition to the 2nd scenario later in the afternoon in some sections closer to the coast.
Whether any early development of cloud, showers, storms or patchy rain areas in the morning will remain localised enough for long enough so the atmosphere won't stabilise too much. Morning cloud cover and precipitation is always a risk whenever we have a strong upper level trough approaching but in tomorrow's case, the models I've seen don't have a huge amount of prolonged cloud and only a few have some brief localised precipitation in southwestern parts.
Whether there's enough of a moister north-northeasterly afternoon seabreeze onto the coast to add extra moisture. This can also cause a bit of a seabreeze front near the coast which in turn causes winds to change direction a bit more with height in the lower atmosphere ? this extra directional shear can then increase the chance of a few of the storms approaching the coast to start taking on supercell characteristics (tomorrow's shear away from the coast is fairly linear).
Whether or not the steering winds aloft as well as the shear will be too strong. Very strong steering winds can sometimes mean that storms don't have much time while still over land to reach their full potential after interacting with the seabreeze front before they race out to sea. Likewise, excessively strong shear can lean storms over so much that it starts disrupting the ideal structure they need for supercell development. Despite this though, the volatility of Saturday's setup means that severe storms and localised supercell development can't be ruled out.
Although there's no southerly wind change due on Saturday to lend a helping hand, this aspect shouldn't be much of a problem since there'll still be more than enough instability and shear to support strong storm potential.
Image 1: Automatically generated thunderstorm map. Image via Ken Kato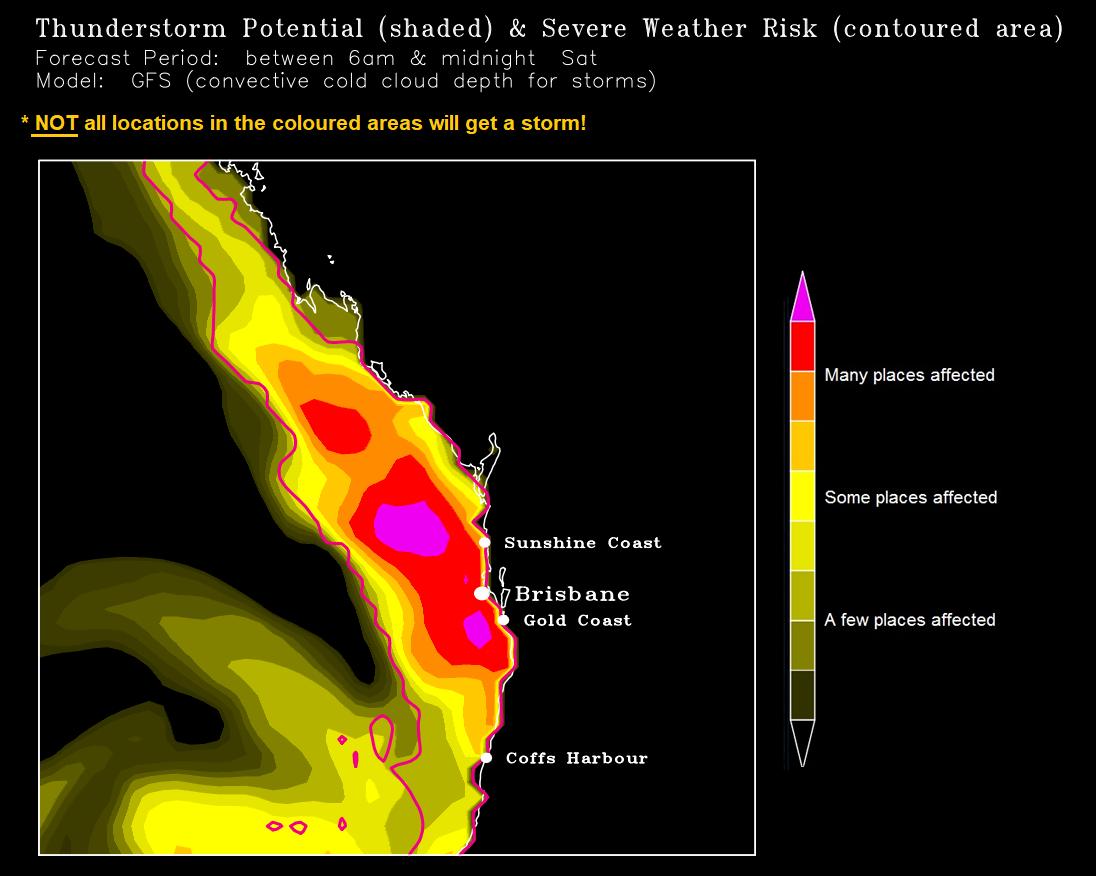 Subscribe Today To Our Newsletter