Using our powerful in-house built alerting system, Location Alerts allows us to pinpoint your location and only provide alerts should you be affected.
Data is sourced from the Bureau of Meteorology, Australian Tsunami Warning Centre and Fire agencies from each state and territory.
EWN's Alerting team also monitor high-resolution telemetry and will provide an "Advice Alert" for potential severe events when an official warning has not been issued.
The following alerts are included:
Severe Thunderstorm warnings
Tsunami warnings
Severe Weather warnings
Fire weather warnings
Flood Watches
Tropical Cyclone watches and warnings
Bushfire watch & act
Bushfire Emergency warning
Rather than having to waste time on sourcing and then validating if the alert applies to you, we do all the hard work for you only sending the alert when your street address is inside a warning area. Our alerting system is accurate to an incredible 2 metres.
We also remove all the re-issued warnings from being sent to you, removing the confusion with it and making the alert process clear and easy.
Save time and money on your own staff monitoring weather and hazard events and let us do all the work.
The service operates 24/7, 365 days per year with alerts sent via SMS, email and API (text to voice) calls.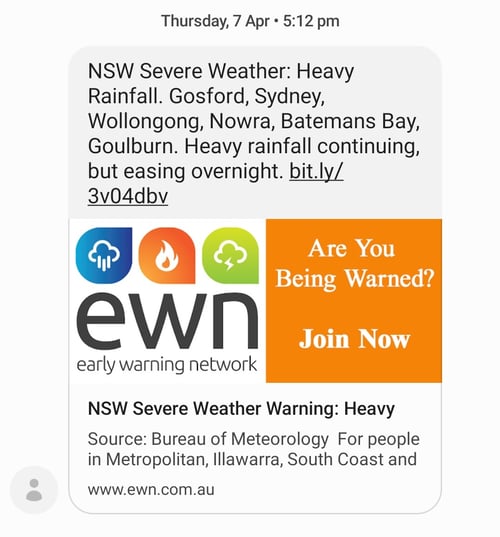 Tell us about your project requirements. Connect with EWN.
Start monitoring and reporting on weather and natural hazard risks.