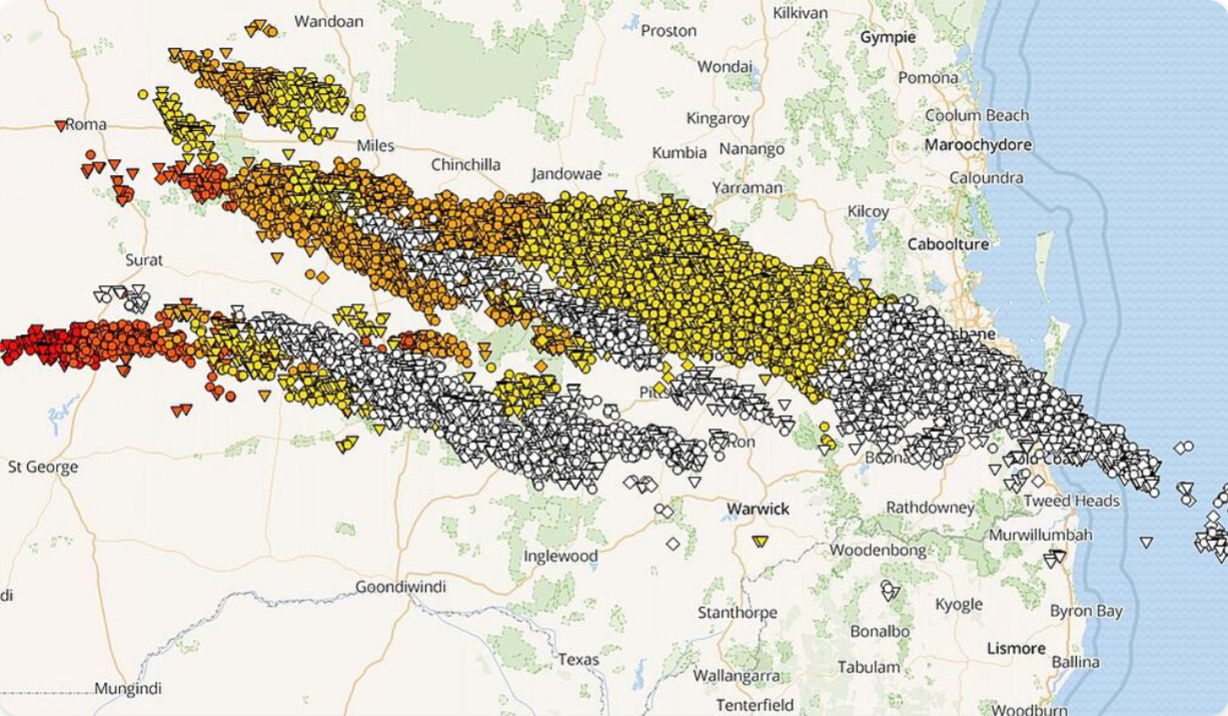 When it is your job to keep operations running efficiently, protect assets, or worry about the safety of people when severe weather approaches, you need easy access to timely and accurate information. This is where the EWN Lightning Network comes in.
The EWN Lightning Network is our latest application to assist you in tracking, analysing and reporting approaching thunderstorms.
EWN Lightning Network Alerts & API
The EWN Lightning Network uses a series of Long-Range Detection points allowing for a truly accurate and clear picture of lightning across Australia and New Zealand.
Individual lightning discharges are captured in near real-time by a central processor that aggregates sensor data from the entire network. Using electronics sensitive to the Very Low Frequency (VLF) band, each sensor can detect lightning discharges with an astonishing 1KM lightning location accuracy.
The EWN Lightning Network is one of the most accurate systems covering Australia and in recent testing, picked up over double the amount of lightning than some other networks.
The added ability to be able to detect cloud to cloud lightning provides users in most cases with an advanced warning before cloud to ground lightning occurs. Besides safety, this ability improves operational efficiency, such as transportation route optimization and accurate warnings.
EWN Lightning Network Coverage Area
EWN Lightning Network Specifications
Lightning Detected Includes, Cloud to Ground (CG) Positive Lightning Strikes, Cloud to Ground (CG) Negative Lightning Strikes, Intracloud lightning (IC)
Magnitude of lightning strikes is reported as kiloamperes divided by 10 (kA/10) for Ground Strikes
Lightning Data is updated every minute
Detection Rate Accuracy of 90%
1KM location accuracy
VLF Band allows for the best lightning network coverage across Australia
EWN Lightning Network API
The EWN Lightning Network is available to organisations via an API feed in JSON format allowing you to plug the data directly into your own software web-based applications.
In order to use the API you will need an API Key which EWN can provide.
To find out about pricing on the service and for more information, please get in touch with us.
EWN Lightning Network Alerts
EWN will set up and provide ongoing 24/7 Lightning Alerts using our Australia wide Lightning Network detecting both cloud to cloud and cloud to ground lightning.
EWN Lightning Alerts work by creating customised circular Lightning Alert Zones with your asset location as the centrepoint. You can choose to have as many zones as you wish around your asset centrepoint. The most common setups include a 40km/20km set up with the 40km allowing for advanced notification and preparedness whilst the 20km zone can act as a stop work and seek safety alert. You can choose to have as many zones and sizes as possible.
Once your users are added to our system, alerts will be sent via SMS and email immediately upon either type of lightning being detected within your alert radius. The system will put in place an automatic 30-minute embargo so no more alerts will be sent if lightning is detected in that radius after the initial one alerted. Upon the completion of the 30-minute embargo, the system will send through any new lightning detected.
The EWN Lightning Network operates 24/7 however you can choose if you would like the lightning monitoring and alerting to happen only during certain hours.

Tell us about your project requirements. Connect with EWN.
Start monitoring and reporting on weather and natural hazard risks.