Inside this platform is a location based, multi-channel communication and analytics engine. These blend together to provide users actionable intelligence (Decision Superiority) and responsive locational communications through multiple channels instantly.
The Geographic Notification Information System (GNIS) is all about location and communication. The system can send communications with an accuracy to less then one metre outdoors and 2 metres indoors right across Australia.
Adding users to the system is easy with either a CSV upload or API option available. Users are registered in the system with their name, email address, mobile number (optional for receiving SMS alerts), street address location and mobile phone linked (optional for receiving push notifications and allowing live tracking of the user's location).
Users can send communications via multiple methods including:
GIS Method
Draw a polygon on the map or use a pre-formatted polygon and the GNIS will only send communication to users within the polygon boundary
Group Method
Choose a group you would like to message and have the message sent to all
members instantly regardless of their location.
Targeted User Method
Choose a user and send messages directly to them regardless of their location
The GNIS is capable of sending each message through multiple channels including:
Email
API
Push Notifications
Text to Voice (Landline)
SMS
Upon a message being sent, the system provides a visible queue allowing users to view the live send details for the alert. Further information for each message is then historically stored including:
List of all users who received the alert including their most recent location mapped
Breakdown of delivery method
Full Alert Content
Statistics including Postcodes, Suburbs, LGA's affected both in text and viewable on map
Branding and pre-formatted templates are available for use within the system allowing you to customise and add content quickly and easily during time-critical moments.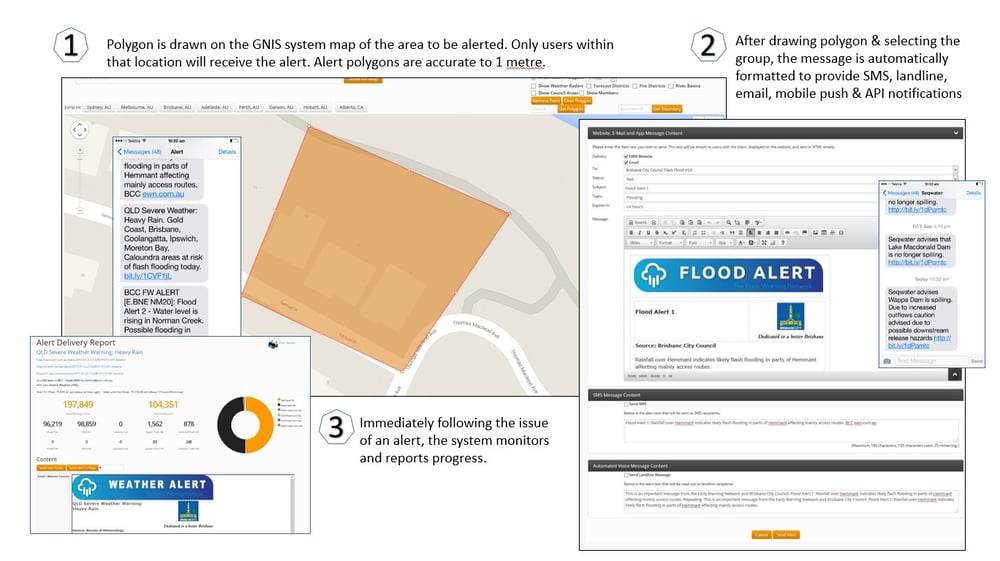 Tell us about your project requirements. Connect with EWN.
Start monitoring and reporting on weather and natural hazard risks.