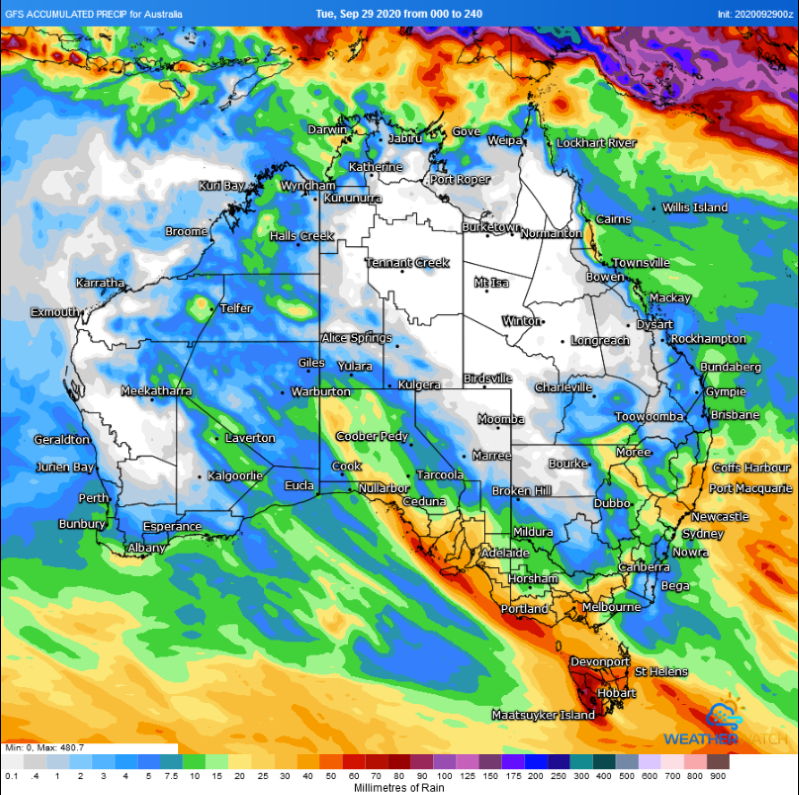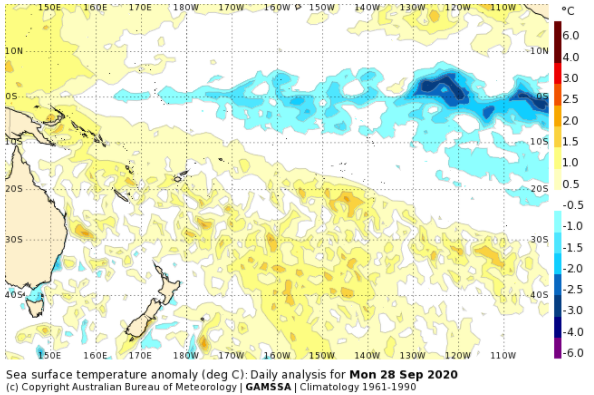 Image 1: Sea Surface temperature anomalies across the Pacific Ocean (Source: Bureau of Meteorology)
All climate models used by the Bureau suggest further cooling is likely, with La Nina thresholds likely to persist until at least January 2021.
During La Nina events, rainfall is typically higher over northern and eastern Australia, and maximum temperatures cooler than average due to increased cloudiness. This wetter signal is less pronounced over Western Australia, as the trade winds lose their moisture across land as they travel west. This wetter signal will increase the chances of storms, floods and widespread rain this spring and summer, a stark contrast to spring/summer 2019/2020.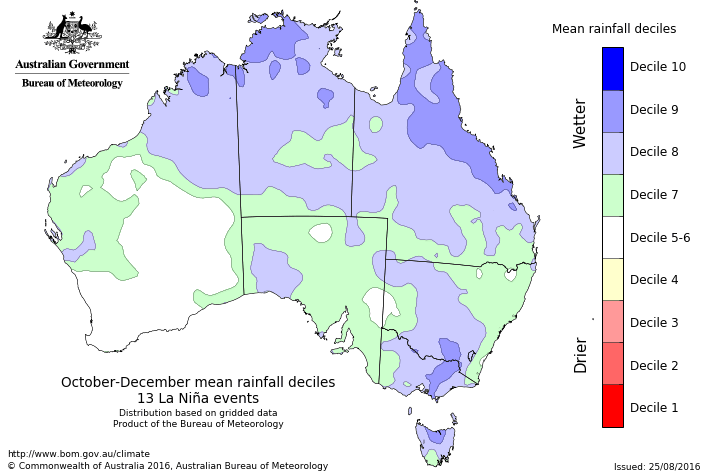 Image 2: Mean rainfall deciles during October to December during La Nina years based off 13 events (Source: Bureau of Meteorology)
This month, the weather patterns have already been strongly suggestive of a La Nina, with trade winds pushing moisture well inland and widespread rain across parts of the interior and South Australia. Further widespread rain is likely within the first week of October across parts of southeastern Australia as a trough is fed by fresh, humid northeasterly winds pushing into the nation's interior.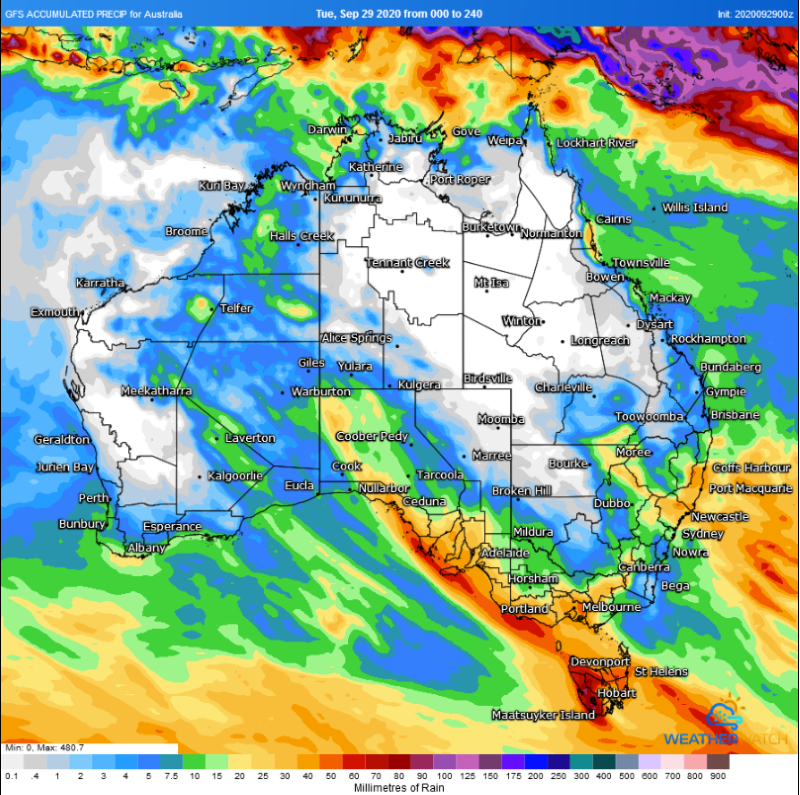 Image 3: Accumulated precipitation across the next 10 days from the GFS Model (Source: Weatherwatch Metcentre)
La Nina officially declared by Bureau of Meteorology
Tuesday 29th September 2020
The Bureau of Meteorology has officially declared a La Nina event is underway as of today, increasing the odds of wetter conditions over the next several months for Australia.
Earlier this month, both the Japanese and USA climate agencies had declared La Nina, however the criteria used by the Bureau of Meteorology (such as Sea Surface temperatures, trade wind strength, Southern Oscillation Index and equatorial cloudiness) are slightly more strict, with the thresholds finally being met. The 90-day SOI ending on September 27 was +8.1, typical of La Nina event (where sustained positive SOI values above +7 are indicative).
---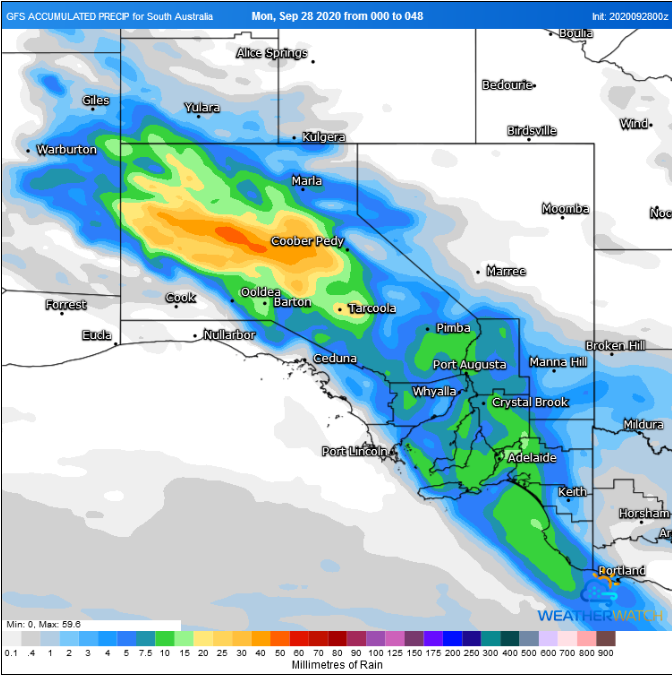 Image 1: Accumulated precipitation across the next 48 hours from the GFS Model (Source: Weatherwatch Metcentre)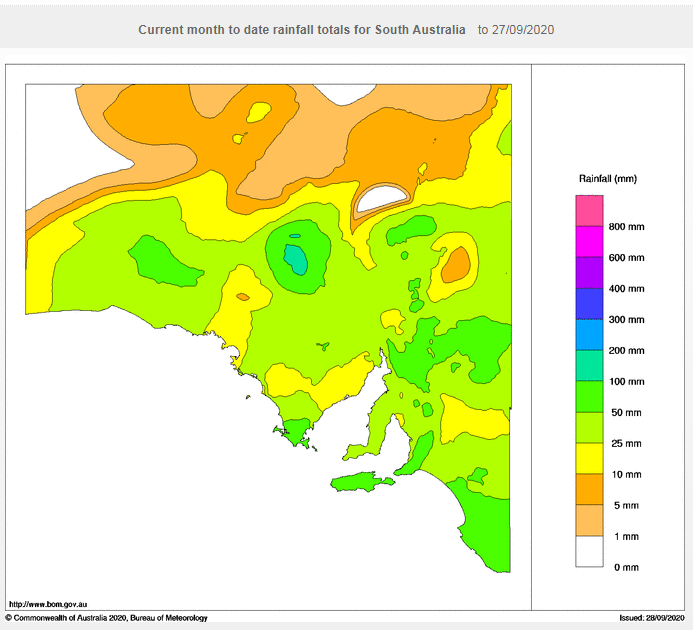 Image 2: Rainfall for September 2020 to date across South Australia (Source: Bureau of Meteorology)
Patchy rain and storms to cap off a warm and relatively wet September for SA
Monday 28th September 2020
Rain and thunderstorms are set to spread across parts of South Australia over the next two days, to cap off what has been a warm month but also the wettest September for the state since 2016.
A low pressure trough is combining with a humid northeasterly flow to generate showers and thunderstorms across the state's northwest this afternoon and evening. Some of these storms may become severe due to strong wind shear, and bring the risk of large hail, damaging winds, frequent cloud to ground lightning and strong wind gusts, however due to the low population density in this region damage is unlikely.
These storms will persist overnight and spread gradually southeast, tending more to rain areas as the system moves south. Whilst potentially severe storms will persist over the far north of the state on Tuesday, rain areas will gradually spread across central and southeastern parts of the state (including Adelaide), before clearing away during the evening or early Wednesday morning.
The northwest of the state will see the heaviest falls, with many areas likely to see 10-20mm, but up to 40-50mm under showers and thunderstorms. Across central and southeastern parts of the state, falls of 5-10mm will be more commonplace, with some areas seeing 15-20mm.
The rain will cap off what has been the state's wettest September since 2016. Many parts of the south have recorded close to their average rainfall for the month, whilst some parts of the central and north have recorded well above their average September totals, such as Maree that has recorded more than 9 times its September average (93mm for the month, compared to a 10mm average).
The month has also been warm, with the state likely to register one of its warmest Septembers on record (and warmest since 2013), with many parts of the state two to three degrees above average.
Looking further ahead, October is likely to begin on a warm note however there is growing consensus of widespread rainfall across the state within the first week of the month.
---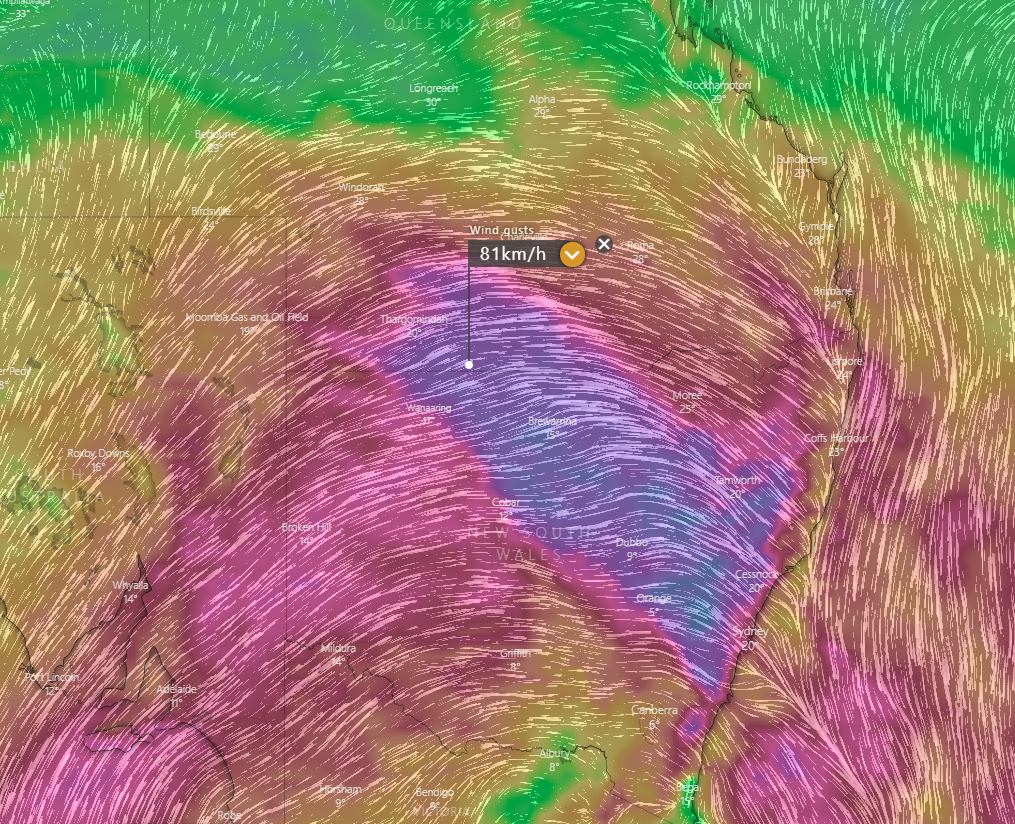 Image 1: Wind gusts for 4pm Friday (Source: Windy.com)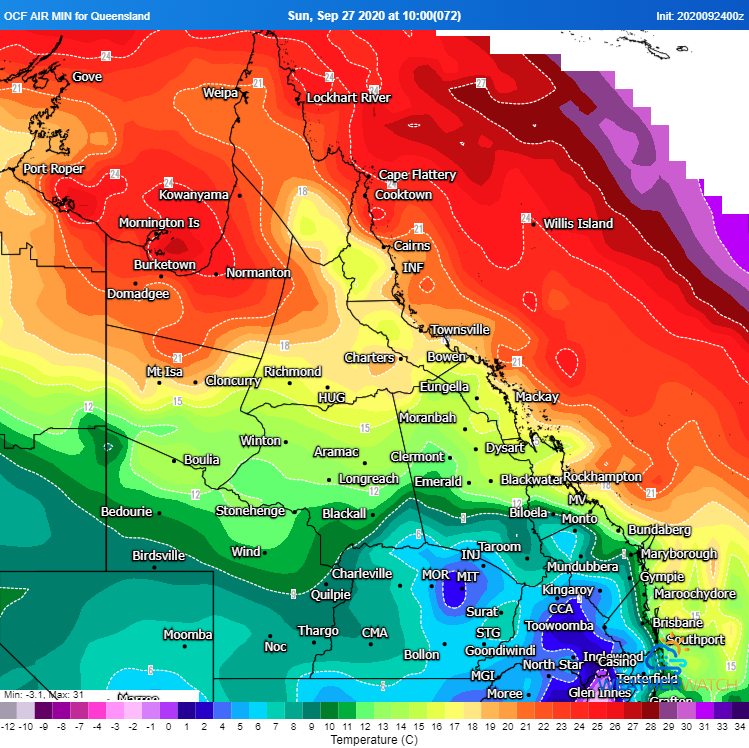 Image 2: OCF minimum temperatures for Sunday morning (Source: Weatherwatch Metcentre).
Heat, fire danger and gusty winds followed by colder conditions for southern Queensland
Thursday 24th September 2020
The next several days in southern Queensland is certainly going to be a period of two contrasting halves with northwesterly winds on Friday as well as heat and increased fire dangers in the southeast before colder southwesterly winds spread right across southern parts of the state with a front and trough.
Friday's maximum temperatures are forecast to climb up into the low 30s in inland parts of the Southeast as well as some parts of the Darling Downs especially in the north, and the Burnett districts but seabreezes close to the coastline are expected to keep temperatures down to the mid to high 20's along the coastal strip. Increasingly gusty winds in the southeast combined with the heat and dry conditions will also increase fire dangers on Friday. A fire weather warning is currently in place for severe fire danger on the Darling Downs and Maranoa and Warrego on Friday.
The stronger winds are expected to peak in the far southern interior of the state on Friday afternoon with occasional gusts up to 70 to 90 km/h and around 50 to 70 km/h for elevated terrain about the Granite Belt on Saturday. These winds may also help kick up some dust over the interior.
These gusty winds should persist on Saturday but will have turned cooler southwesterlies behind the front and trough. This will lower maximum temperatures to the low 20s across much of inland southern Queensland, the high teens on the Granite Belt and the mid 20s in the far southeast.
Sunday should feature similar maximum temperatures but the morning will be particularly cold with minimum temperatures down into the single digits across much of inland southern Queensland and even close to zero on the Granite Belt. This will cause frosts to become possible in far southern inland parts of the state.
---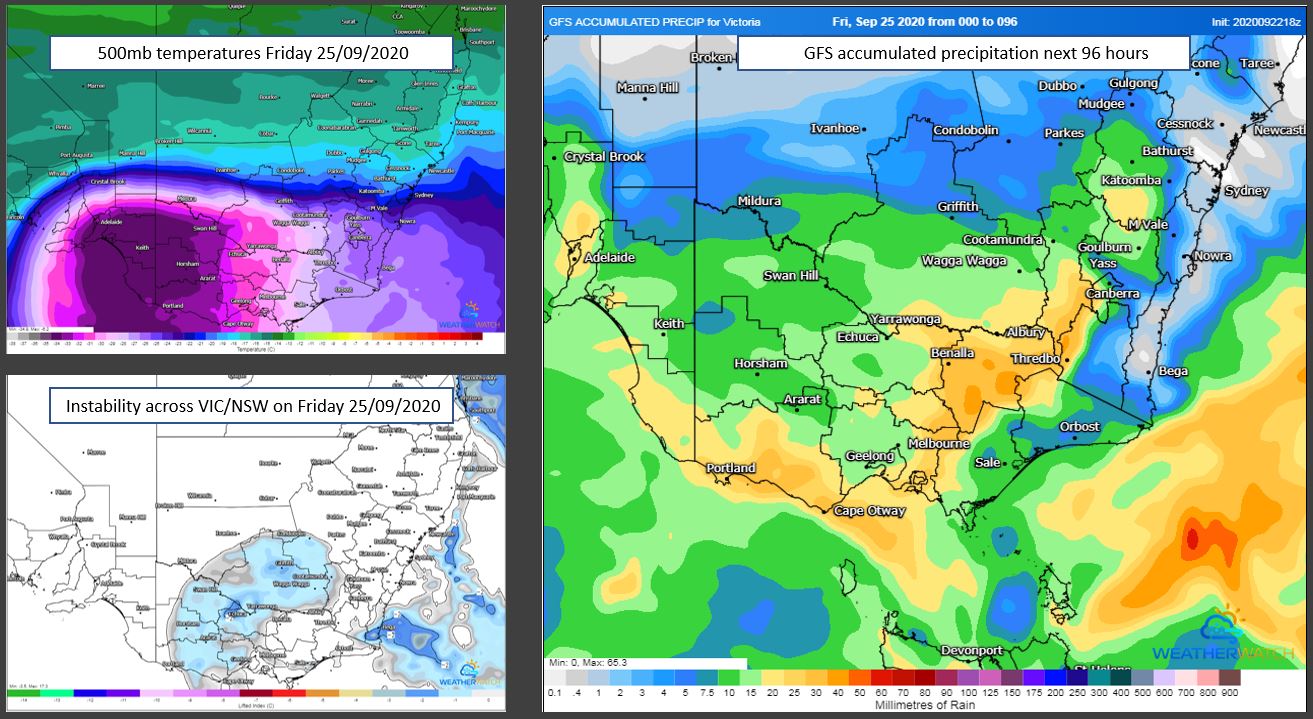 Image 1: GFS accumulated precipitation, instability and upper level cold pool. Images via WeatherWatch Metcentre.
From Thursday into Friday, the low in the Tasman Sea will rapidly shift east towards New Zealand, with a secondary low and associated cold front shifting from southwest of Tasmania in a northeast direction, traversing southeastern Australia. This low, in combination with a high south of Western Australia, will drive a bitterly cold southwesterly flow across southeastern Australia. An associated upper cold pool of air will move into western Victoria, increasing instability across the region, with heavy showers, small hail, scattered thunderstorms and snow falling above the 800m level.
Alpine regions of Victoria and NSW are expected to see 20-30cm of snow over the next 5 days, with snow fall extending north into the Central Tablelands of NSW into the weekend, with the potential for sleet or a light dusting of snow across parts of the Flinders Ranges in SA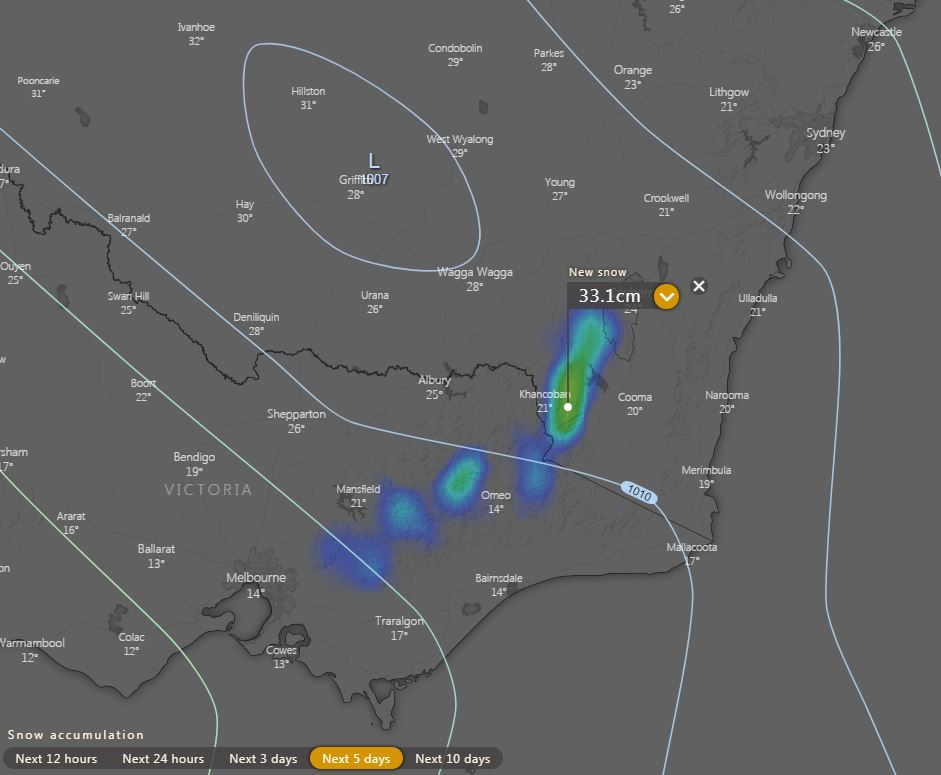 Image 2: EC forecast snow next 5 days. Image via windy.com
Widespread falls of 10-20mm are expected for SA, VIC, western TAS and southern NSW, with isolated heavier falls to 40mm possible for some locations, particularly with thunderstorms over the next 72 hours.
This bitterly cold airmass will keep maximum temperatures well below the September average for many locations, with Melbourne heading for a top of 12C Friday and 13C Saturday (September average of 17.3C), Adelaide 13C Friday and 15 Saturday (September average of 18.4), Hobart 13C across the weekend (September average of 15.1).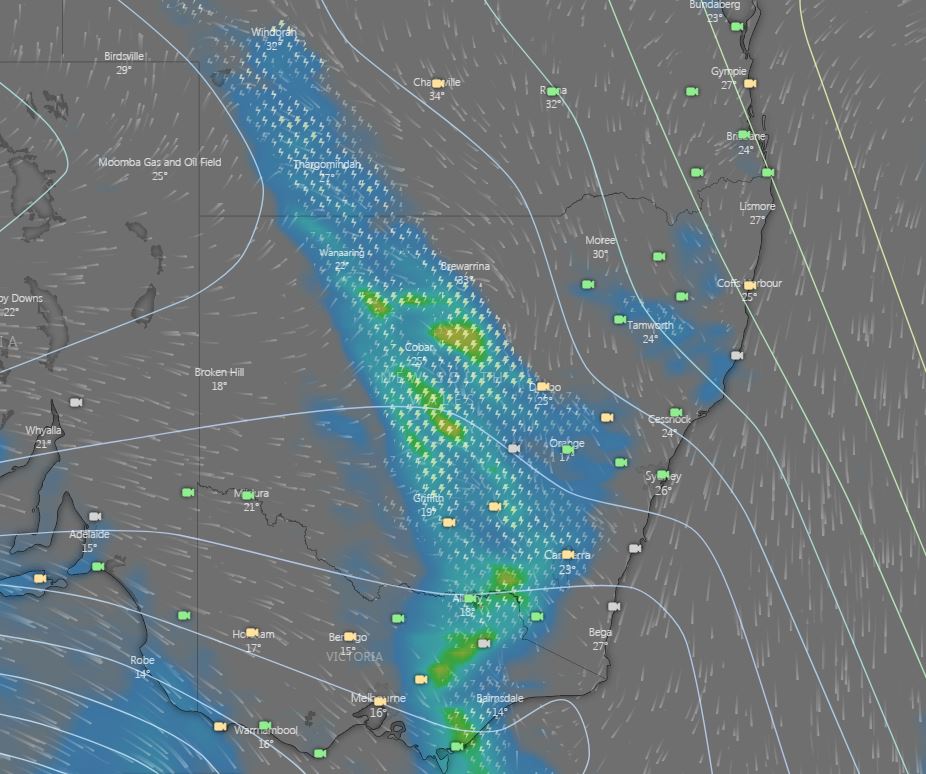 Image 3: EC rain and thunderstorms for Monday afternoon 21/09/2020. Image via Windy.com
Further storm activity will continue overnight Monday and into Tuesday morning whilst shifting northeast ? however severe storm activity is considered minimal across northeastern NSW and southern QLD at this time.
Late season cold snap for southeastern Australia
Wednesday 23rd September 2020
A late season cold snap is developing across southern Australia, producing showers, thunderstorms, hail and snow from Wednesday until the weekend for Victoria, NSW, Tasmania and southeastern South Australia.
During Wednesday, a low pressure system south of Tasmania will continue to move into the Tasman Sea, directing cold west to southwesterly winds across parts of Victoria, southern NSW and Tasmania. This system is producing scattered showers, isolated thunderstorms with small hail and the potential for snow to fall above 900m across parts of Victoria and Tasmania late this evening.
---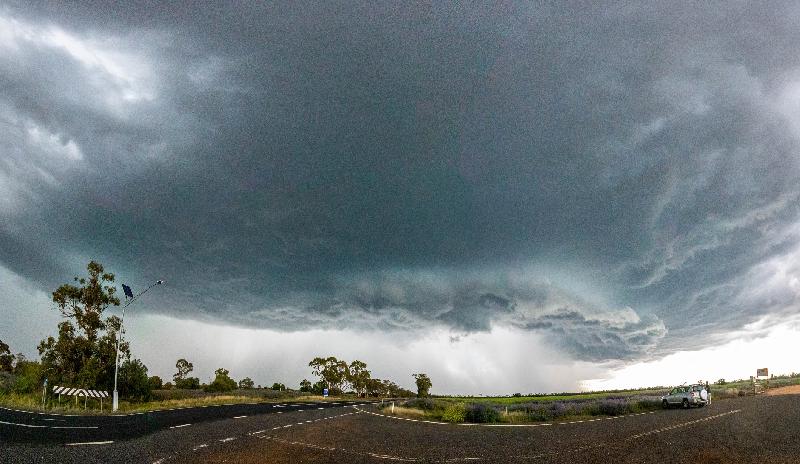 Image 1: Severe thunderstorm structure as shot by EWN's Justin Noonan west of Nyngan, NSW, Monday 22nd September 2020.
Image 2: Severe thunderstorm structure as shot by EWN's Justin Noonan west of Nyngan, NSW, Monday 22nd September 2020.
Severe thunderstorms across multiple states during Saturday, Sunday and Monday
Tuesday, 22nd September 2020
Severe thunderstorms occurred over multiple states during the weekend and into Monday, including the states and territories of the NT, QLD, NSW, ACT, VIC and SA, with the primary threats of localised damaging winds, large hail and heavy rainfall. Locally destructive winds were also the focus through the northwestern and central inland portion of NSW, especially during the late afternoon and early evening Monday.
Some noteworthy observations from thunderstorm activity yesterday for QLD, NSW and VIC included: Thargomindah Airport in southwestern QLD recorded at peak wind gust of 101km/h at 1:50pm with Windorah Airport recording a peak gust of 79km/h at 2:10pm.
A peak wind gust of 96km/h was recorded at Cobar Weather Station, NSW at 3:00pm as fast moving thunderstorms swept through the central inland NSW districts. These thunderstorms also delivered heavy rainfall and hail to the central inland districts.
Large hail was reported near Wagga Wagga, NSW with heavy rainfall recorded at Carabost at 3:00pm which received 25mm of heavy rain within 30 minutes. Forbes, NSW also received 26mm in 15 minutes around 5:00pm. Significant wind gusts recorded for VIC included a 96km/h wind gust at Mt. Hotham at 12:37pm with gusts to 97km/h at Falls Creek.
Severe thunderstorms were very lightning active yesterday across the country, with 120,000 cloud-to-ground lightning strikes recorded, with a grand total of 480,000 lightning occurrences recorded between 10:00am and 10:00pm Monday night via the Early Warning Network lightning tracker.
Looking ahead into later this afternoon and evening, there is a medium chance of showers and thunderstorms in a band along a northwest to southeast trajectory through inland parts of QLD, extending into the northeastern parts of NSW. Isolated tending scattered squally showers and isolated thunderstorms are possible for VIC where a Severe Weather Warning is current for damaging winds. Coastal and adjacent inland districts, including elevated regions in the northeast are at risk of localised strong to damaging winds over the next 24 hours.
Damaging winds due to squally conditions are also very likely through the Central, South West, West and South Gippslands and parts of the East Gippsland, North Central, North East and Wimmera forecast districts. A Severe Weather Warning is also current for damaging winds is also current for southeastern NSW locations including people within the Illawarra, Snowy Mountains, South Coast and the Southern Tablelands. Daytime temperatures through southern NSW are expected to remain mostly above average east of the Great Diving Range and average through western parts.
By the end of the week, a cold outbreak is expected through parts of VIC as another significant cold front looks set to sweep through the state. Into Friday, snow showers are possible on the Southern Alps above 1100m with early frosts possible through central parts.
---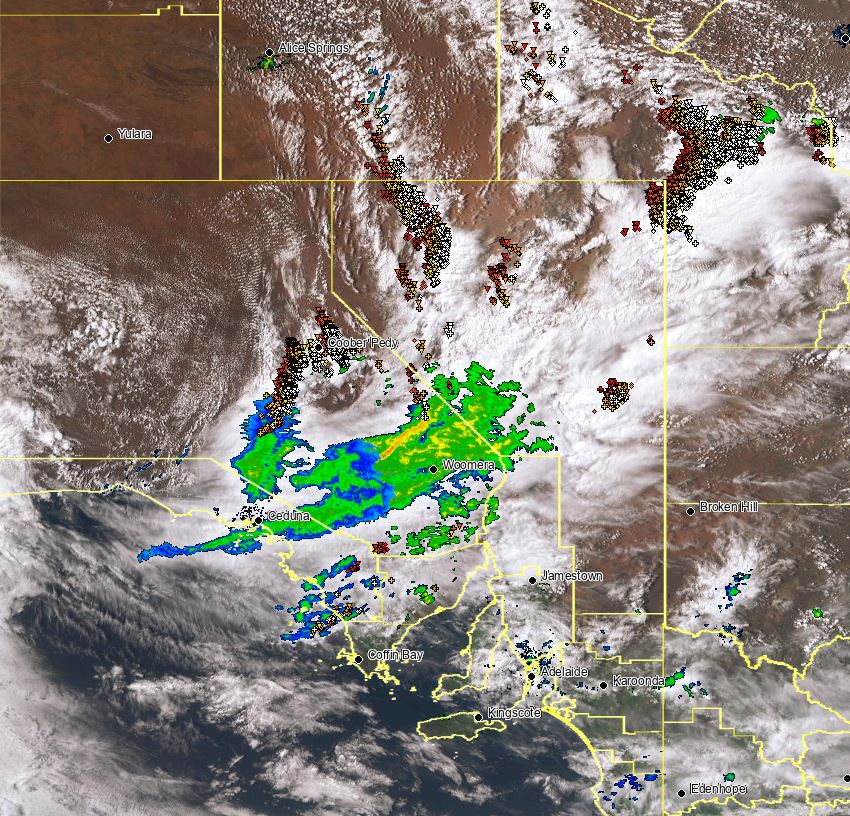 Image 1: Current satellite, radar and lightning overlay.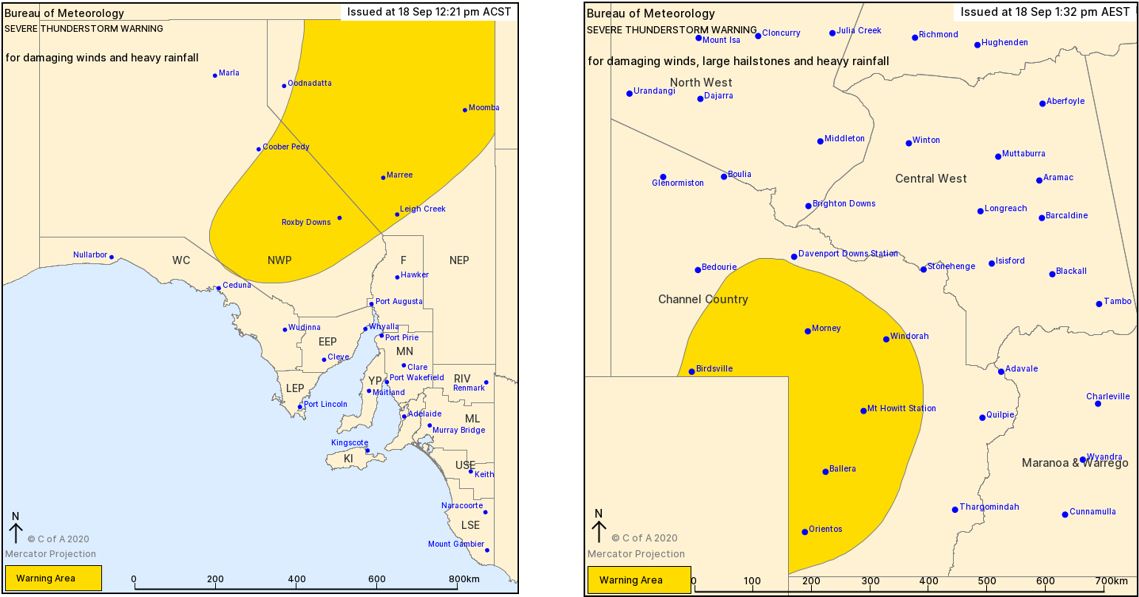 Image 2: Bureau of Meteorology severe thunderstorm warnings. Issued 18/09/2020. Image via BoM.
This storm activity is expected to continue overnight Friday into Saturday morning, before another round of severe storms develop across western Queensland. Saturday afternoon's storms are expected to be rather intense, with the potential for supercell thunderstorms to develop which will be capable of producing damaging to locally destructive winds, large to giant hail and further heavy falls. There is even the outside chance of an isolated tornado or two developing should any supercells remain discrete.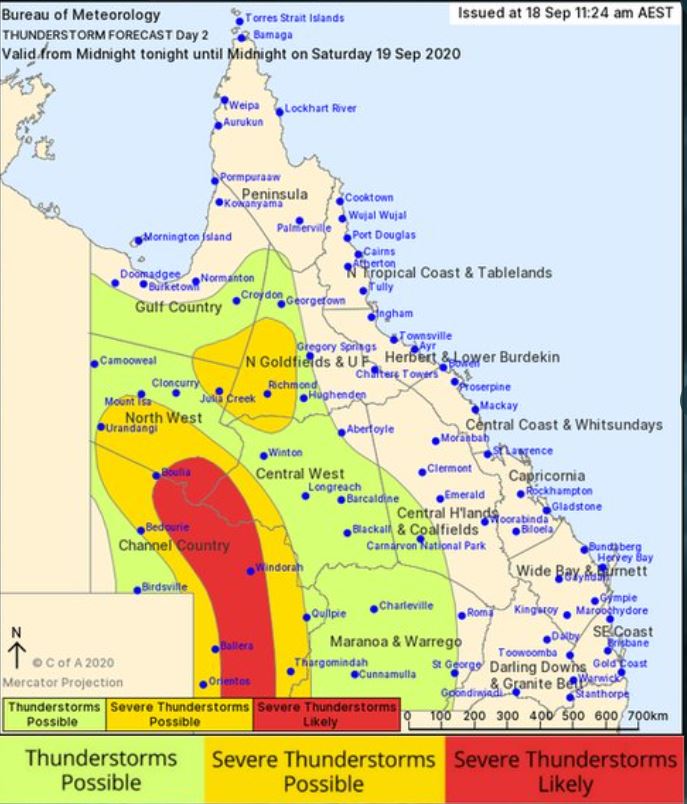 Image 3: Bureau of Meteorology day 2 thunderstorm map, QLD. Valid Saturday 19/09/2020.
Further south, widespread shower and storm activity will develop for eastern parts of South Australia, western NSW and Victoria during Saturday afternoon and evening. A few of these storms are expected to become severe with damaging winds, large hail and heavy rainfall leading to flash flooding.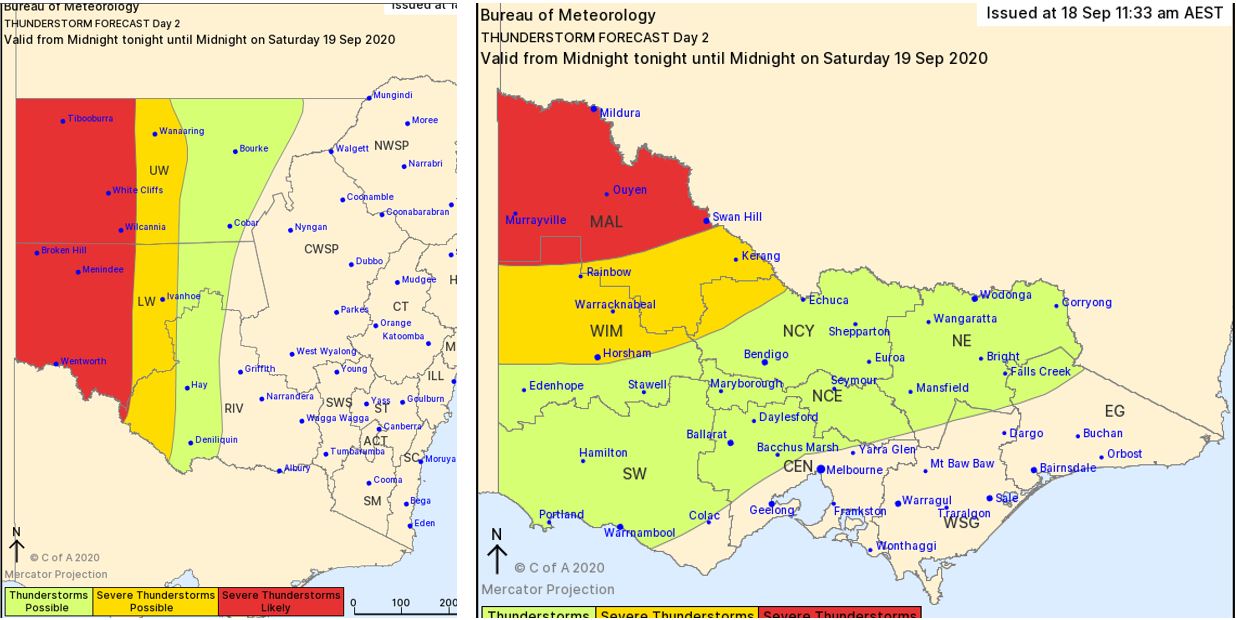 Image 4: Bureau of Meteorology day 2 thunderstorm map for NSW & VIC. Valid Saturday 19/09/2020.
The slow-moving cold front and pre-frontal trough across central Australia will shift east into Monday, interacting with increasing moisture to generate moderate to strong instability across NSW and southern QLD. Strong wind shear associated with an upper trough will be present across the region helping to aid in the development of severe storms.
During Monday afternoon, a large line of thunderstorms is expected to develop along the cold front, with the potential for a few discrete storms to develop ahead of this line. Severe thunderstorms will be possible, with damaging winds and the potential for large hail to develop.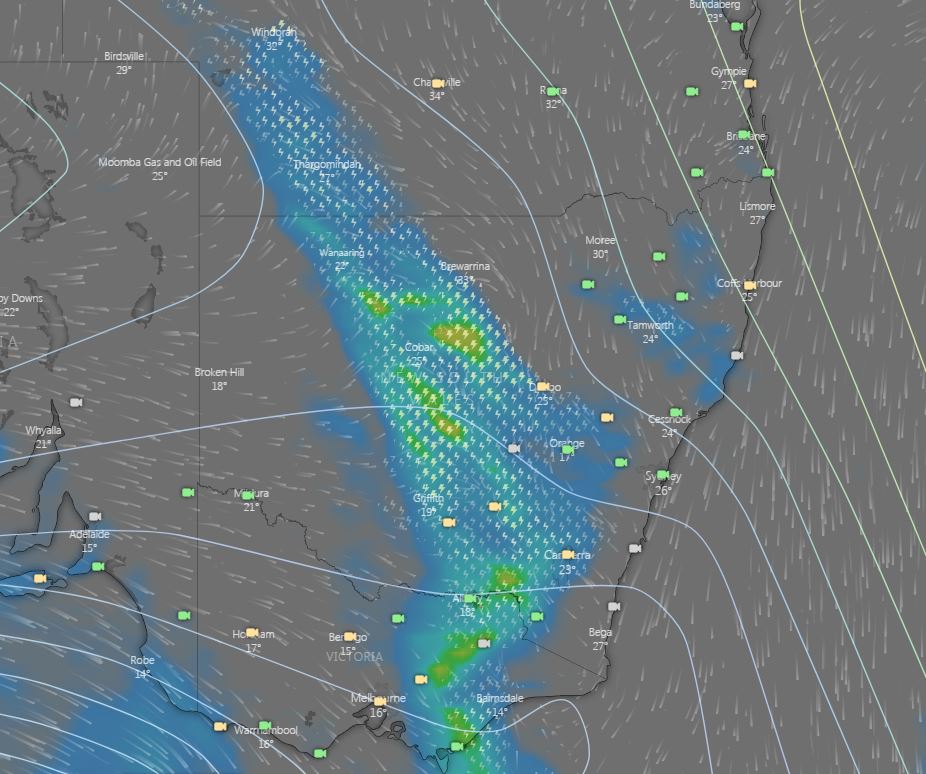 Image 5: EC rain and thunderstorms for Monday afternoon 21/09/2020. Image via Windy.com
Further storm activity will continue overnight Monday and into Tuesday morning whilst shifting northeast ? however severe storm activity is considered minimal across northeastern NSW and southern QLD at this time.
Severe thunderstorms develop across central Australia with more on the way
Friday 18th September 2020
An unusual, yet volatile September thunderstorm set-up is unfolding across inland Australia this afternoon, with severe thunderstorms exploding across parts of South Australia and Queensland this afternoon.
The Bureau of Meteorology issued severe thunderstorm warnings just after lunch Friday afternoon, with damaging winds, large hail and heavy rainfall that may lead to flash flooding possible across the interior of the country.
---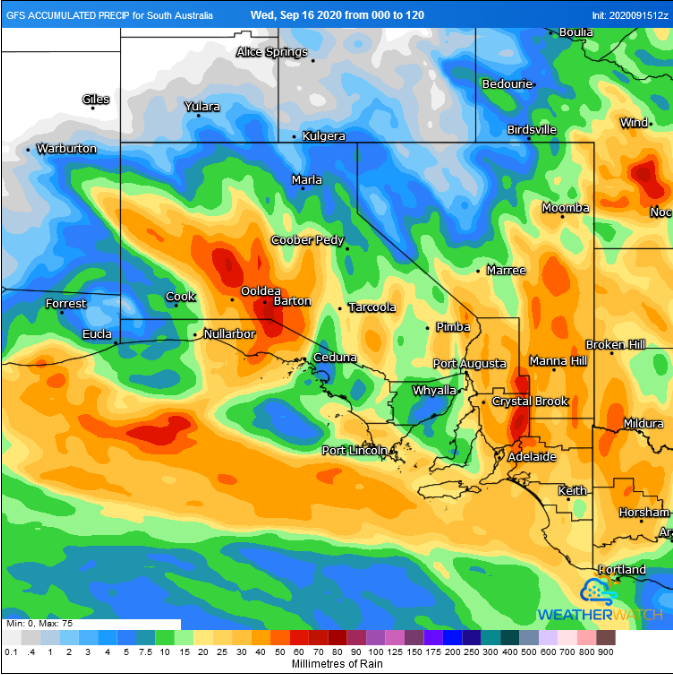 Image 1: GFS accumulation precipitation next 5 days. Image via Weatherwatch Metcentre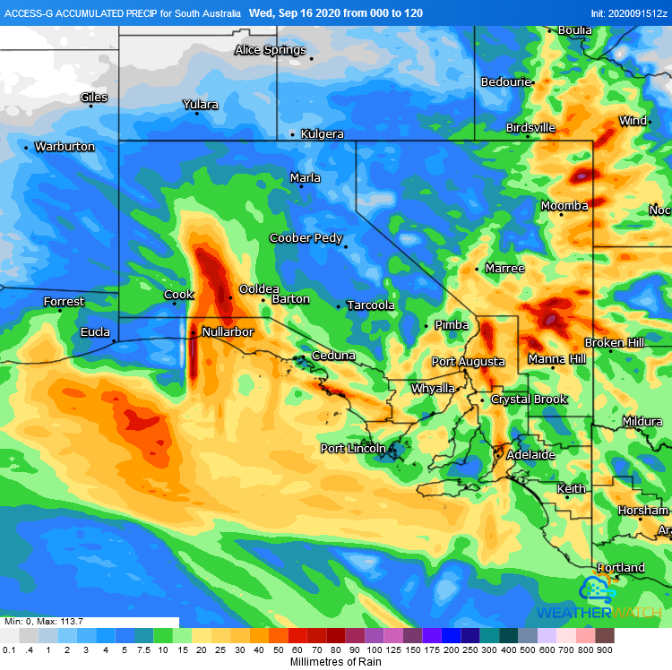 Image 2: ACCESSG accumulation precipitation next 5 days. Image via Weatherwatch Metcentre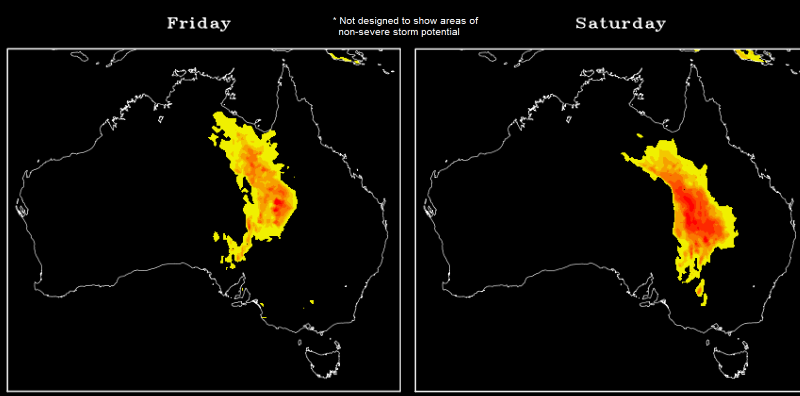 Image 3: Severe Storm Potential across Australia on Friday and Saturday based on the GFS Model (Source: Data from the National Centres for Environmental Prediction)
Widespread rain and thunderstorms for South Australia
Wednesday, 16th September 2020
South Australia is likely to see its most widespread rain event since at least February as a dynamic weather event unfolds across the state, with a low pressure system and trough combining with unusually high moisture levels and an upper level cold pool.
A lack of cold fronts this month and strengthening easterly trade winds (that have pushed further west than normal for this time of the year) have allowed moisture to build across SA. As a low and trough (which are accompanied by a very warm airmass from northern Australia) move into the state later today and Thursday, this combination of high temperatures and moisture will lead rain and thunderstorms across many parts of the state.
Areas of light rain are expected to develop across the state's coastal strip and far west tonight, which are expected to become heavier on Thursday morning as the system gains moisture. As a complex low pressure system deepens on Thursday in response to an upper cold pool, the far west of the state will become the focus of the activity, with thunderstorms likely to develop over the West Coast and North West Pastoral during the afternoon and evening.
On Friday this system will move east, spreading rain and thunderstorms into the Eastern Eyre Peninsula, Flinders and North East Pastoral. Thunderstorm activity is likely to become significantly more widespread, with strong wind shear bringing the risk of large hail, damaging winds and flash flooding in storms. Friday is also expected to be a very warm to hot day across the state's east, with Adelaide likely to reach around 30 degrees, Renmark 32 degrees, and Murray Bridge the high 20s.
Rain and storms are likely to remain active into the evening on Friday and push east, spreading through the North East Pastoral and Flinders by Friday evening, and Yorke Peninsula and Mid North on Saturday morning. Throughout Saturday, the band of rain and storms will spread through the remainder of the state, clearing early on Sunday.
Accumulated rainfall totals have potential to vary considerably due to the convective nature of the system, particularly between those that receive thunderstorms and those that do not. Many areas are likely to see at least 10-20mm, but those under thunderstorms will see heavier totals of 30-50mm, with isolated falls of 70-90mm not out of the question.
---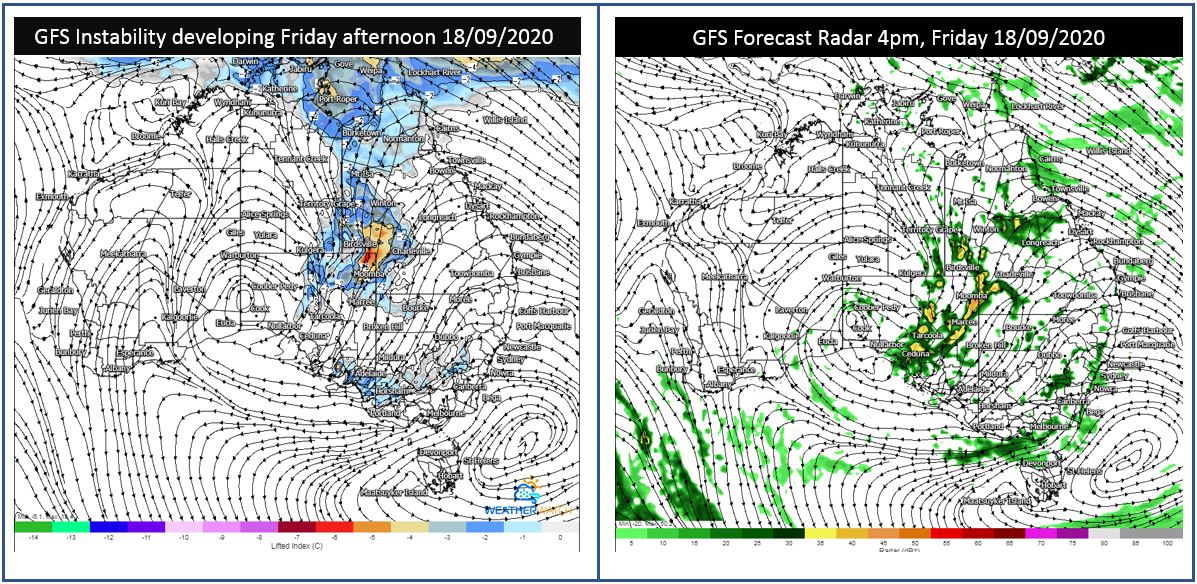 Image 1: GFS instability and forecast radar. Images via WeatherWatch Metcentre
During Friday night, this activity is expected to spread into thundery rain areas, with the potential for widespread falls of 15-25mm, with isolated falls exceeding 50mm possible. This may lead to localised flash flooding through western Queensland, NSW and northeastern SA.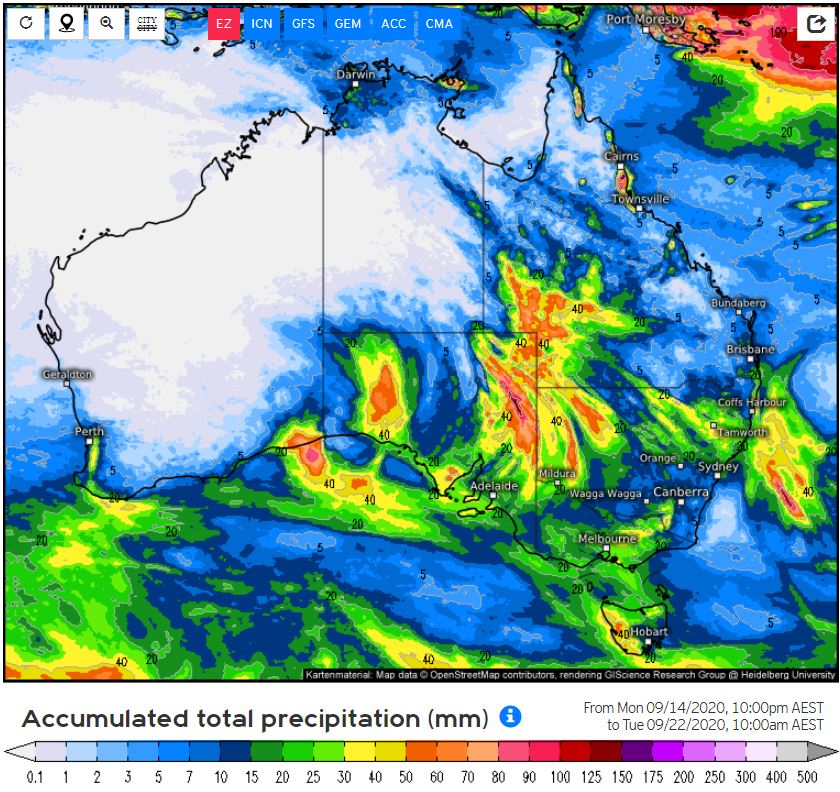 Image 2: EC accumulation precipitation next 7 days. Image via weather.US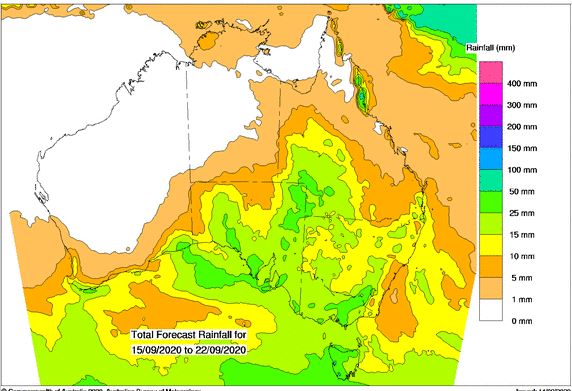 Image 3: BoM PME forecast rainfall next 8 days.
Rain periods will continue into Saturday, with another round of thunderstorms expected to develop during the afternoon hours across inland QLD and NSW. Whilst the severe storm threat isn't expected to be as significant as Friday, should a few extra hours of heating occur, further damaging winds and heavy falls may develop.
Rain and severe storms for inland Australia
Tuesday, 15th September 2020
With the Japanese and the USA meteorological agencies recently declaring a La Nina event, Australia is still on La Nina alert, with a 70% chance of a La Nina developing. A La Nina year would promote an increase in tropical cyclones, rain and storm events. The wind of change is in the air, with a significant rain and storm event expected to unfold across parched inland parts of Australia late this week, with locally heavy falls possible.
A low pressure system and associated trough will move into South Australia late Wednesday and into Thursday, with scattered showers and isolated thunderstorms possible across southern parts of the Northern Territory, central and southern South Australia.
During Friday, this system will interact with a moisture-laden airmass to help generate widespread showers, rain periods and thunderstorms across western Queensland, northwestern NSW, northeastern SA and southwestern parts of the NT. Sufficient wind shear coupled with low to moderate instability will promote a few organised storms capable of producing damaging winds, large hail and heavy rainfall that may lead to flash flooding.
---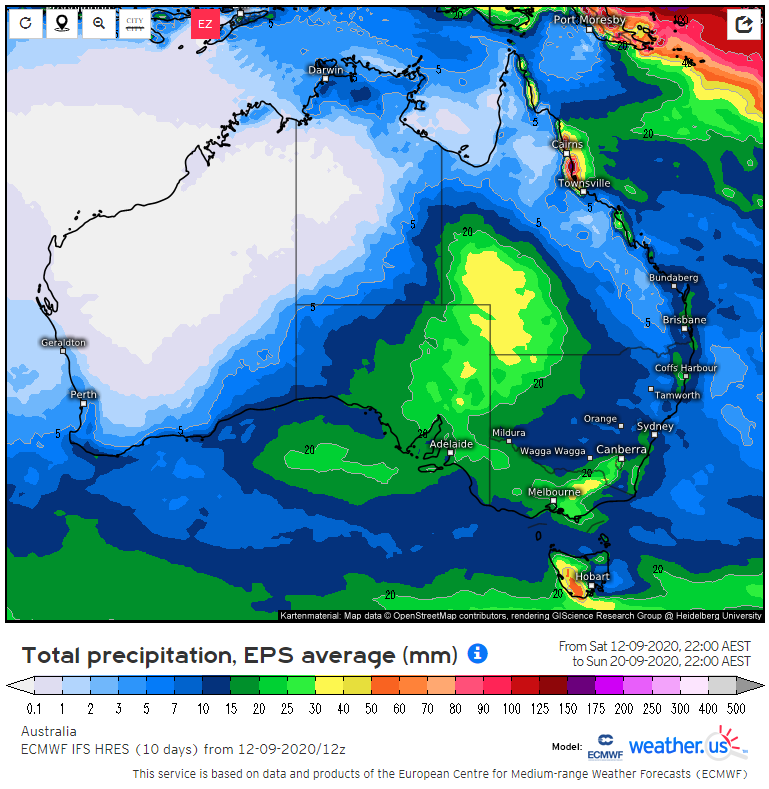 Image 1: EC ensemble 7 day total rain accumulations (Source: weather.us)
Widespread light to moderate falls for inland parts of several states later this week
Sunday, 13th September 2020
A large upper and surface low is expected to start taking shape in the Great Australian Bight during the middle of the week before drifting across southeast Australia later in the week and weekend.
This system as well as an accompanying cold front is forecast to cause some showers to start developing in parts of South Australia on Thursday. These should then spread into northeastern and central parts of the state on Friday, possibly also into far southwest Queensland and far northwest New South Wales with some associated rain areas and storms developing.
On Saturday, the main focus of this activity is likely to shift into inland New South Wales and southern inland Queensland before moving towards eastern NSW and northeast Victoria on Sunday while slowly weakening.
On average, 20 to 40 mm of total rain accumulation is currently expected in far southwest Queensland, far northwest New South Wales and far northeast South Australia with locally much higher amounts likely for those places which experience a storm. Near the edge of these areas, lighter falls of around 5 to 15 mm are likely.
Some localised flash flooding potential can't be ruled out for any areas which experience a storm. It should be remembered though that these rain amounts and areas are still subject to change.
---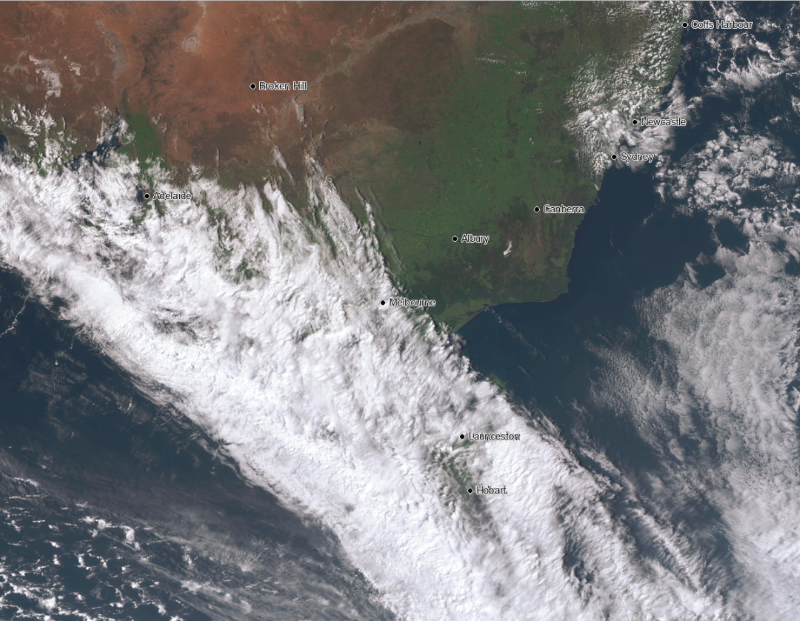 Image 1: Satellite image at 2:30pm EST 11 September, 2020 showing thick cloud spreading across southeast Australia
Whilst light falls are likely this afternoon and evening, rain will become heavier overnight and into Saturday. In SA, the heaviest totals are likely across the Lower Eyre Peninsula, Kangaroo Island, Mount Lofty Ranges and Upper and Lower Southeast, where widespread falls of 5-15mm are likely with isolated totals up to 30-40mm. Adelaide itself can expect 5-15mm.
In VIC, those over the Wimmera, northeastern parts of the South West, Central and North Central will see the highest totals, with widespread falls of 10-20mm and some areas seeing 30-40mm. Melbourne itself will get 20-30mm. Those further north and east in the state will still get rain, however falls will overall be patchier and in the 5-10mm range (less close to the NSW border).
In TAS, moderate rain will be widespread across large parts of the state, except for the southeast. Over the southeast, 5-10mm is likely (including Hobart), with other parts of the state seeing widespread totals of 10-20mm, with up 30-50mm in some parts.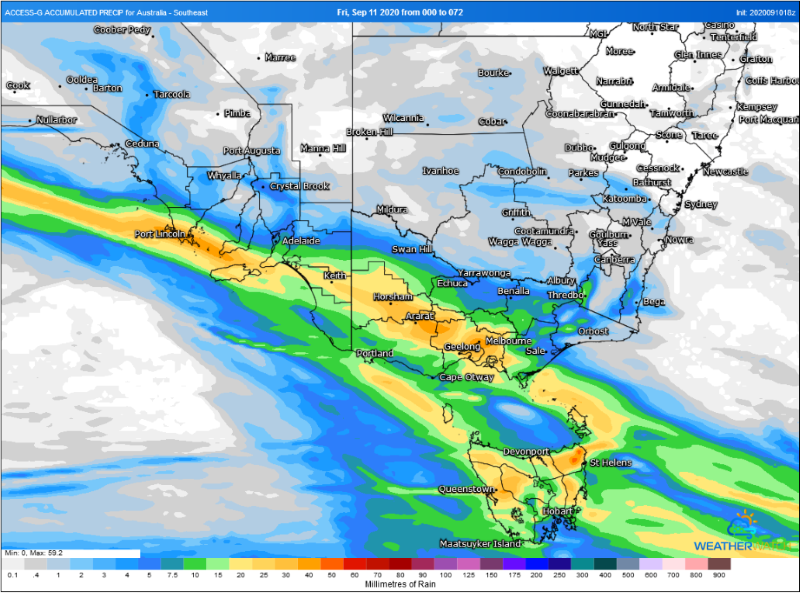 Image 2: Accumulated totals across the next 72 hours from the ACCESSG Model (Source: Weatherwatch Metcentre)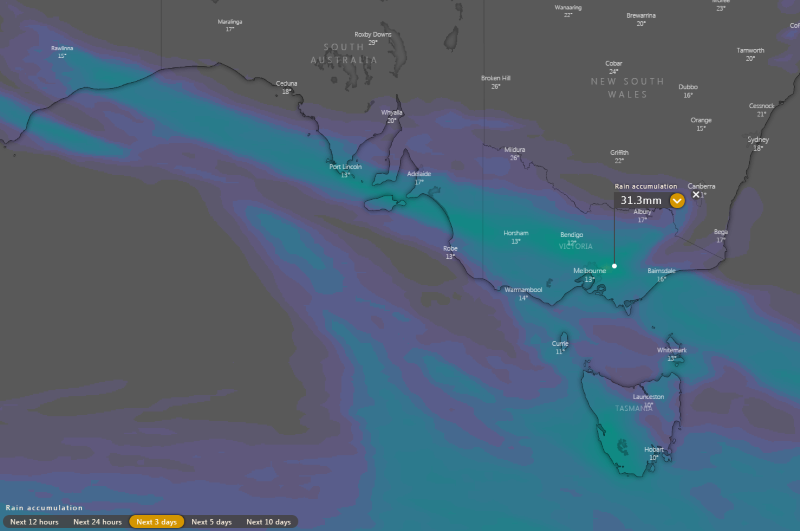 Image 3: Accumulated totals across the next 72 hours from the ECMWF Model (Source: Windy.com)
On Sunday, a cold front will also clip TAS, and will bring a burst of strong winds with gusts reaching 80-90km/h, mainly across the southwest and northeast.
Conditions will clear early next week, however a more widespread rain event is likely mid to late next week.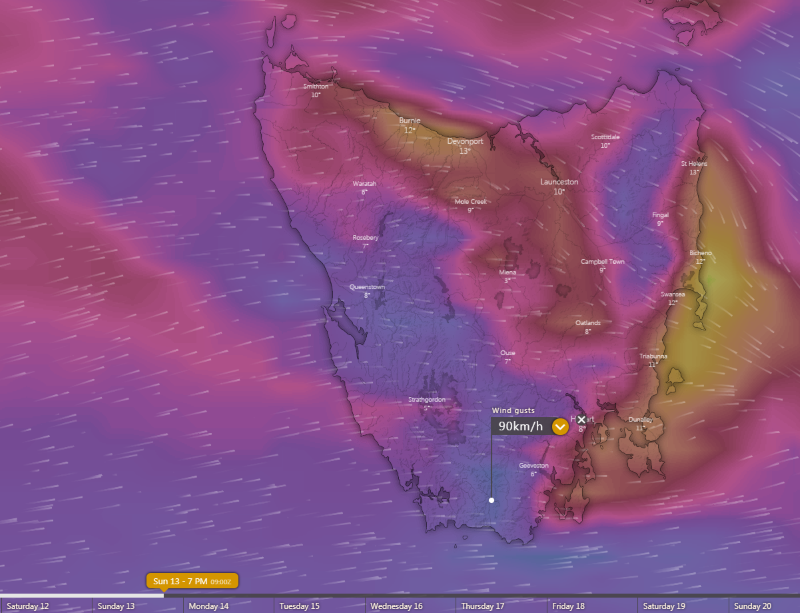 Image 4: Strong winds predicted from the ECMWF Model across TAS on Sunday 13th September, 2020
Rain spreading across SA, VIC and TAS
Friday, 11th September 2020
Patchy rain is starting to spread across Tasmania, Victoria and southern parts of South Australia today with accumulated totals of up to 30-40mm expected in some areas over the weekend.
A low pressure trough crossing the southeast of the country is feeding off moisture that has built up over the region thanks to a deep northeasterly flow that has pushed well into SA. This deep northeasterly flow is very different to the westerly flow seen this time last year, and is a great indication strengthening trade winds as La Nina looms.
---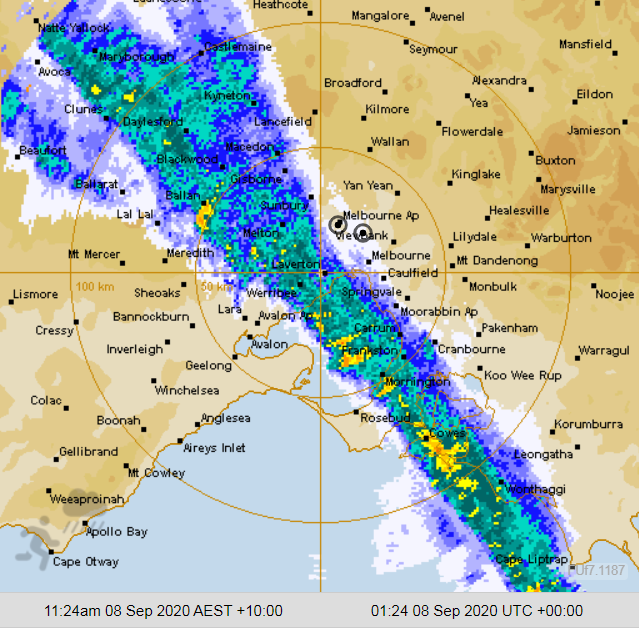 Image 1: Bureau of Meteorology Radar as at 11:24am 8th September 2020 showing the cold front just prior to sweeping through the Melbourne CBD.
Wild winds lash Victoria again
Tuesday 8th September, 2020
A return to wild and windy conditions for southern and central parts of Victoria overnight as strong northerly winds intensified just prior to the crossing of the front earlier today.
Earlier this morning, strong northerly winds with peak gusts in excess of 100km/h were continuing over much of the warning area which included locations situated within the Central, North Central, North East and West and South and East Gippslands districts and affected areas such as Melbourne, Wonthaggi, Frankston, Falls Creek, Mount Buller and Omeo.
The strongest wind gusts recorded overnight and earlier this morning include a 107km/h wind gust at Mount William at 1:28am, 106km/h at Mount Hotham at 3:51am and 100km/h at the Melbourne Airport just before lunchtime at 11:57am.
Other locations that received significant wind gusts included 93km/h at Essondon at 12:20am, 91km/h at Falls Creek, Fawkner Beacon and Cape Otway, 89km/h at Wilsons Prom at 9:07am and 86km/h recorded at Sheoaks just past midnight last night.
The cold front is expected to maintain an eastward trend this afternoon as it moves over eastern parts of the state late this afternoon and into tonight, however the risk of significant wind gusts have now lessened. There is the very slight chance of an isolated shower or thunderstorm for northeastern parts of the state this afternoon.
A high pressure ridge is then expected to build over Victoria in wake of the cold front thanks to a large region of high pressure developing though the bight, leading to patches of morning fog about the ranges tomorrow morning, with dry mild and mostly sunny conditions that are expected to follow.
The Severe Weather Warning for damaging winds for the central and eastern districts has now been cancelled as of 3:00pm this afternoon.
---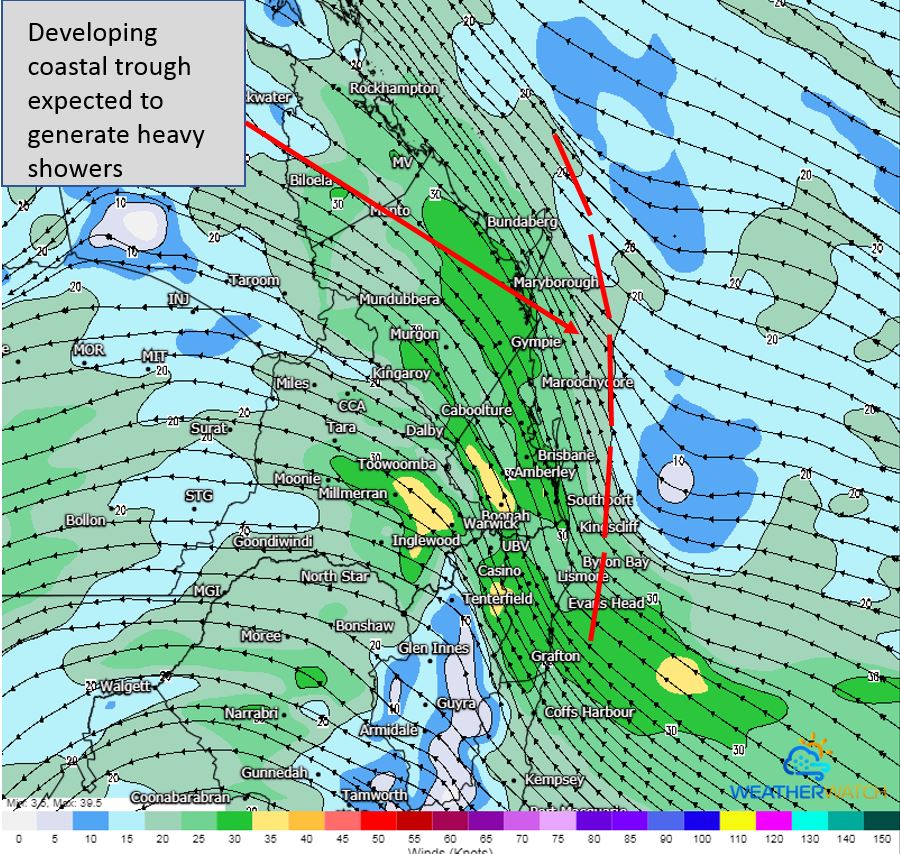 Image 1: Small coastal trough, as seen on GFS Friday morning 11/09/2020. Image via WeatherWatch MetCentre.
In response, scattered showers, tending to rain and isolated thunderstorm will be possible from the Mid North Coast of NSW to the Wide Bay and Burnett region in QLD, with localised heavy falls to 100mm across coastal regions. Areas 10-20km inland are expected to see lighter falls, with 5-15mm possible.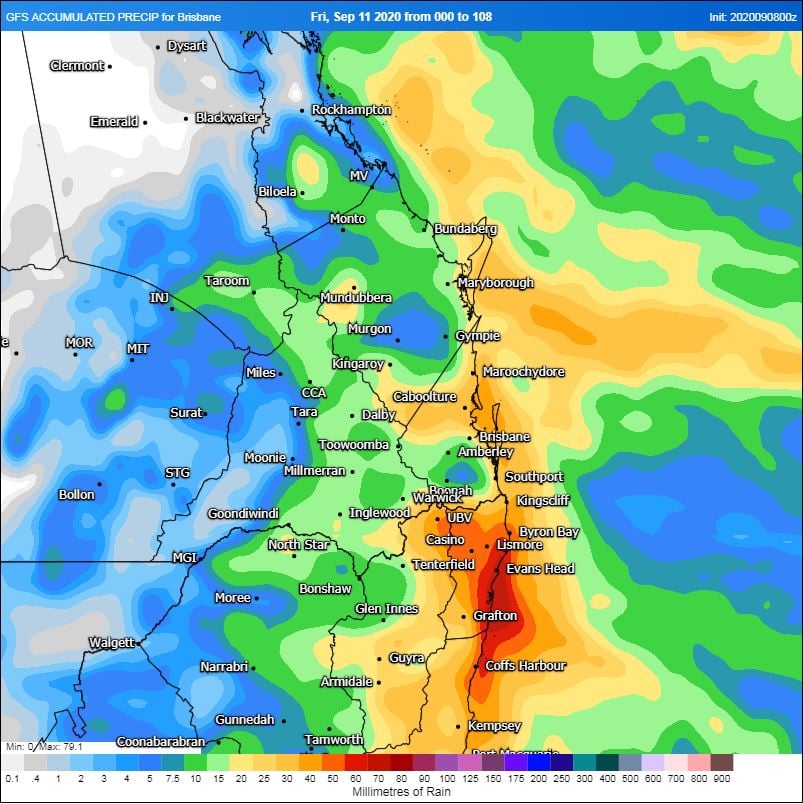 Image 2: GFS accumulated precipitation next 5 days. Image via WeatherWatch MetCentre.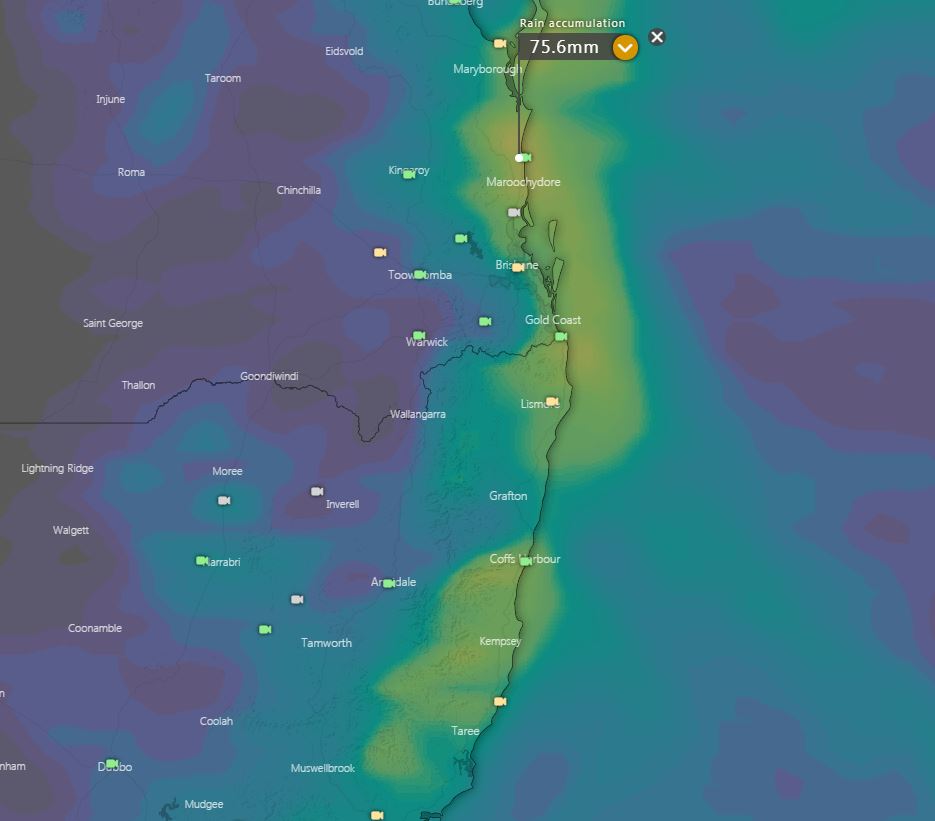 Image 3: EC accumulated precipitation next 5 days. Image via Windy.com
Shower activity should gradually clear from the south on Saturday, with clearer conditions and fresh easterly wind developing across the weekend.
Wet end to the week for SE QLD and northern NSW
Tuesday, 8th September 2020
Wet conditions are expected to return to eastern Queensland and northern NSW later this week, as an upper trough combines with a surface trough and southerly change.
Late Wednesday and into Thursday, a southerly change will move through northern NSW and southern QLD bringing increasing moisture with scattered showers and gusty winds.
This upper system will move into South Eastern Queensland overnight Thursday and into Friday, combining with increased moisture from the southerly change with the potential for a small coastal trough to develop.
---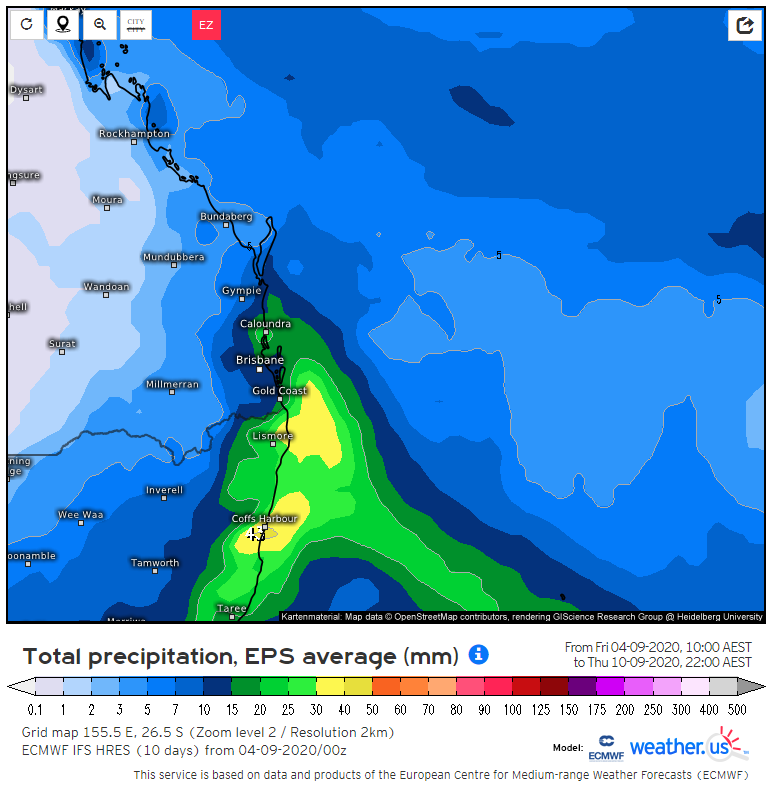 Image 1: EC model 6-day total rainfall (Source: weather.us)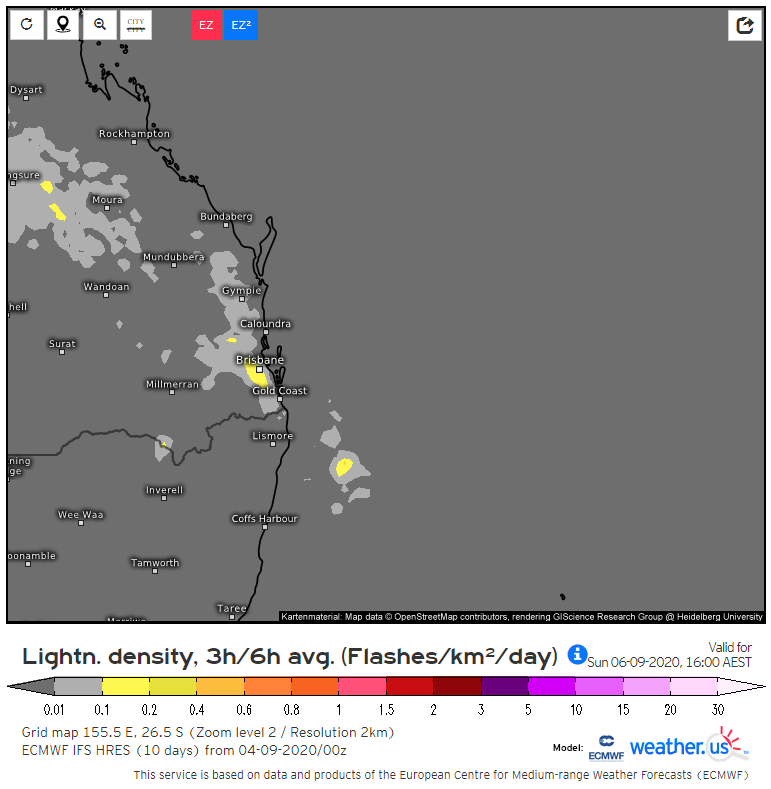 Image 2: EC model lightning potential for Sunday afternoon (Source: weather.us)
The first showers and localised storms for Spring to affect southeastern Queensland and northeast NSW
Friday, 5th September 2020
This Saturday afternoon, localised showers with some possible thunder caused by a trough are forecast to shift across the New South Wales northern tablelands but in a much more hit and miss mode in the central and eastern Darling Downs. Some of this activity is also likely to reach parts of the northern NSW coast in the afternoon and night mainly around the Mid North Coast district.
There is the low risk that it may reach some parts of coastal Southeast Queensland on Saturday night. However no widespread heavy rain is expected and while some may be accompanied by brief gusty winds, no significant severe storm outbreak is expected either.
During the course of Sunday some of the existing showers in NSW are also expected to spread up over the southern third of the Queensland coast as a southeasterly wind change pushes up the coast. This will be helped by colder air in the mid levels of the atmosphere associated with a developing weak upper low as well as some extra moisture from the onshore flow.
In the afternoon and early evening, localised storms are also expected in a narrow zone from Southeast Queensland to the eastern interior of the state as well as the far northeast corner of NSW. However once again, no major severe storm outbreak is expected. Monday and Tuesday morning should see this shower activity linger in parts of southeast Queensland and the Northern Rivers district in New South Wales due to the moist onshore flow. Some very localised thunder is also possible in southeast Queensland on Monday due to the upper cold air.
From Wednesday afternoon showers and possibly some brief rain areas are forecast to develop in the northeast third of New South Wales before shifting up over the southeast third of Queensland on Thursday ahead of an upper trough and another southeasterly wind change. While all this may sound like a lot of wet weather, for most places the showers and localised thunder aren't expected to last a long time each time. Additionally any moderate to locally heavy falls should be mainly confined to parts of the coast as well as those places which experience a storm and are likely to be short lived.
---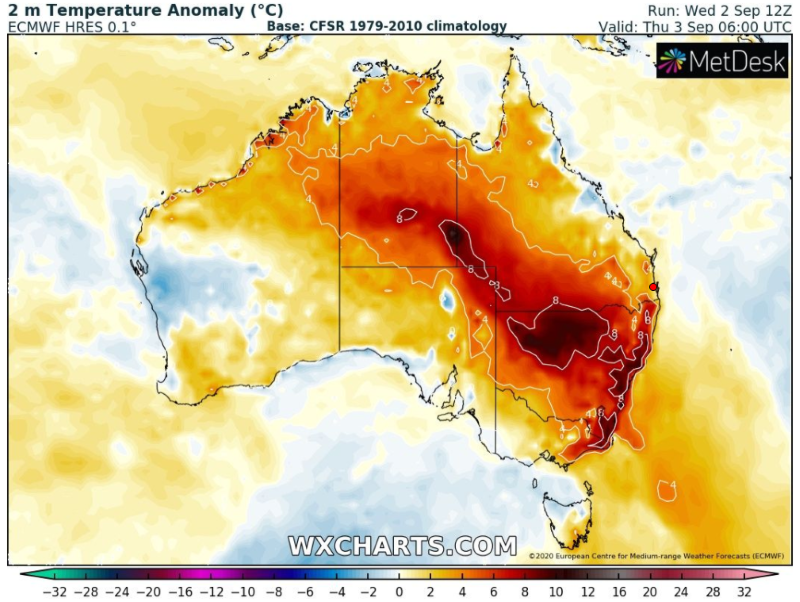 Image 1: Temperature anomalies across NSW on Thursday 3 September, 2020 (Source: WXcharts.com)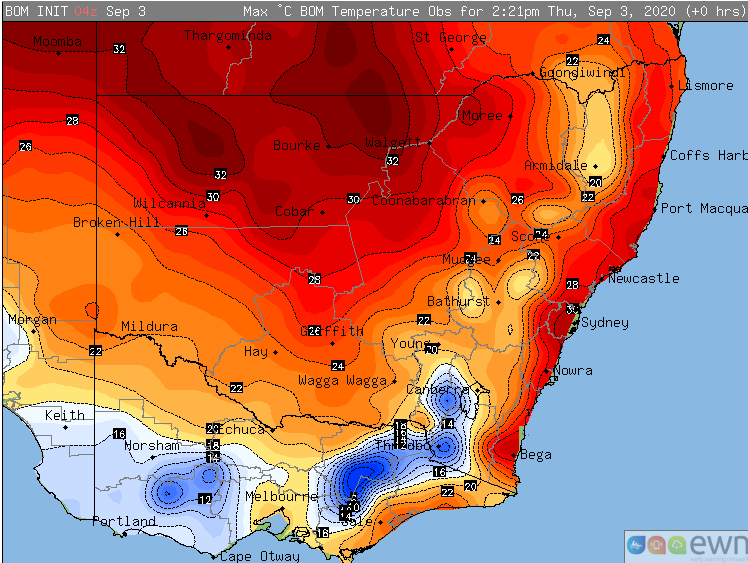 Image 2: Maximum temperature to 2:20pm Thursday 3 September, 2020 across NSW
NSW basking in early spring warmth
Thursday, 3rd September 2020
Temperatures are soaring up to ten degrees above average today across parts of southern and central NSW, with many areas seeing their warmest day this early in the 'warming season' in decades.
An unusually warm airmass is currently lying across the state, sourced from the nation's northwest which has also been unusually warm for this early in spring. Westerly winds ahead of a cold font are helping drag this heat to the coast, leading to temperatures more typical of late September or October than early September.
The highest temperature anomalies (and significant stats) have been experienced along coastal areas. Sydney has reached 30.5 degrees so far today (as of 2:00pm EST), the warmest it's been this early in the warming season (that is, from August) since 1995. Numerous locations along the South Coast and Illawarra have reached into the high 20s or low 30s, for which most of these sites has been their warmest day this early in their site history (although these stations are new sites, less than 30 years old).
Inland areas have not be as anomalously warm, although temperatures are still rising 3-7 degrees above average with the mercury rising into the 30s (warmest this early in the year since 2017 for many areas).
A cold front will bring cooling to southern and central areas tomorrow, with the warmth contracting to northern areas where it will remain warm to very warm into the weekend. Another burst of warmth is likely for southern areas early next week, before a stronger cool change arrives on Wednesday.
---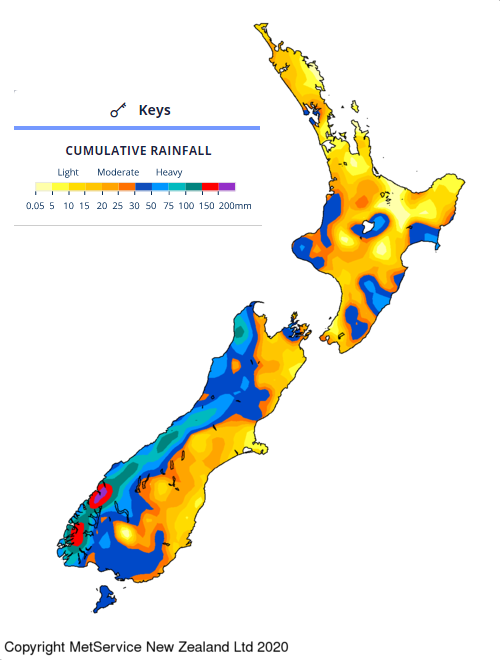 Image 1: New Zealand 7-day Rainfall Outlook - 3rd September 2020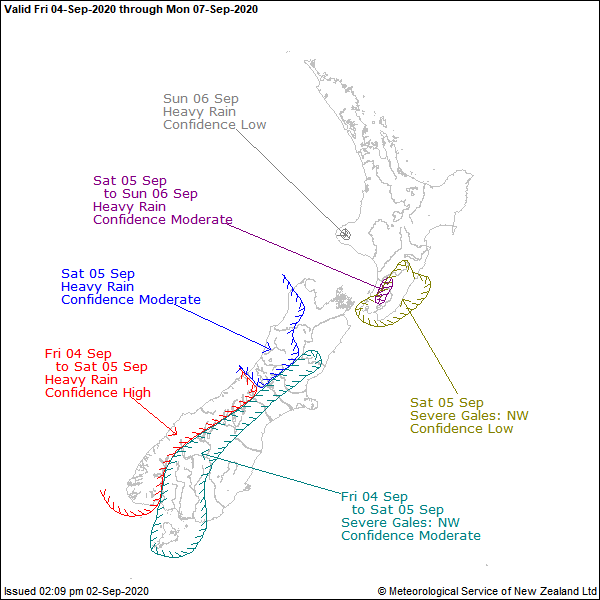 Image 2: MetService NZ Severe Weather Outlook - 2nd September 2020 for Friday.
Heavy rain tipped for Fiordland and SW Southern New Zealand tomorrow
Thursday, 3rd September 2020
An active front is forecast to move over southern New Zealand from the Tasman Sea late tomorrow and become slow moving over central parts of the country during Saturday. This front will be preceded by a strong northwesterly wind flow before shifting southwesterly into the late weekend.
This cold front is tipped to bring an end to unseasonably high daytime temperatures for the South Island. Some daytime winter temperature records were broken yesterday with Timaru equalling their 3rd highest daytime winter temperature, equal 2nd highest winter temperature for Riccarton and the highest winter temperature on record for Lincoln back to when records began in 1881 reaching 22.3°.
Looking ahead, rainfall accumulations will likely reach warning criteria about the Fiordland and southern Westland districts on Friday and Saturday morning. Heavy rainfall with strong winds may occur for parts of the northern Westland and Buller tomorrow, concentrated about the ranges during Saturday and Sunday.
There is the slight chance for evening thunderstorms to accompany the front bringing increased instability through the Fiordland region, with a moderate risk of rainfall between 15-25mm over a one hour period. This threat decreases further into Friday evening over the southern Westland district.
A Heavy Rain Warning for Fiordland is current for heavy rainfall that may cause streams and rivers to rise rapidly. Surface flooding and slips are also possible and driving conditions may be hazardous. The Fiordland is expected to record between 60mm-90mm of rainfall, primarily during the early afternoon and evening tomorrow.
A Heavy Rain Watch is current for the ranges of Westland and south of Otira, with a Strong Wind Watch current for the Canterbury High Country where northwesterly winds may approach severe gale in exposed places. The Road Snowfall Warning for Napier-Taupo Road and Desert Road have now been lifted.
---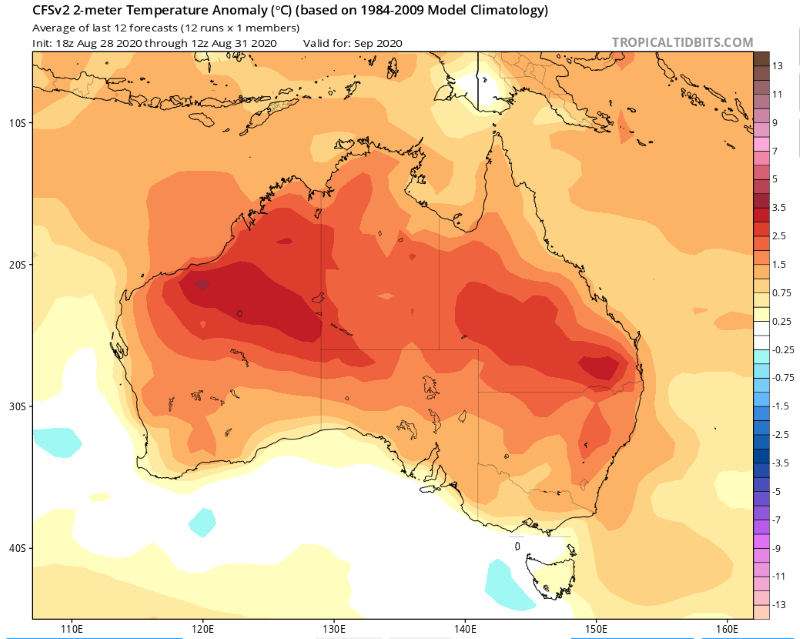 Image 1: Temperature anomoly prediction for September from the CFS Model (Source: tropicaltidbits.com)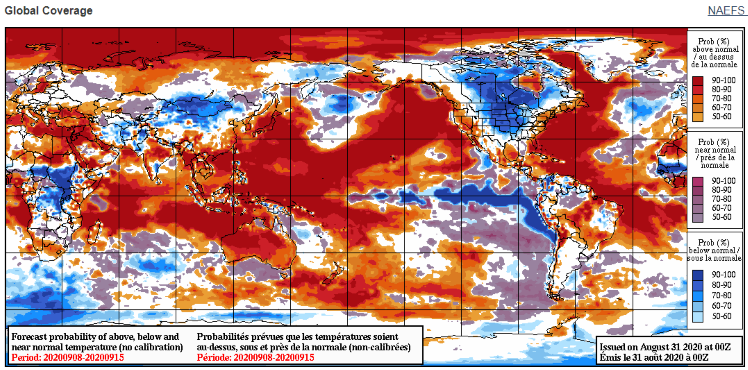 Image 2: NAEFS prediction of probability of above average temperatures for days 8-14 (Source: weather.gc.ca)
Hot September likely for Australia
Tuesday 1st September 2020
Spring is set to start off quite warm across Australia with September likely to be a warm one across much of the country, with the northwest Australia 'heat train' already in full swing.
The second half of August saw temperatures break numerous records over northern Australia, including the nation seeing its highest August temperature on record (41.2 degrees at West Roebuck on the 23rd of August). The rest of the month saw similar temperatures, more typical of October than of August.
The heat has persisted into the start of spring too, with no relief in sight. It isn't unusual during La Nina years (Australia is currently on La Nina alert) to see warmer than average temperatures over the nation's north (although not quite to the extent seen so far this year), as strengthening easterly trade winds gain warmth as they travel east to west across land.
When the northwest of Australia is hot, it is almost guaranteed eventually the heat will push south, as cold fronts and troughs collect this heat and filter it across the rest of the country.
On the short to medium term models, a significant hot spell is already likely across large parts of the country over the next two weeks. This heat will filter down ahead of a cold front from this weekend and gradually get pushed east into next week.
Those over eastern WA and SA are likely to feel the worst of the heat, with temperatures pushing into the mid to high 30s and even low 40s in some areas. Whilst not as extreme, significantly warmer than average temperatures are also likely across southern QLD, NSW, VIC and parts of TAS with temperatures pushing into the mid 30s over several days next week.
It is hard to say at this stage when conditions will return closer to average, although longer range models indicate late September or early October.
---
Subscribe Today To Our Newsletter