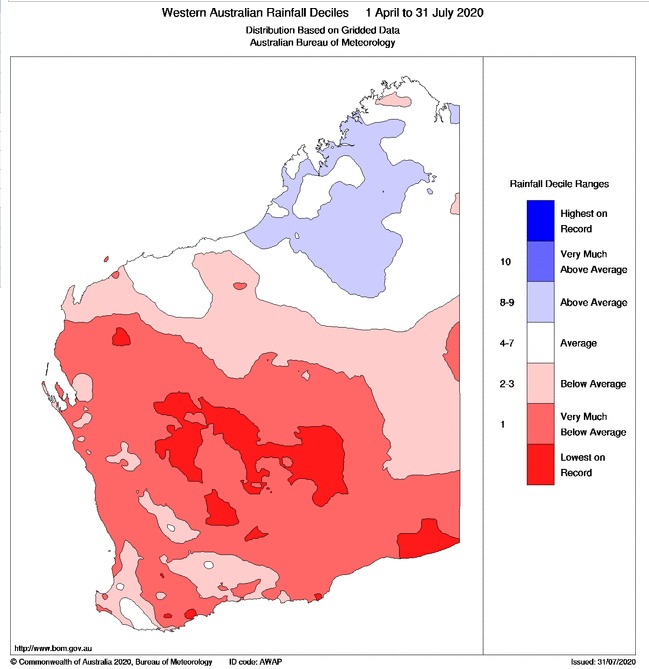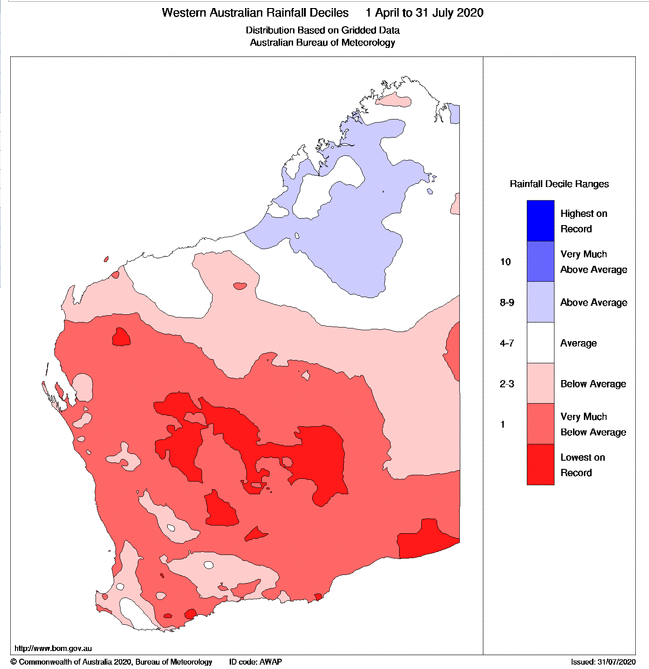 Image 1: Rainfall deciles across WA over the southern wet season (from April 1 to 31 July, 2020). (Source: Bureau of Meteorology).
The cold front and upper level cold pool will push over the state's southwest on Sunday night with a surface low also likely to develop, bringing showers, isolated thunderstorms and localised small hail. On Sunday night and into Monday morning, the airmass may just be cold enough for snow on the peaks of the Stirling Ranges. On Monday, the cold air will spread further north, with scattered showers and small hail likely to affect the Perth metro region as well.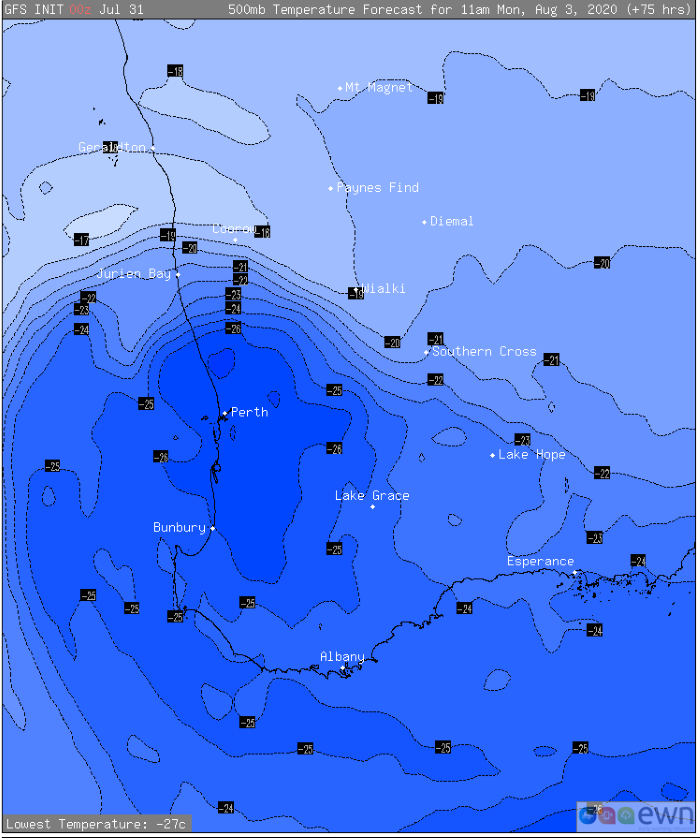 Image 2: Upper level cold pool affecting southwest WA on Monday 3rd August, 2020
The southeast of the surface low will be fed by a deep easterly flow with widespread wind gusts of 60-80km/h along the state's southern coastal fringe, with localised gusts to 90km/h. This combination will cause heavy falls to develop over the South Coastal on Monday, before pushing into the South East Coastal later on Monday and into Tuesday.
24 hour totals may be in the 30-80mm range for many locations with some isolated falls in excess of 100mm possible, and the heaviest totals on Monday and Tuesday, before easing from Wednesday. Rainfall accumulations are likely to total 50-100mm across many areas with some regions likely to see falls in excess of 100mm. Rain may fall quickly at times, bringing the risk of flash flooding.
August records may also be challenged this system over some locations. Current model guidance suggests Salmon Gums may receive accumulated rainfall totals in excess of 100mm from this system, while the current August record currently stands at 91.2mm (set in 2015).
The low will move out of the state later on Wednesday, however another cold front may bring another burst of showers and cold to the state's south on Thursday and Friday.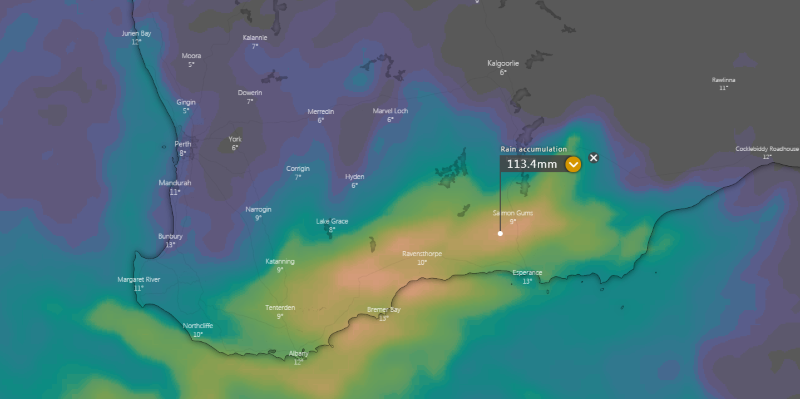 Image 3: Rainfall accumulation across the next 5 days from the ECMWF Model (Source: Windy.com)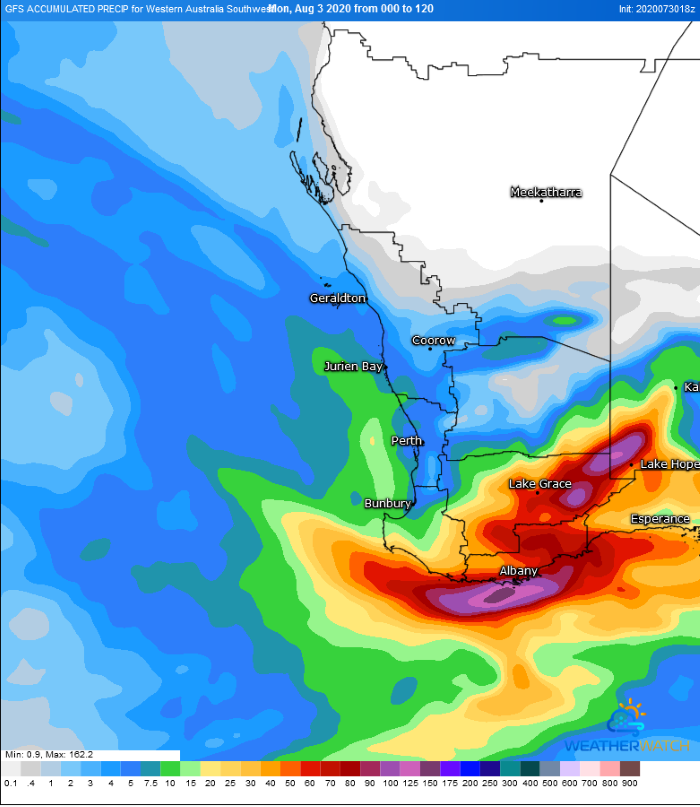 Image 4: Rainfall accumulation across the next 5 days from the GFS Model (Source: Weatherwatch Metcentre).
Torrential rain set to drench southern WA
Friday, 31st July 2020
An upper level cold pool is set to bring very heavy rainfall that may challenge August records in some parts of southern WA over the weekend and into next week, while also bringing the risk of small hail, strong winds, thunderstorms and the first snowfall of the year on the Stirling Ranges.
While the heaviest falls will largely been confined to the South Coastal and South East Coastal districts, the rain is much needed and will significantly ease rainfall deficiencies if model guidance is correct. The southern wet season totals for the region (from 1 April until present) have been extremely low, with some areas seeing their driest totals on record.
---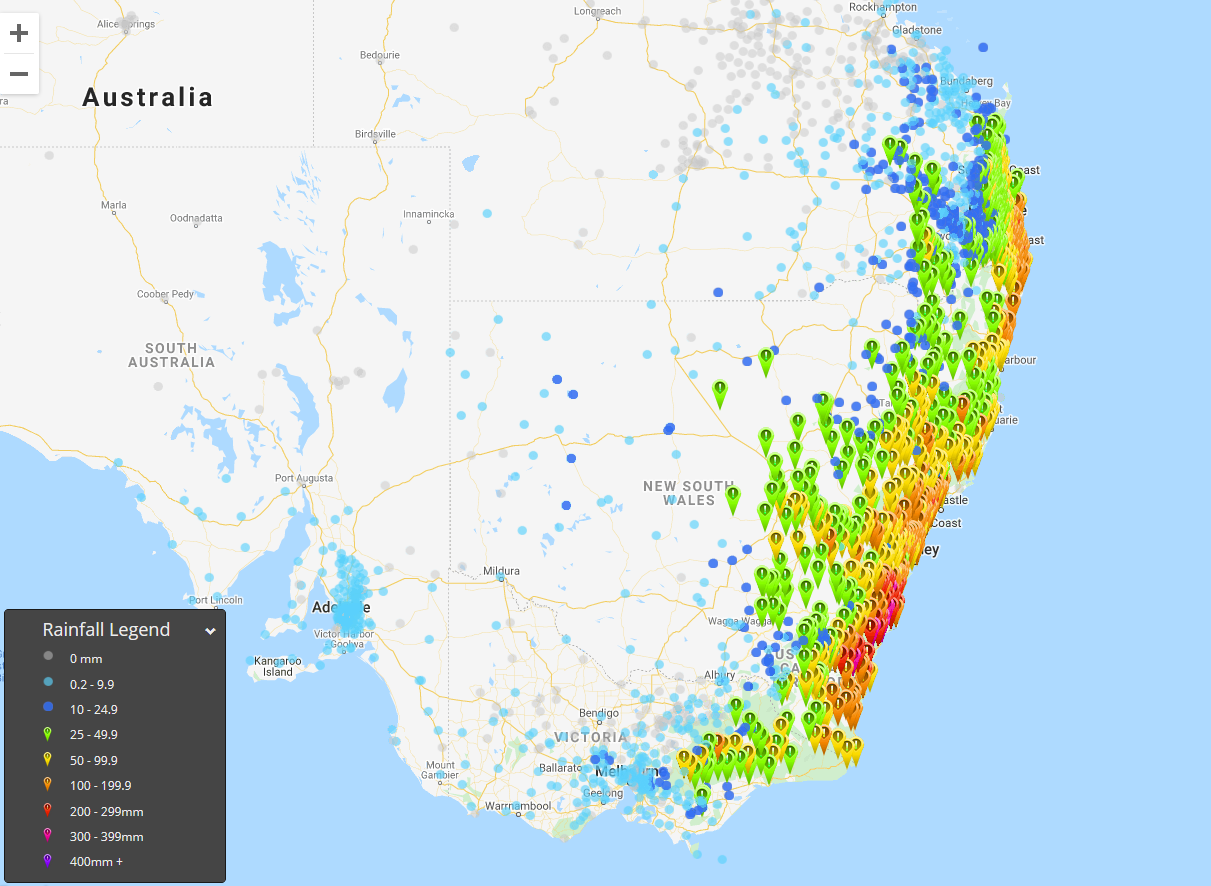 Image 1: Observed 96 hour rain accumulations to 9am today over eastern Australia, Tuesday 28th July, 2020.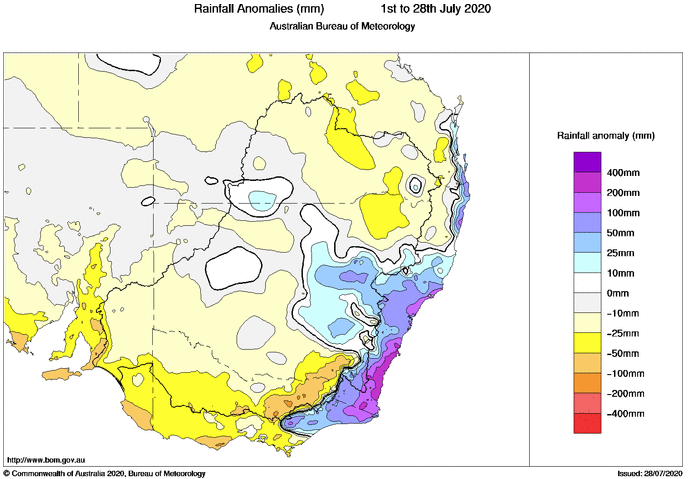 Image 2: Rainfall anomoly month to date, Tuesday 28th July, 2020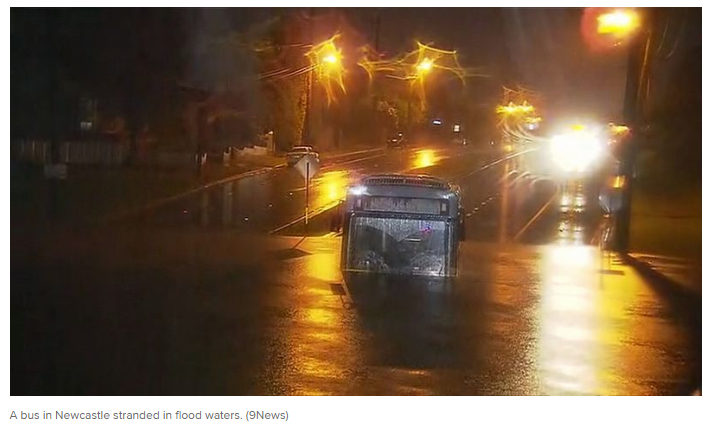 Image 3: A bus in Newcastle stranded in floodwaters on the night of Sunday 26th July, 2020 (Source: 9 news, https://www.9news.com.au/national/nsw-weather-floods-heavy-rain-and-large-surf-to-strike-east-coast/c91e7e99-a87c-43c2-b4db-43f52846e232)
East coast low brings damaging winds, flooding and beach erosion to eastern NSW as July rainfall records fall
Tuesday, 28th July 2020
The second low pressure system this month battered eastern NSW over the last several days, bringing widespread heavy rain, large seas and wind gusts over 100km/h in some areas.
Wet weather has been gripping the east of the country since mid last week as an upper level low and surface trough combined to cause rain as far north as northern Queensland. As this system moved offshore, a low pressure system formed within the trough off southeast QLD, before moving south along the NSW coast and intenisfying.
Parts of the Gold Coast and into northern NSW had their wettest July totals in around 15 years, with widespread falls of 50-150mm, and some areas receiving in excess of 200mm.
Similar totals were seen over the NSW Mid North Coast, however from the Hunter and down to the South Coast the heaviest totals were seen, prompting minor to moderate flood warnings.
Across the Newcastle region, falls of 150mm-200mm were recorded with most of this occurring during Sunday afternoon/evening. This caused flash flooding across the city, which saw ten people rescued from a bus.
Along the Illawarra and South coasts, July rainfall records fell at many locations as some areas saw multi-day rainfall totals in excess of 300mm, which has completely erased the rainfall deficiencies the region has been experiencing this year. Some notable falls included 352mm at Wattamolla, 370mm at Brooman, 348mm at Ulladulla and 351mm at Moruya (Plumwood).
Although many of these July records that fell only had short records, a few longer term sites are now seeing their wettest July on record indicating July 2020 may be the wettest July in more than 100 years for many parts of the region, if not longer. To 9am today, Moruya Heads has recorded 279.8mm this month so far, its wettest July in 142 years of records. Narooma has recorded 302.4mm to 9am for July so far, its wettest July in 91 years of records. Other areas on the Illawarra and South Coast have seen more than 400mm so far this month.
The low was also associated with damaging wind gusts in excess of 100km/h, reaching 117km/h at Montague Island and 113km/h at Ulladulla. Massive seas also hit the southern and central coasts which caused further beach erosion, with wave heights in excess of 11 metres recorded near Batemans Bay and Eden on Monday afternoon, and 7.6 metres near Sydney (not as high as the previous low two weeks ago).
As the low moves away and a high pressure system moves in, settled conditions are likely from around mid week through into the weekend. However, there are some indications of another significant rain event developing in early to mid August.
---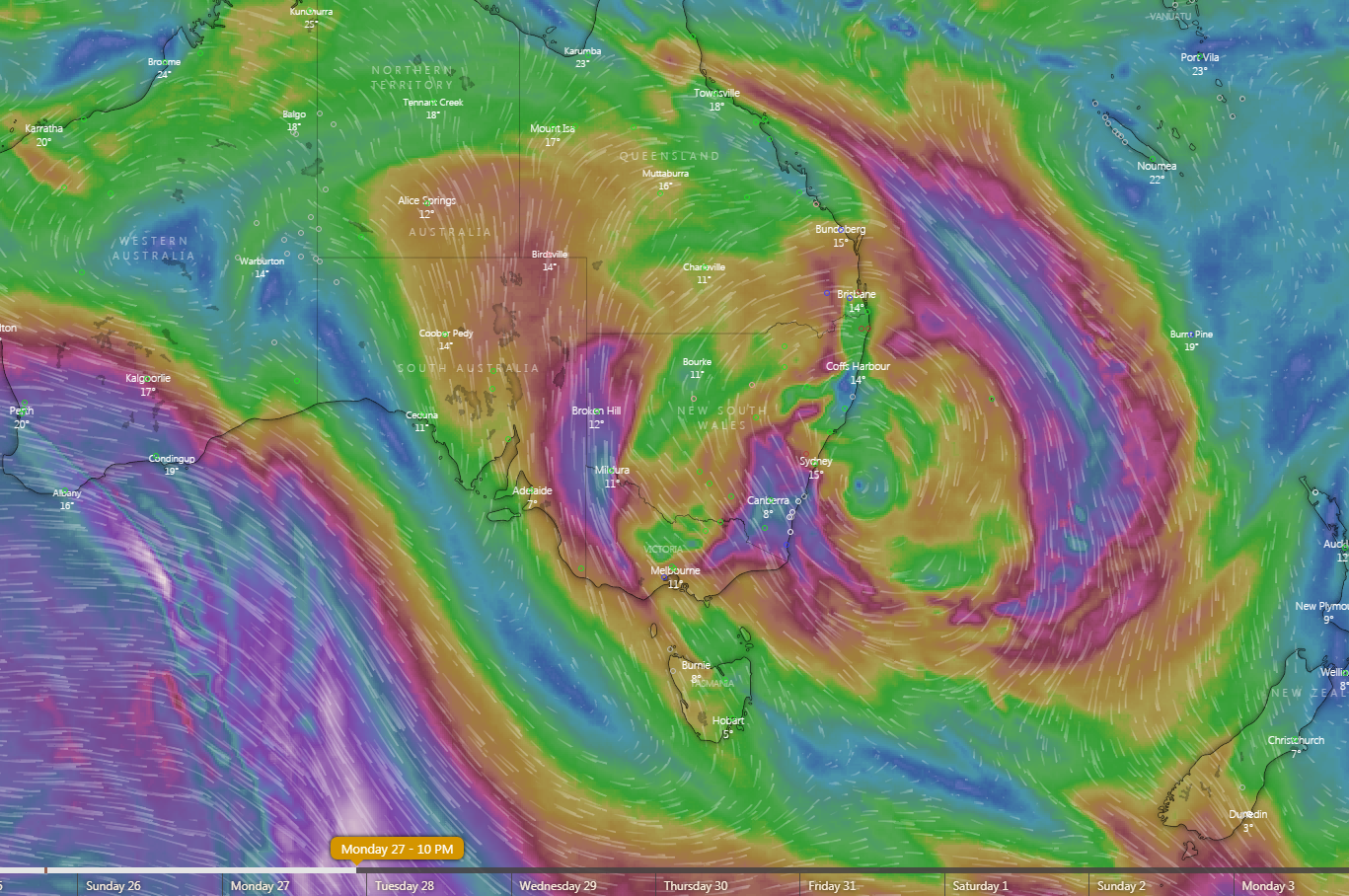 Image 1: Low position Monday night off the central coast of NSW. ECWMF Model and winds at 3000m shown below.
Large Low looms into early next week of the coasts of NSW
Saturday, 25th July 2020
A trough off the central and southern Queensland coast will gradually continue to deepen during this weekend while one or more small low-pressure centres develop within it. These are then expected to consolidate to a dominant larger low off the central New South Wales coast during Monday while strengthening.
Mainly light to moderate rainfall has occurred over the past 48 hours with further totals expected to continue along the northern NSW and far southern QLD coast before spreading further down along the central NSW coast tomorrow and into Monday with locally moderate to heavy falls developing throughout coastal and adjacent inland districts.
Strong winds to locally gusty winds are also expected to develop along the central and southern NSW coast on Monday into Tuesday. Powerful surf conditions are also anticipated to increase again on Tuesday which may cause further beach erosion for coastal communities. The possibility of the risk levels of these threats changing significantly in the coming days depending on the low?s behaviour and development.
The graphic shows where the main position of the low is expected at 10pm Monday with winds at the 700hPa level (3000m) via the ECWMF forecast model via windy.com.
---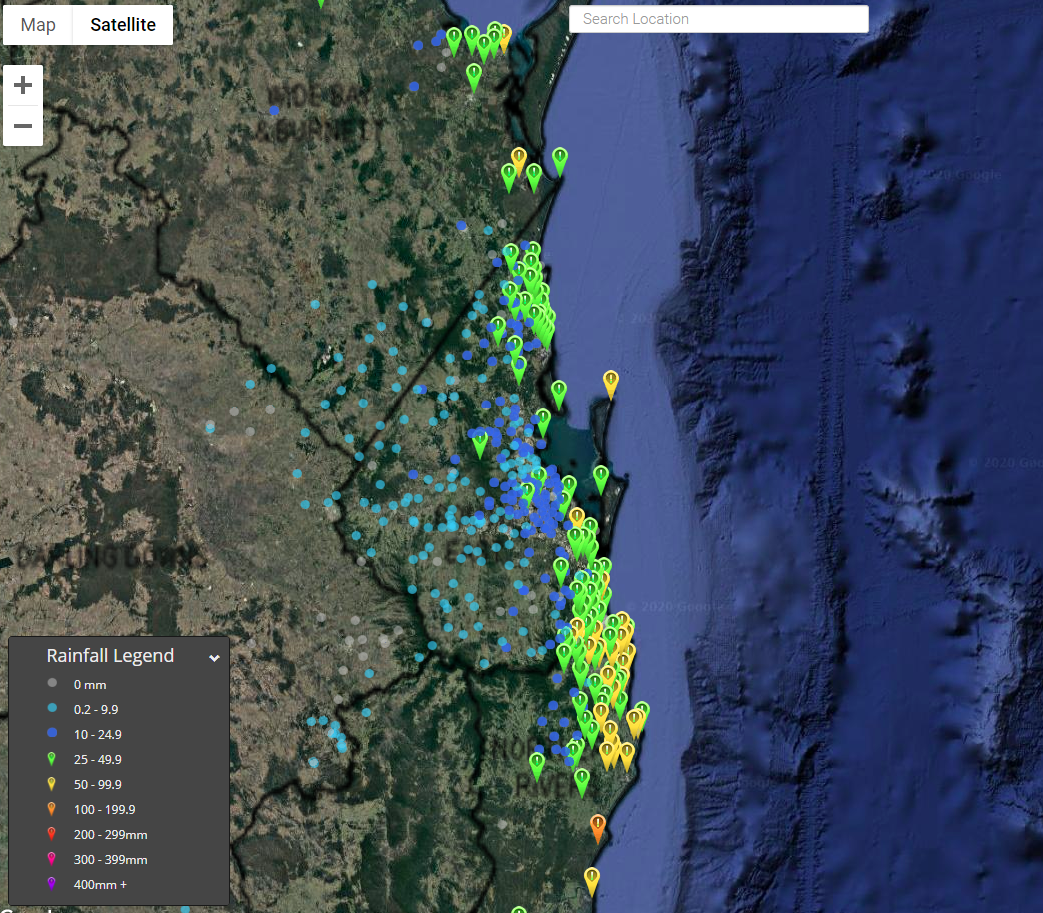 Image 1: Observed 72 hour rain accumulations up to 4pm today, Saturday 25th July, 2020.
Coastal rain totals build up as wet conditions continue in Southeast Qld and Northeast NSW
Saturday, 25th July 2020
Continuing showers and some rain areas have seen rain totals over the last few days now reaching 25 to 50mm in many places along the southern Queensland coast and northern NSW coast with some reaching the 50 to 100 mm mark. Evans Head has even recorded 109 mm so far in the past 72 hours.
Unfortunately though, the forecast for much lower rain totals further inland has indeed eventuated. On the bright side however, no severe flash flooding has been reported.
---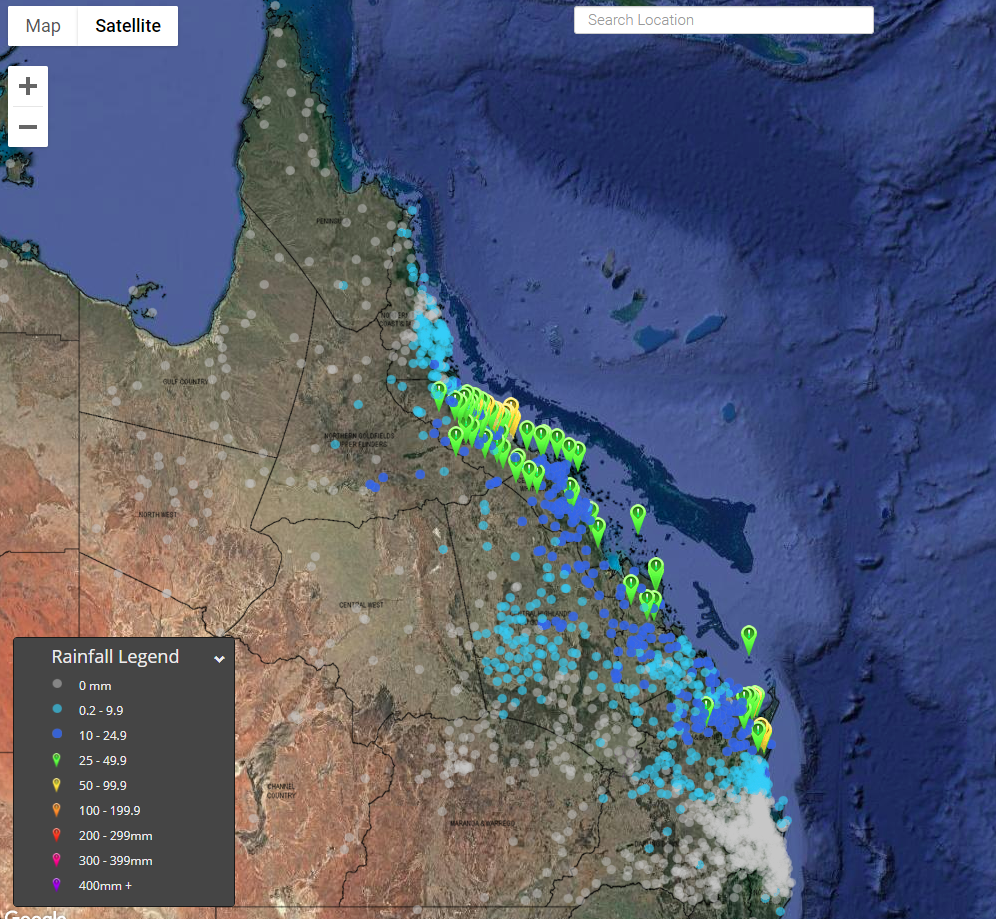 Image 1: Observed rain amounts between 9am yesterday and 9am today.
Long section of the Queensland coast receives some winter rain
Thursday, 23rd July 2020
It's not too often that we get to post about such a decent stretch of the Queensland coast north of about Southeast QLD getting some rain at this time of year but this is exactly what's occurred in the last 24 hours. Wet and wild weather will continue across the eastern states on Monday, with a thunderstorm outbreak likely across parts of QLD, NSW and VIC.
Some places on the Herbert coast even recorded over 50 mm in those 24 hours to 9 am today including 88 mm at Alligator Creek and 83 mm at Whites Creek. Some isolated falls over 50 mm were also recorded near the southern Wide Bay district. Elsewhere along the coast and the adjacent inland, there was a scattering of 25 to 49 mm falls while 10 to 24 mm was quite common, with 1 to 9 mm a bit further inland.A strong short wave trough will amplify into NSW during the next 24 hours, inducing a surface low across northern Victoria.
These falls have been caused by an upper trough with some moisture being brought in on the southeasterly winds.Favourable wind shear (bulk shear in the 40-60kts range) coupled with strong instability and moisture is expected to lead to the formation of supercells during the afternoon and evening, particularly across southern, central and northern regions of NSW.
The patchy rain areas occurring along the southern third of the Queensland coast this morning are forecast to continue gradually shifting further southeast along the coast and adjacent inland during today as the smaller scale upper trough also slides southeast. Some coastal showers should also add to the mix. However falls for most of the affected places are likely to stay light to moderate for today.
---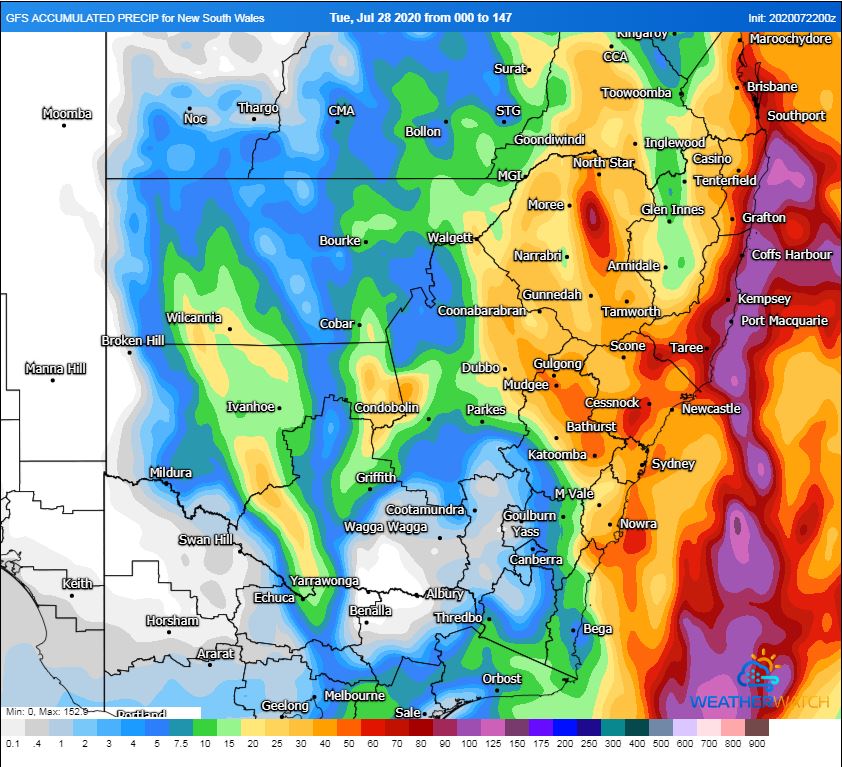 Image 1: NSW accumulated precipitation next 147hrs. Image via WeatherWatch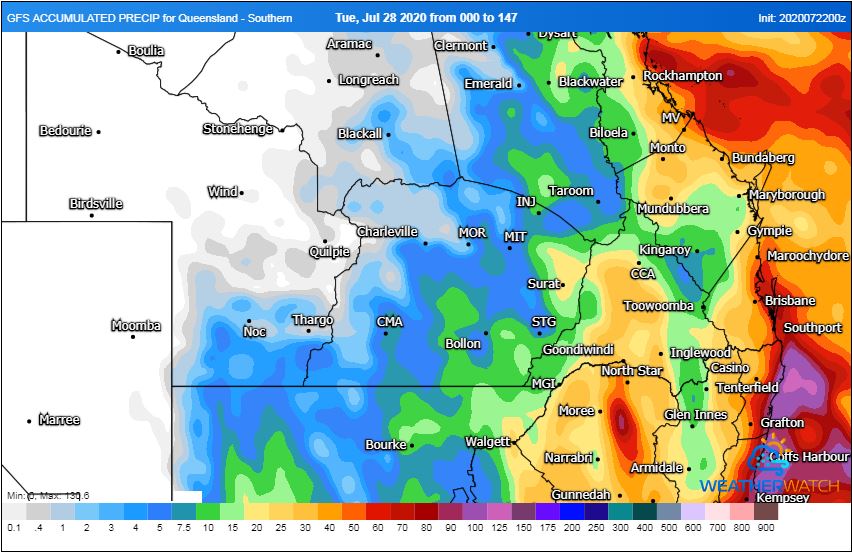 Image 2: Southern QLD accumulated precipitation next 147hrs. Image via WeatherWatch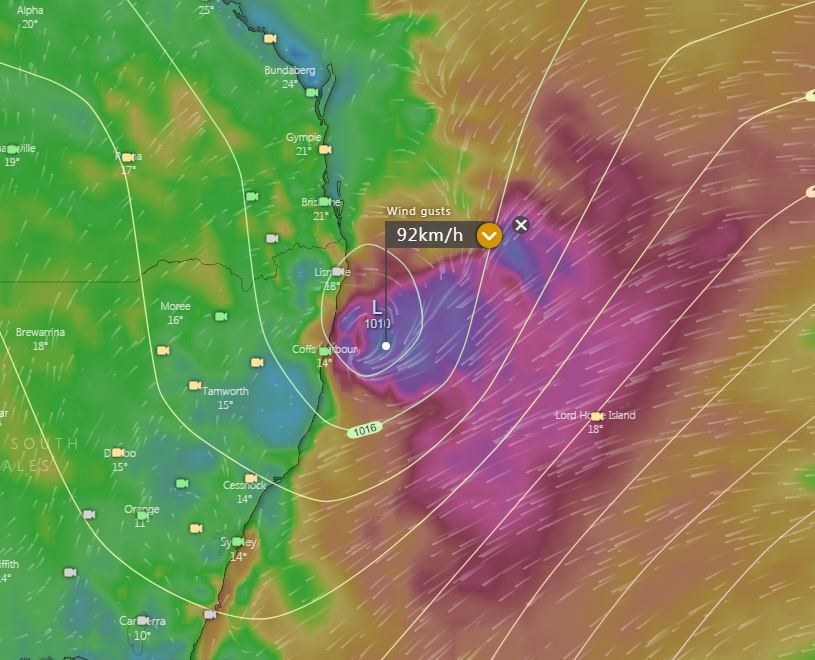 Image 3: Potential wind gusts for NSW Sunday afternoon (EC model). Image via windy.com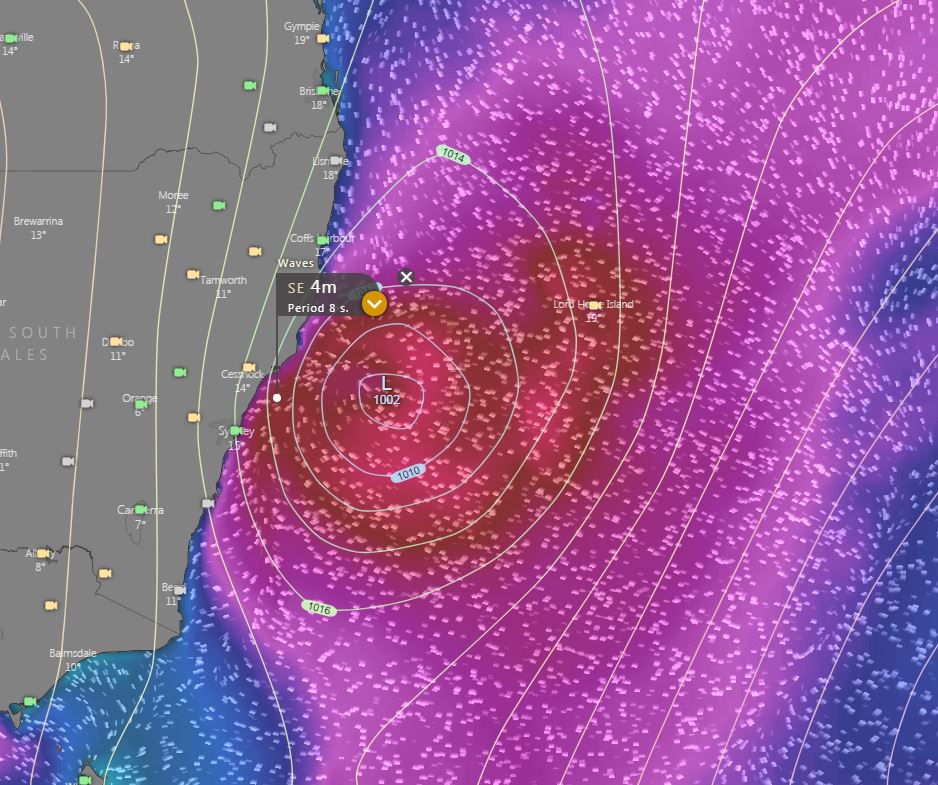 Image 4: Potential wave heights off the NSW coast Monday (up to 4m). Image via windy.com
Wet weekend for eastern NSW and southern Queensland
Wednesday 22nd July 2020
Parts of NSW and southern Queensland are expected to see wet conditions develop during Friday, before continuing through the weekend.
An upper trough will enter western NSW and QLD during Friday, increasing cloud and showery conditions across inland regions. This band of activity is expected to thicken during Saturday, with showers increasing to rain periods with isolated thunderstorms across southern Queensland and inland NSW. Whilst significant-drought breaking falls are not expected, 10-15mm will be possible for numerous locations across inland NSW and southern QLD, with locally higher totals possible under any storm activity Saturday afternoon and evening.
As this upper feature moves east, it will deepen a coastal trough or weak low off South East Queensland, producing locally enhanced rainfall across coastal regions from the Sunshine Coast south into northern NSW late Saturday and into Sunday, with conditions steadily clearing from the north Sunday evening.
The strength and position of this feature will greatly affect rainfall totals and which areas however at least 30-50mm of locally enhanced rainfall will be possible, particularly from Brisbane south to Grafton. A few coastal thunderstorms may also develop with the passage of this system.
Things become a little murky from Sunday onwards, with model consensus indicating that this system may deepen further into an East Coast Low (ECL) off the central NSW coast. Should this scenario eventuate, locally heavy falls of up to 100mm will develop along with gale force winds and large swells. This may lead to flash flooding and beach erosion across the Mid North Coast, extending down to the Illawarra Coast.
This isn?t ideal news for regions affected by an the ECL just over a week ago, with many still reeling from large seas produced from the last system.
---
Image 1: 96 hour rainfall accumulation (GFS). Image via WeatherWatch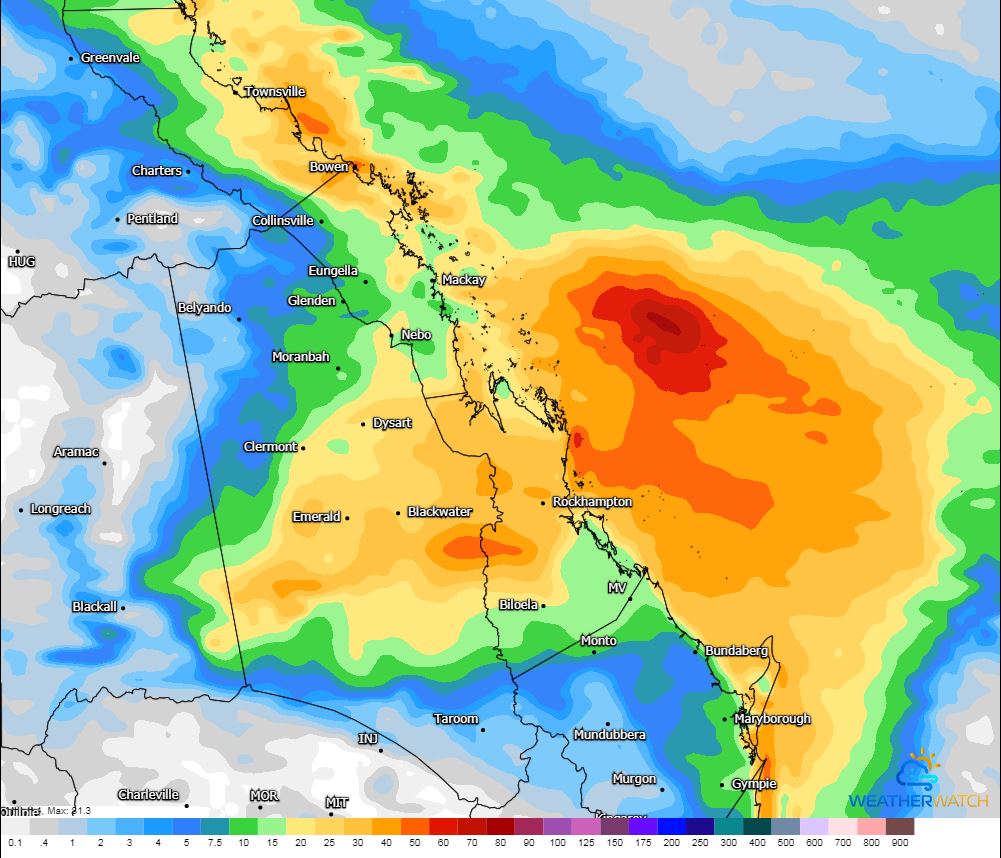 Image 2: 84 hour rainfall accumulation (ACCESS G). Image via WeatherWatch
Welcome winter rain for Central Queensland
Monday 20th July 2020
Solid winter rainfall is expected to develop across parts of Central Queensland this week, with localised falls to 50mm possible.
An upper trough will move across western QLD on Tuesday, increasing cloud cover across central and eastern Queensland, with southeasterly winds pumping moisture into the region.
During Wednesday, this upper trough is expected to help deepen a surface or coastal trough, increasing rain across central Queensland, with the potential for isolated thunderstorms.
Moderate to locally heavy falls will be possible for coastal regions, particularly if a coastal trough develops. Falls of 20-40mm will be likely, with isolated heavy falls, which may lead to localised flash flooding.
Further inland, patchy showers and light rain periods may develop with 5-15mm possible for some regions.
Whilst this could be quite and unseasonable event, winter rain will be a welcome relief for many, particularly farmers across Central Queensland.
---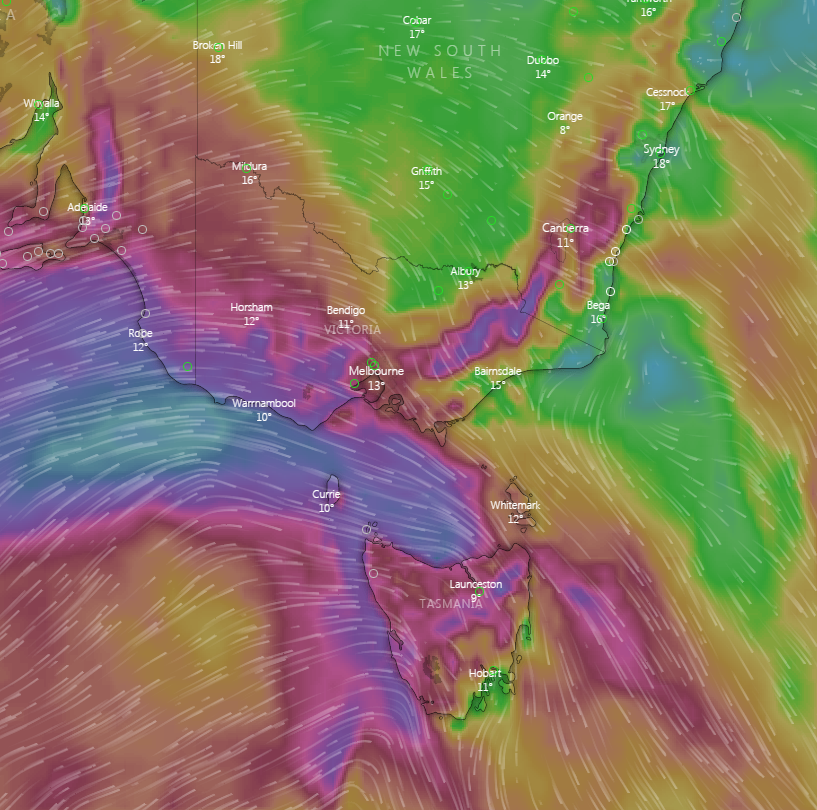 Image 1: Windyty Wind Gusts for 3pm Sunday, 19th July 2020 at 3pm via the ECWMF forecast model.
Consecutive cold fronts for Southeastern Australia
Saturday, 18th July, 2020
As a ridge of high pressure is anticipated to shift further eastward into the Tasman Sea during this weekend and into early next week, allowing consecutive cold fronts affect some portions of southeastern parts of Australia including parts southern New South Wales, Victoria and Tasmania today before a potentially stronger cold front sweeps through during Sunday.
The fronts are forecast to bring showers, cooler conditions and isolated thunderstorms about parts of the southwest and central coasts of VIC tomorrow, with areas of snow forecast to fall about the southwestern slopes and adjacent ranges of NSW above 1200m (mostly concentrated on the Australian Alps) during tomorrow evening. These snowfalls may lower into Monday to 1000m on the alps with a further accumulation of snow fall possible.
Snow falls may also be prevalent for our Tasmanian counterparts tomorrow with snow falls possibly lowering to 800m, primarily during the afternoon along with accompanying thunderstorm activity for the western region and about Bass Strait. Gusty northerly winds are forecast to swing westerly in wake of the passage of the cold front tomorrow allowing for cooler west to southwesterly winds to prevail. Snow falls may also lower further to 600m in elevation around the mountains during the day and into the evening, with further thunderstorm activity possible during Monday with the second cold front moving through the Tasmanian region.
Some of these thunderstorms may have the potential to produce very localised strong winds, however gusty winds and hail and are considered to be more likely about elevated and mountainous terrain of Tasmania, and even into parts of Victoria during the day and into the evening. A new high pressure system is then expected to build through the Great Australian Bight during Tuesday which will result in mostly fine and more settled conditions for VIC and TAS and extend into the mid-next week.
A Severe Weather Warning for damaging winds has been issued earlier this morning for people situated within parts of the East Gippsland, South West, North East and West and South Gippsland forecast districts for gusty winds developing during Sunday. At this stage, these are expected to be mostly concentrated through the southwestern coastal regions and areas of the northeast about the Australian Alps. There is the slight possibility of small hail to mixed in with shower and thunderstorm activity during Sunday and into Monday at this stage.
Winds are expected to oscillate between 60-70km/h with gusts up to 100km/h likely about elevated parts above 1200m. Some VIC locations that may be affected may include, and not restricted to the Warrnambool, Portland, Apollo Bay, Falls Creek, Mount Hotham and Mt. Buller regions. A Severe Weather has also been issued this evening for damaging winds for people situated in parts of the Illawarra, South Coast, Southern Tablelands and Snowy Mountains forecast districts, with winds up to 100km/h likely above 1900m in the Snowy Mountains.
---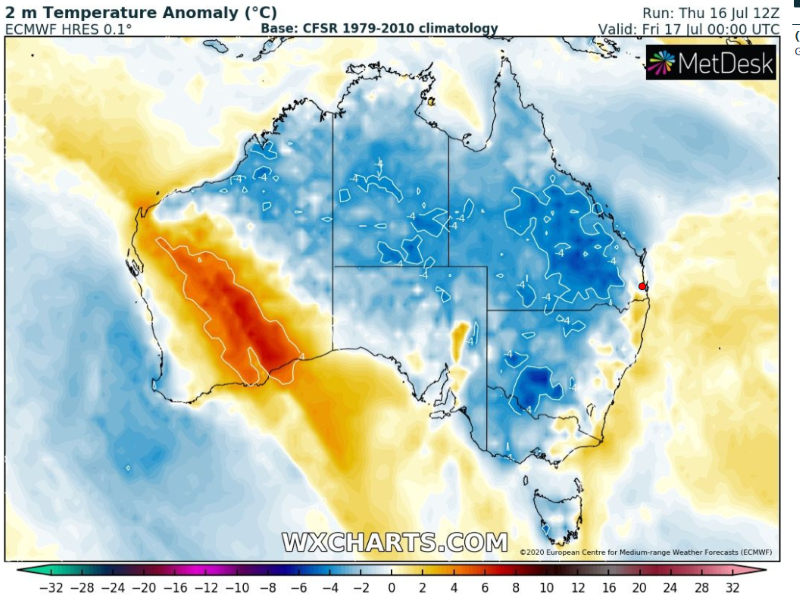 Image 1: Temperature anomoly across Queensland this morning (Friday 17th July, 2020). Source: WXcharts.com
Image 2: Widespread frost occurred across inland Queensland this morning as temperatures dropped below zero (Credit: Ken Kato)
Cold nights gripping Queensland
Friday, 17th July 2020
The coldest nights of winter so far are gripping many parts of Queensland as widespread frost occurs across the state's inland, and sub-zero temperatures spread up to the northern inland.
A cold and dry airmass has been left across Queensland in the wake of a cold front, and coupled with a large area of high pressure (which is causing clear skies) is leading to ripe conditions for cold nights.
Last night/this morning was the coldest this winter for many central and northern parts of the state, with some areas seeing their coldest night in more than a decade. Cairns chiled through its coldest July night since 2011, reaching 9.5 degrees, whilst Mackay had its coldest July night since 2015 (4.0 degrees).
At Mareeba, the mercury plummetted to 5.6 degrees, its coldest night for any month since June 2007 (and for July since 2001), whilst Townsville had its coldest night since 2008 yesterday, dipping to 6.5 degrees.
With a similar setup persisting, another cold one is expected tonight with some places potentially being even colder than last night, mainly over northern and central areas (with southern areas gradually warming).
After the chilly night tonight, a warmer airmass will push into the state taking the edge of the cold, with night time temperatures warming up a few degrees across the weekend and into early next week.
There are some indications of rain from mid next week in some parts of QLD, causing daytimes to become cooler but nights to warm further.
---
Image 1: Daytime Lenticular Cloud over the Nightcap Ranges of NSW as photographed by Michael Bath - 14th July 2020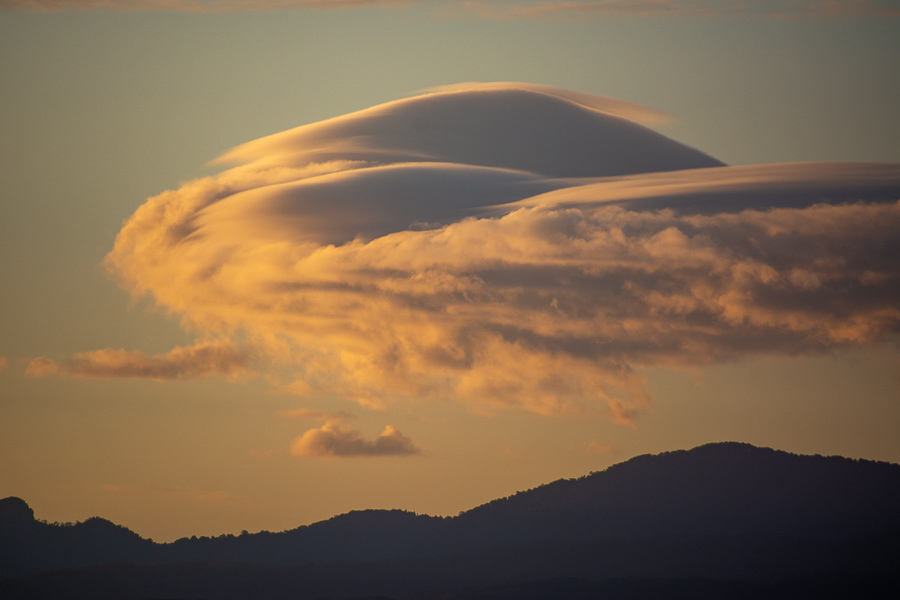 Image 2: Sunset Lenticular Cloud over the Nightcap Ranges of NSW as photographed by Michael Bath - 14th July 2020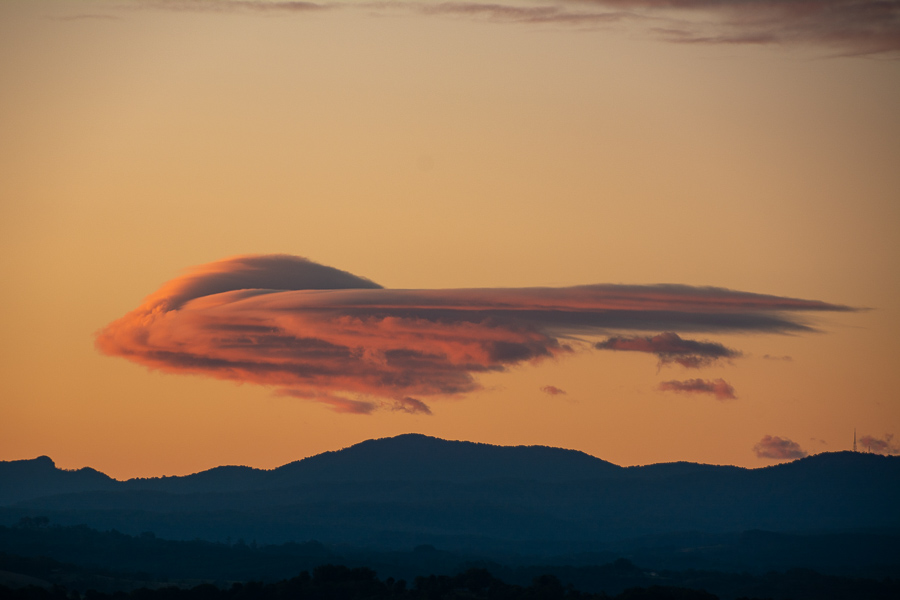 Image 3: Lenticular Cloud at dusk over the Nightcap Ranges of NSW as photographed by Michael Bath - 14th July 2020
Lenticular clouds sighted over the Nightcap Ranges of New South Wales
Wednesday, 15th July 2020
Timelapse video of Lenticular cloud formation over the Nightcap Ranges of NSW from 12:30pm to 6:00pm on 14th July, 2020.
The Early Warning Network's very own Michael Bath captured a spectacular timelapse video of lenticular clouds forming over the Nightcap Ranges of New South Wales yesterday, with cap clouds evident from 12:30pm in the afternoon yesterday through to 6:00pm in the evening.
Lenticular clouds are stationary clouds that form mostly in the troposphere, typically in perpendicular alignment to the prevailing wind direction with often stable air aloft resisting vertical motion. These are generated as air flows along the surface of the earth and encounter obstructions, which in this case is the mountainous terrain on the Nightcaps.
Cap clouds, as they are often referred to, indicate that there is a strong wind flow down the slope on the lee side of the mountain. When the moist air is cooled sufficiently as it rises to cross over the the peak, the cap cloud is formed and appears like a stationary hat, and can last in the same position for prolonged periods of time as detailed in the time-lapse video.
Standing lenticular clouds usually form in the crests of the mountain wave where the rising updraft of the wave has cooled and moisture has condensed. The clouds dissipate in the downdrafts of the wave where the air has descended and warmed to the point where the moisture evaporates and is no longer visible. This is why the clouds are called ?standing? and appear to be stationary.
There also is the potential for strong turbulence being present when these lenticular clouds are visually evident, particular with wind speeds of between 25-40 knots. Winds in excess of 40 knots can create very strong turbulence and can have an adverse effect on aircraft flying within the immediate vicinity of these clouds. These truly make for a spectacular sight if you're lucky enough to see the formation.
---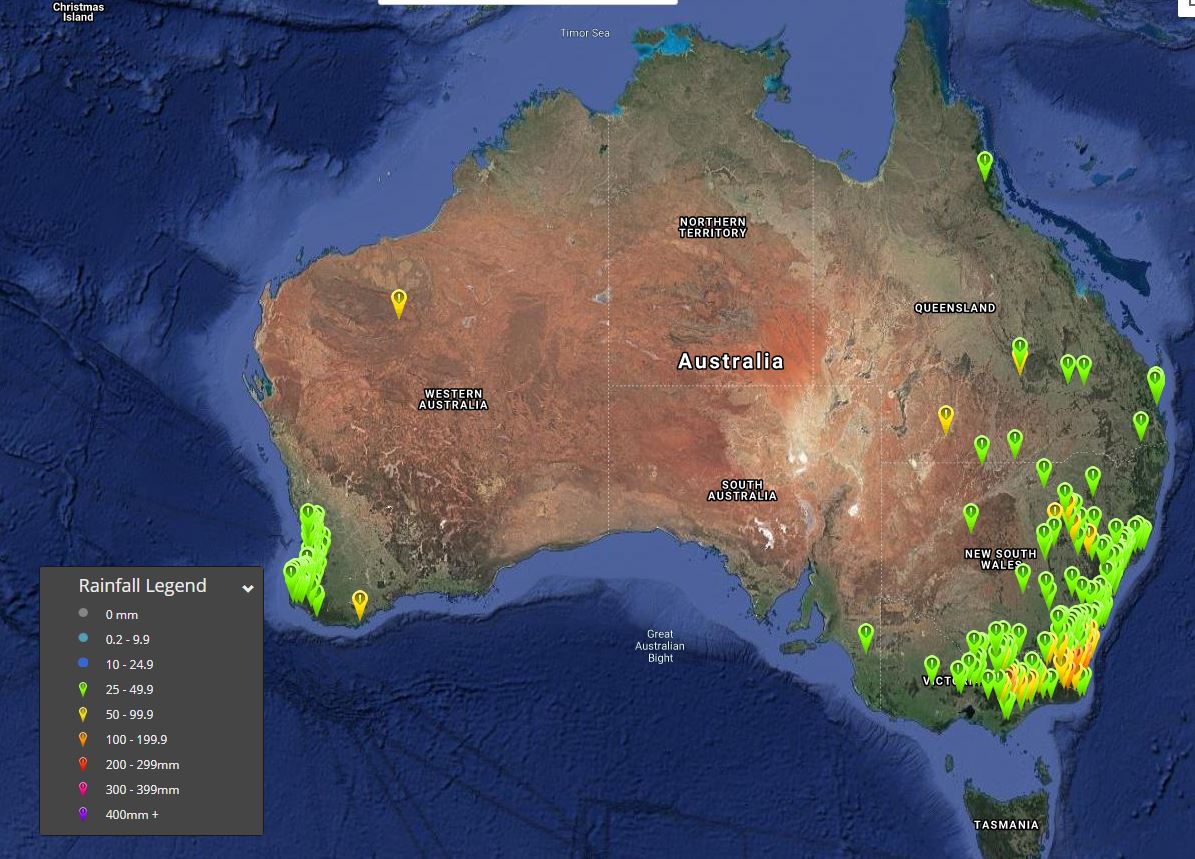 Image 1: 96 hour rainfall totals to 9am 14/07/2020 - Australia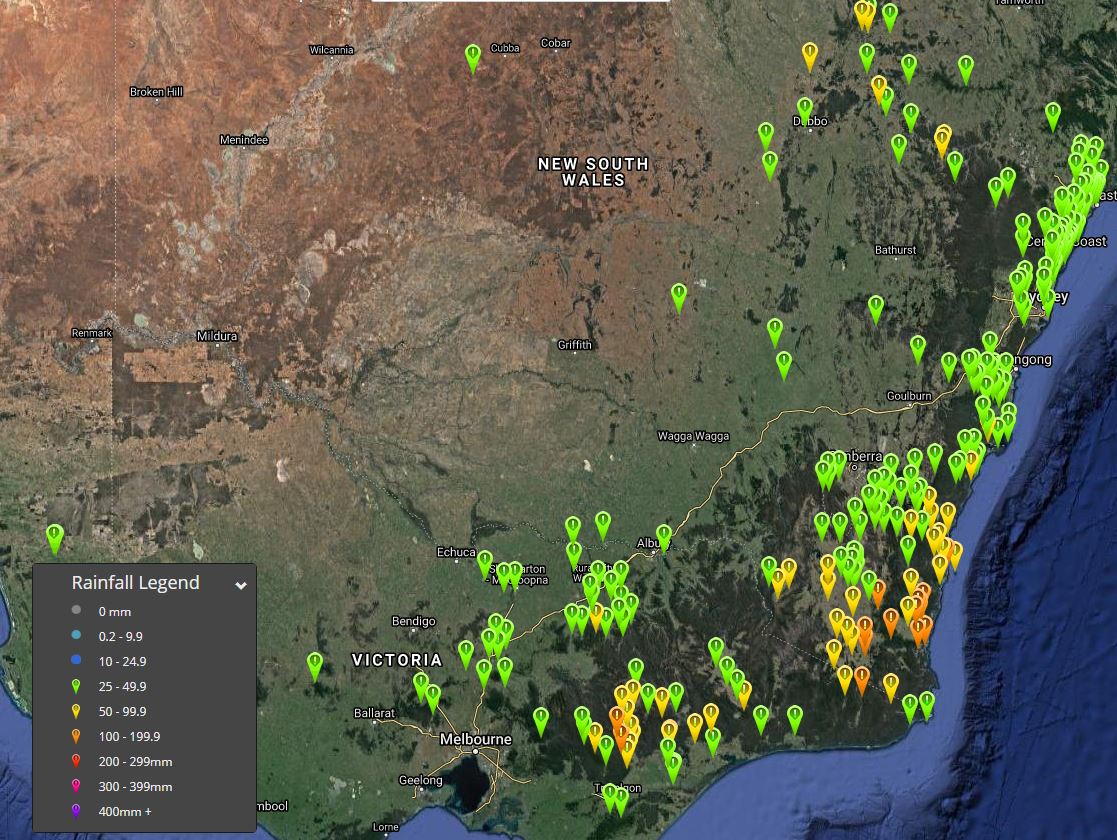 Image 2: 96 hour rainfall totals to 9am 14/07/2020 - Southeastern Australia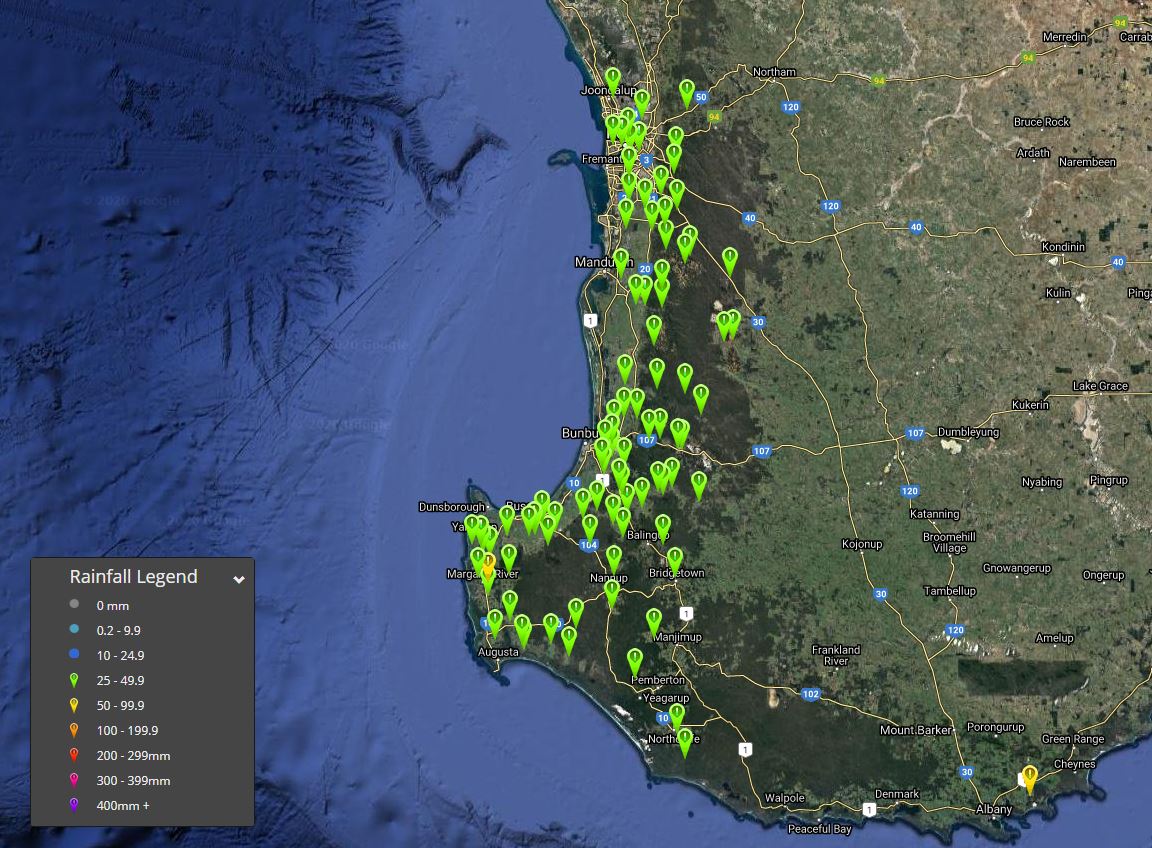 Image 3: 96 hour rainfall totals to 9am 14/07/2020 - Western Australia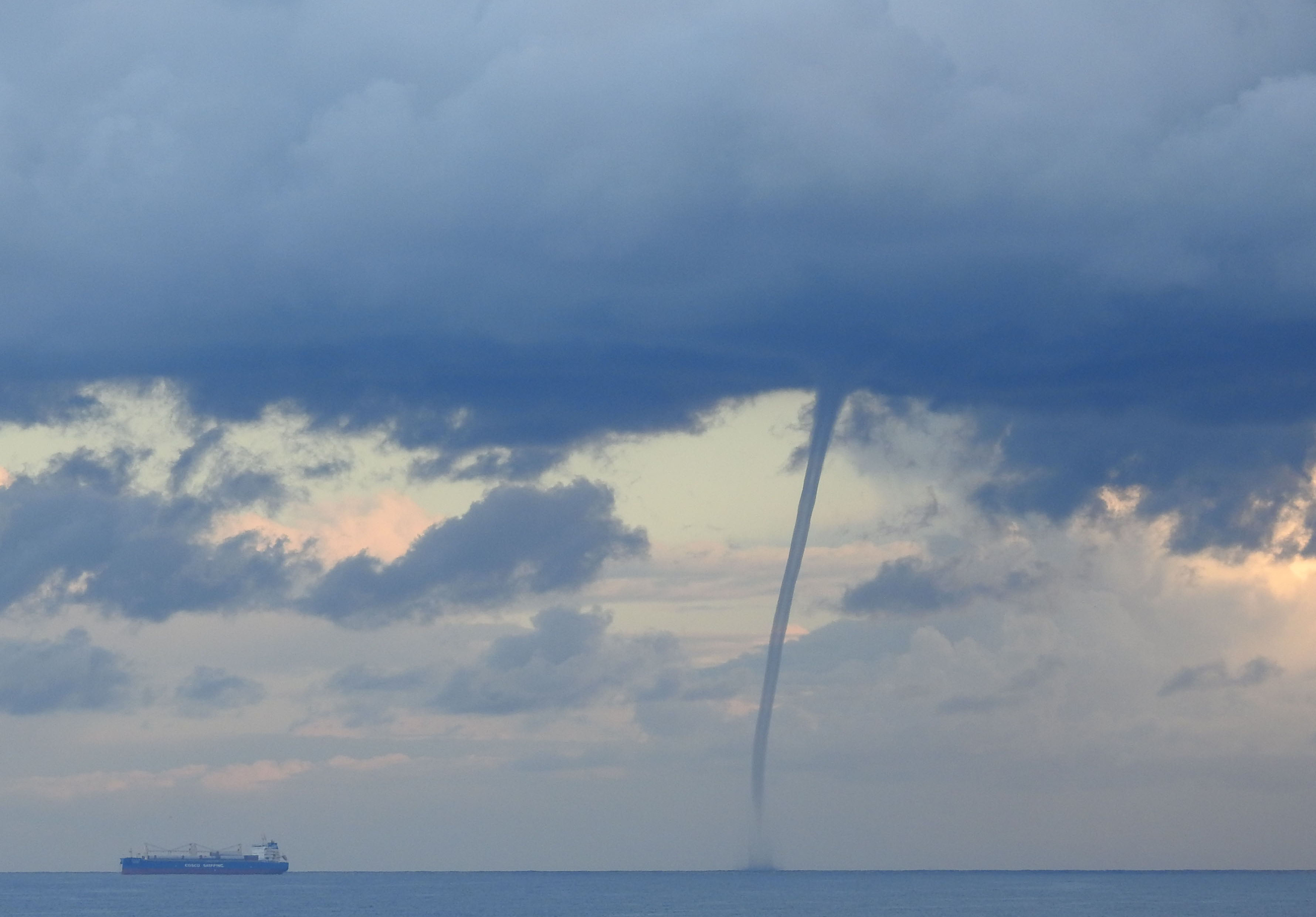 Image 4: Waterspout taken off the Illawarra Coast of NSW. Source unknown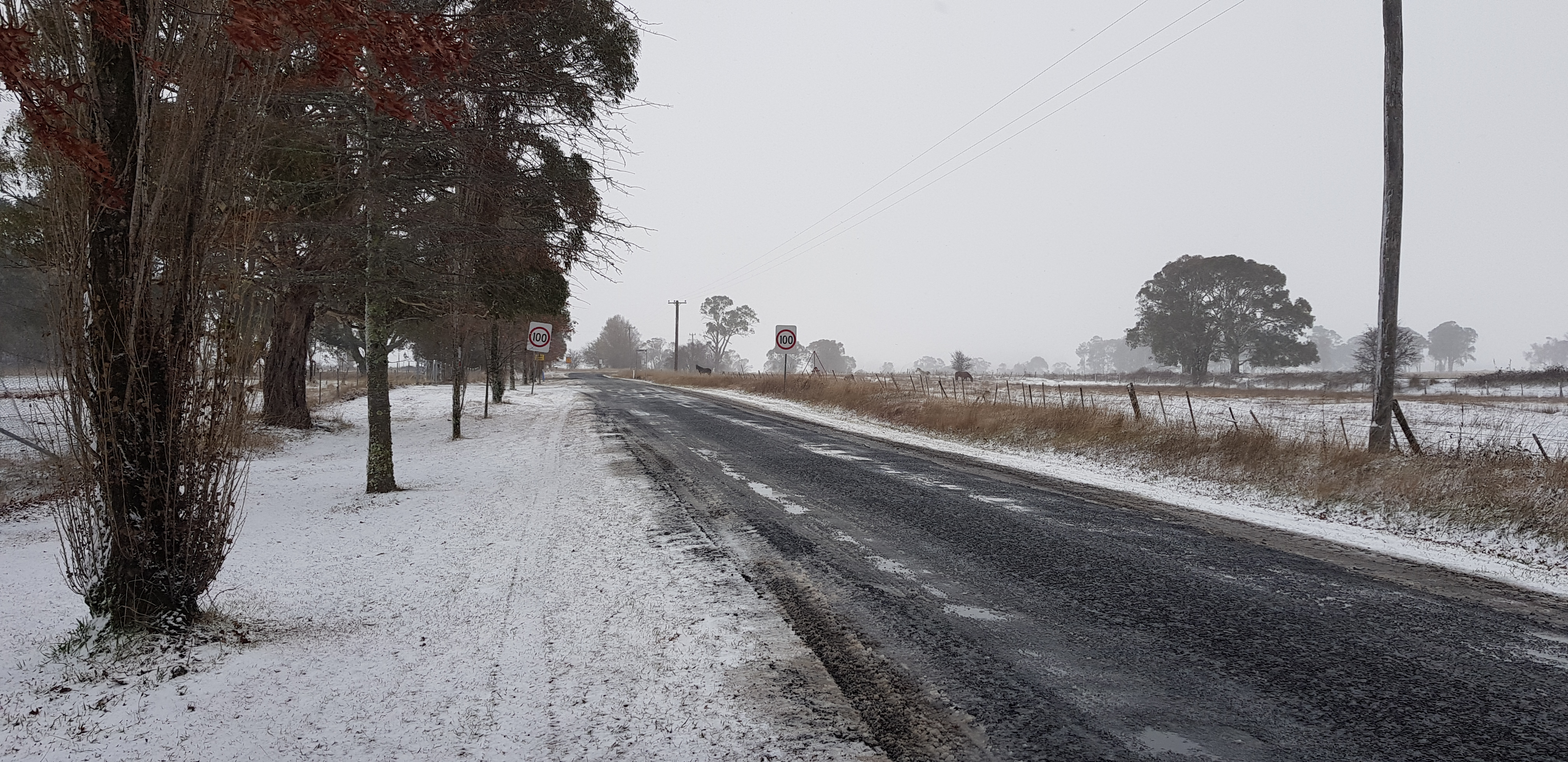 Image 5: Snow in Ben Lomond, NSW
Rain, storms, hail, snow and waterspouts batter Australia
Monday 13th July 2020
The last few days has been extremely active weather wise acoss southeastern and southwestern Australia, with storms, heavy rain, hail and snow.
A series of cold fronts moving across Western Australia are generating damaging winds, showers, storms and small hail. Widespread falls of 25-50mm have fallen with another bout of rain expected late Thursday and into Friday. Further falls of 20-40mm are expected.
Meanwhile, across eastern Australia, a large upper cold pool of air tracked across Victoria and New South Wales, eventually developing into an East Coast Low. This system has generated scattered thunderstorms, rain periods, heavy snow to alpine regions of NSW (with snow extending all the way into the Northern Tablelands), copious amounts of small hail and even waterspouts off the Sydney and Wollongong region.
The heaviest falls over the last 96 hours to 9am 14/07/2020 have been across the South Coast of NSW and North East of VIC.
Mount Useful in Victoria, recorded the highest total with a whopping 154.6mm. Other notable totals include; Murderers Hill (VIC) 107mm, Black Range (NSW) 104.2mm, Lochiel (NSW) 125mm, Bega AWS (NSW) 122mm and Narooma (NSW) 107mm.
---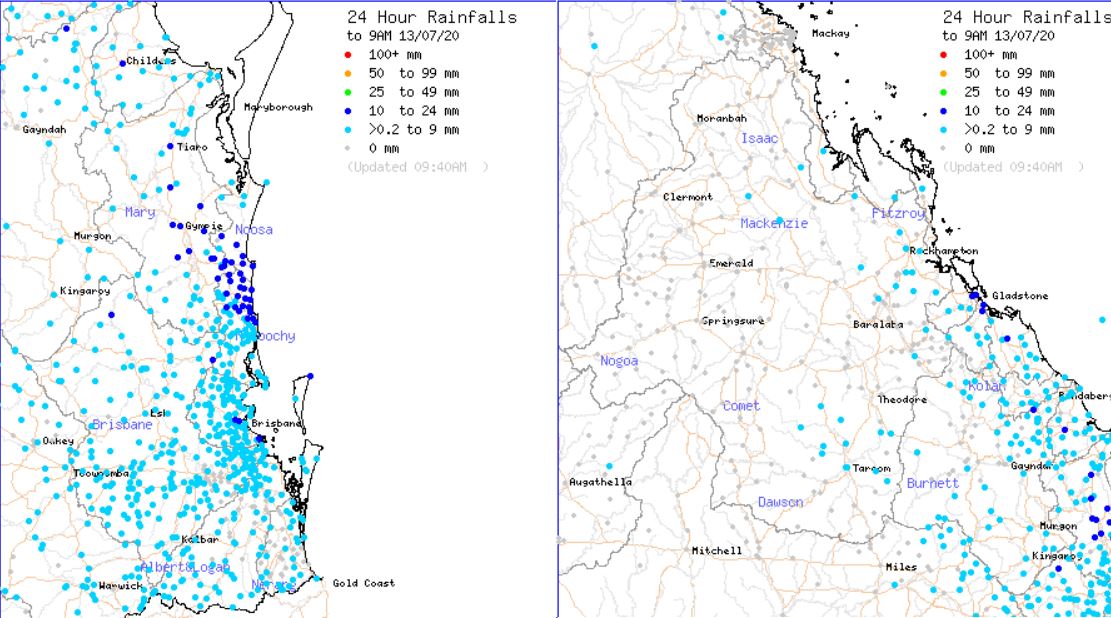 Image 1: Rainfall totals to 9am 13/07/2020. Images via BoM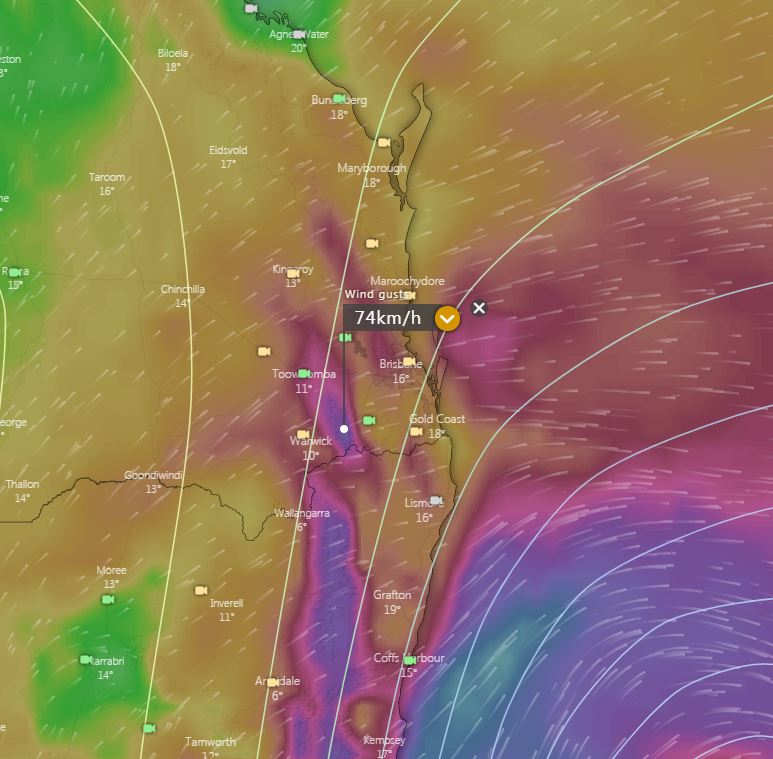 Image 2: EC wind gusts Tuesday afternoon. Image via windy.com
Solid falls for SE QLD with gusty conditions on Tuesday
Monday 13th July 2020
A large cloud band responsible for scattered showers and patchy rain last night is steadily moving offshore this morning.
Whilst rainfall totals weren't quite a heavy as expected, it was still a nice drop for July for many places across eastern QLD.
Instability will increase across the west coast ahead of this advancing cold front, generating a large band of shower and storm activity this evening and into Tuesday morning. Whilst widespread severe storms aren?t expected, locally damaging winds gusts will be possible.
The Sunshine Coast registered the best falls, with 15-25mm, whilst the Gold Coast missed most of the activity, with the majority of falls below 1mm. Any rain is good rain at this time of the year though!
Windy conditions are likely to develop over the next 24 hours, as gusty southwesterly winds push into the region. These cooler southwesterly winds will make temperatures feel much cooler than they are.
Gusts of up to 70km/h will be possible during Tuesday, particularly across the Great Dividing Range, with gusts up to 50km/h possible across parts of South East Queensland.
---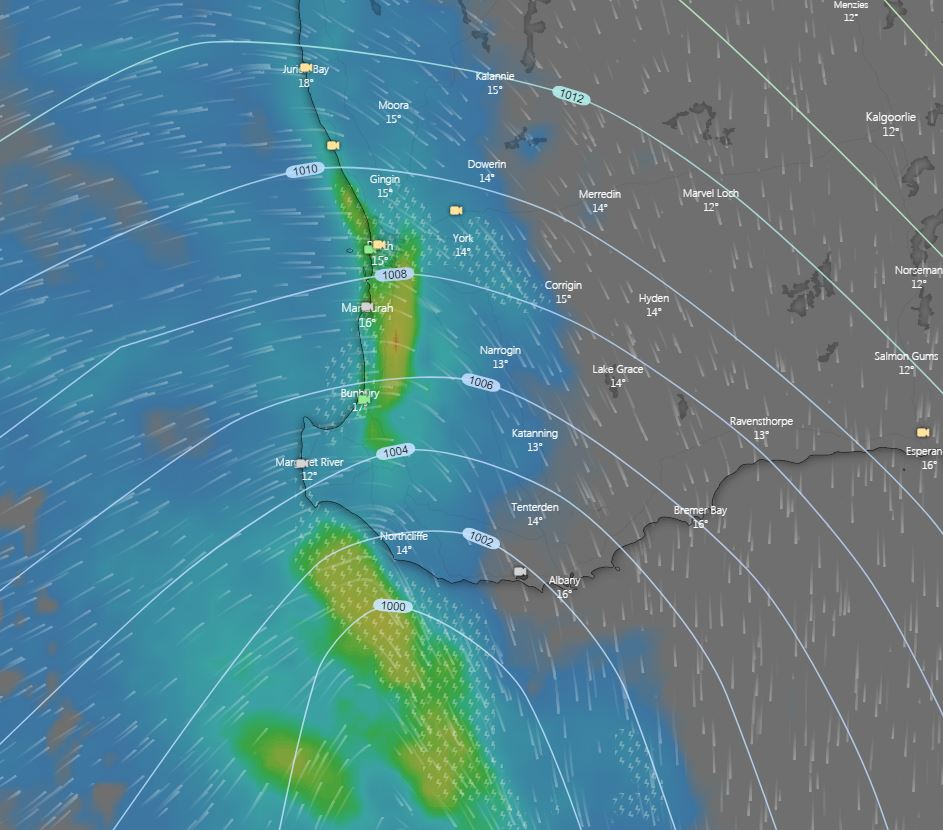 Image 1: EC rain and thunderstorms overnight Monday into Tuesday. Image via windy.com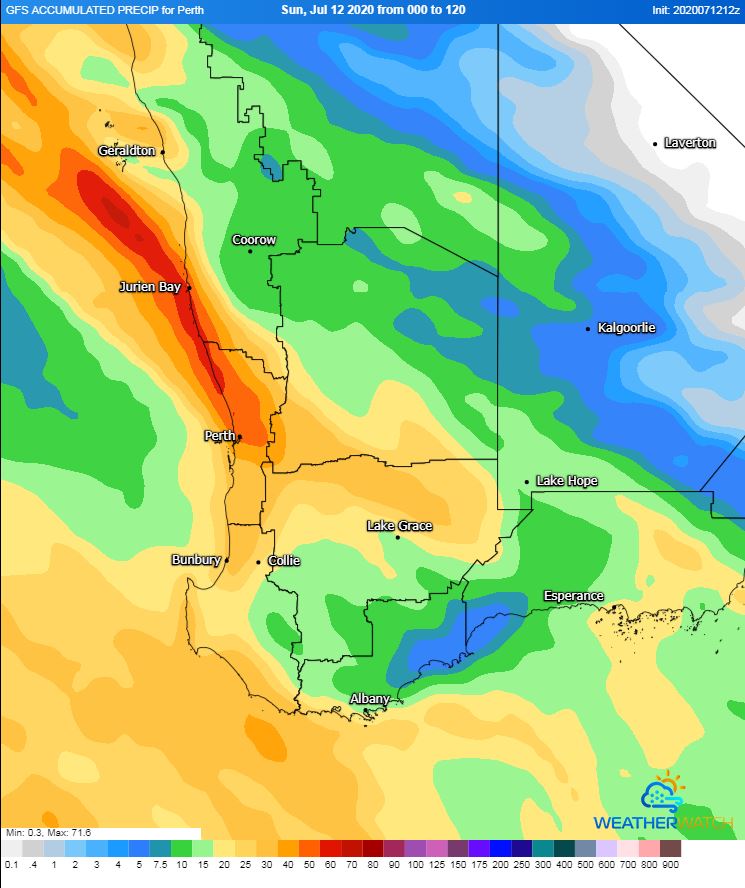 Image 2: GFS accumulated precipitation next 4 days. Image via WeatherWatch
Wet and stormy week for Western Australia
Monday 13th July 2020
The South West Land Division of Western Australia is bracing for a wet and stormy week, with a series of cold fronts expected to batter the region from tonight onwards.
Today, a pre-frontal trough will trigger scattered showers across parts of the South West Land Division ahead of an approaching cold front expected to move through this evening.
Instability will increase across the west coast ahead of this advancing cold front, generating a large band of shower and storm activity this evening and into Tuesday morning. Whilst widespread severe storms aren?t expected, locally damaging winds gusts will be possible.
Locally heavy falls are expected to develop tonight, particularly between Perth and Bunbury, with widespread falls of 15-30mm expected with isolated heavier falls to 50mm possible, particularly with storm activity. This may lead to flash flooding for some locations.
Late Monday and into Tuesday, wind gusts will also pick up across the region, with gusts approaching 90km/h across exposed coastal locations and elevated terrain, before gradually easing late Tuesday.
Whilst calmer conditions will return on Wednesday, it will be short-lived as secondary front approaches the region during Thursday. Another band of showers and thunderstorms will accompany this front, bringing the threat of locally severe storms and further heavy falls. Further totals of 15-30mm are expected to develop, with isolated falls of up to 50mm possible for some locations.
---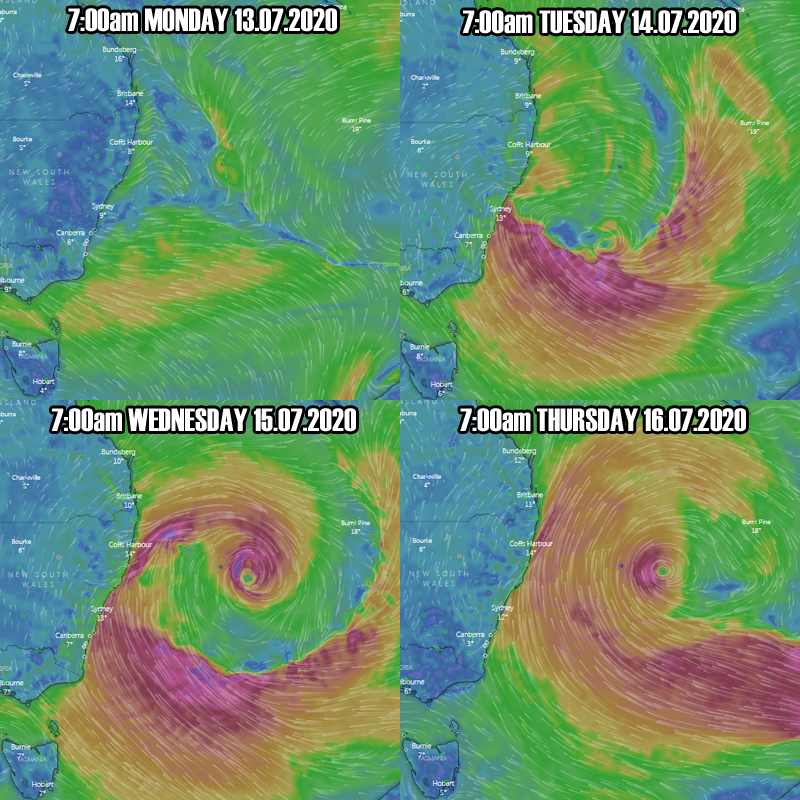 Image 1: ECWMF Surface Winds via Windyty showing surface low positioning during Monday through Thursday next week at 7:00am daily.
ECL to bring severe weather to SE Australia early next week
Saturday, 11th July 2020
A low-pressure system is set to continue developing across the Bass Strait and Victoria today and into tomorrow while deepening off the eastern coastal districts of Victoria and the southern coastal districts of New South Wales into early next week.
Potentially severe thunderstorms along with damaging winds, heavy rainfall and rough surf conditions are expected to whip up and the low tracks into the Tasman Sea on Monday, before gradually moving northward along the NSW coastline into Tuesday.
As the low-pressure system moves northward adjacent the southern and central coastline of NSW, heavy rainfall is expected to occur along the coast and adjacent inland districts under the influence of moderate to gusty SE winds.
Rainfall totals currently vary, which on current consensus will likely remain mostly confined to the East Gippsland district of Victoria and the southern inland and central coastal parts of NSW.
Southern NSW may experience rainfall totals of up to 50mm-60mm during Monday, with a further 60mm of rainfall probable along the southern coast between Sydney and Moruya Heads during Tuesday. These projected rainfall totals from the BoM WATL rainfall forecasts are expected to be accompanied by moderate to gusty winds, especially about the exposed coast and elevated and mountainous terrain.
Looking further ahead into Wednesday, the east coast low is expected to shift east into northern parts of the Tasman Sea effectively reducing the amount of rainfall and winds onto the coast. Localised flash flooding is possible under the influence of showers and very isolated thunderstorms from the SE wind flow, which is expected to reduce during the mid-week as the low-pressure system moves away from the central coast of NSW.
The positioning of the system is subject to change, and slight variance in location of the system will have an effect of exactly where the winds are probable, and where the greatest amount of rainfall is expected to fall. Tomorrow, will see a further and better indication in real time of where the concentrated area of winds, and rainfall conducive to flash flooding may actually occur. Severe Weather Warnings are likely be issued for both eastern VIC and southern NSW into Sunday or early into Monday.
Below is the ECWMF (European Model) scenario of where the forecast model predicts the system to be during Monday, Tuesday, Wednesday and into Thursday next week. Surface winds are shown on the diagrams listed below.
---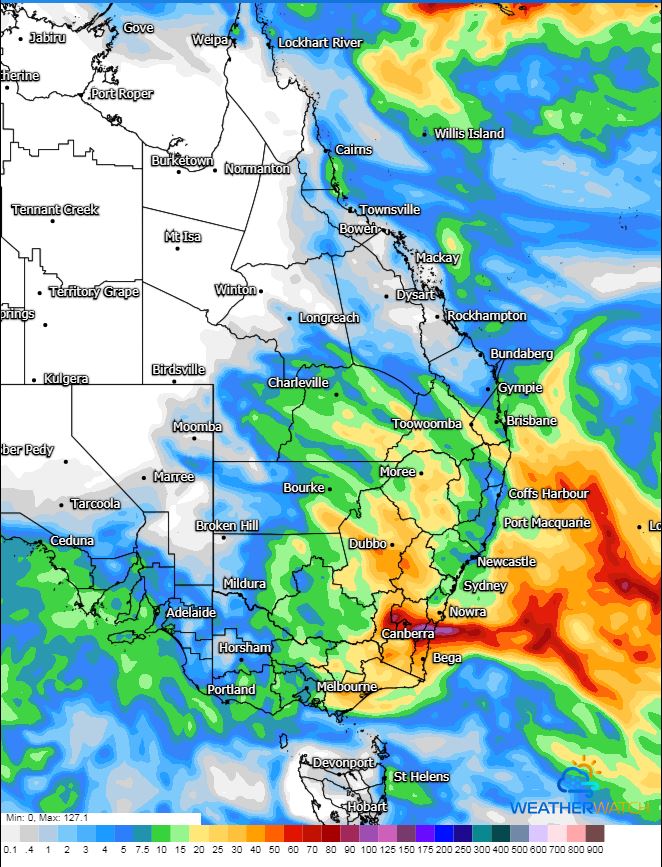 Image 1: GFS accumulated precipitation. Image via WeatherWatch
Widespread rain and East Coast Low potential for southern and eastern Australia
Friday, 10th July 2020
A dynamic weather situation is unfolding across southern and eastern Australia, as a upper level cold pool interacts with a surface trough over the east of the country, bringing potential for widespread rain and a potential east coast low over the coming days.
A high over the Tasman Sea is currently directing a humid onshore flow over the nation's east coast into a developing trough, generating showers along the coastal strip and causing moisture to push inland.
Meanwhile, an upper level cold pool is making its way towards South Australia and is due to affect the state tomorrow, bringing showers, possible thunderstorms and the risk of small hail.
This approaching feature will cause an amplification of the surface trough over eastern Australia tomorrow as well, causing rain and thunderstorms to develop over parts of southern Queensland, New South Wales and Victoria.
Over the weekend, this cold pool will push gradually east and continue to bring with it rain and storms across parts of SA, VIC, NSW and QLD. As the system approaches the east coast and reaches higher levels of moisture and slightly more than average ocean temperatures, rain and thunderstorms have potential to become heavier as the trough deepens further.
There is growing consensus that a low is likely to form within the trough as it moves offshore around Monday or Tuesday next week and bring heavy rainfall to eastern NSW, although this is highly dependent on where the low forms.
With such a dynamic system and the convective nature of the sytem, rainfall amounts are difficult to predict, particularly from early next week. Across many parts of VIC, inland NSW and southern QLD, widespread totals of 5-20mm are likely. However, depending on where the low forms (and how close to the coast it gets), coastal rainfall has potential to be in excess of 100mm.
If the low forms close to the coast, damaging wind gusts are also a chance as well as potential for rough seas and large swells. There are also indications of possible snow as far north as the NSW Northern Tablelands early next week.
Our team at EWN will post regular updates as this system unfolds over the coming days.
---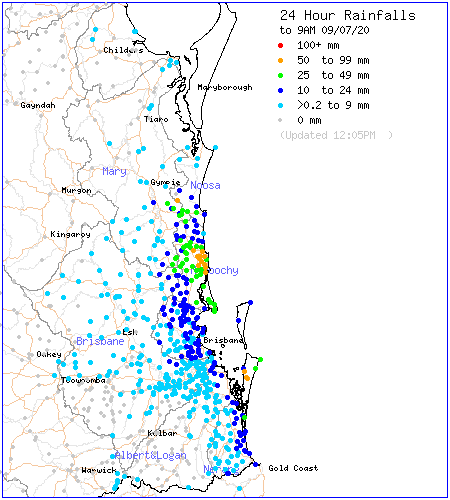 Image 1: Observed rain amounts in the 24 hours up to 9 am today. Source: BOM.
Dry westerlies take a break in Southeast Queensland
Thursday, 9th July 2020
Moisture has returned to the skies over Southeast Queensland as a coastal trough pushed north and allowed a moist onshore flow to develop. This caused showers and patchy rain areas to spread onto the coast last night and some showers are still continuing in the area today.
Mainly light falls were recorded in the 24 hours up to 9 am today with most places getting below 10 mm but closer to the coast, scattered falls of 10 to 25 mm were recorded with some places recording in excess of 50 mm.
This is unlikely to be the end of the moisture though. On Sunday night and Monday, a cold front and upper trough tracking across eastern Australia is expected to deliver a band of showers, rain areas and possible thunder to the Darling Downs and the Southeast. At this stage, moderate falls of 20 to 60 mm are likely with the possibility of some localised heavier falls of up to 80 mm or higher in some spots.
---
Image 1: GFS & Access G Accumulated Precipition next 5 days. Images via WeatherWatch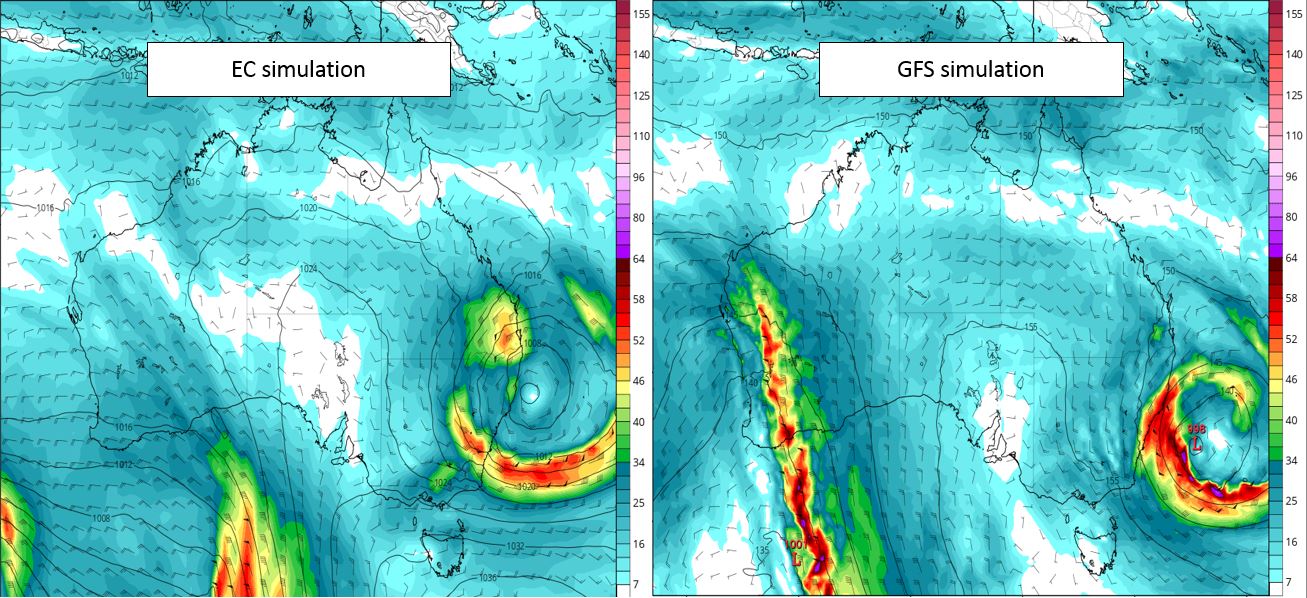 Image 2: GFS vc EC ECL position. Images via Tropical Tidbits
Image 3: Images via windy.com. Oreientation of the upper system from positive to negative tilt.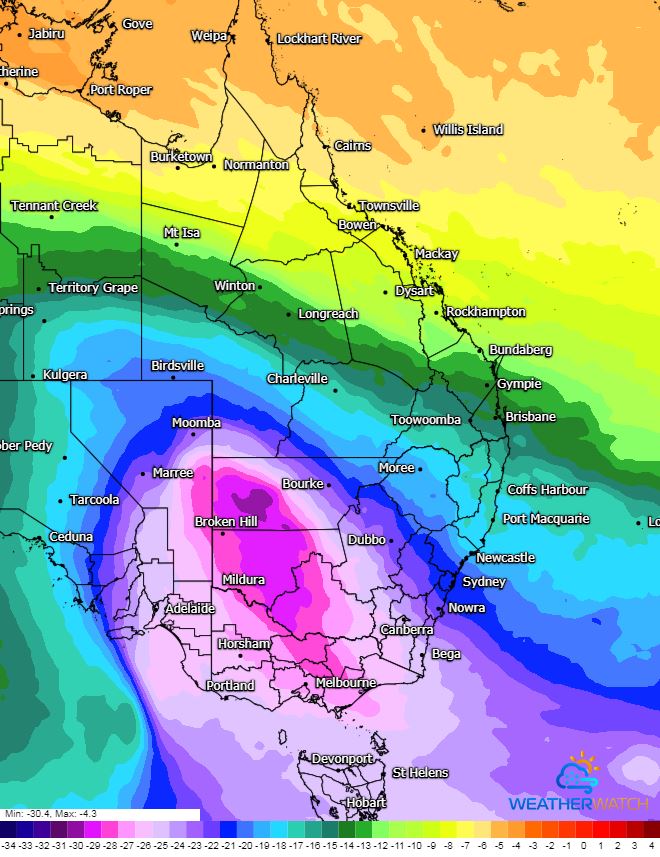 Image 4: Intense cold pool of air in the upper atmosphere (500mb). Image via WeatherWatch
Showers and storms to develop for eastern Australia
Wednesday 8th July 2020
Wet conditions are likely to develop across southern and eastern Australia later this week and through the weekend, as multiple rounds of showers and storms develop.
A large upper system is expected to amplify across eastern Australia on Friday and into the weekend, interacting with increasing moisture being driven by a high in the Tasman Sea. This combination is set to produce widespread shower and thunderstorm activity.
Late Thursday and into Friday, a low will shift northeast towards South Australia, generating windy and showery conditions across coastal regions with 5-15mm possible. These conditions are likely to continue into Saturday as fresh southerly winds wrap around the western periphery of the low.
A surface trough will deepen across inland Australia in response to the amplifying upper system, producing scattered showers and storms across western QLD, NSW, northern VIC and SA late Friday afternoon and evening. This activity may spread out into rain areas overnight and into Saturday, with a continuation of widespread shower activity expected throughout Saturday, with further embedded storm activity possible.
Whilst heavy falls are not expected for inland QLD, NSW and VIC, 3 day rainfall totals of 10-15mm will be possible, with isolated falls to 30mm possible with storm activity, although likely to still be hit and miss for many locations.
During Sunday, a very cold airmass in the upper atmosphere will move across central NSW, with another round of showers and thunderstorms set to develop. This activity may produce small hail across inland parts of the state, with a band of shower and storm activity extending across eastern regions of NSW and QLD. As the upper system begins to take more negative tilt late Sunday and into Monday (orientation from the southwest to the northeast, see image 3) a rain band may thicken across northern NSW and southern QLD with locally moderate falls possible.
Late Sunday and into Monday, an East Coast Low (ECL) may develop off the NSW coast into response to the very cold air aloft. At this stage, things become a little murky as model consensus becomes clouded. Should this ECL develop close to the NSW coast as per the European model, heavy rain, damaging winds and the potential for flooding would develop for coastal locations. However, should this form further east off the NSW coast, shower activity and gusty winds may be the likely outcome.
In either case, a large, potentially multi-centred low is expected to develop in the Tasman Sea, with showers, gusty winds and powerful surf conditions.
Further updates will be provided in the coming days.
---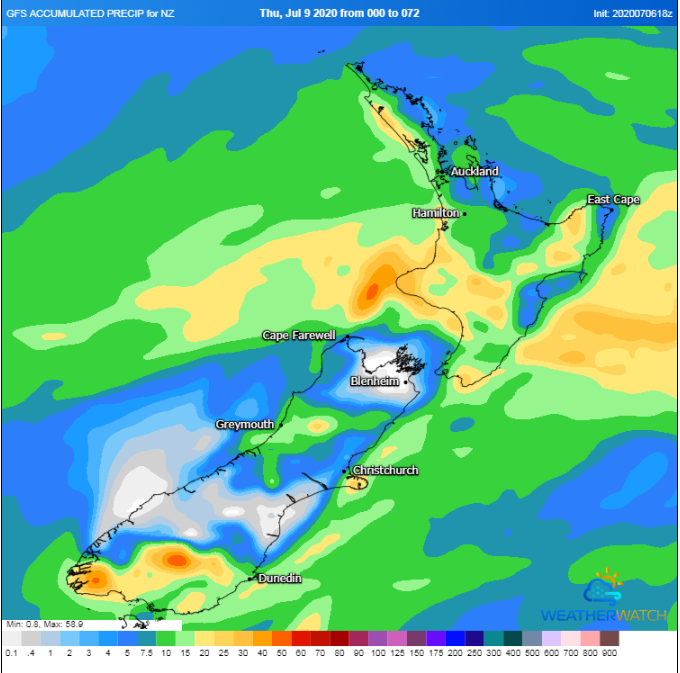 Image 1: Rainfall accumulation across the next 72 hours across New Zealand from GFS model (Source: Weatherwatch Metcentre)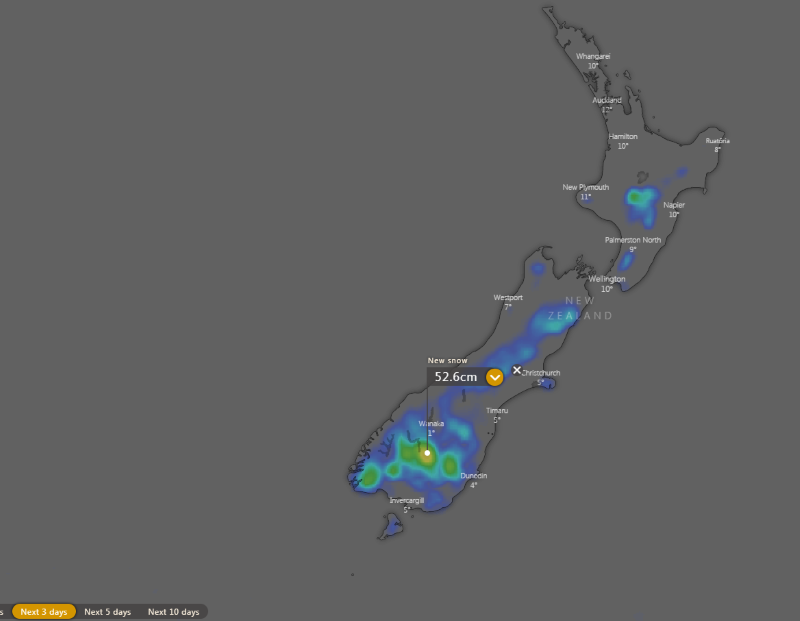 Image 2: New snowfall forecasts across New Zealand across the next 72 hours from the ECMWF Model (Source: Windy)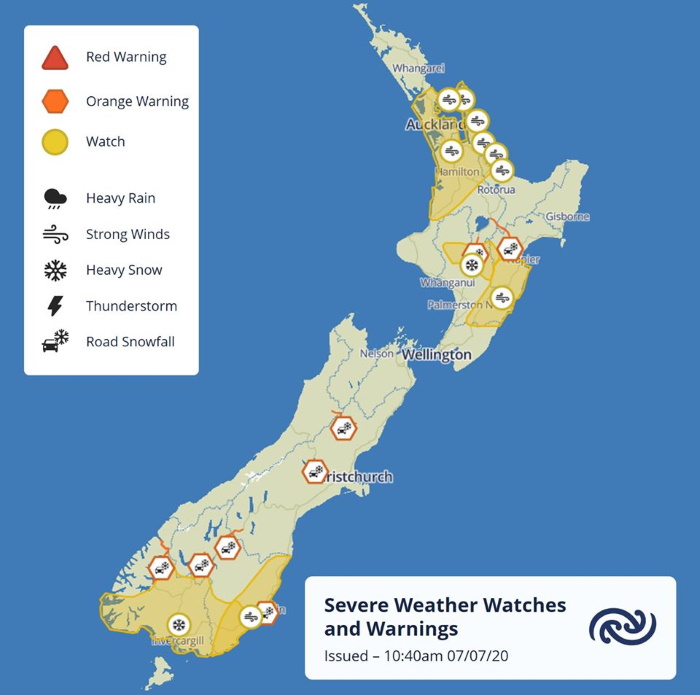 Image 3: Severe Weather Warnings and watches across New Zealand from 7th July, 2020 (Source MetService New Zealand)
Strong cold front to bring low-level snow to New Zealand
Tuesday, July 7th, 2020
A strong cold front will sweep across New Zealand from this evening, bringing bitterly cold conditions, showers, strong winds and snow to low levels over the next few days.
The front will begin impacting the South Island this evening, before reaching the North Island on Wednesday. In the wake of the front, a very cold airmass will begin to push north across the country.
The coldest airmass will affect the southern half of the South Island, with snow potentially falling as low as 200-300m in some areas, but snow will reach as far north as central parts of the North Island about higher elevations. Heavy snow watches have been issued for Clutha, Southland and southern parts of Fiordland on the South Island, and Taihape on the North Island.
The ski fields will get a good dump of snow in the first week of the school holidays, with some resorts around Queenstown seeing 50-75cm of fresh snow, and 40-50cm possible at Whakapara and Turoa on the North Island.
The front will also be associated with good rain, particularly over the North Island and southern parts of the South Island where accumuations may exceed 40mm in some areas, although there will be widespread falls of 5-15mm. About the North Island, isolated thunderstorms are also a risk.
Strong Wind Watches have also been issued for southeast parts of the South Island, and central and southeastern North Island, with wind gusts possibly reaching 80-100km/h.
Conditions will begin to ease from Thursday as a high pressure region approaches.
Check out our New Zealand Facebook page at https://www.facebook.com/alerts.nz/
---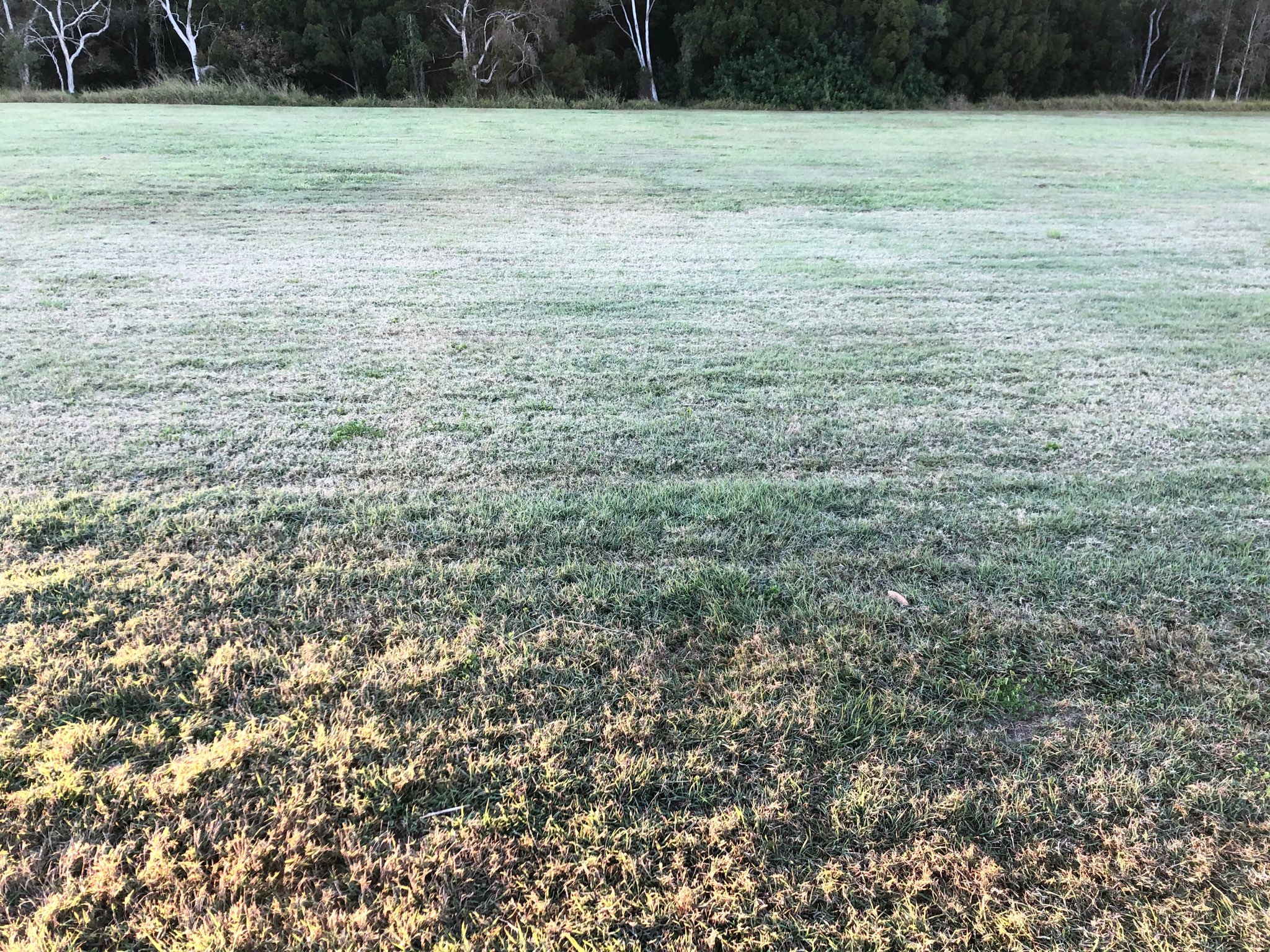 Image 1: A frosty morning in SE QLD. Image via EWN's Ken Kato
Queensland shivers through its coldest morning of the year
Sunday 5th July 2020
If you woke up across southern Queensland this morning thinking it was cold, you were right! Queensland has shivered through its coldest morning of 2020.
A cold front that moved across eastern Australia late Friday, has sent a very cold airmass north into Queensland this weekend. Overnight Saturday, windy conditions began to ease, allowing this colder airmass to settle across southern QLD.
Brisbane recorded its coldest morning in 12 months, dropping to just 7.6°C at 5:11am this morning, with Coolangatta dropping to just 2.0°C , Sunshine Coast Airport 3.0°C and Amberley -2.0°C.
Other notable temperatures in SE QLD were Beaudesert and Canungra -2.2°C, Redcliffe 6.7°C, Nambour 5.4° and Greenbank Defence 0°C.
It wasn?t just South East Queensland that felt the cold, with numerous locations on the Darling Downs and Maranoa and Warrego dropping below zero this morning.
Wellcamp Airport at Toowoomba, dropped to -3.6°C at 4:52am, Dalby -1.8°C, Oakey -2.0°C, Warwick -2.4°C, Toowoomba -0.1°C, Applethorpe -2.4°C, Roma -2.6°C, Charleville -0.8°C and Miles -0.7°C.
Widespread frosts have also been reported across SE QLD, the Darling Downs and the Wide Bay and Burnett region thanks to plummeting temperatures. Minimum temperatures will remain cold over the coming days however they are expected to remain slightly warmer than this morning.
---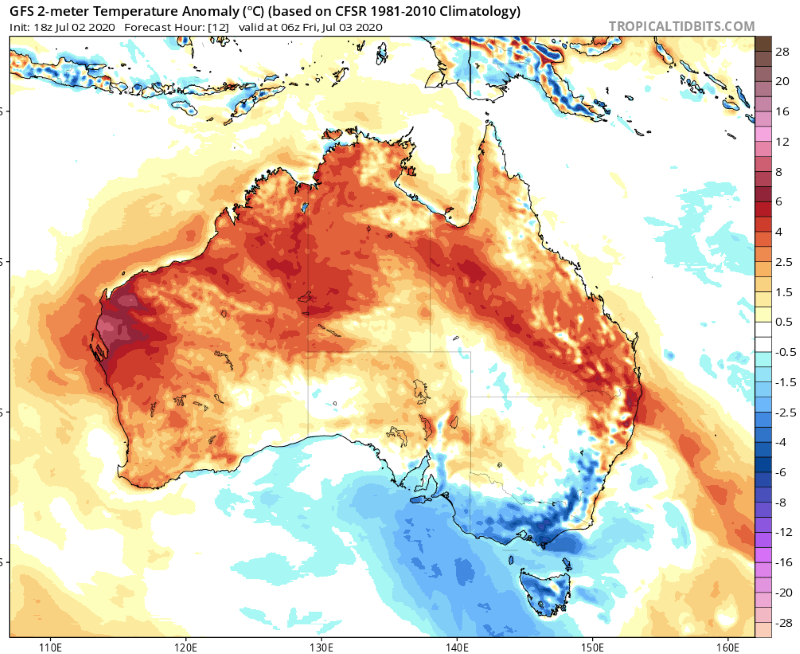 Image 1: Temperature anomoly across Australia at 4pm AEST Friday 3 July, 2020 (Source: Tropical Tidbits)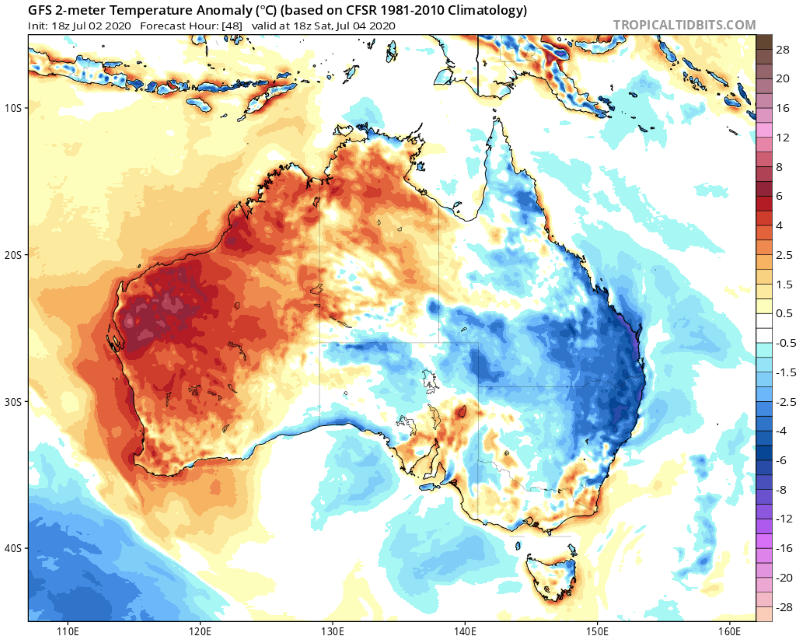 Image 2: Temperature anomoly across Australia at 4am AEST Sunday 5 July, 2020 (Source: Tropical Tidbits)
Image 3: Thunderstorm possiblity across northeast NSW and southeast QLD on Friday 3 July, 2020 afternoon/evening
Balmy conditions ahead of possible storms and cool change in northeast NSW/southeast QLD
Friday, July 3rd, 2020
Northeast New South Wales and southeast Queensland are being treated to stunning winter warmth today, as temperatures rise into the mid 20s along the coast, however a cold front is set to bring a burst of cooler weather with possible thunderstorms from later today.
A strong cold front that is bringing snow and small hail to the southern states today is also directing warm northerly winds from northern Australia ahead of it, causing temperatures to rise several degrees above the average. Coffs Harbour and Ballina are forecast to reach 24 degrees, Gympie and Brisbane 25 degrees and Ipswich 26 degrees, the warmest day across the region in several weeks.
The warmer weather is leading to more unsettled conditions as well, particularly over northeast NSW where instability is strongest. After balmy conditions this morning, thunderstorms are expected to develop north of about Taree, and predominantly affect the Mid North Coast, southern parts of the Northern Rivers and parts of the Northern Tablelands.
Those over QLD's Southeast Coast and Darling Downs are also a risk of seeing showers and thunderstorms this afternoon and into the evening, although activity is expected to be much more isolated, and contain little if any rain.
Thunderstorms aren't expected to be severe, however the most widespread activity is likely over the NSW Mid North Coast.
Tomorrow, temperatures will drop significantly in the wake of the change. This will be felt notably over inland areas, with daytime maximum temperatures dropping into the mid teens across the QLD Darling Downs, while parts of the NSW Northern Tablelands will struggle to reach double digits on Saturday.
Clear skies and a dry airmass will occur in the front's wake, making for perfect conditions for cold nights. Widespread frosts are expected across inland areas, with Brisbane also likely to see its coldest nights of the year so far, forecast to reach just 8 degrees on Sunday and Monday mornings.
Moisture and temperatures will begin to increase again from mid next week, with decent signals for some rain developing towards the weekend.
---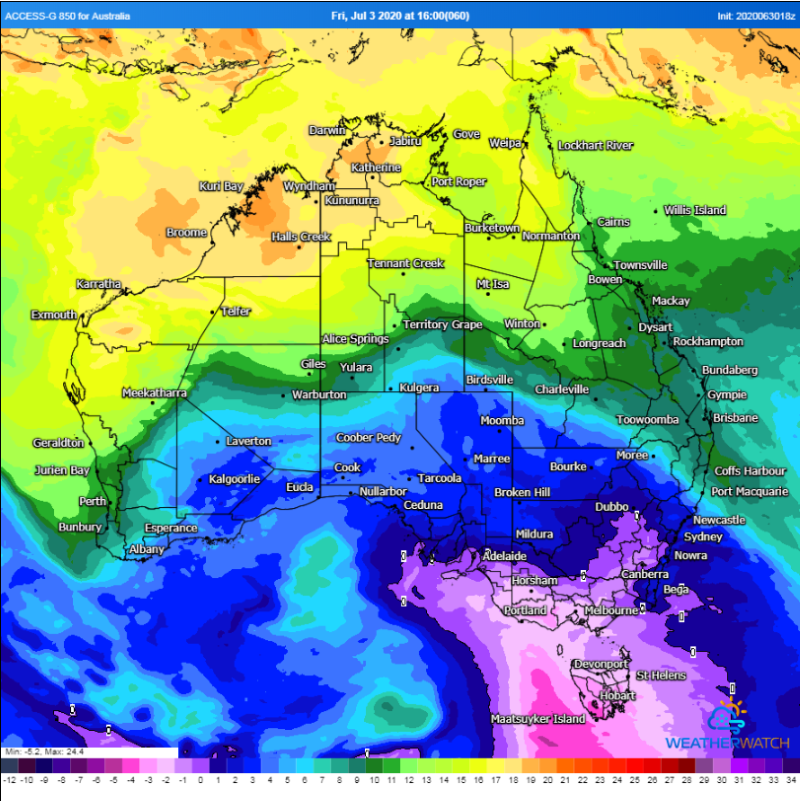 Image 1: 850 temperatures across Australia on Friday 3rd July, 2020 afternoon. (Source: Weatherwatch Metcentre)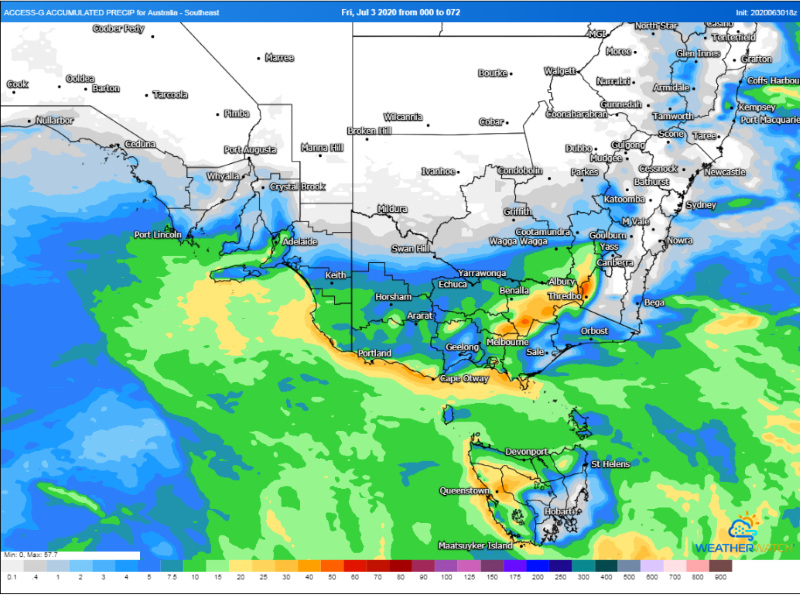 Image 2: Accumulated precipitation across the next 3 days over southern Australia (Source: Weatherwatch Metcentre)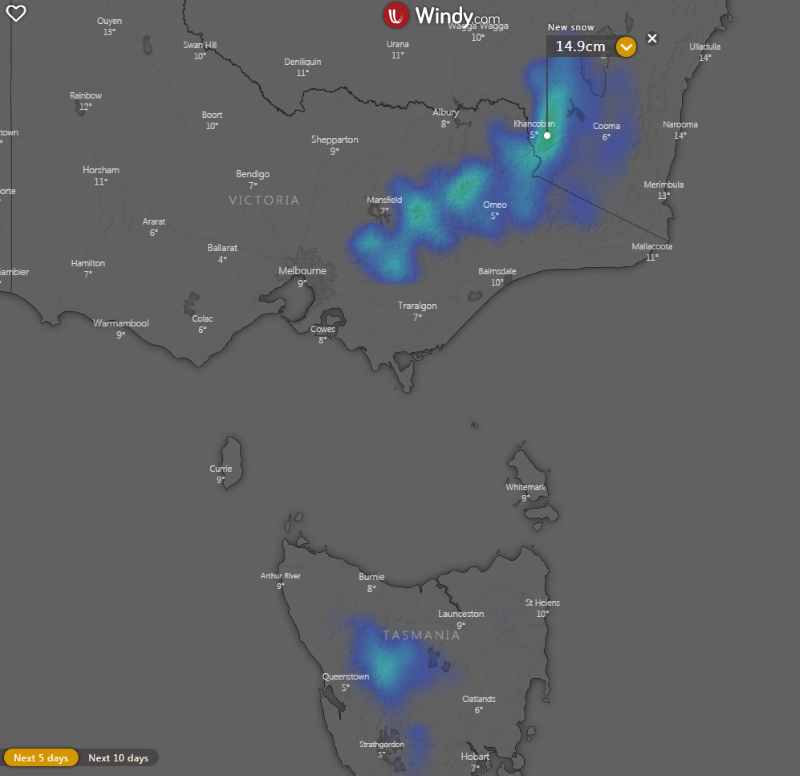 Image 3: Accumulated snowfalls across southeast Australia over the next 5 days
Cold front sweeping across southern Australia
Wednesday, July 1st, 2020
July will kick off with a cold blast across Australia's southeast, with strong winds, showers, alpine snow and possible thunderstorms set to hit many parts of South Australia, Tasmania, Victoria and New South Wales over the next few days.
The front is beginning to be felt across South Australia this morning, and will spread east across the remainder of the state this afternoon. A severe weather warning has been issued for wind gusts reaching 80-100km/h ahead of the front, however localised gusts in excess of 90km/h may also occur with and behind the cold front, mainly with showers and thunderstorms.
Strong winds with gusts of 80-100km/h will begin to develop over elevated parts of western Victoria later this afternoon, and will spread to lower elevations later tonight as well as into eastern Victoria, where gusts may peak at around 120km/h over some alpine areas. Localised squalls to 90km/h are also possible with and following the front across some southern coastal areas, mainly with showers and thunderstorms. Tasmania is expected to see gusts to 80km/h in some southwest and elevated northeast areas, but should stay below damaging thresholds.
In NSW, strong winds will develop about alpine areas tonight, with wind gusts reaching up to 120km/h about the peaks (above 1900m). During Thursday morning, wind gusts to 80-100km/h will spread up through parts of the ACT and and onto the southern and central NSW ranges, including locations such Goulburn, Braidwood and the Blue Mountains. Coastal areas will also be windy, but only see gusts to 40-60km/h.
The front will also bring some good falls in some places, with southeast parts of SA, southern and northeast VIC, parts of southern NSW and northern and western Tasmania expected to see moderate to locally heavy totals. Over the next few days, widespread totals of 10-20mm are likely around Adelaide and southeast SA, whilst in southern VIC widespread totals of 5-15mm are likely, with isolated higher falls above 20mm near the coastline. Parts of northern and western TAS, northeast VIC, and the NSW Alps may see falls in excess of 40mm.
For alpine areas, these showers will turn to snow on Thursday, with snow falling to even lower elevations later on Thursday and into Friday as the airmass becomes colder, with snow expected above about 700-800 metres in VIC and TAS. Small hail may be experienced in showers over lower elevations as well.
Conditions will begin to ease on Saturday as a high moves in, although coastal areas are still expected to be cold, showery and breezy. This high will begin to take hold properly from Sunday into next week, and will bring about widespread areas of fog and frost, particularly over inland areas.
---
Subscribe Today To Our Newsletter