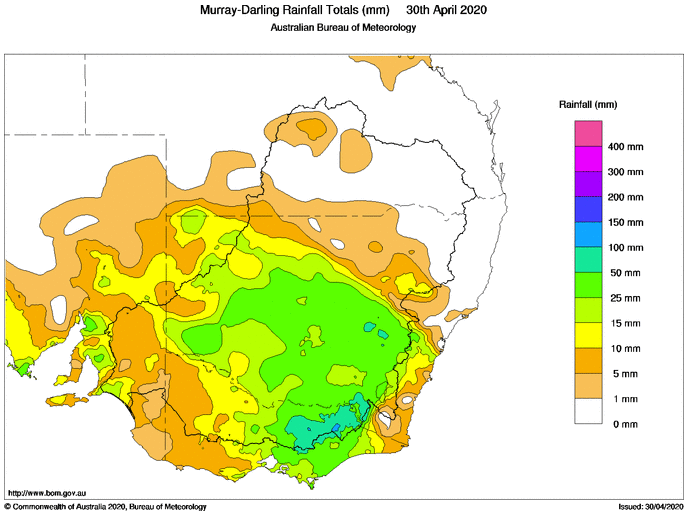 Image 1: 24 hour rainfall totals across the Murray-Darling Basin to 30th April, 2020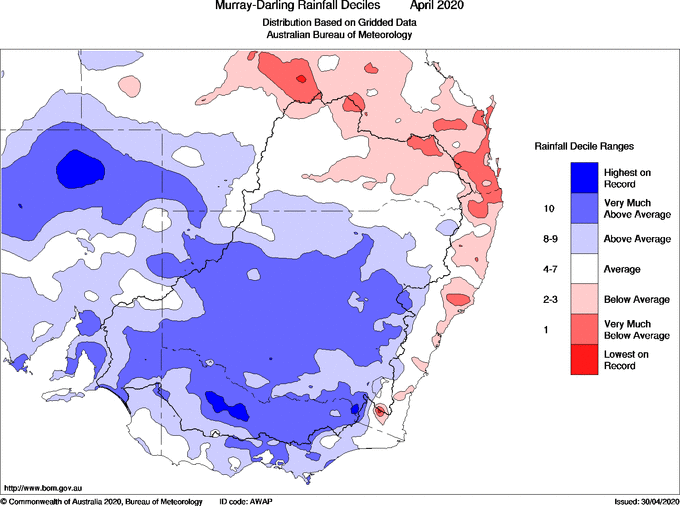 Image 2: April rainfall deciles across the Murray-Darling Basin, showing high rainfall totals throughout April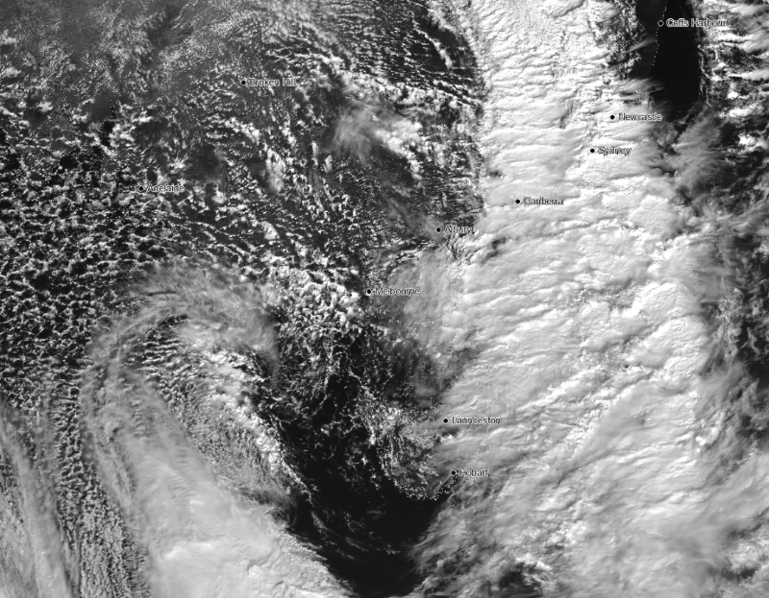 Image 3: Satellite image as cold front crosses the south east of the country. Speckled cloud shows the very cold air with the system
Heavy rain soaks parts of Victoria, New South Wales and ACT
30 April 2020
A strong cold front sweeping across southeastern Australia is producing widespread heavy rain across parts of VIC and NSW, with some places seeing their heaviest April falls in decades, and some stations even now recording their wettest April on record.
The amount of rain cold fronts generate depend heavily on the moisture feed from the oceans surrounding Australia. Last year, many cold fronts crossing the country were dry due to unfavourable climate drivers, with strong winds helping fuel bushfires, and dry westerly winds preventing any moisture build up over the country.
As the climate drivers in Australia are now neutral, moisture has built up over the country, with this unseasonably strong cold front producing widespread heavy falls.
Central and eastern Victoria and into southern NSW saw the heaviest falls, with widespread falls of 10-30mm. Some of these falls even spread into the far southwest of NSW, with Ivanhoe recording 32mm (heaviest April fall in at least 16 years) and Wentworth 29mm.
Across northeast Victoria and the southern and central NSW ranges/slopes and alpine areas, falls of 25-50mm were commonplace, with some alpine areas seeing falls in excess of 100mm. Mount Buller recorded 117mm to 9am, its heaviest April fall in more than three decades, and its best rain since December 2017.
In NSW, Bathurst had its heaviest April rain in more than 20 years (39mm), whilst Thredbo had its heaviest April rain in more than 30 years. Cowra's 51mm was its heaviest fall since December 2017. The nation's capital recorded a healthy 24.4mm
The rain has meant many areas across Victoria and inland NSW are seeing their wettest April on record, or at least in decades. Some notable locations (with more than 30 years of data) include Yanco (113.2mm, 60 years of records), Thredbo Village (323.3mm, 46 years of records), Scoresby (202.2mm, 66 years), Oyten (94.9mm, 104 years), Tatura (130.4mm, 75 years), Lake Eildon (207.6mm, 127 years) and Mount Buller (358.6mm, 34 years).
The front is continuing its March across the country today, with rain and thunderstorms impacting eastern NSW and into southern QLD, although falls are expected to be lighter and patchier than those seen further south.
In the wake of the front temperatures will plummet more than 5 degrees below average, which will linger into early next week. Snow has started falling over alpine areas and the Tasmanian highlands.
---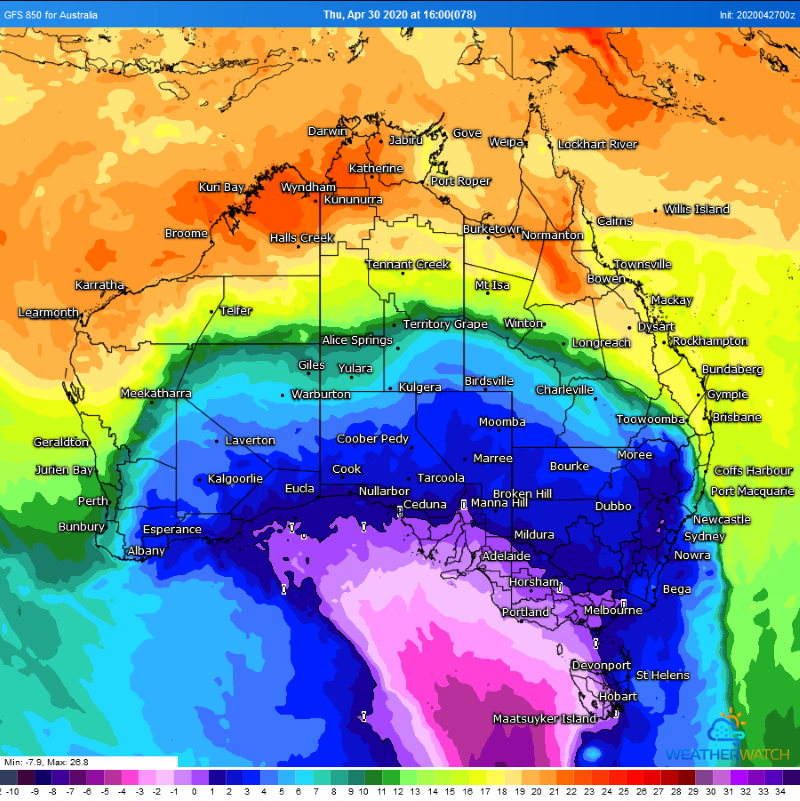 Image 1: Rainfall accumulation across the next 96 hours from the ACCESSG Model (Source: Weatherwatch Metcentre)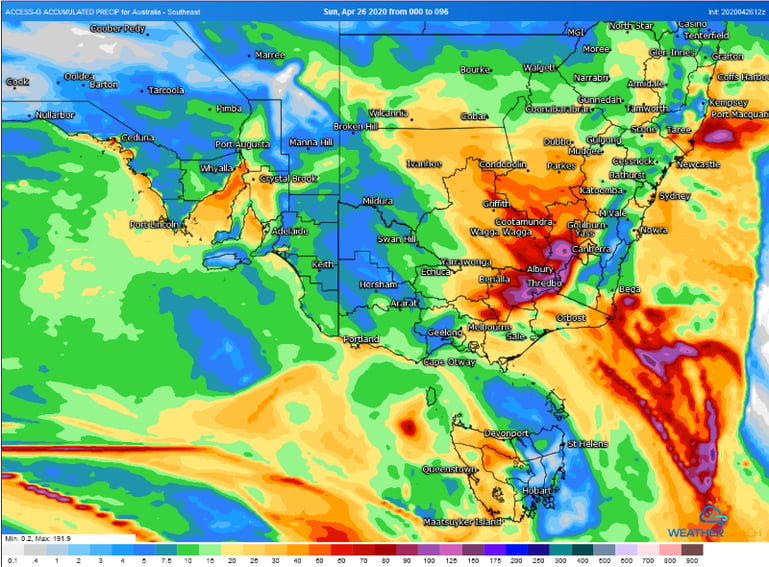 Image 2: 850mb temperatures from the GFS Model on Thursday (30/04/2020) afternoon showing the surge of cold air (Source: Weatherwatch Metcentre)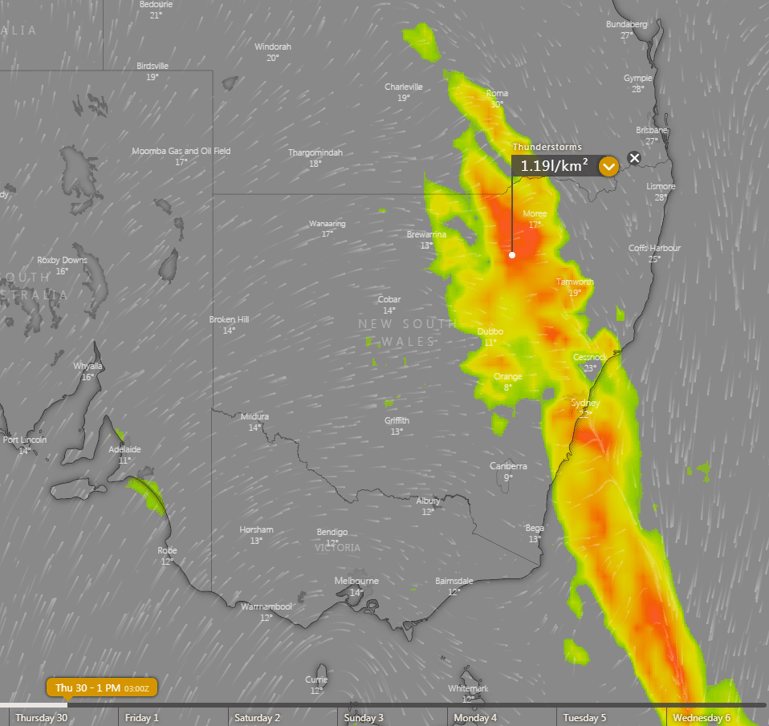 Image 3: Thunderstorm forecast graphic for Thursday afternoon(30/04/2020) across southeast Australia (Source: Windy.com)
Vigorous cold front to bring heavy rain, thunderstorms, strong winds and snow to southeastern Australia
27 April 2020
The strongest cold front of the year is set to sweep across Australia's southeast from Wednesday, causing temperatures to plummet and bringing a burst of rain, wind, thunderstorms and snow.
Showers will start affecting parts of South Australia from tomorrow with the pre-frontal trough, bringing patchy falls of 1-5mm with some areas seeing up to 10-15mm.
As this pre-frontal trough moves east on Wednesday it will gain moisture, causing rain to become heavier and more widespead, with thunderstorms also likely to develop. At the same time, the main frontal system will begin pushing into SA and Victoria, bringing a renewed burst of showers, especially near the coastlines. Across eastern SA, VIC, TAS and NSW, widespread falls of 5-to-10mm are likely, with falls of 5-to-20mm likely near the SA and southwest VIC coasts as well as western Tasmania due to the front.
Across eastern (especially northeast) Victoria and into parts of southern and central NSW, conditions will be particularly unstable with the risk of severe thunderstorms, with flash flooding and damaging to locally destructive winds the main threat. The more convective nature of the system here will lead to a higher risk of flash flooding, with the possibility of more than 50-to-100mm falling within a 24 hour period over northeast VIC and into southern NSW. Minor riverine flooding is also possible.
On Thursday, rain and storms will spread through the remainder of NSW, with even some precipitation reaching into southern QLD (although falls will be lighter). Falls will be heaviest on the slopes and ranges of southern and central NSW with widespread totals of 15-to-30mm, with some areas seeing in excess of 50mm. In northern NSW and into southern QLD, falls will be lighter in the 5-to-15mm range. Severe thunderstorms are again a threat on Thursday, with some thunderstorms likely to reach the coast. Snow is likely on the alpine areas of NSW, TAS and VIC due to lingering cold and unstable air.
The main system will clear offshore by early Friday, however lingering cold and unstable air will continue to bring snow showers across higher parts of NSW, TAS and VIC, with small hail possible in showers in more low-lying areas. Temperatures will be well below average for several days, with the capital cities of SA, VIC, TAS and the ACT struggling to reach the mid teens for several days into the weekend.
Conditions will warm up gradually from early next week, however frost and fog are likely due to a combination of cold air, light winds and clearing skies.
---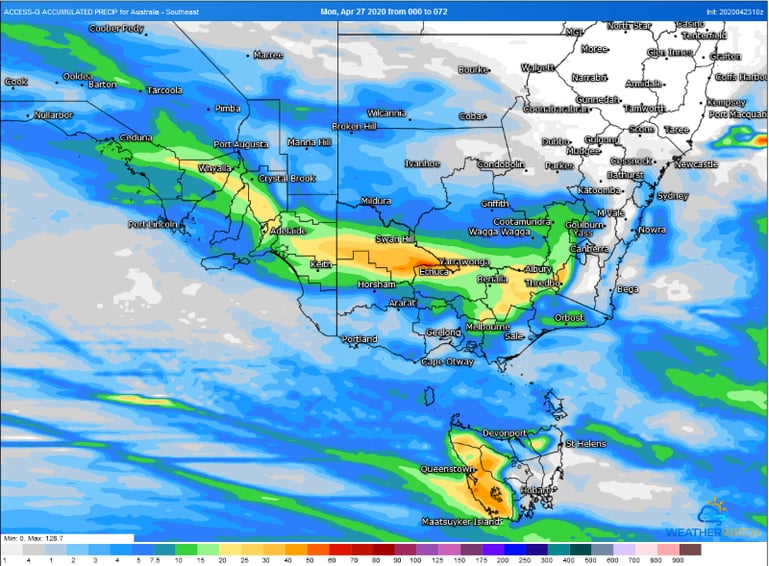 Image 1: Rainfall accumulation across the next 72 hours from the ACCESSG Model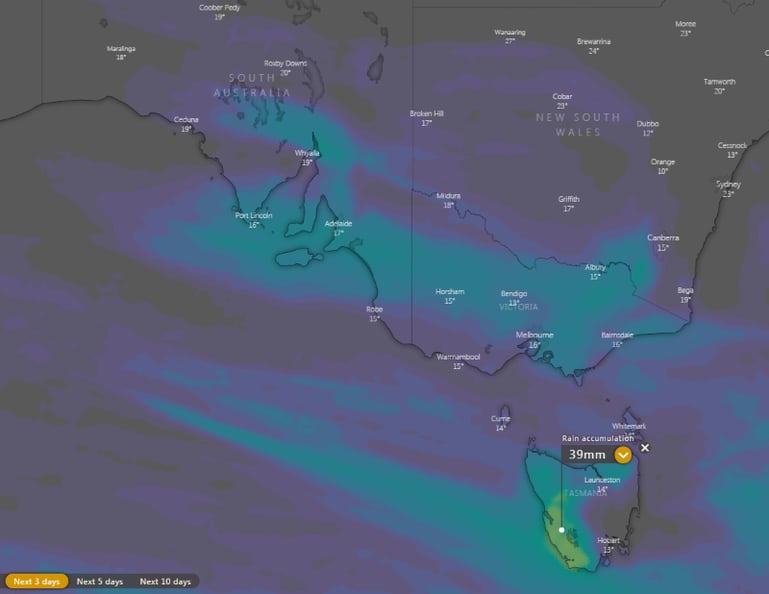 Image 2: Rainfall accumulation across the next 72 hours from the ECMWF Model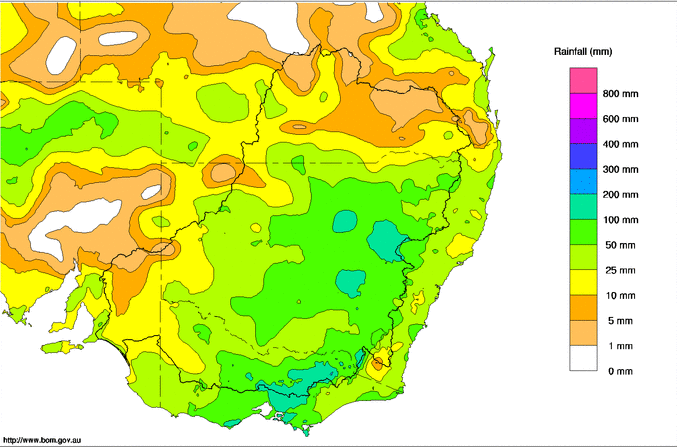 Image 3: Total rainfall to the 23rd of April, 2020 over the Murray Darling Basin
Patchy rain spreading across southeast Australia
24 April 2020
A low pressure trough and front are set to send a band of rain and showers across southeastern Australia over the weekend, topping off another wet month for the region with the Murray-Darling Basin seeing it's third consecutive month of above average rainfall.
Patchy rain and isolated thunderstorms will begin impacting far western parts of South Australia and Tasmania on Saturday morning, before spreading east as a rainband (with some areas possibly seeing brief thunder) through the remainder of SA during the afternoon and evening (except the far north), and across VIC and southern and western NSW from Sunday morning.
Many areas can expect to see falls of 5-to-10mm across the weekend, however heavier falls of 15-to-30mm are likely across parts of SA's southeast, northern VIC and the NSW Alps. Western Tasmania will see falls of 20-to-40mm, with isolated higher totals about the exposed areas. Some parts of the state are already seeing their wettest April in more than two decades.
Unfortunately not everywhere will get good rain, with large parts of north and eastern NSW, eastern TAS, southwest VIC and far southeast SA likely to miss out. However, there are good indications of some follow-up rain from mid next week as a cold blast sweeps across southeastern Australia.
---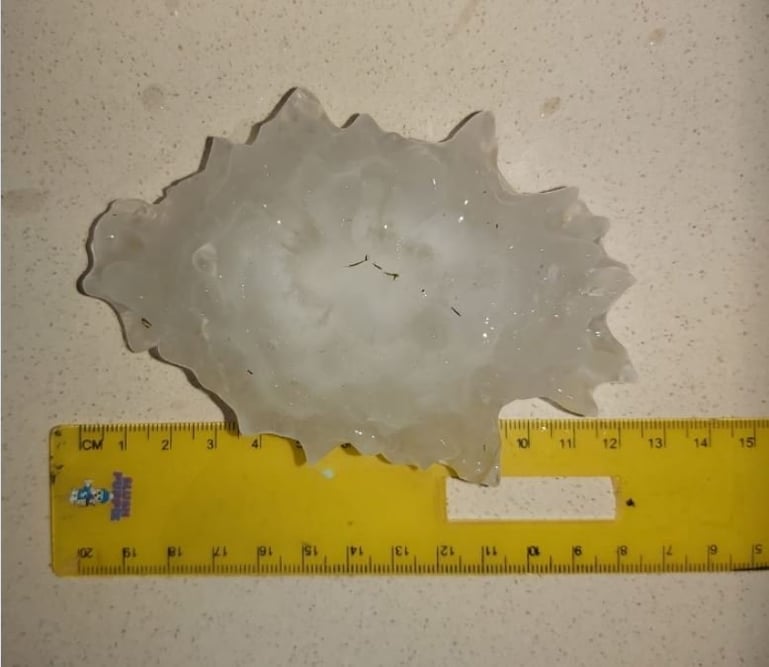 Image 1: Giant hail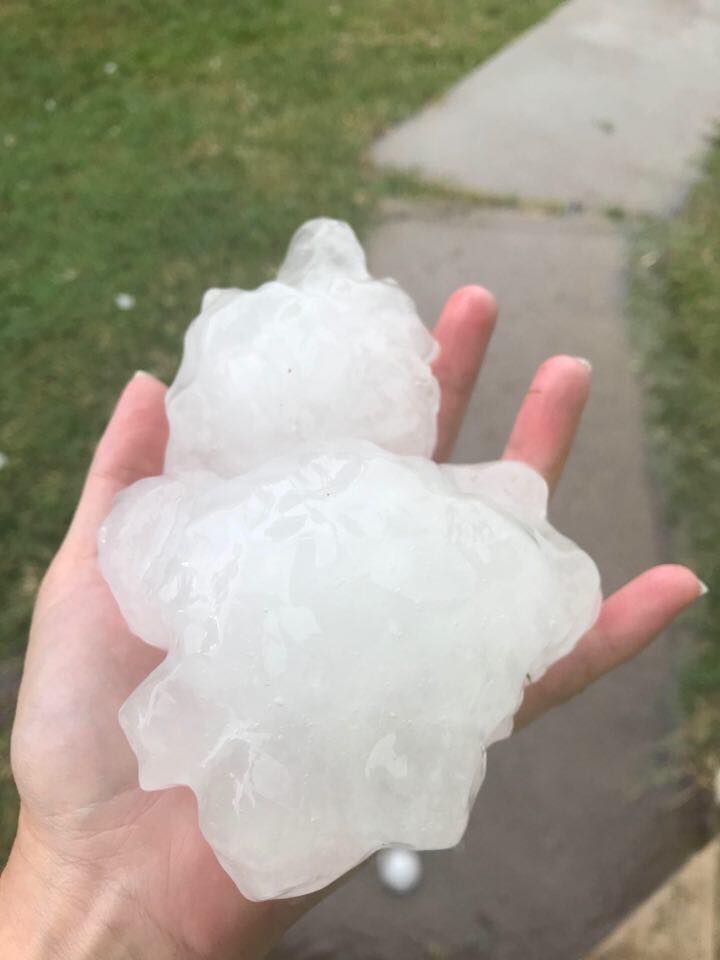 Image 2: Giant hail
Record hailstorms lash Central Queensland
20 April 2020
Destructive thunderstorms lashed parts of Central Queensland on Sunday afternoon, with numerous large to giant hail reports.
An upper trough moving across Queensland combined with a surface trough to produce scattered storm activity across central parts of the state on Sunday afternoon.
Storm activity developed across inland locations during the early afternoon, with the initial supercell hitting Biloela in the Capricorn region of Queensland. Large hail was observed with this storm, with Biloela picking up 19mm of rain in a 20-minute period.
Storm activity continued to develop and move northeast during the afternoon, with a more significant supercell moving across the Rockhampton to Yeppoon region.
Giant hail up to 12cm was recorded by locals, smashing windows and destroying cars in Yeppoon, likely making this the largest hail stones to ever fall in Queensland during April, and unofficially the largest hail to fall in the country (in April) since the Sydney hail storm of 1999.
The focus then shifted into the Whitsunday region of Queensland, with golf ball sized hail reported in Sarina at 5:40pm, before thunderstorms moved offshore in the Mackay area, leading to a spectacular lightning display.
Whilst hail isn't uncommon to see hail across these regions, the size, time of year and how far north this giant hail fell, makes an event of this nature highly unusual.
---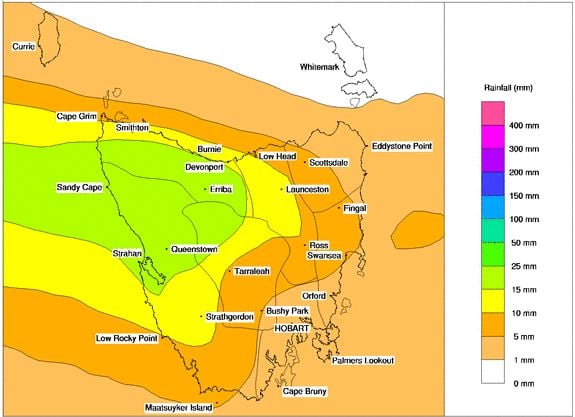 Image 1: Bureau of Meteorology forecast rainfall, Wednesday 15/4/2020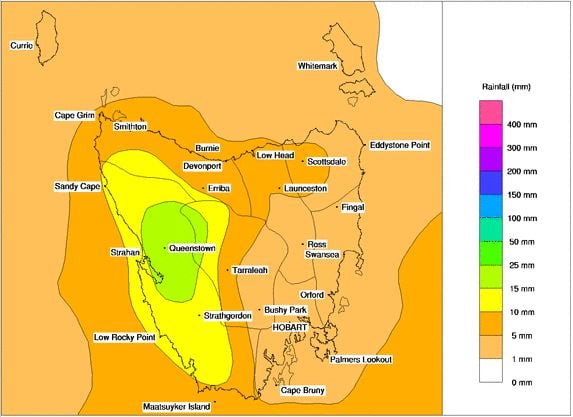 Image 2: Bureau of Meteorology forecast rainfall, Thursday 16/4/2020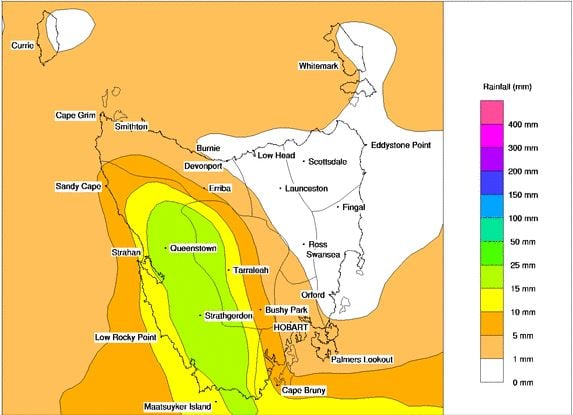 Image 3: Bureau of Meteorology forecast rainfall, Friday 17/4/2020
Wet week for western Tasmania
15 April 2020
A wet and windy end of the week is set to develop for the western half of Tasmania.
A deep low pressure system will pass to the south of Tasmania over the next few days, with a pair of cold fronts extending north across southern Australia.
These in combination, will produce a gusty to strong westerly flow across Tasmania, with scattered showers and rain periods. Falls of 20-30mm are expected over the next 72 hours, with isolated heavier falls to 80mm possible for some locations. This may lead to localised flash flooding and some minor river flooding.
Westerly winds will strengthen across the region during Thursday, with gusts approaching 70km/h, before a stronger burst of westerly winds develops with the passage of the secondary cold front Friday morning. Locally damaging gusts to 90km/h may develop with this secondary front, particularly for exposed coastal locations and elevated terrain.
Light snow flurries may develop for elevated regions above 1200m on Friday and into Saturday, as a cold airmass moves across Tasmania.
Conditions will persist into Saturday, before gradually easing during Sunday as a ridge of high pressure moves across southern Australia. A few showers will persist across the west coast, with lighter westerly winds.
---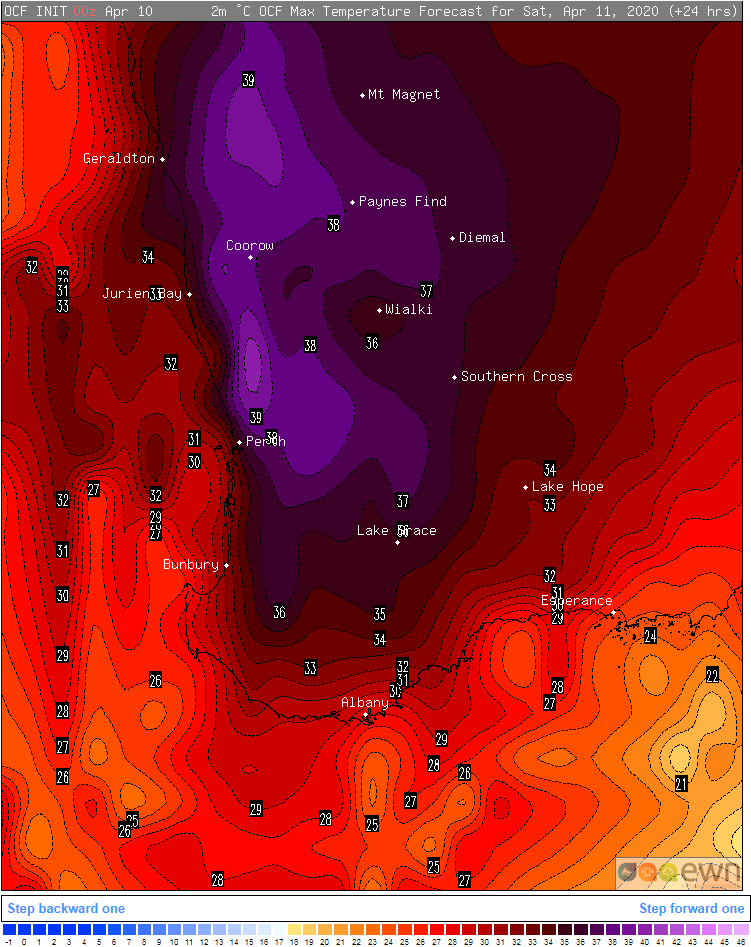 Image 1: OCF Forecast maximum for Saturday 10 April, 2020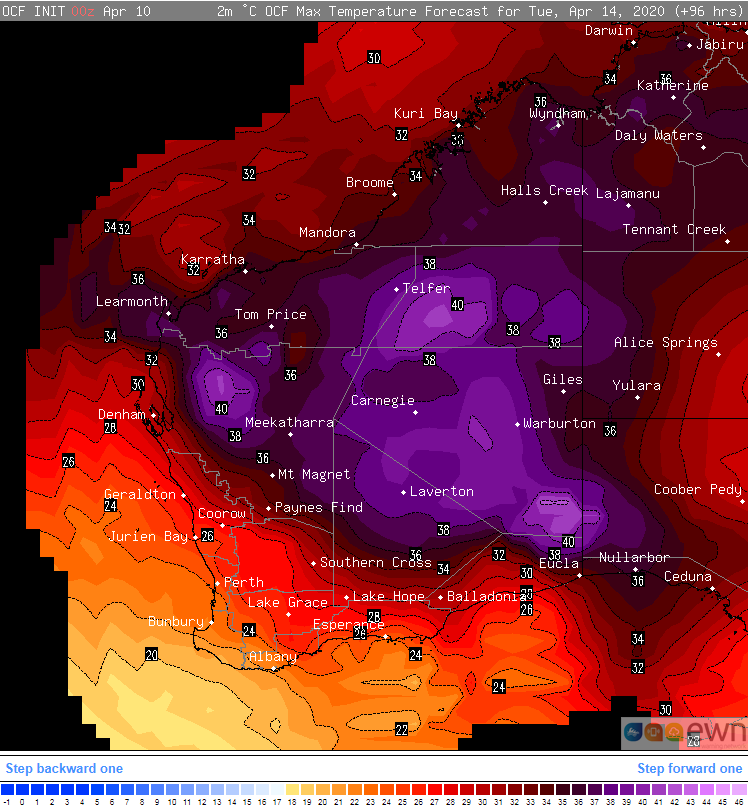 Image 2: OCF Forecast maximum for Tuesday 13 April, 2020
Record April heat affecting southwest WA this Easter
10th April 2020
Parts of southwest Western Australia are in the middle of what is likely to end up as the hottest run of days on record for April, as temperatures soar into the mid to high 30s on Friday and Saturday.
A low pressure trough lying down the west coast is filtering heat down from the north of the country, and due to a lack of frontal systems has been stagnating allowing warmth to persist throughout the week.
Perth has already seen four consecutive days in excess of 30 degrees, with Friday and Saturday set to get even hotter as temperatures reach into the mid 30s. Saturday is expected to be the hottest day with a forecast top of 37 degrees, challenging the record of 37.6 degrees set in 1910. However, by this stage Perth would have seen its hottest six spell on record for April.
Further inland, the peak of the heat will between Sunday and Tuesday. Kalgoorlie will soar to 36 degrees on Sunday and 37 degrees on Monday, while Gascoyne Junction will reach 39 degrees on Sunday and possibly crack 40 degrees on Monday. Laverton is forecast to reach 39 degrees on Tuesday, only a degree shy of the April record set in 1957.
Weak frontal activity will bring cooling to the southwest (including Pertth) from Sunday, however a stronger front will flush the heat out properly from mid next week, dropping temperatures down into the high teens or early 20s.
---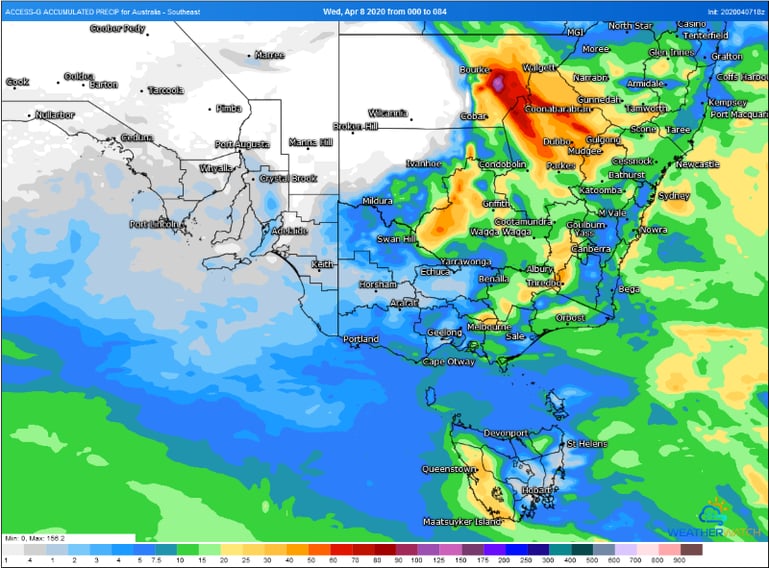 Image 1: Accumulated precipitation over southeast Australia until 4pm EST Saturday 11th April, 2020. Source: Weatherwatch Metcentre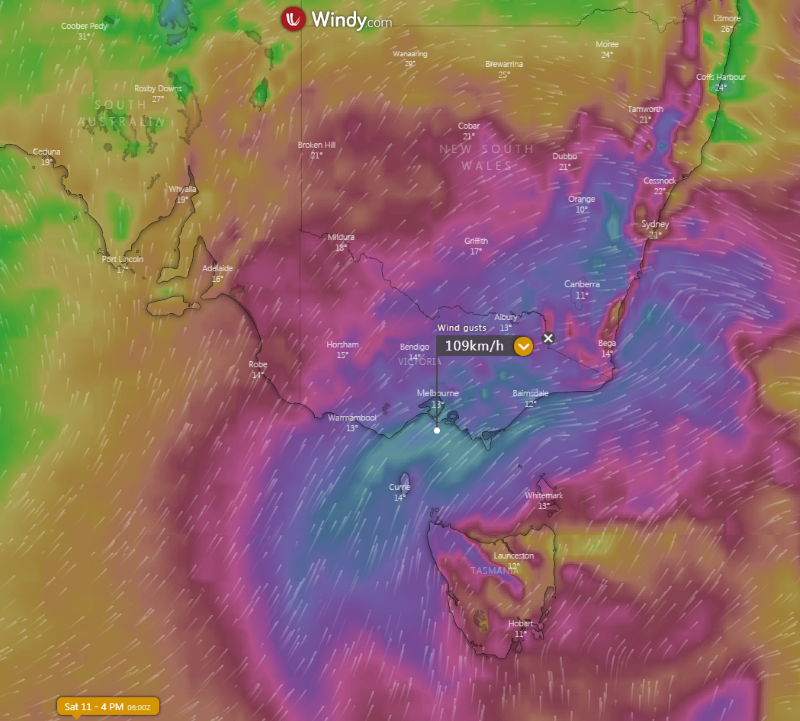 Image 2: Forecast wind gusts across southeast Australia at 4pm EST Saturday 11th April, 2020. Source: Windy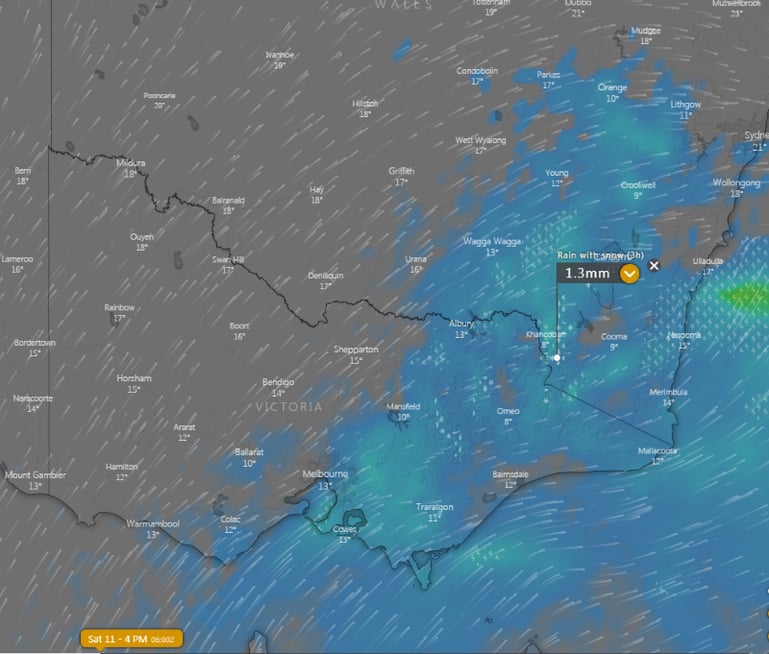 Image 3: Forecast rain and snow at 4pm EST Saturday 11th April, 2020. Source: Windy
Easter set to bring more rain, wind and snow for southeast Australia
8th April 2020
Easter 2020 might be a good one when it comes to social distancing and being homebound as a vigorous cold front is set to bring cold, wet and windy weather to Australia's southeast from Friday to Sunday.
On Friday, rain and possible thunderstorms are set to develop across New South Wales, northern Victoria and far southern Queensland as a low pressure trough ahead of the cold front is fed by humid northerly winds.
Across parts of NSW widespread falls of 5-to-10mm are likely, however some central and northern areas on and west of the divide are likely to see totals in excess of 20-to-30mm (with isolated falls in excess of 50mm possible), providing fantastic follow up rain to those seen early in the month and in early March.
This trough will be pushed offshore on Saturday as the cold front approaches causing rain to clear these regions, however this will send a burst of showers, snow, localised thunder, small hail and strong winds across TAS, VIC and southern NSW.
Parts of western TAS, eastern VIC and NSW alpine areas will also see widespread falls of 5-to-10mm, with isolated falls in excess of 20-to-30mm. This rain is expected to fall as snow as low as 800-900 metres across parts of TAS, VIC and NSW, with showers also expected to be associated with small hail across other areas, including Melbourne.
Widespread wind gusts of 80-100km/h are expected across many parts of TAS, VIC and NSW on Saturday (with these strong gusts likely to extend as far north as NSW's Northern Tablelands), with more exposed coastal and alpine parts possibly seeing gusts reaching 100-120km/h, bringing the potential for damage.
In contrast to further south, those ahead of this front over central east NSW, northern NSW and into QLD will see balmy weather, with temperatures reaching 27 degrees on Saturday in Sydney and 30 degrees in Brisbane, before cooling down on Sunday.
By Sunday, a ridge of high pressure will cause significant easing of conditions across southeastern Australia, although temperatures are expected to remain cool.
Monday is expected to bring the sunniest and calmest conditions of the long weekend, as a large high resides over the region.
---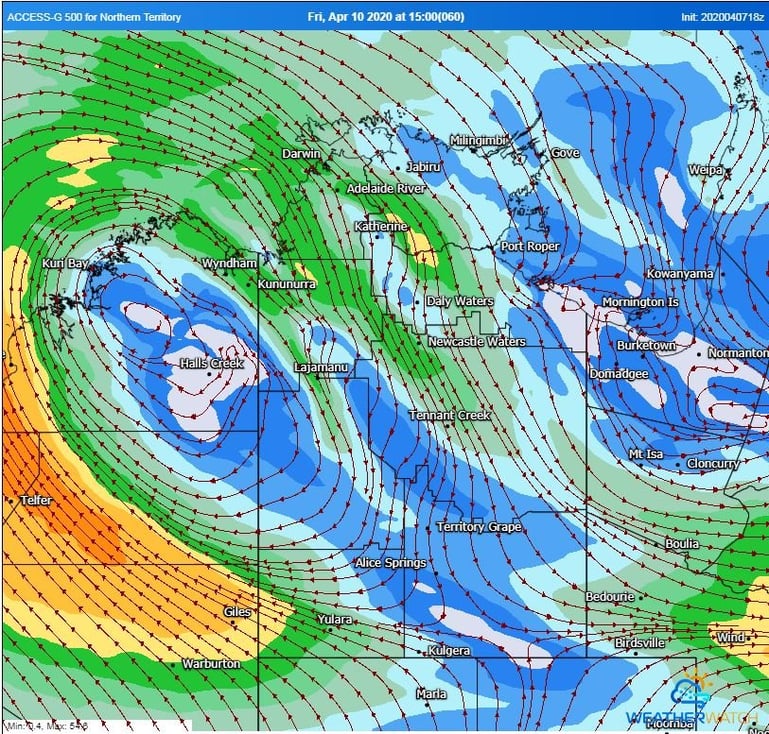 Image 1: Upper low over northern WA Friday afternoon. Image via WeatherWatch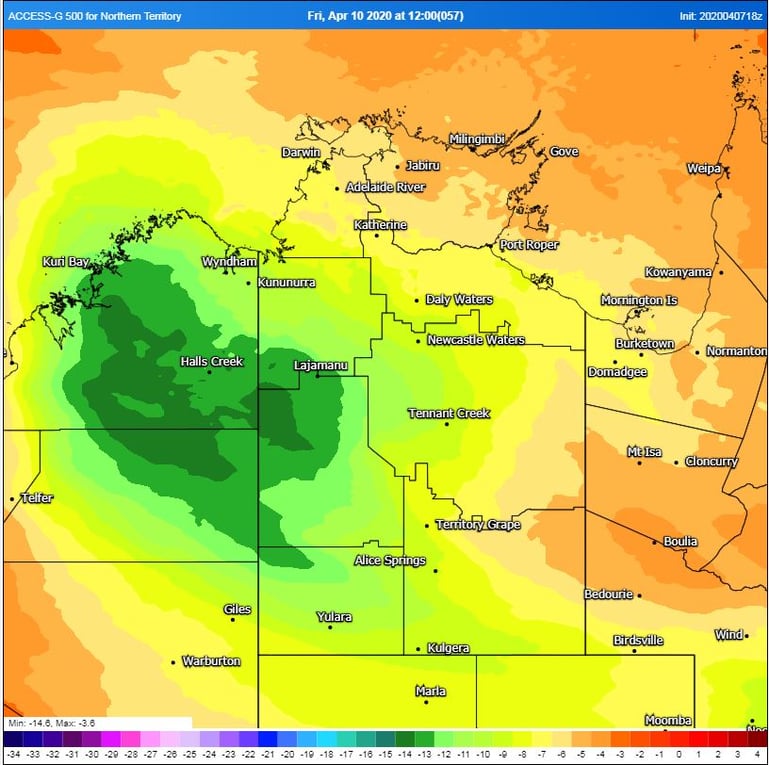 Image 2: 500mb level temperatures across northern WA Friday afternoon. Image via WeatherWatch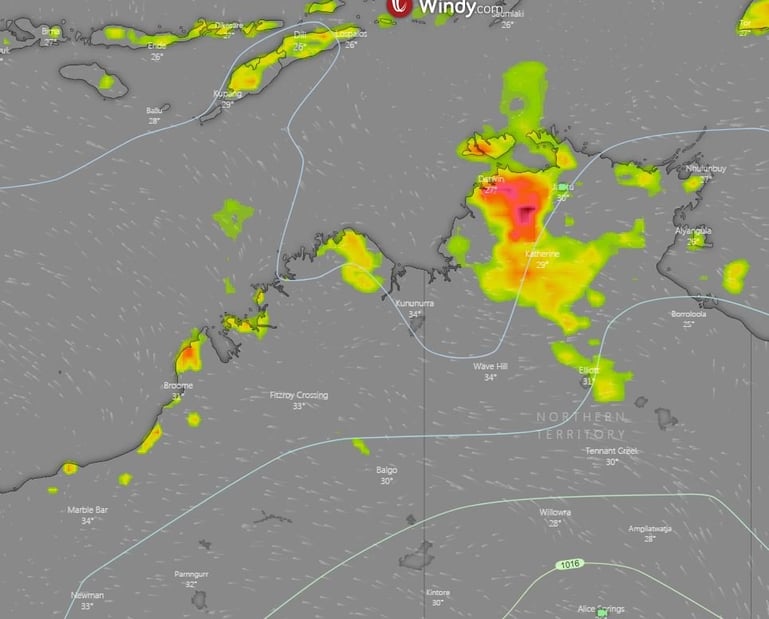 Image 3: Storm potential map, Thursday afternoon. Windy.com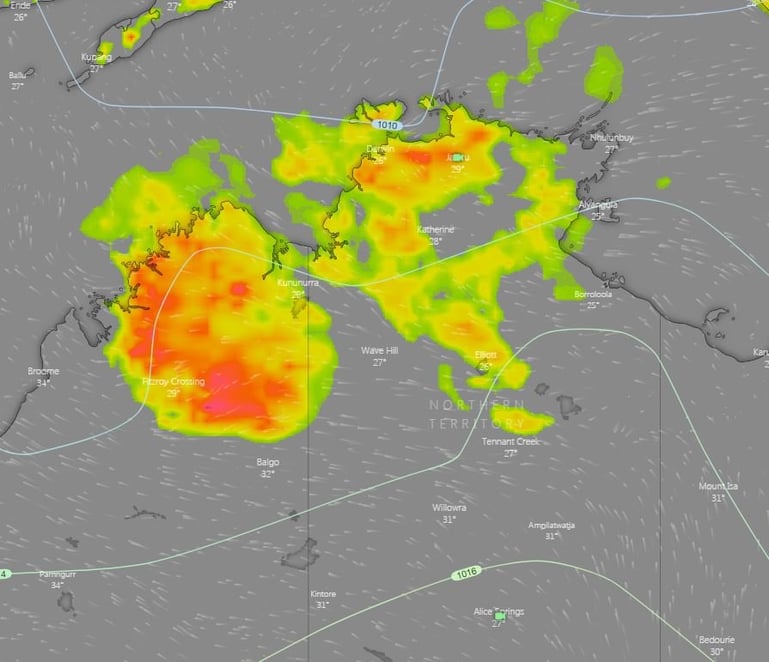 Image 4: Storm potential map, Friday afternoon. Windy.com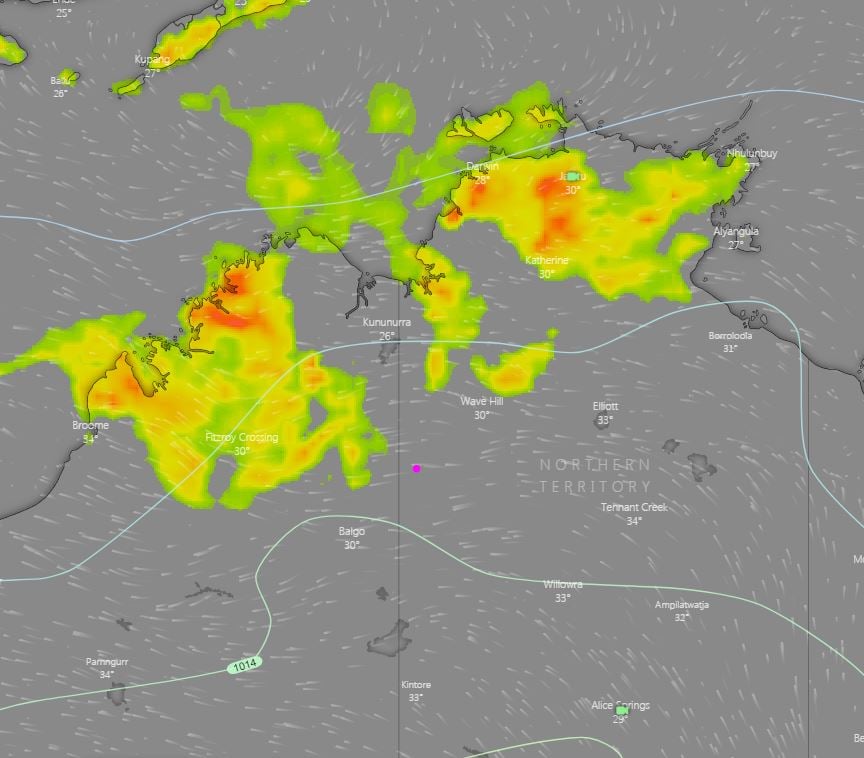 Image 5: Storm potential map, Saturday afternoon. Windy.com
Burst of late season storms for northern Australia
8th April 2020
Northern Australia is set to see a late season storm outbreak this week, as an unusual weather event develops across the region.
An upper level low will break off from an upper trough across southern Australia and drift northwest over the next 48 hours. This will cause this system to be effectively cut-off from the main belt of westerly winds that traverse around the globe, and an upper low reaching this far north is not a common occurrence.
As this upper low drifts northwest, moisture will increase through the mid-levels of the atmosphere. Southeasterly winds will spread from Queensland into the Northern Territory, further enhancing moisture and instability for the Northern Territory and Western Australia.
Upper lows are notorious for producing severe weather, and when cold air aloft interacts with warm surface temperatures and moisture, it often triggers severe weather events, including severe thunderstorms.
Thunderstorm activity will develop across these regions during Wednesday afternoon, increasing across the Top End on Thursday, before spreading in the Kimberley region of WA on Friday and Saturday.
A few thunderstorms are likely to become severe from Thursday through until Saturday, with damaging winds and very heavy rainfall that may lead to flash flooding. Small hail may develop across northern WA and western parts of the NT, particularly on Friday as very cold air aloft interacts with warm surface temperatures helping to generate steep lapse rates (or rapid cooling with height through the atmosphere), along with the presence of strong wind shear.
Whilst this type of weather phenomenon is unusual across northern Australia, particularly this late in the season, it may provide a nice late season hit of rain for some regions before the dry season begins.
---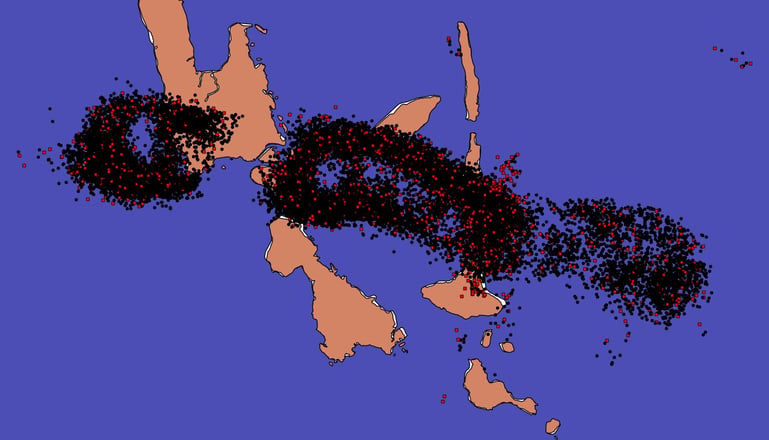 Image 1: Vaisala Group GLD360 lighting detection over 24 hours near Vanuatu - April 6th, 2020
Tropical Cyclone Harold impacts the Solomon Islands and Vanuatu
Tuesday, 7th April 2020
Severe Tropical Cyclone Harold is the strongest cyclone to strike Vanuatu since 2015?s tropical cyclone Pam, which also produced wind gusts of 265km/h sustained and resulted in an estimated $380 million in damage.
The hardest hit parts over the past 24-48 hours have been parts of Pentecost Island near the community of Bunlap. The island has a population of nearly 17,000 and suffered a direct hit from the cyclonic eyewall which featured winds topping 257 km/h, a potentially devastating storm surge from surrounding waters, torrential rainfall and a frequent lightning within the eyewall/core.
The rapid intensification of Severe Tropical Cyclone Harold, Category 5, was partly due to unusually warm sea surface temperatures and a reduction in the amount of wind shear in the atmosphere.
Wind shear is a change of wind speed or direction with height, therefore an abundance of shear can tear apart or disrupt a tropical storm or tropical cyclones cyclonic circulation, while the absence of shear can encourage episodes of significant strengthening. Water temperatures in and around the Solomon Island and Vanuatu are up to 1.5° above average at time of the event.
After exiting Vanuatu, Severe Tropical Cyclone Harold is forecast to remain over mainly open waters of the South Pacific though Tuesday, after which the cyclone could skirt Fiji. Severe Tropical Cyclone Harold is expected to retain a Category 4 status over the next 24 hours, however a downgrade to a Category 3 system is possible by tomorrow night, with a Category 2 storm forecast into Thursday and Friday.
What are the categories and what are the wind speeds associated with Tropical Cyclones?
Category 1 cyclones produce mean winds to 34-47 knots with a central pressure greater than 985hPa. Category 2 cyclones produce mean winds to 48-63 knots with a central pressure between 985-970hPa. Category 3 tropical cyclones produce mean winds between 64-85 knots with a central pressure between 970-945hPa. Category 4 cyclones produce mean winds speeds between 86-107 knots with a central pressure of between 945-910hPa. The most damaging and dangerous of all are Category 5 cyclones which produce mean winds greater than 107 knots with a central pressure less than 910hPa.
As tropical cyclones are 'a ring' of tall persistent thunderstorms in circulation, many lightning strikes were recorded associated with Severe Tropical Cyclone Harold, with the GLD360 detecting more than 23,000 lightning events, 21,470 intercloud pulses and 2,396 cloud-to-ground lightning strikes.In the images provided below, intracloud pulses are denoted with black dots, with the cloud-to-ground lightning stokes recorded with red squares.
---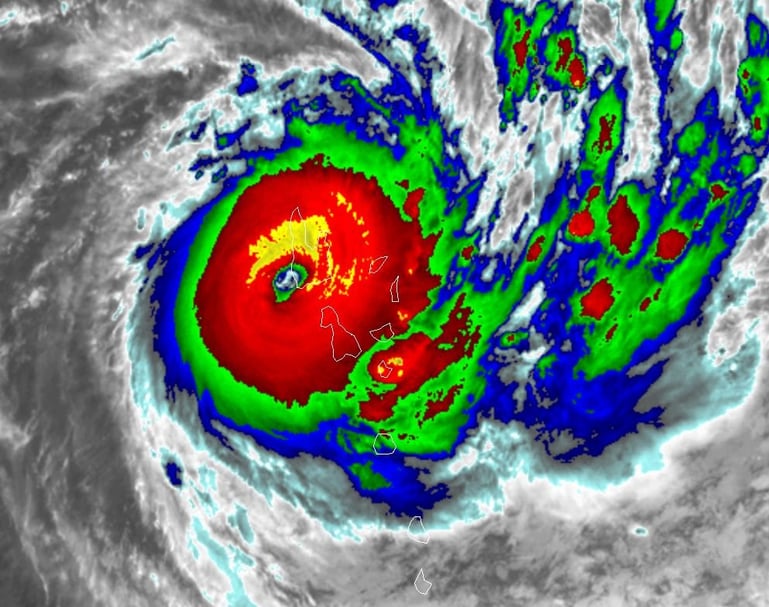 Image 1: IR CIRA RAMMB Slider satellite imagery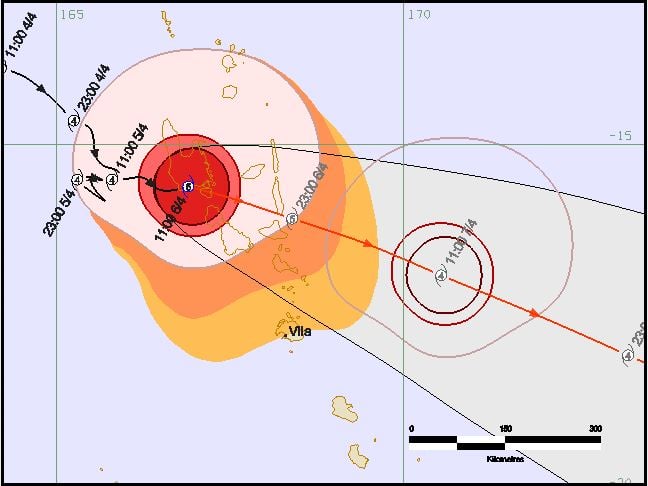 Image 2: Tropical Cyclone forecast track via Vanuatu Meteorology and Geo-Hazards Department
Vanuatu bracing for Severe Tropical Cyclone Harold
6th April 2020
Whilst the majority of Australia will experience a quiet week on the weather front, the South Pacific island chain of Vanuatu is bracing for impact from Severe Tropical Cyclone Harold.
AT 11am Vanuatu local time, Harold, currently a severe category 5 system with maximum wind gusts to 235km/h was crossing the west coast of Santo and roughly 35km west southwest of Luganville.
During the next 24 hours, Harold is expected to move steadily in a southeasterly direction and weaken slightly to a category 4 system whilst affecting the islands of Malekula, Malo, Paama, Lopevi, Ambae, Maewo, Pentecost, Ambrym and Epi as a category 4 system.
Port Villa on the island of Efate and the capital of Vanuatu will be spared a direct hit from this small but intense cyclone. However, locally damaging winds to 90km/h and heavy rainfall are expected to develop on Efate, particularly across the east coast of the island.
---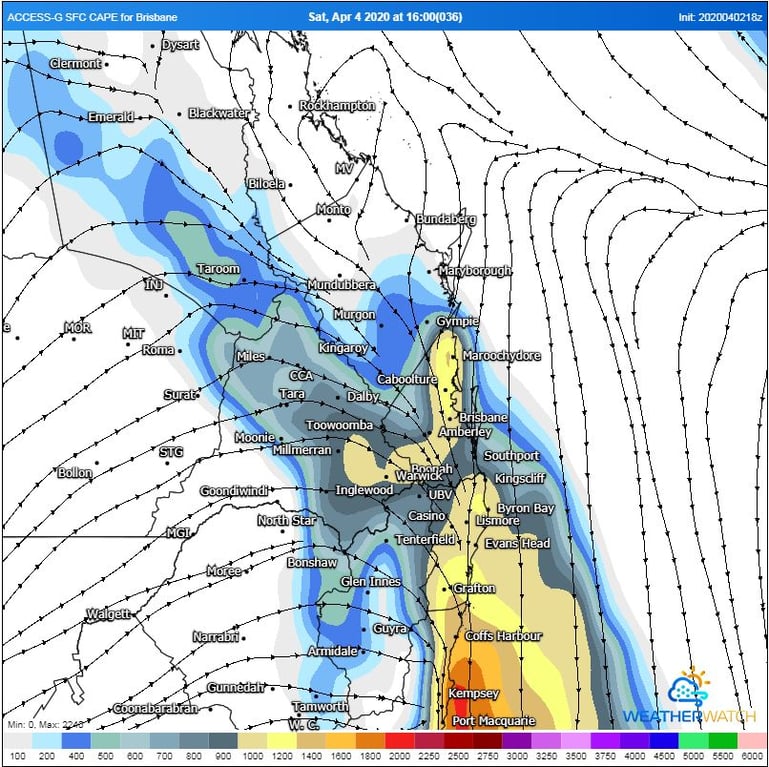 Image 1: CAPE forecast, 4pm for SE QLD/NE NSW 4 April, 2020. Image via WeatherWatch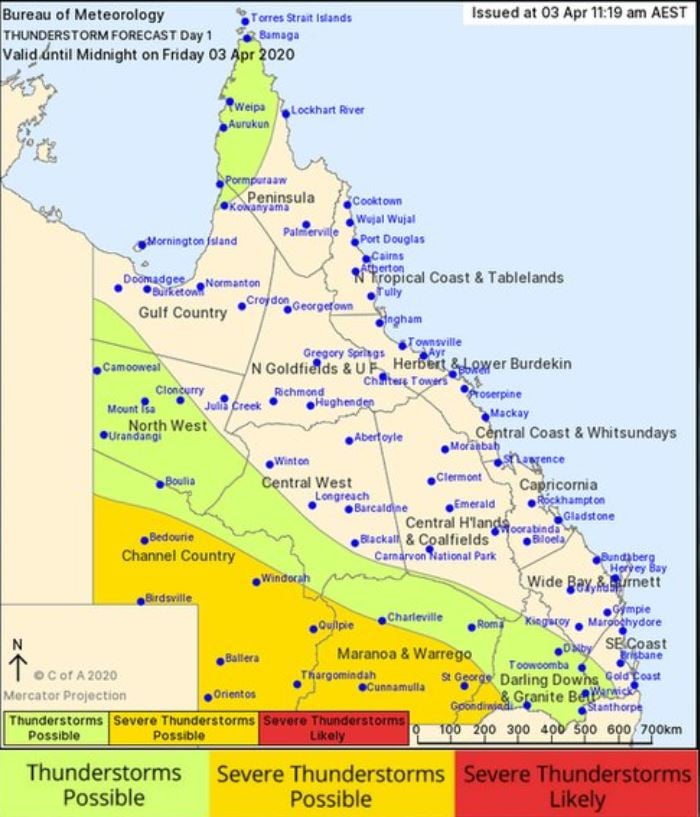 Image 2: BoM QLD storm forecast map 3/04/2020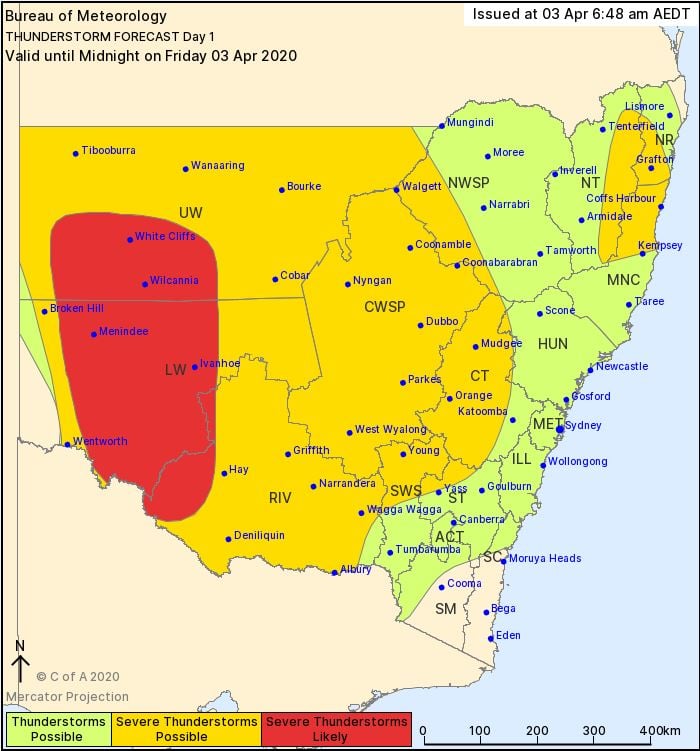 Image 3: BoM NSW storm forecast map 3/04/2020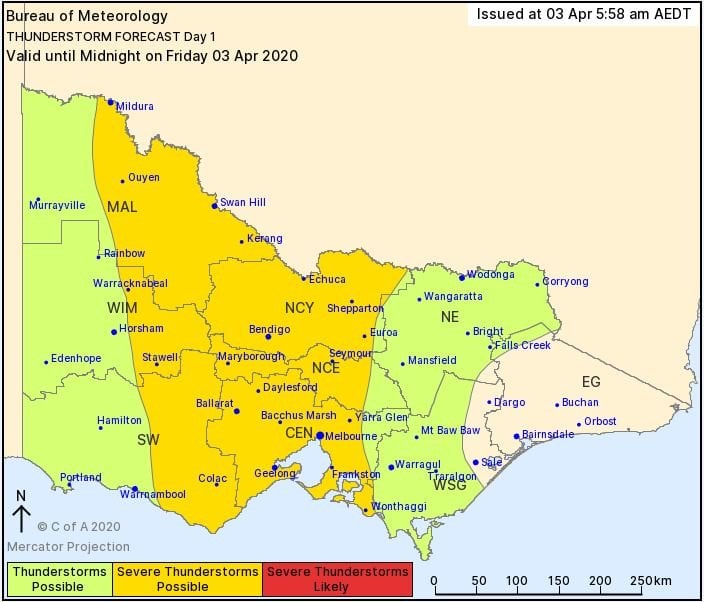 Image 4: BoM VIC storm forecast map 3/04/2020
Storms looming for southern QLD and northern NSW
3rd April 2020
Widespread storm activity is likely to develop for parts of Victoria, New south Wales, inland Queensland, Northern Territory, South Australia and western Tasmania during Friday afternoon. This activity will steadily contract into South Eastern Queensland and northeastern New South Wales during Saturday.
A broad upper trough, deepening surface trough and vigorous cold front will generate scattered showers, storms and rain periods across inland QLD, NSW and Victoria during Friday afternoon. Favourable wind shear will support organised thunderstorm updrafts, with a few severe thunderstorms expected and capable of producing damaging winds, bursts of heavy rain and the potential for large hail, particularly across southern inland NSW and western-central VIC.
Across western-central VIC, a secondary band of strong storm activity may develop this evening, as a vigorous cold front sweeps across the region, with damaging winds (locally destructive) and bursts of heavy rain.
Damaging wind gusts are expected in the wake of this front, with severe weather warnings now current for southeastern parts of SA, coastal and Alpine regions of VIC and NSW. Gusts of up to and exceeding 90km/h are expected, with conditions gradually easing for SA during Saturday.
During Saturday, the focus for storm activity will shift into northern NSW and southern and central parts of QLD. Whilst favourable wind shear will support severe storm activity, cloud cover may inhibit stronger instability across southern QLD, limiting the overall severe threat.
However, at least a few strong storms are expected, potentially severe with damaging winds possible across parts of the Darling Downs and SE QLD. Should cloud cover be limited and strong instability does develop, large hail will become possible with severe storms across these regions. In central and northern NSW, severe storm activity is expected during Saturday, with intense localised rainfall and damaging winds the primary threat, although the potential for large hail will exist should organised thunderstorms develop.
Overnight Saturday and into Sunday, this trough will shift off the east coast, with drier southwesterly winds across inland parts of the country leading to fine and cooler conditions for NSW and QLD.
Damaging winds gusts will likely persist into southern NSW and VIC during Sunday, with scattered showers and small hail expected for coastal regions of SA, VIC and TAS. Snow fall of up to 10cm is possible across Alpine regions of TAS, whilst a dusting of snow is possible for Alpine regions of VIC and NSW during Sunday morning.
---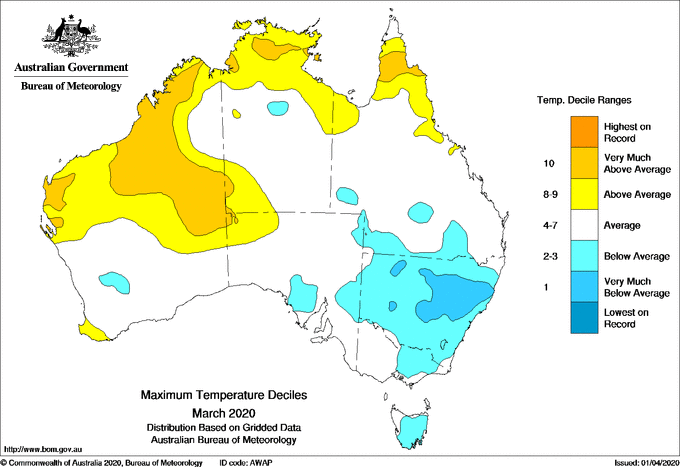 Image 1: Maximum Temperature Deciles across Australia during March 2020
Image 2: Rainfall Deciles across Australia during March 2020
Image 3: Rainfall outlook for April
March weather wrap: A mixed bag for Australia
2nd April 2020
March 2020 was a mixed bag across Australia, as many parts of the southeast had cooler and wetter conditions than average, whilst the tropical north continued to be warmer and drier than usual.
Whilst rainfall was 15% below average across the nation as a whole, this varied considerably in different parts of the country.
The beginning of the month started with wet conditions due to ex-tropical cyclone Esther, with a variety of locations across the Northern Territory, Queensland, Victoria, Tasmania and New South Wales experiencing daily rainfall records with the system. At Fowlers Gap in NSW, 120.8mm fell in just 24 hours on the 4th of March (with most coming down in a few hours), which was more rain than the 2018 and 2019 combined.
This meant a band stretching from the WA Kimberley through the southern NT, southwest QLD, western NSW, northern VIC and northern TAS saw rainfall that was above to very much above average for the month, with parts of northern TAS seeing their wettest March on record.
For the Murray-Darling Basin, this was the second consecutive month of above average rainfall (area average 57.9mm, long term average 38.6mm), which was the first time this has happened since 2017.
Meanwhile, many parts of the tropics (such as northwest WA, the NT Top End and northern QLD) as well as eastern QLD and into northeast NSW saw rainfall that was patchy at best, with most areas seeing falls that were average to below average (with some localised areas seeing their driest March on record). Below average to well below average totals also affected southeast SA and parts of southern VIC.
Temperatures were also notably varied across the country, although overall temperatures were 0.67 degrees above average. Many parts of the southeast recorded below average temperatures for the month, particularly maximum temperatures. This was particularly pronounced in NSW where maximum temperatures were 1.19 degrees below average, the coolest March since 2012. However, the north and northwest of the country was warmer than usual, particularly in WA where temperatures were 1.23 degrees above average, with night time temperatures the 10th warmest on record.
Looking ahead, April is expected to be wetter than average across large parts of the country. Temperatures will remain warm in the north and east, but trend cooler than average elsewhere.
---
Subscribe Today To Our Newsletter