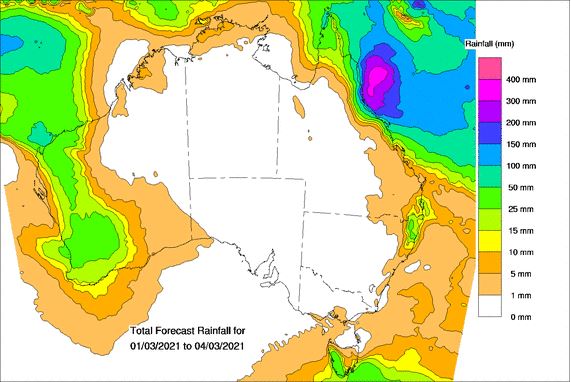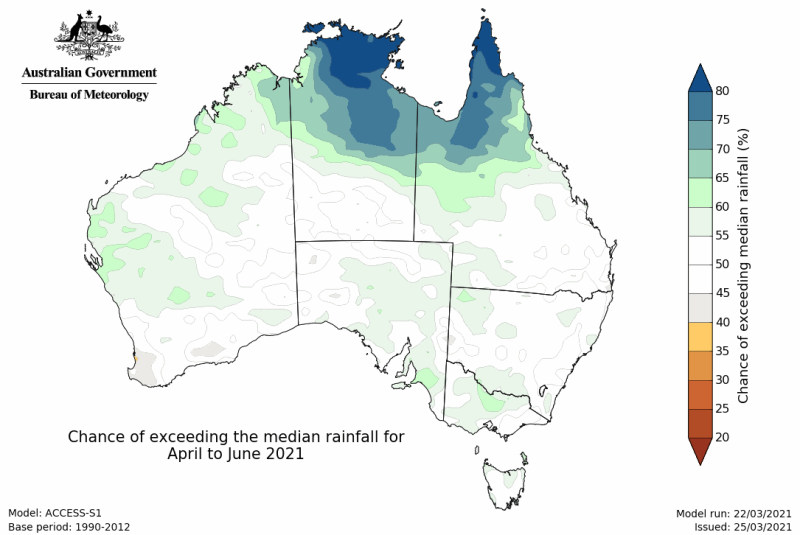 Image 1: Rainfall outlook from April to June (Source: Bureau of Meteorology)
Looking even further ahead there are some indications from around mid winter a negative IOD event may develop. Negative IOD events tend to bring wetter conditions to large parts of Australia during winter and spring, with the last significant negative IOD event in 2016. ENSO is expected to stay neutral until at least early spring, although some models are indicating a shift towards La Nina conditions once again mid to late spring. With this a number of months away it is hard to lock anything in, but it looks unlikely we will shift back into El Nino conditions this year.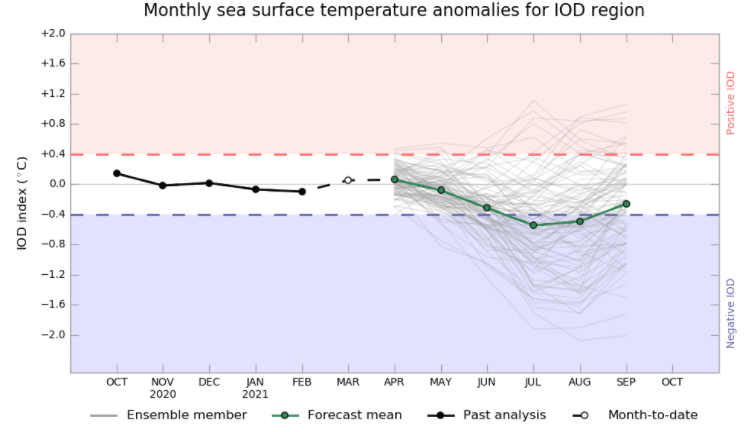 Image 2: Indian Ocean Dipole Outlook (Source Bureau of Meteorology)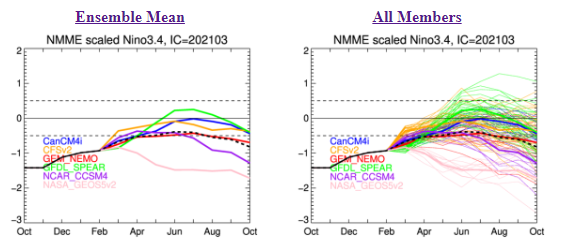 Image 3: Nino3.4 (ENSO) outlook from NOAA (Source: https://www.cpc.ncep.noaa.gov/products/NMME/current/plume.html)
La Nina is over - so what is ahead for Australia?
Wednesday 31st March 2021
La Nina was officially declared over yesterday by the Bureau of Meteorology as sea surface temperatures in the tropical Pacific Ocean returned close to normal, so what is the outlook ahead for Australia over the coming months?
The La Nina event, which started in September 2020 has helped bring above average rainfall for large parts of the country over the last six months (with the exception of November), as well as contributing significantly towards the nation's coolest summer in nine years.
El Nino Southern Oscillation (ENSO) events tend to break down later in summer and autumn, as we have seen so far this year. So with a return to neutral conditions, what weather can Australia expect to see for the remainder of autumn and into winter?
Most model outputs suggest that a neutral ENSO state is likely for the remainder of autumn and winter. This means ENSO is likely to have little impact on the nation's weather for the coming months, with the Madden-Julian Oscillation (MJO), Southern Annular Model (SAM) and Indian Ocean Dipole (IOD) likely to influence the weather more.
While the IOD and SAM are currently neutral, a moderate MJO pulse will play the biggest role in the nation's weather in the coming weeks, with a pulse expected to bring increased rainfall across the north and potentially east of the country over the next couple of weeks. However, over the next two to three months, there are no clear indications of wetter or drier conditions due to neutral climate drivers.
---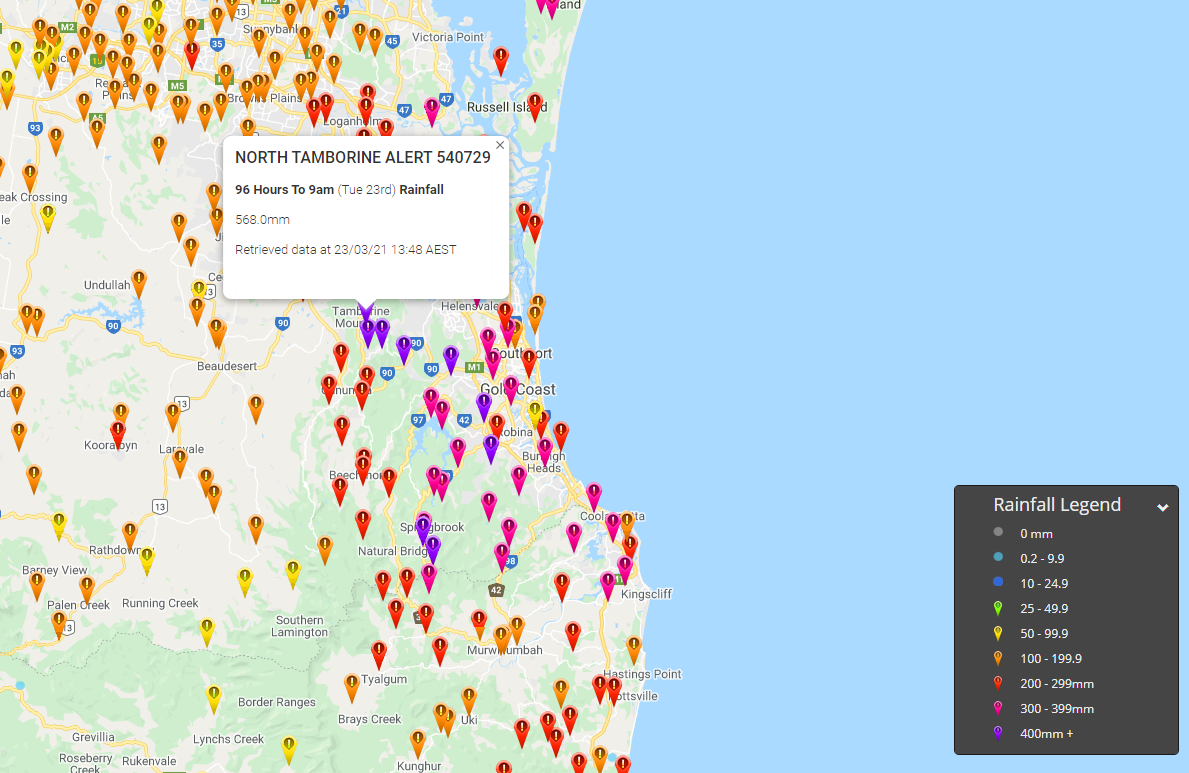 Image 1: 96 hour rainfall totals to 9am Tuesday 23th March 2021. Images via EWN.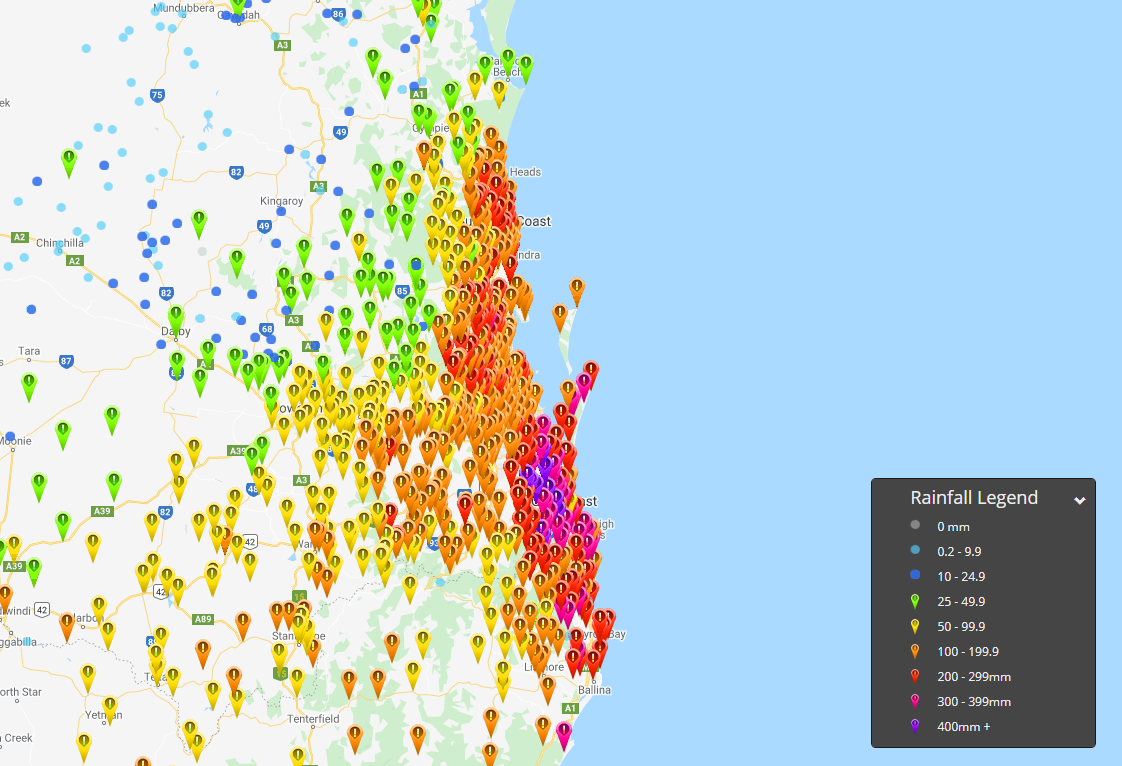 Image 2: 96 hour rainfall totals to 9am Tuesday 23th March 2021. Images via EWN.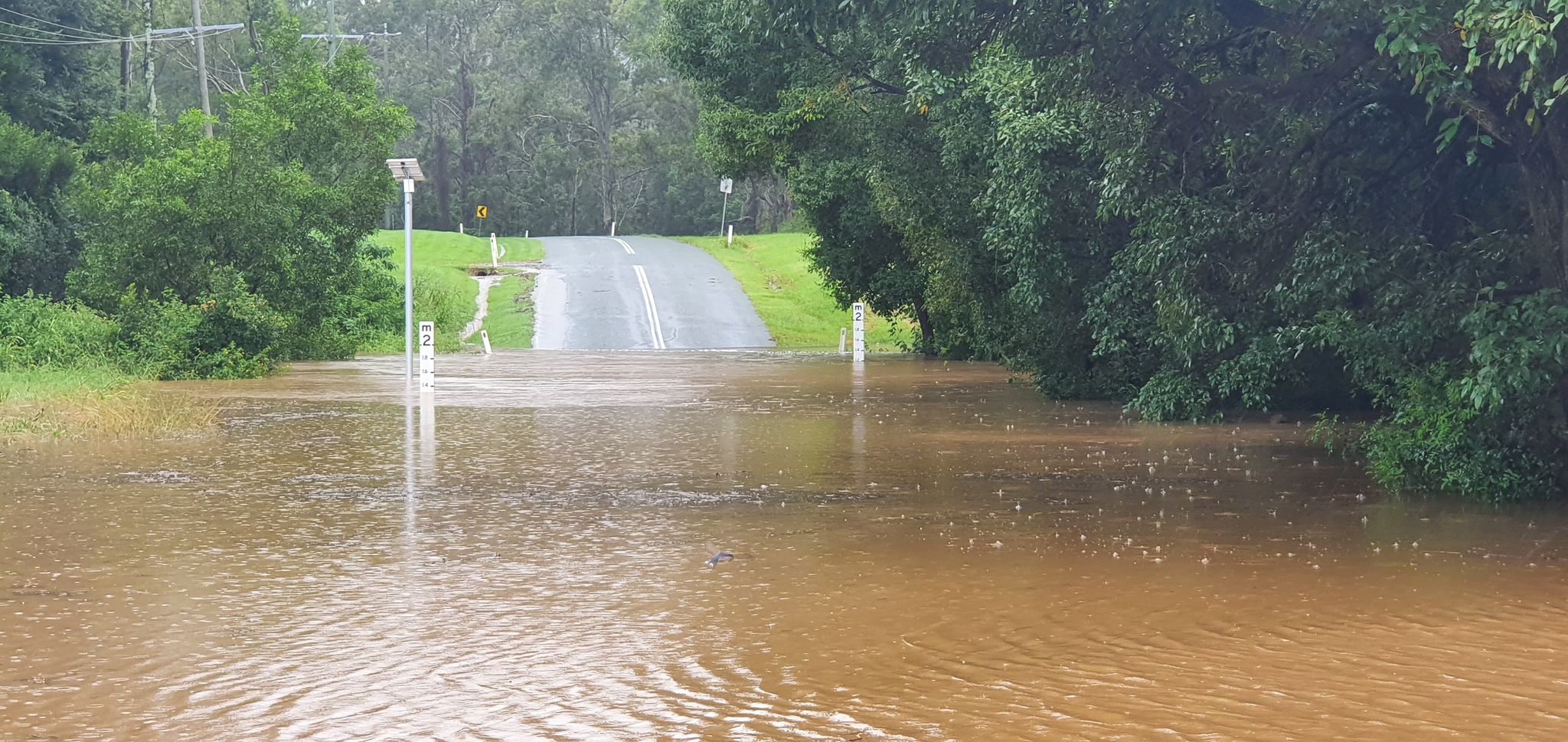 Image 2: Flood waters rise along the Alber River. Image via EWN's Justin Noonan
Major flooding continues for parts of Southern Queensland
Wednesday 24th March 2021
Southern parts of South East Queensland have felt the full brunt of two significant weather systems over the last several days, with extremely heavy rainfall leading to major flooding for some locations.
Whilst the rain cleared overnight, and the first glimpse of sunshine appeared for several days, the damage is well and truly clear for residents along the Albert, Logan, Coomera and Bremer Rivers.
Widespread falls of between 100-500mm have occurred across the already saturated catchments of South East Queensland, with rivers and creeks responding rapidly to heavy falls. North Tamborine bore the brunt of the rainfall with 568mm in the past 96 hours, with 492mm recorded in a 48hr period. The usually tame creeks turned into violent rapids, hurling a wall of water in the Coomera and Albert Rivers.
The Albert River has peaked close to 8m this morning at Wolfdene (just below moderate) with the Logan River reaching major flood levels at Beaudesert, with a major flood level of 16m expected at Maclean Bridge this afternoon or evening. This is well below the recorded peak of 20.50m recorded back in 2017 thanks to ex Tropical Cyclone Debbie.
Moderate to major flooding continues across the Bremer, Warrill and Laidley Creeks with the Bremer peaking at Ipswich this morning (7.20m) and is now steadily falling. Along the Nerang and Coomera Rivers, conditions are gradually easing with flood peaks now easing back below the moderate level and continuing to fall.
Sadly, most of the significant rain missed the major catchments for Brisbane, with Wivenhoe Dam currently sitting at 37.1% capacity however Sumerset sits at 78.1%.
Thankfully, the sunshine has returned today with conditions expected to remain warm and dry for the next several days, giving residents a chance to clean up and conditions to steadily dry out.
---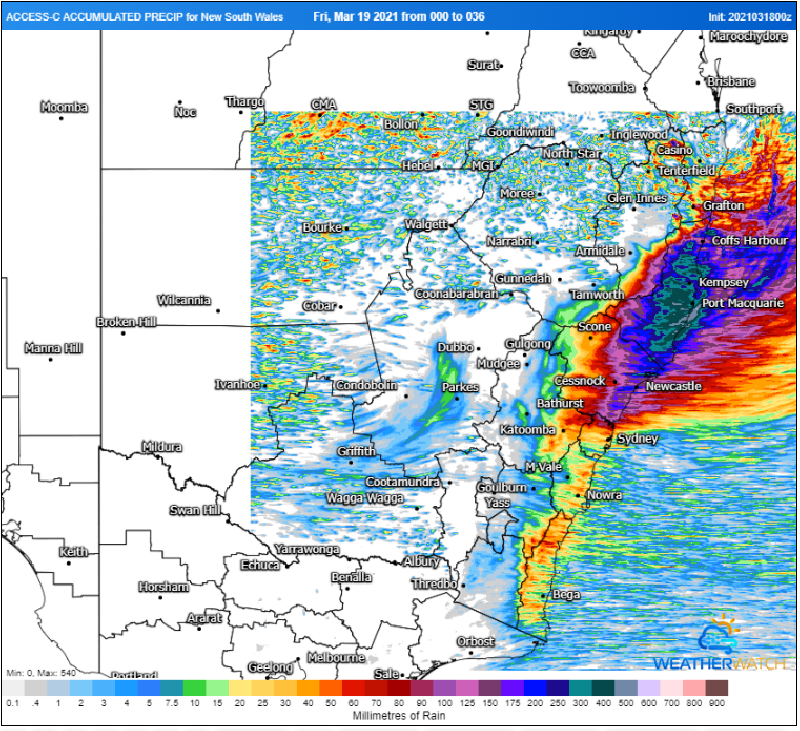 Image 1: Rain accumulation over the next 36 hours from the ACCESSC Model (Source: Weatherwatch Metcentre).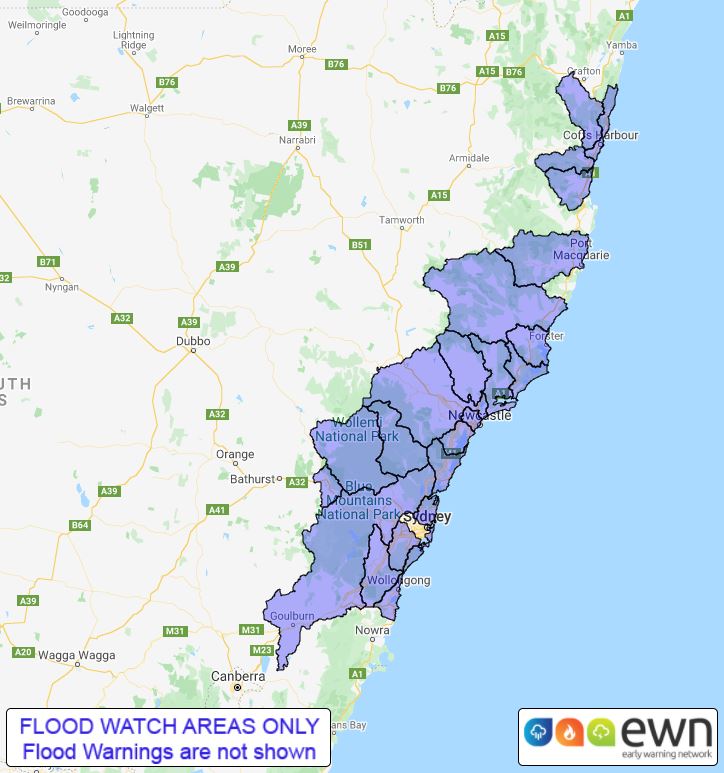 Image 2: Flood watch area, issued by the Bureau of Meteorology on Thursday 18th March, 2021
Dangerous and life-threatening flash flooding for the NSW Coast
Thursday 18th March 2021
Torrential rain is likely over parts of the New South Wales coast over the next few days, with warnings for dangerous and life-threatening flash flooding and moderate to major riverine flooding in some areas.
A coastal trough is generating widespread rain across central east and northeast NSW today, with more than 100mm already falling in the Kempsey region since 9am today (to 2pm EDT). Heavy rainfall will continue today and into Friday and Saturday, with a low pressure system set to form within the trough and track south down the coast.
Warnings have been issued by the Bureau of Meteorology warning for dangerous and life-threatening flash flooding over the Mid North coast and northern Hunter districts, particularly from Friday when the low forms. Widespread falls of 100-200mm are likely over the next 48 hours in these regions, with some areas possibly seeing in excess of 400mm. With coastal catchments already saturated, this is likely to push many areas into moderate flood, and some catchments into major flood.
Elsewhere, a flood watch has been issued from between southern parts of the Northern Rivers and the Illawarra warning of minor to moderate flooding over the coming days. The heaviest falls will focus on the northern parts of this region today and tomorrow, before focusing on the southern region on Saturday.
As the low forms tomorrow, damaging winds with peak gusts in excess of 90km/h may develop about the coastal fringe of the Mid North Coast and Hunter districts, although the exact positioning and track of this low remain uncertain with system evolving quickly.
There will be some easing of the rain on Sunday, however another system moving in from the west will bring heavy rain across large parts of QLD, NSW and VIC early next week and will bring the risk of renewed flooding on the coast (as well as flooding in new areas inland) as it crosses the region.
Keep up to date with alerts with us here at EWN or the Bureau of Meteorology.
---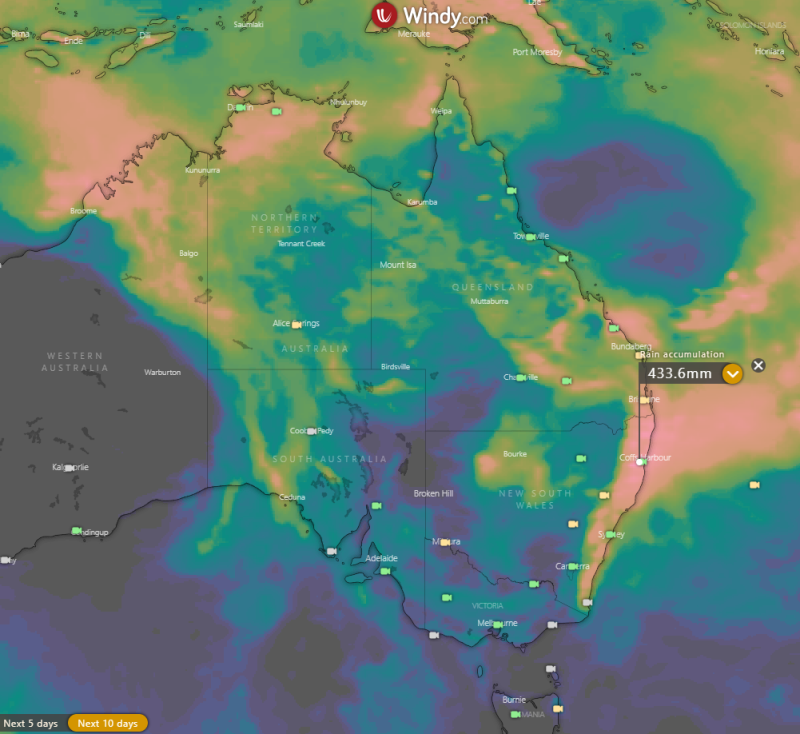 Image 1: Rain accumulation over the next 10 days from the ECMWF Model (Source: Windy.com)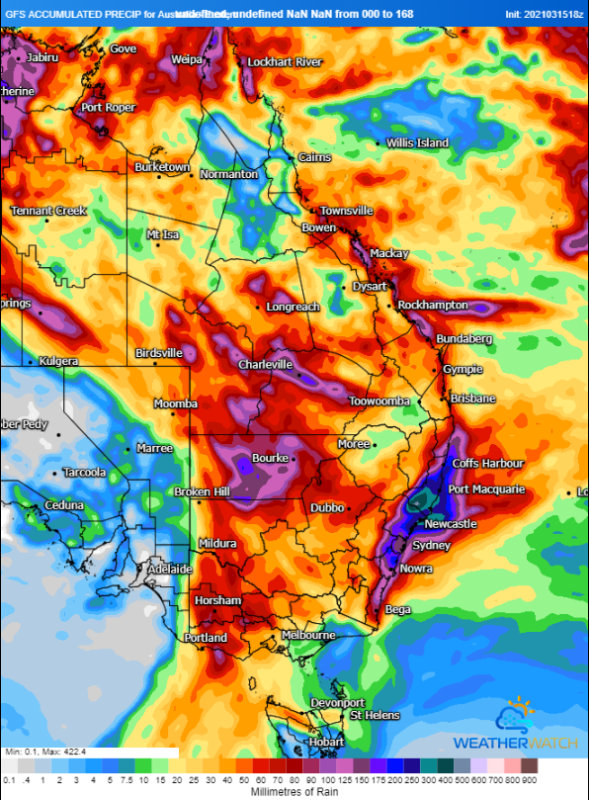 Image 2: Rain accumulation over the next 7 days from the GFS Model (Source: Weatherwatch Metcentre)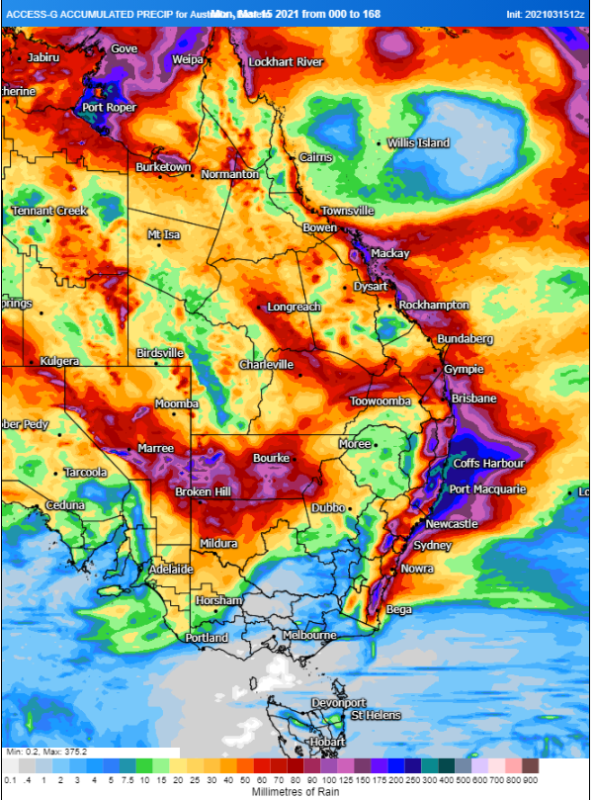 Image 3: Rain accumulation over the next 7 days from the ACCESS Model (Source: Weatherwatch Metcentre)
Cloudy, wet week for parts of eastern Australia
Tuesday 16th March 2021
Parts of Australia'a east coast will barely see the sun this week as persistent onshore winds drive showers over the region, with inland areas also likely to see some follow up rain as these humid winds feed a trough building over the inland.
Widespread rain drenched parts of central and northern NSW and southern and central inland QLD on Sunday and Monday. Widespread falls of 20-40mm were seen over northern Sydney, the Hunter, Mid North Coast and North West Slopes as well as the QLD Darling Downs, with some areas seeing their best rain in months. Some storms produced torrential rain, with 108mm in the 24 hours to 9am being recorded at Upper Missabotti west of Nambucca heads (NSW), and 103mm at Sengs Road (near Jandowae, QLD). Similar totals were seen across QLD's Wide Bay and Burnett and Capricornia with many areas seeing their best rain in months. There were a few localised falls in excess of 100mm, including Maryborough which recorded 103mm to 9am Tuesday, its heaviest since February 2018.
For many parts of the east coast, particularly the NSW Coast, cloudy skies are going to be a feature for the next week as a high over the Tasman Sea continues lead to humid onshore winds and showers. This will not only lead to a sustained run of cool weather but also bring substantial rain. Across the next week, widespread falls of 50-150mm are likely over many parts of the NSW and QLD coasts and adjacent ranges, but for some places, particularly northeast NSW, falls of 300-400mm are likely leading to the risk of flooding.
Whilst coastal areas get soaked, inland areas aren't going to miss out either as these moist onshore winds continues to feed into low pressure troughs across the eastern interior. Over the next two days, southern and central inland QLD and northern NSW will see areas of rain and storms, with many areas likely to pick up 20-40mm, with isolated pockets of 100-150mm possible under storms.
Whilst there is a lot of model uncertainty about the strength and timing of the system, there are some indications of further rain developing over the eastern interior on the weekend and spreading across inland NSW, QLD and parts of Victoria early next week.
---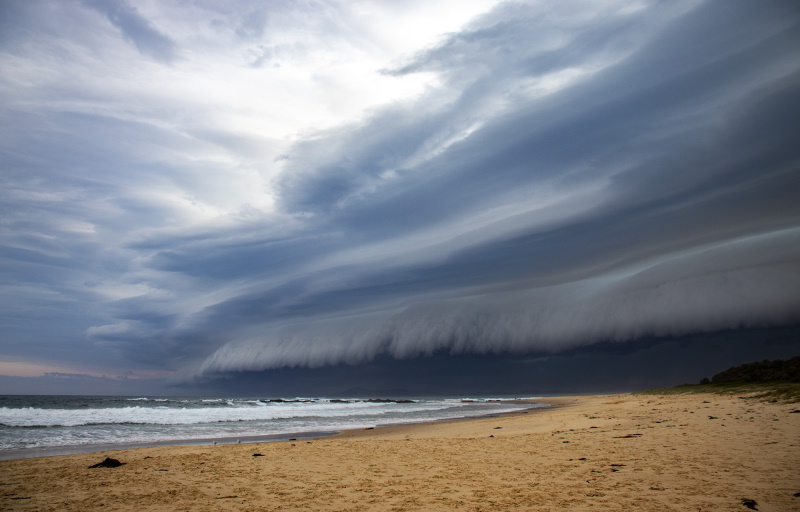 Image 1: Spectacular shelf cloud near Forster, NSW on 8th March, 2021 taken by EWN's Ben McBurney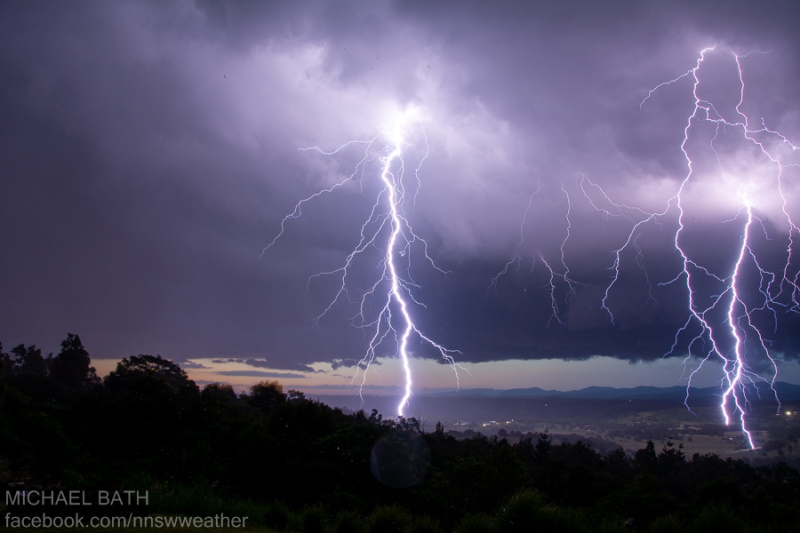 Image 2: Incredible cloud to ground lightning at Mcleans Ridges, captured by EWN's Michael Bath on 9th March, 2021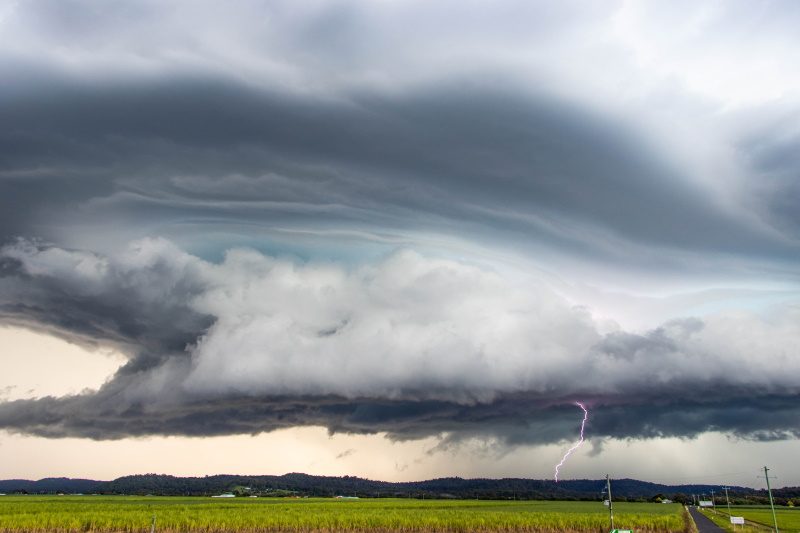 Image 3: Wall cloud near Maclean, NSW captured by EWN's Justin Noonan on 9th March, 2021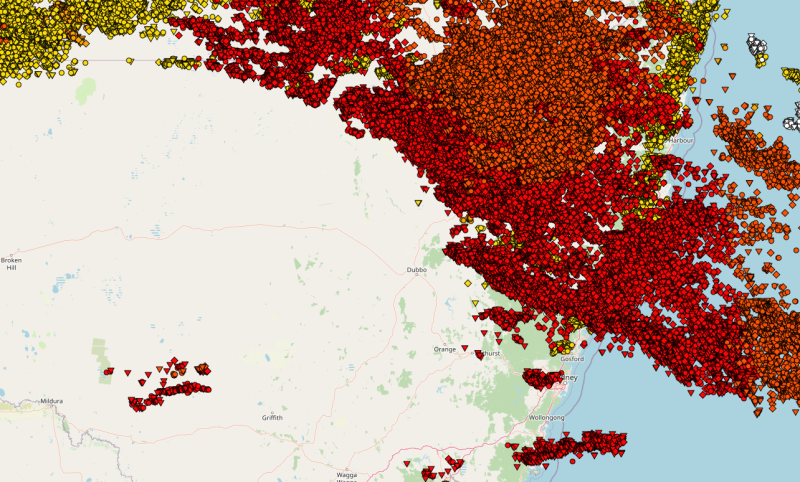 Image 4: Lightning map showing how widespread thunderstorms were on the 8th and 9th of March, 2021
Spectacular thunderstorms and heavy rain hit NSW
Wednesday 10th March 2021
Monday and Tuesday saw spectacular thunderstorms hit parts of New South Wales, particularly central and northeast areas, with nature putting on a display of intense lightning shows and photogenic cloud formations, on top of heavy rainfall and localised hail and strong wind gusts.
A low pressure trough combined with high moisture levels to trigger scattered thunderstorms stretching from the Illawarra district into the far north of the state, including the Upper Western, Northern Rivers and North West Slopes and Plains.
On Monday, thunderstorm activity was most concentrated over the Illawara, Sydney, North West Slopes and Plains, Hunter and Mid North Coast, with several bands of severe storms hitting these regions. Some of these storms produced spectacular shelf cloud structures, particularly those that hit the Gerroa, Maitland, Port Stephens and Forster regions. Hail was reported in parts of the Hunter valley up to 3cm, as well as the Moree region, with microbursts also hitting the Rutherford and Stockton Beach areas causing caravans to be flipped. Some thunderstorms also brought torrential rain, with 25mm in just 10 minutes at Taree (part of an eventual 50mm) and 116mm at Uki.
On Tuesday, thunderstorm activity focused on a line stretching from the Upper Western to the Hunter and up to the Northern Rivers. The strongest cells formed over the Mid North Coast region with a supercell hitting inland parts of the Nambucca Shire, with radar indicating giant hail with this storm which weakened as it went through Bellingen and Urunga. Another strong storm hit over unpopulated terrain between Wingham and Kendall, with reports of small hail although radar indicated larger hail away from townships.
A strong multicell cluster also tracked from Grafton up though Maclean, Lismore, Byron Bay and Tweed during the evening, putting on a spectacular lightning display, with a particularly intense barrage of cloud to ground lightning over the Byron Bay Hinterland and Lismore areas. This thunderstorm also produced very heavy rainfall, small hail and localised damaging wind gusts.
More than 250,000 lightning strikes were recorded across the state on Monday and Tuesday, with around 100,000 of these being ground strikes.
Thunderstorm action will shift inland over the next two days, with severe thunderstorms likely across the northern inland on Thursday, although localised coastal storms are possible in the northeast.
---
Image 1: GFS thunderstorm potential. Valid 8/03/2021 - 11/03/2021. Images via WeatherWatch MetCentre
Wet and stormy week for NSW and QLD
Monday 8th March 2021
The second week of March is set to be a wet and stormy week for large portions of NSW and Southern QLD with the potential for severe storms each day.
A surface trough lying through inland QLD and NSW will deepen today with a humid and unstable airmass to its east. This airmass will give way to thunderstorms Monday afternoon and evening, with the potential for a few to become severe with damaging winds, large hail and heavy rainfall leading to flash flooding.
During Tuesday, similar conditions are expected, with Monday?s showers and storms likely to persist into the early morning for some locations before clearing with another round of thunderstorm activity expected. Damaging winds and heavy rainfall leading to flash flooding will be possible with storms
As we move into Wednesday, a small surface low may develop across Central-Western NSW with showers and patchy rain periods ongoing for parts of Northern NSW and far Southern QLD. Another round of storm activity is expected to develop across Western QLD. As the low drifts a little further east on Thursday, potentially severe storms will redevelop for inland NSW and QLD with damaging winds, heavy rainfall and large hail possible.
A complicating factor for severe storms on each given day will be the amount of convective overturning and potential cloud cover/ongoing morning shower and storm activity across the region. This could diminish the severe storm threat for some locations this week.
---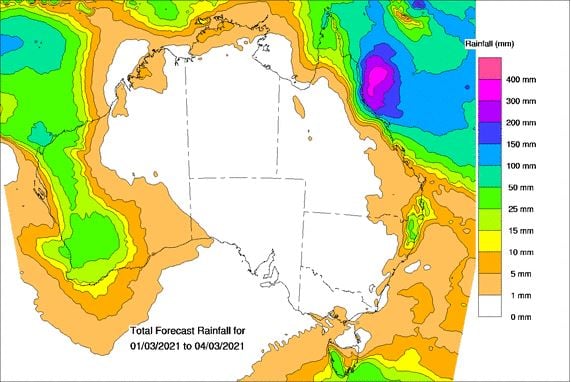 Image 1: BOM automated eight day forecast rain totals.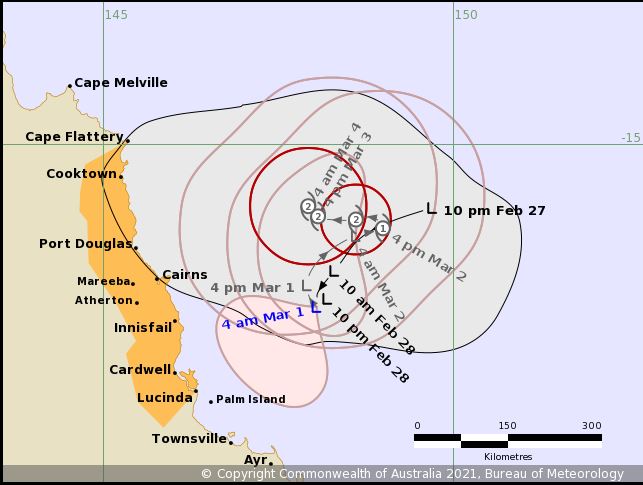 Image 2: BOM forecast track map.
Tropical cyclone likely to form off North Queensland.
Monday 1st March 2021
A tropical low currently off the North Tropical Coast is expected to drift around erratically over water in the region for much of this outlook period while gradually intensifying.
At this stage, it's likely to reach tropical cyclone intensity by about Tuesday. The system is expected to cause some additional moderate to heavy rain along parts of the North Tropical and Herbert Coast today before becoming confined to some of the more exposed parts of the coastal fringe. This may cause some flash flooding and minor to moderate flooding of some rivers.
Gusty strong winds are also expected along parts of the coast from the North Tropical Coast to the Central coast. While they may be locally damaging, widespread destructive winds are not expected at this stage.
The cyclone is then expected to accelerate in a southeast direction while staying offshore. As it does so however, there is the slight chance of these strong winds eventually extending along exposed parts of the coast down to the Wide Bay coast later in the week.
At this stage, a major tropical cyclone impact on the Queensland coast is unlikely but it should be remembered that uncertainty with this system is currently high. Therefore just a slight deviation in its forecast track during its intensification process will cause significant decreases or increases to the potential for flooding and strong winds at short notice.
---
Subscribe Today To Our Newsletter