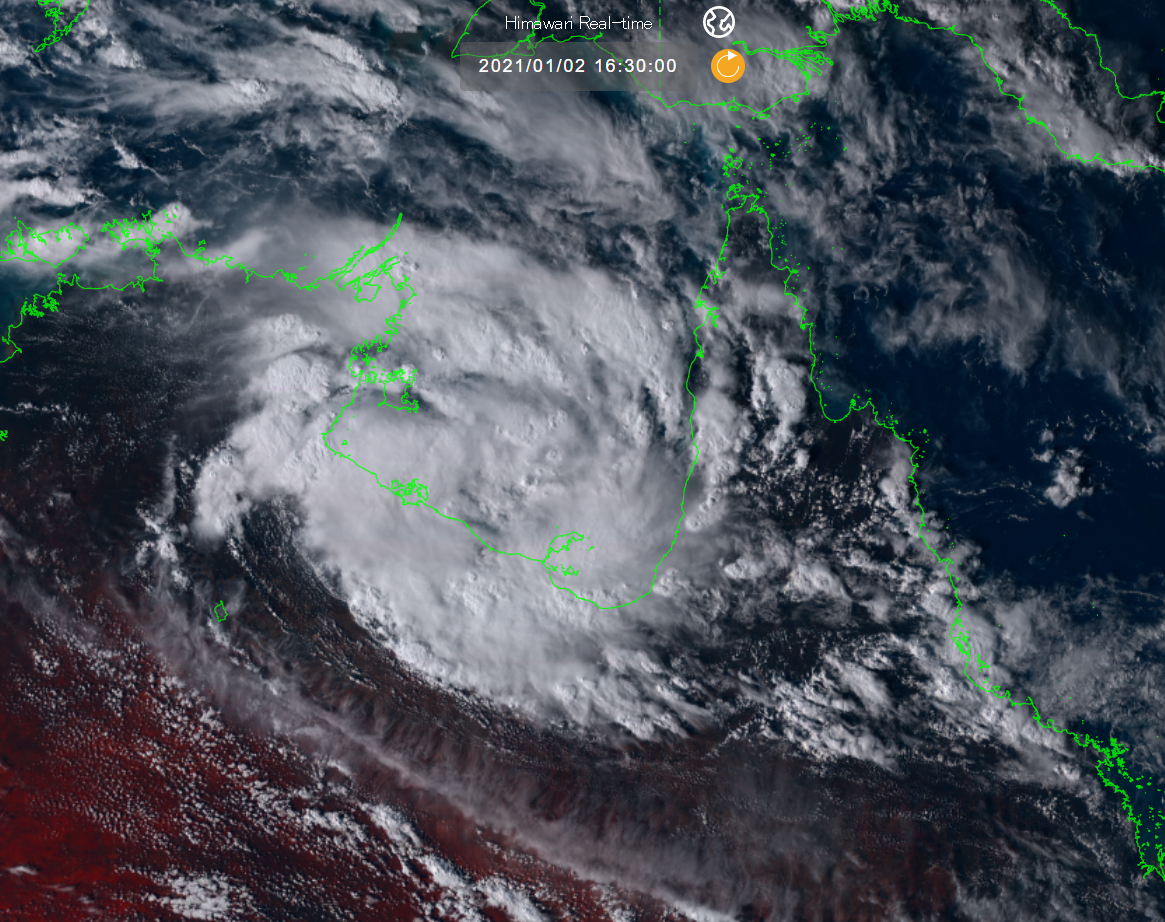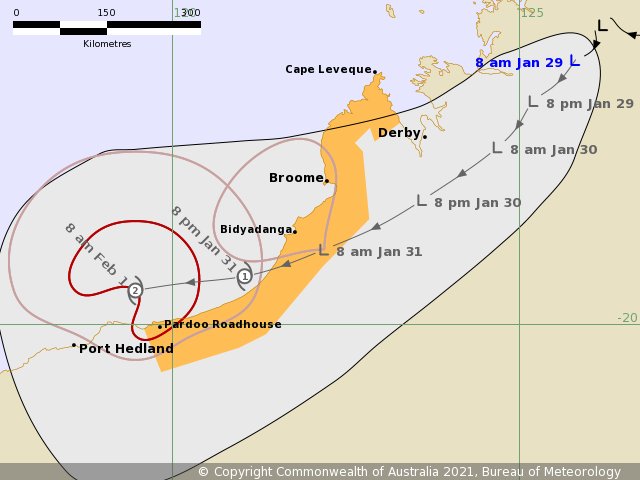 Image 1: Track Map for the Tropical Low from the Bureau of Meteorology (at 9am WST Friday 29 January, 2021)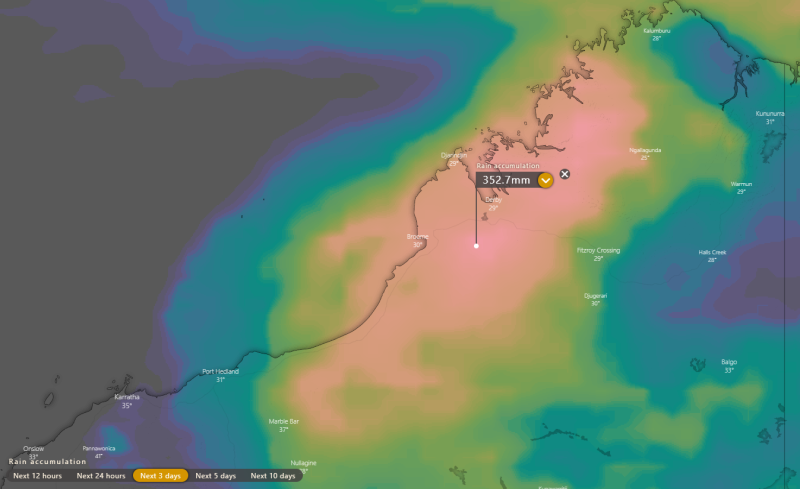 Image 2: Accumulated rainfall over northern WA across the next 3 days from the ECMWF Model (Source: Windy.com)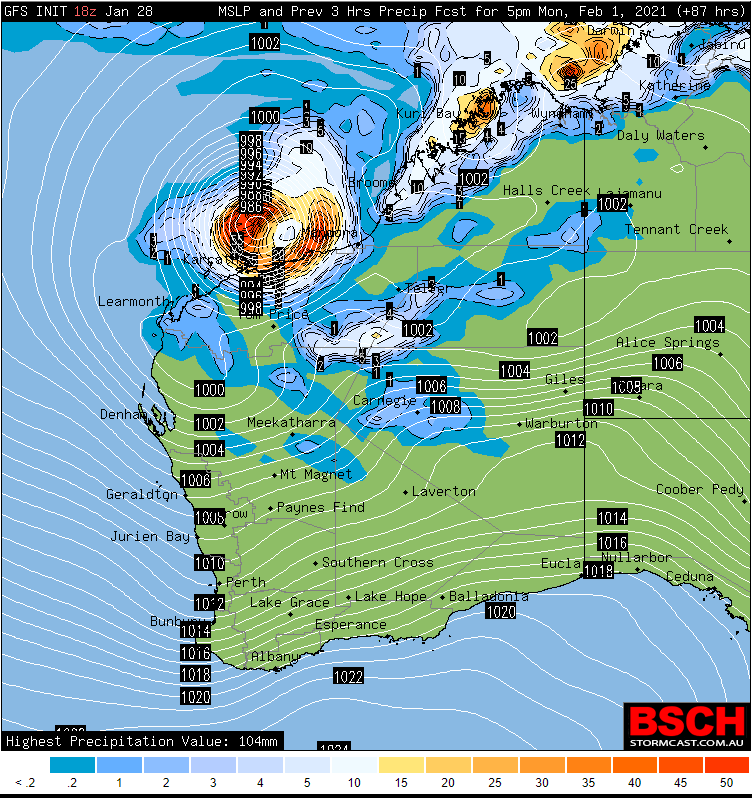 Image 3: Model output from the GFS Model of the position of the system on Monday 1st February, 2021
Tropical low bringing torrential rain to the Kimberley; likely to develop into a Tropical Cyclone this weekend
Friday 29th January 2021
The low, which formed over the southern Daly district in the NT on Tuesday, has been producing widespread falls of 50-100mm across the last few days as it moved over the WA Kimberley region, prompting flood warnings advising of impassable roads and isolation of communities.
The system, which is currently located over the northern Kimberley, will continue to produce widespread heavy rain over the region today and into the weekend. A severe weather warning is in place for widespread 24 hour falls of 50-100mm and isolated totals in excess 200mm bringing the risk of flash flooding and riverine flooding, with potential for accumulated falls in excess of 400mm over the next few days.
On Sunday, the low is expected to move off the west Kimberley coast and rapidly intensify, developing into a tropical cyclone later Sunday evening or on Monday morning. A cyclone watch is current from Cape Leveque to Pardoo. The next tropical cyclone to develop in Australian waters will be called 'Lucas' (with another cyclone also likely to form over the Coral Sea later in the weekend or early next week making it difficult to determine the name).
Into next week the outlook for the track of this system looks more vague, with some model situations having the system tracking close to the Pilbara coast, and others out to sea. If the system tracks close to the coast, widespread heavy rainfall and destructive winds are would be possible along the Pilbara Coast.
---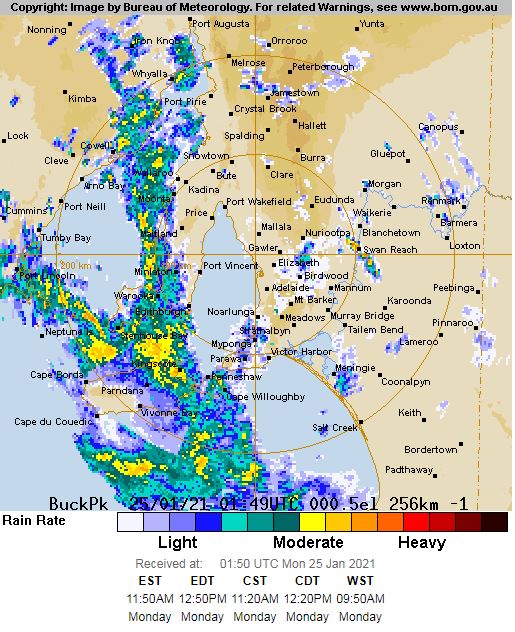 Image 1: Current weather radar for Adelaide. Image via BoM
Bushfires to give way to rain and storms for South Australia
Monday 25th January 2021
Hot temperatures and bushfire conditions across South Eastern South Australia will give way to showers, storms and rain periods on Monday afternoon and evening.
Adelaide reached a scorching 42.7°C yesterday afternoon as intense heat from North Western Australia was dragged south ahead of a low pressure trough and the remnants of a tropical low that impacted the Pilbara region of WA last weekend.
Hot temperatures and gusty northeast to northwesterly winds combined to produce severe to extreme fire danger for parts of the Mid North, Mount Lofty Ranges, Yorke Peninsula and Lower South East on Sunday. These conditions led to the development of a significant fire just to the southeast of Adelaide which quickly became emergency warned.
During Monday, cloud cover is continuing to thicken across the state as moisture increases leading to scattered showers, thunderstorms and rain periods for Central and Southeastern parts of SA this afternoon and evening. Widespread falls of 15-30mm are expected, with isolated heavier falls exceeding 60mm possible, particularly with any storm activity.
This may lead to flash flooding with the Bureau of Meteorology issuing a flood watch for the Flinders Ranges Rivers and Creeks, Broughton River, North West Lake Torrens and Eastern Eyre Peninsula.
Conditions are expected to rapidly clear during Tuesday, with mostly fine and cooler conditions returning to the region with temperatures expected to increase slightly towards the weekend.
---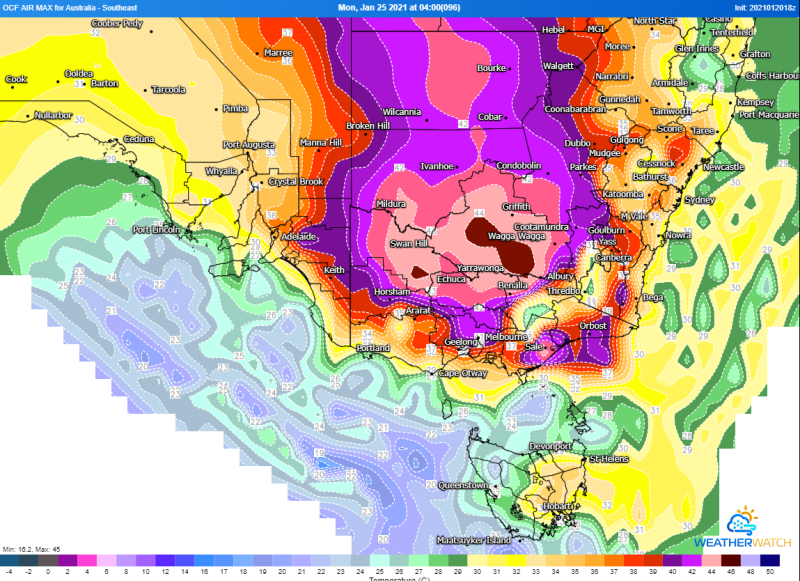 Image 1: OCF Forecast Maximum temperatures for Monday 25 January, 2021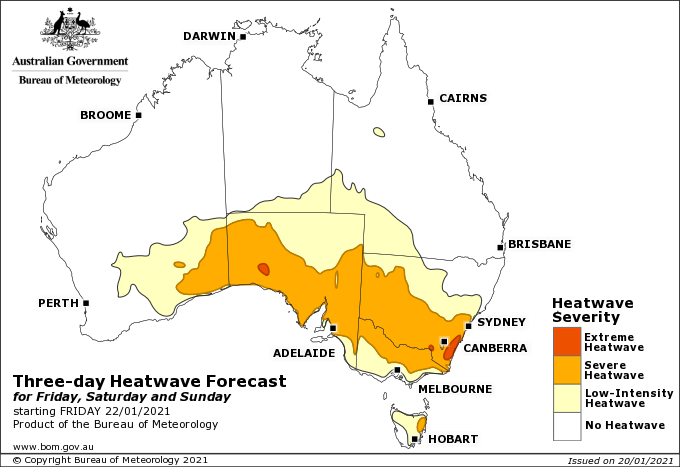 Image 2: Bureau of Meteorology heatwave forecast map from Friday 22nd January to Sunday 24th January, 2021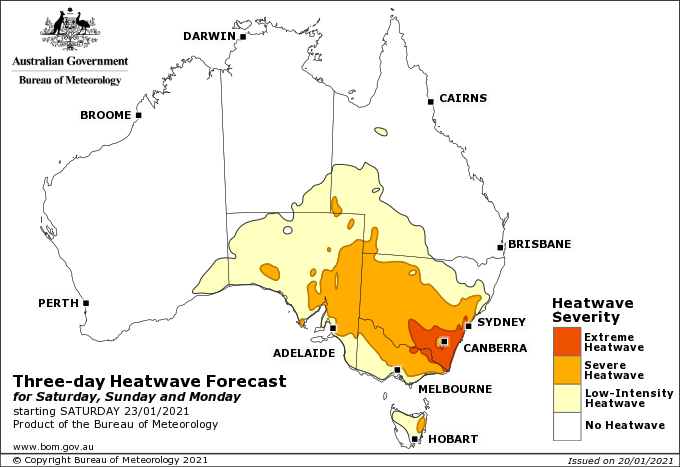 Image 3: Bureau of Meteorology heatwave forecast map from Saturday 23rd January to Monday 25th January, 2021
First heatwave of summer beginning to grip parts of Australia's southeast
Thursday 21st January 2021
It has been a refreshingly cool summer across southeastern Australia so far as persistent rain thanks to La Nina has kept a lid on temperatures, however a prolonged hot spell is beginning to take hold and is set to persist into next week.
An easing of tropical activity has allowed heat to build up over the northwest of the country, and as a tropical low (which is likely to become a cyclone) approaches northwest WA this will push this heat over the nation's southeast for several days, causing the hottest conditions seen so far this summer for many areas.
Temperatures are already soaring today across South Australia, northern Victoria and western New South Wales, with the mercury reaching into the high 30s and low 40s. A fire weather warning for severe fire danger is current in SA, for the West Coast, Eastern Eyre Peninsula, Mid North, Mount Lofty Ranges, Yorke Peninsula and Lower South East.
On Friday, temperatures will start reaching the mid 40s over northern SA, before these temperatures begin affecting more southern parts of the state on Sunday, as well as northern VIC and southern inland and western NSW. Saturday and Sunday will be Adelaide's hottest days of the spell (with seabreezes keeping other days cooler) and is forecast to reach 39 degrees on Saturday and 41 degrees on Sunday. Renmark is forecast to hit 40 degrees on Saturday and 44 degrees on Sunday, whilst Mildura reaches 40 degrees on Saturday and 44 degrees on Sunday.
A cooler change will begin to shift the heat east from Monday, however northerly winds ahead of the change will also help spread heat to coastal areas. On Monday, large parts of NSW (mainly southern and central areas) and Victoria (including coastal areas, especially in central and eastern parts of the state, including Melbourne) are likely to reach into the high 30s or low 40s, with strong winds ahead of the change likely to make this one of the worst fire days of the summer. Grass fires are the highest risk this year due to enhanced growth due to rain.
Tuesday will be hot for many areas but not quite as hot as increased moisture over NSW takes the sting out of the heat, but temperatures will still reach close to 40 degrees in some areas, including western Sydney. From Wednesday, the heat is likely to shift into northern inland NSW and inland Queensland as cooler southerly winds affect the southeast of the country.
---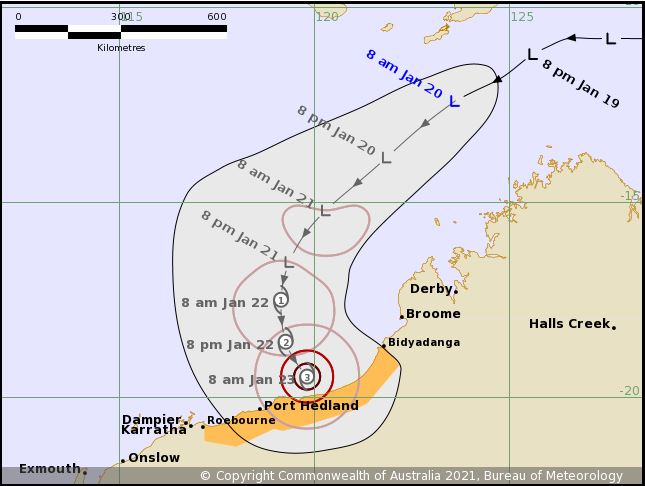 Image 1: Bureau of Metorology Tropical Cyclone Threat Map. Valid 20/01/2021
Western Australia on Cyclone Watch, with Lucas expected to form later this week
Wednesday 20th January 2021
At 8:57am Western Standard Time, the Bureau of Meteorology issued the first Tropical Cyclone Advice for Tropical Low 08U with a cyclone watch issued between Bidyadanga in the Kimberley to Roebourne in the Pilbara.
This low is expected to continue drifting in a southwesterly direction over the next 24-48 hours whilst slowly strengthening. Late Thursday and into Friday, Tropical Cyclone Lucas is expected to be born, before shifting its track to a south southeasterly direction towards the Pilbara Coast whilst potentially intensifying into a severe category 3 system.
At this time, Lucas is forecast to cross the coast as a category 3 system. Should this occur, destructive wind gusts of 165-224km/h will likely develop along with the threat of extremely heavy rainfall and a significant storm surge for coastal communities. However, there are still inconsistencies regarding the speed of this system and its strength, with some disagreement later into the outlook.
Thankfully, this part of Australia is well prepared and accustomed severe tropical cyclones.
---
Image 1: 24 hour rainfall totals >100mm from 9:00am Monday, 18th January 2021 to 9:00am Tuesday, 19th January, 2021.
Intense rainstorms bring flash flooding to parts of coastal and inland Southeast Queensland
Tuesday, 19th January 2021
An inland trough was the catalyst for severe thunderstorm activity, which tracked across the south-east during the afternoon, and impacted parts of the Sunshine Coast later in the evening. Dangerous flash flooding was the result of intense rainfall through parts of the southeast last night with streets becoming rivers, submerging some vehicles and inundating residential properties in some locations, with Alexandra Hills bearing the brunt of the localised heavy rainfall. The situation deteriorated further when the line of thunderstorms become more stationary along the coastal fringe.
Alexandra Hills received 191mm in 24 hours to 9:00am this morning with 155mm of the rainfall falling between 4:30pm to 7:30pm last night, and 74mm within a 30 minute period. Further south at Beenleigh, 105mm on heavy rainfall fell in an hour between 6:00pm to 7:00pm.
Severe thunderstorms were also warned for damaging to locally destructive winds along with the heavy rain threat of dangerous flash flooding. Two people were rescued trapped in flood waters at Sheldon in the Redlands around 7:00pm with a person also rescued from the roof of a vehicle on Springacre Road at Thornlands last night.
The Redland City Council has also established a self-serve sandbagging station from 8:00am this morning in the locations of Cleveland, North Stradbroke Island, Russell Island and Macleay Island.
The following locations received >100mm on rainfall within a 24 hour period to 9:00am this morning, January 19th, 2021. 191mm Alexandra Hills, 149mm Karragarra Island, 144mm Mount Cotton, 138mm Carneys Creek, 137mm North Stradbroke, 134mm Norwell, 132mm Kerkin Road Alert, 119mm Cape Moreton, 116mm Mount Tamborine, 113mm Ormiston, 112mm Steiglitz Wharf, 109mm Elimbah, 105mm Wongawallan, 104 Woodford, 101mm Moreton Island and 100mm Highvale.
There is the slight risk of isolated tending scattered showers, thunderstorms and rain areas today again through parts of the southeast and southern inland QLD, particularly during the afternoon and evening. One or two thunderstorms may become severe for the threats of localised strong to damaging winds and heavy rainfall, however the risk is considerably lower than what we?ve observed over the past 24 hours.
Isolated thunderstorms are also possible today through parts of northern NSW during the afternoon and evening with one or two thunderstorms likely to become severe for the elements of damaging winds and heavy rainfall. A southerly change is currently advancing up the northeast coastal districts of the state and is forecast to be situated close to the QLD/NSW border during the late afternoon bringing cooler conditions in it?s wake for northern NSW.
---
Image 1: Bureau of Metorology Tropical Cyclone Threat Map. Valid 18/01/2021
Tropical Cyclone Kimi looms large off the North Queensland Coast
Monday 18th January 2021
Tropical North Queensland is on Cyclone watch today, as Tropical Cyclone Kimi hovers off the North Tropical Coast.
At 11am EST, TC Kimi was situated 90km east of Cairns and 250km north of Townsville, moving south at 12 kilometres per hour. The category 1 system is producing sustained winds of 85kph with max gusts to 120kph.
During Monday, Kimi is expected to continue moving in a southerly direction whilst intensifying slightly with the potential to reach a category 2 status by Monday afternoon. At this stage, the Bureau of Meteorology has Kimi forecast to make landfall around the Cardwell region in North Queensland, with a Tropical Cyclone Warning current from Port Douglas to Ayr. However, Kimi is likely to weaken on approach to landfall and potentially further south towards the Townsville region during Tuesday morning.
Should Kimi cross the coast, damaging to locally destructive winds, heavy rainfall leading to flash flooding and a small storm surge will be likely for coastal locations overnight Monday and into Tuesday.
---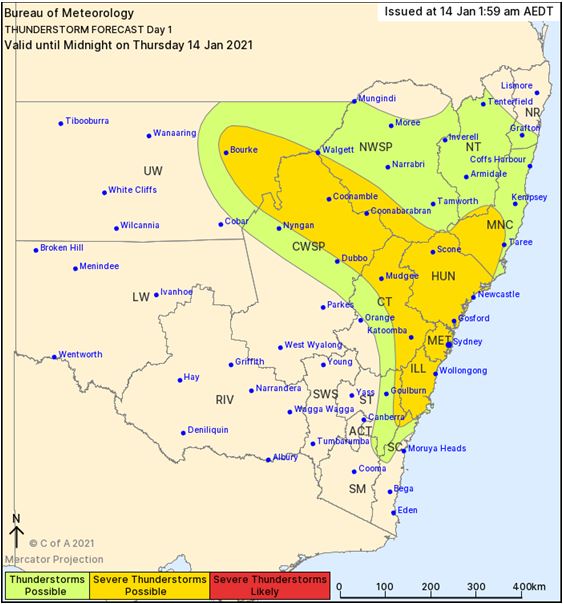 Image 1: Day 1 thunderstorm risk map. Image via Bureau of Meteorology.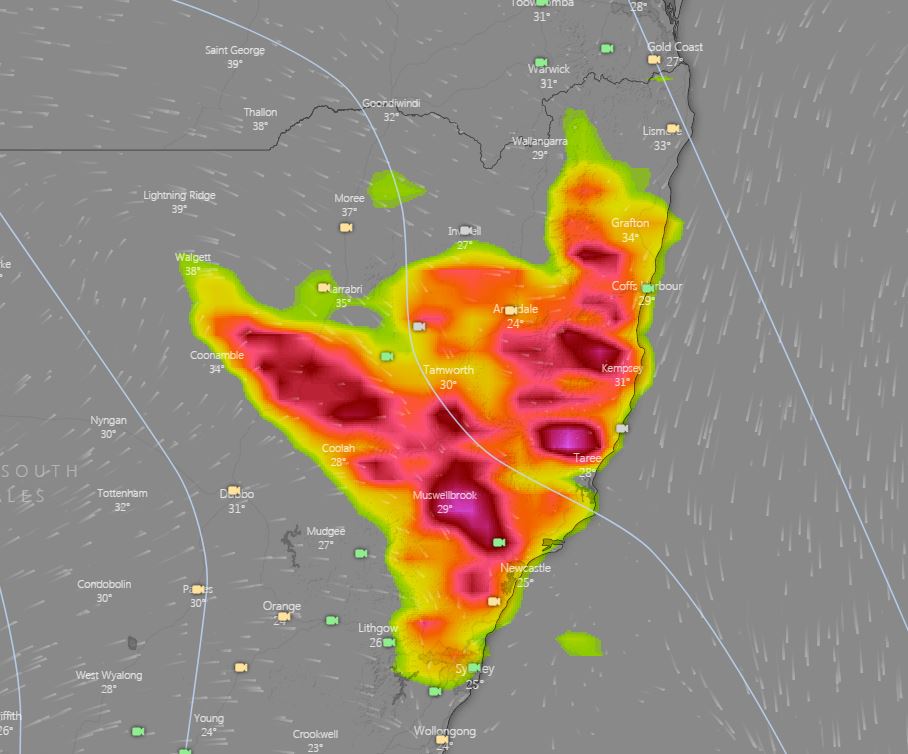 Image 2: EC potential thunderstorms. Valid 3pm, Friday 15/01/2021
Thunderstorms to return to Eastern NSW
Thursday 14th January 2021
Thunderstorms will return to Eastern NSW from Thursday onwards, as a multi-day thunderstorm outbreak develops.
Moisture will increase slightly today along a surface trough, with high based thunderstorms possible across Central and Eastern parts of NSW. Damaging winds gusts will be the primary threat, although hail cannot be ruled out, particularly across parts of the Central Ranges where a southerly change may help enhanced localised storm activity.
During Friday, this system will shift a little further northeast into parts of the Mid North Coast, Northern Tablelands and Northern Rivers. One or two organised storms will be possible with increasing wind shear as a strong upper trough moves into the region. Large hail, damaging winds and bursts of heavy rain can be expected with organised storms, particularly across parts of the Mid North Coast during the late afternoon and evening.
On Saturday, a southerly change will move through the region, clearing storm activity from central parts of the state. Isolated thunderstorms are still expected to develop across eastern regions of the Northern Tablelands and western regions of the Northern Rivers. Gusty winds and bursts of heavy rainfall are expected.
The unsettled weather is expected to continue into next week, with showers and storms possible.
---
Image 1: OCF Forecast Maxmima for Wednesday 13 January, 2021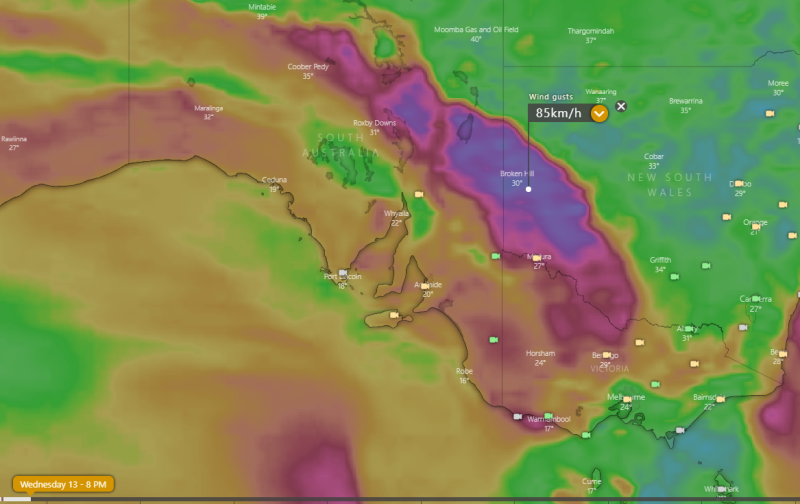 Image 2: Wind gust forecast for 8pm EDT, Wednesday 13 January, 2021
Heat and fire weather over southeast Australia before a gusty cooler change
Wednesday, 13th January 2021
It has been a hot start to the week for southeastern Australia, with many areas seeing temperatures climbing into the 30s today after recording their hottest day of summer so far on Monday.
It has taken a while to warm up this year with the nation seeing its coolest start to summer since 2011 (and for Victoria, Tasmania and South Australia since 2010), thanks to La Nina conditions causing increased cloud cover and rain across the country (Australia registered its 4th wettest December on record). This has been a welcome change from recent years, particularly last summer when bushfires ravaged the country.
On Monday, temperatures soared into the mid to high 30s across large parts of South Australia, Tasmania, Victoria and southern New South Wales, with parts of South Australia reaching into the low to mid 40s. Combined with gusty northerly winds, several bushfires broke out across the states, however these have now been brought under control.
Similar conditions are expected today, although temperatures will not be as hot and winds not as strong. However, Severe Fire Danger is still forecast across the Flinders, Mid North and Riverland in SA, and Mallee, Wimmera and Northern Country in VIC. A total fire ban is current for the Southern Riverina in NSW.
Cooler southerly winds will prevent most of the capital cities from getting too hot, with Adelaide only reaching 28 degrees, Hobart 27 degrees and Melbourne 32 degrees, with the focus over inland areas today where the southerly change is due a bit later with some places likely to get even hotter than Monday.
Albury is forecast to hit 40C, Wangaratta 41C, Broken Hill 41C, Canberra 35C, Hawker 39C, Coober Pedy 42C and Marree 43C, before a gusty and even squally southerly change moves through during the afternoon and evening, with gusts up to 80km/h possible on the boundary of the change. The change will cause a sharp drop in temperature, and may also be accompanied by dust over inland areas.
The change will cause temperatures to drop significantly below average once again, and is likely to persist until at least mid next week when temperatures will begin to warm up again. A more prolonged burst of heat is possible into late January with indications of a significant build up of heat over the northwest of the country.
---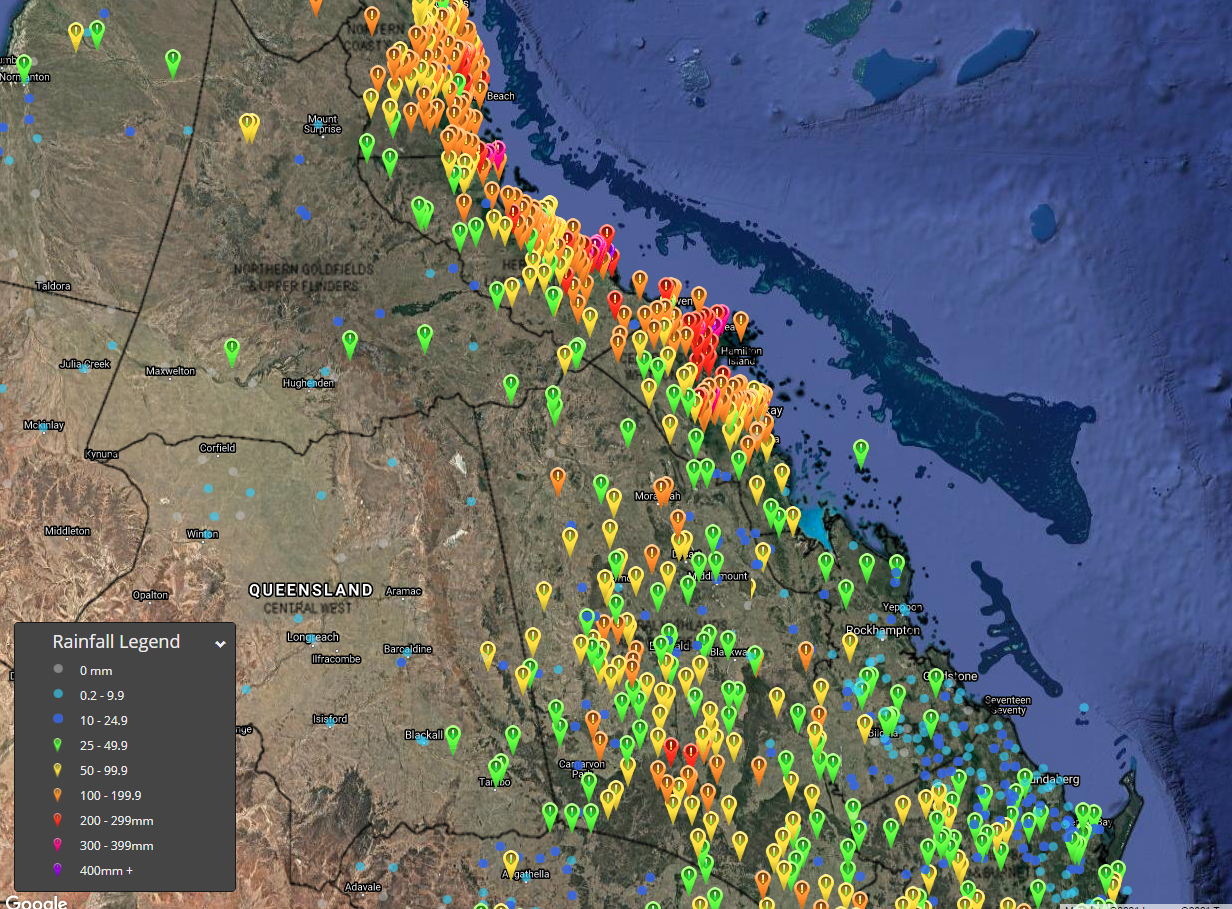 Image 1: Significant rainfall totals across the Tropical North over the past 96 hours.
Flood Watch continues for parts of the Tropical North
Saturday, 9th January 2021
The wet season continues to deliver for parts of the northern and central Queensland coasts with day after day of scattered showers and storms, sometimes tending to rain areas.
Much of the heavier rainfall earlier this week was a result of ex tropical cyclone Imogen and a moist convergent flow to its east. Low pressure troughs, local wind convergence and a generally unstable moisture laden atmosphere since then has caused a continuation of the moderate to heavy falls.
In the 96 hours to 9am today, totals of 50 to 150 mm have been widespread along the northern part of the Central Coast, coastal parts of the Herbert and Burdekin and parts of the North Tropical Coast. Scattered falls of 150 to 300 mm have occurred in these areas with isolated totals exceeding 400 mm. Some good falls also extended into the Central Highlands and Coalfields.
A couple of the top scorers in the 96 hours include Proserpine Alert with 469 mm and Rita Island Alert with 432 mm. A number of flood warnings remain current in the general region as well as a flood watch.
Further scattered showers and storms are expected along the northern half of the Queensland coast and adjacent inland over the next few days with locally heavy falls continuing, particularly for parts of the Central Coast and Herbert and Burdekin coasts. This will carry further local flash flood potential where the heavier falls occur.
---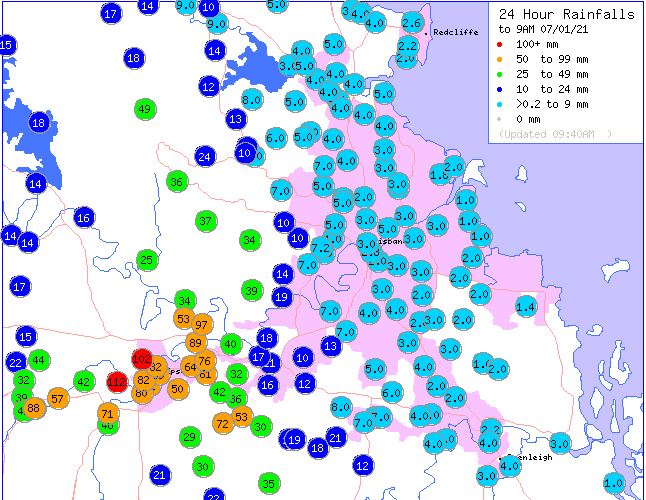 Image 1: 24 hour rainfall totals to 90a 7/01/2021. Image via BoM.
Intense thunderstorms produce flash flooding across South Eastern Queensland
Thursday 7th January 2021
Severe thunderstorms erupted across Eastern Queensland on Wednesday afternoon with severe flash flooding and locally damaging winds developing during the late afternoon and evening hours.
An outflow boundary marched east during the afternoon, intersecting with a southerly change surging up the Northern NSW coast. These two in combination produced a large complex of slow-moving, intense storms across the Eastern Darling Downs and Western SE QLD Coast.
Beaudesert, in the Scenic Rim picked up 83mm in an hour prompting a Very Dangerous Thunderstorm warning for life-threatening flash flooding. This was just the beginning with several storms developing further northwest in a line, also becoming VDS thunderstorms with Woodlands Road (West of Laidley) recording 57mm in one hour, and Highfields (North of Toowoomba) recording 68mm in an hour.
Into the early evening, the Standard Emergency Warning Signal was activated with Amberley copping a deluge as 86mm fell with the space of an hour, before eventually registering a total of 112mm in the 24 hours to 9am 7/01/2021. The 112mm to 9am this morning made it Amberley's wettest January day in 8 years (2013).
Other notable totals include Brassall 102mm, Karalee 89mm, Rosewood 88mm and Spring Mountain 72mm. Further east across coastal regions, only light falls were recorded, with totals generally remains below 20mm, with the Brisbane CBD only recording 3mm.
---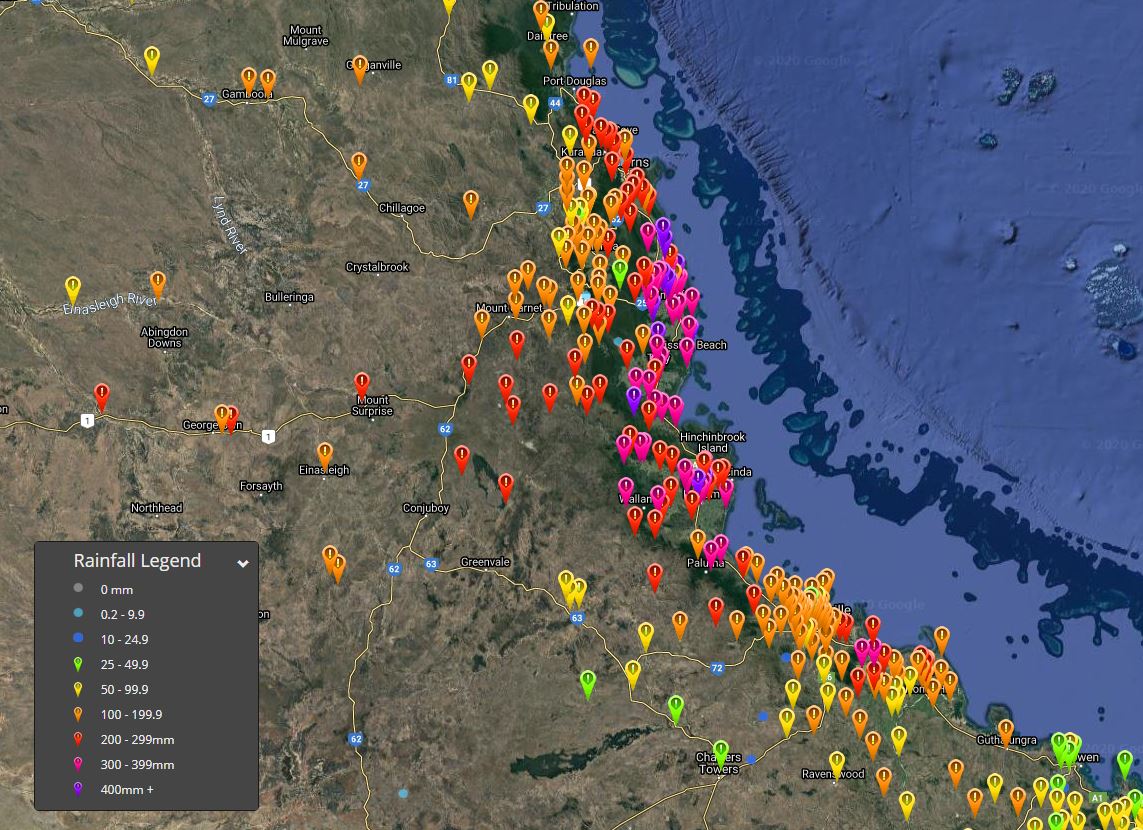 Image 1: Total rainfall for the past 96 horus to 9am Wednesday 6/01/2021. Image via EWN.
Severe weather continues for North Queensland
Wednesday 6th January 2021
It's been a very active start to 2021 across North Queensland with the development of Tropical Cyclone Imogen which moved across the Gulf before weakening into a tropical low.
Imogen produced heavy rain and damaging winds to Normanton and Mornington Island before heading for the North Tropical Coast. Since then, the remnants of Imogen has produced extremely heavy falls across a large region of QLD, with many locations registering accumulated rainfall totals in excess of 200mm over the last 4 days.
Sweers Island in the Gulf of Carpentaria has registered a whopping 450mm over the last 120 hours, with most of that falling with the passage of Imogen. Halifax, just south of Hinchinbrook Island has seen a staggering 556mm in the last 96 hours with further falls ongoing. Other notable totals over the last 96 hours include Normanton with 301.6mm, Salt Water Creek 434mm, Japoonvale, Ingham Pump Station 491mm, Clump Point 475mm, Bulgun Creek 473mm, Cardwell 369mm, Bilyana 316mm, Clyde Road 483mm.
Numerous flood warnings are in places across Northern QLD, with minor to major flooding possible, particularly for the Herbert River, Murry and Tully River, Paroo River, Norman and Gilbert River. During Wednesday, the heaviest of the falls will steadily contract to coastal regions and slightly further south into the Central Coast and Whitsundays with another 100-150mm expected over the next 24 hours, with isolated falls of up to 200mm possible.
---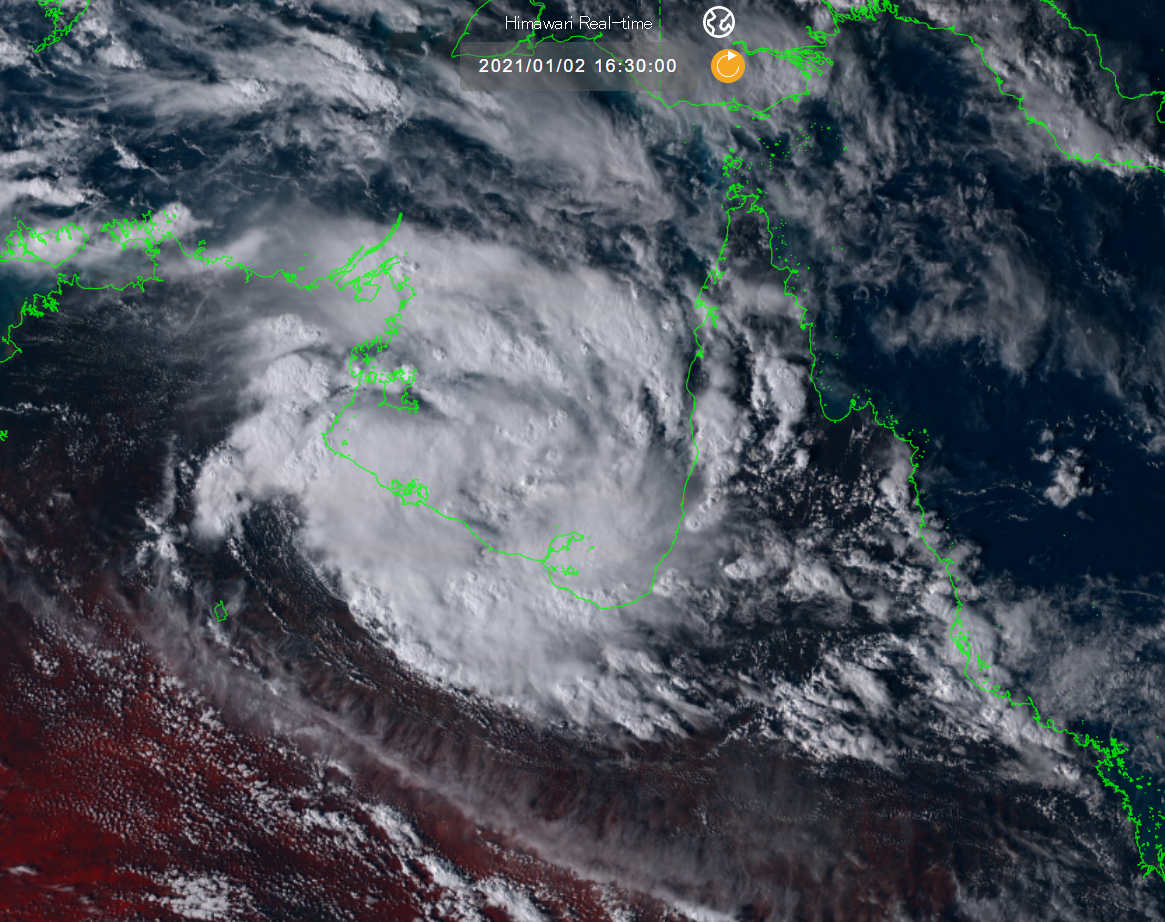 Image 1: Himawari 8 visable true colour satelitte imagery. Tropical Low in the Gulf of Carpentaria as at 16:30, Saturday, January 2nd, 2020.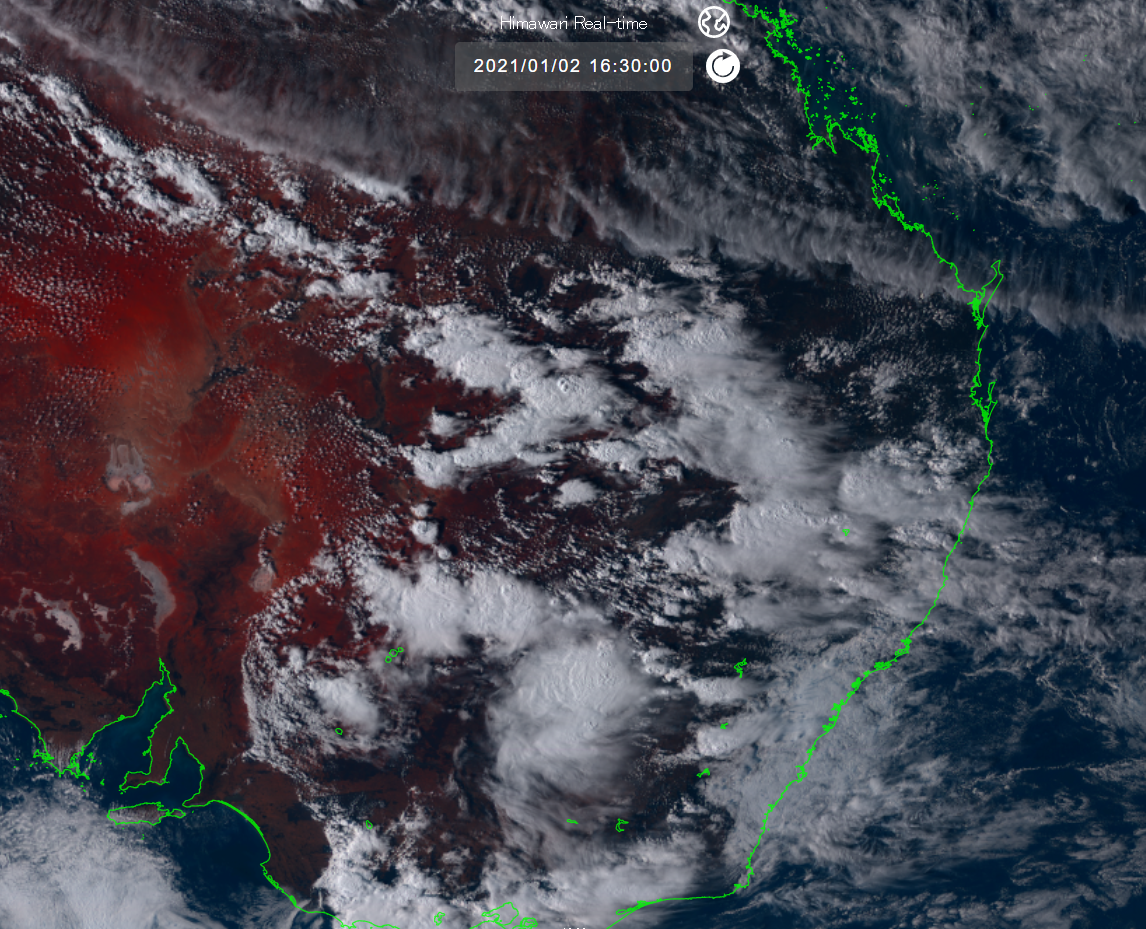 Image 2: Himawari 8 visable true colour satelitte imagery. Severe Thunderstorms through SE Australia as at 16:30, Saturday, January 2nd, 2020.
Severe thunderstorms erupt across South Eastern Australia
Saturday, January 2nd, 2021
Intense rainfall and severe thunderstorms are currently occurring across vast portions of western and central Victoria and southern, western, central and inland northeastern New South Wales. Severe thunderstorms this afternoon will likely continue to produce localised strong to damaging winds, large hail and very heavy rainfall as a trough deepens through western VIC and southwestern NSW this evening, with 93km/h wind gusts already recorded at Warrnambool Airport, accompanied by 46.8mm of rainfall. There is also the ongoing threat of dangerous flash flooding about parts of the the South West and Wimmera districts this afternoon and evening in response to intense rainfall.
In New South Wales, a very destructive wind gust was recorded at Parkes Airport between 4:43pm to 4:48pm. Elsewhere, a 93km/h wind gust was recorded at Fowlers Gap at 3:40pm, with hail damage reported from Broken Hill at 2:30pm.
Severe thunderstorms are also ongoing this afternoon through parts of southern and southwestern Queensland associated with the inland trough, aided by a moist northeasterly fetch, with some of these thunderstorms producing heavy rainfall which may lead to flash flooding. Thunderstorms are also ongoing through parts of tropical northern QLD as a low pressure system lies through the Gulf of Carpentaria, and may produce moderate to heavy rainfall especially about the inland ranges.
A QLD Tropical Cyclone Advice is now current in response to the tropical low pressure system situated over the western Gulf of Carpentaria, which is expected to move towards the east-southeast and intensify further leading into tomorrow and Sunday. A watch zone is current for people situated between the NT/QLD border to Pormpuraaw.
The tropical low may intensify into tropical cyclone intensity during Sunday night over the far southern Gulf of Carpentaria. Gale force winds are likely to extend 100kms from the low pressure centre this weekend potentially crossing the southeastern Gulf coast on Monday. Heavy rainfall from this system will likely result in flash flooding and rises in rivers and streams.
A Flood Watch is current for heavy rainfall, particular through the eastern Gulf and western Cape between Normanton and Kowanyama and North Tropical Coast between Cooktown and Ingham. Most catchments within the flood watch area have recorded totals of at least 100mm-300mm in the past week, with river level rises currently being recorded at many locations. Roads and travel is also likely to be impacted with property inundation possible.
---
Subscribe Today To Our Newsletter