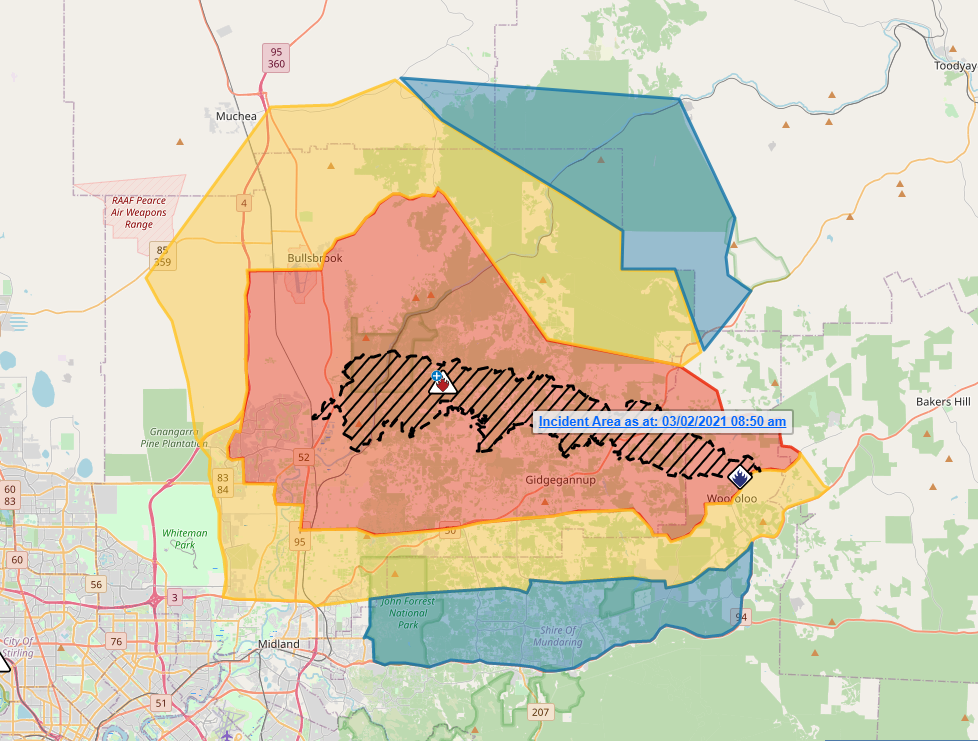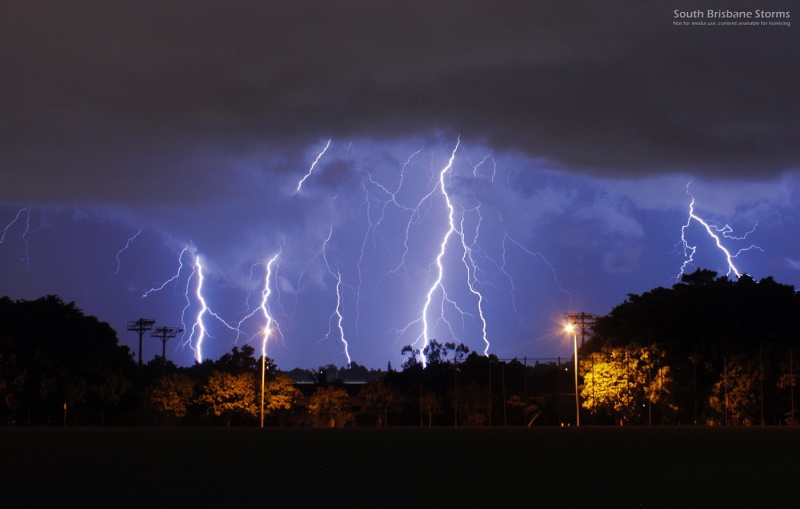 Image 1: Lightning photo taken from Springwood, QLD from storms late on Monday 23 February, 2021 (Credit: Andy Barber)
Image 2: Shelf cloud structure crossing over Brisbane during the afternoon/evening of Tuesday 24 February, 2021 (Credit: Andy Barber)
Image 3: Lightning tracker showing lightning frequent across southeast QLD on Tuesday 24 February, 2021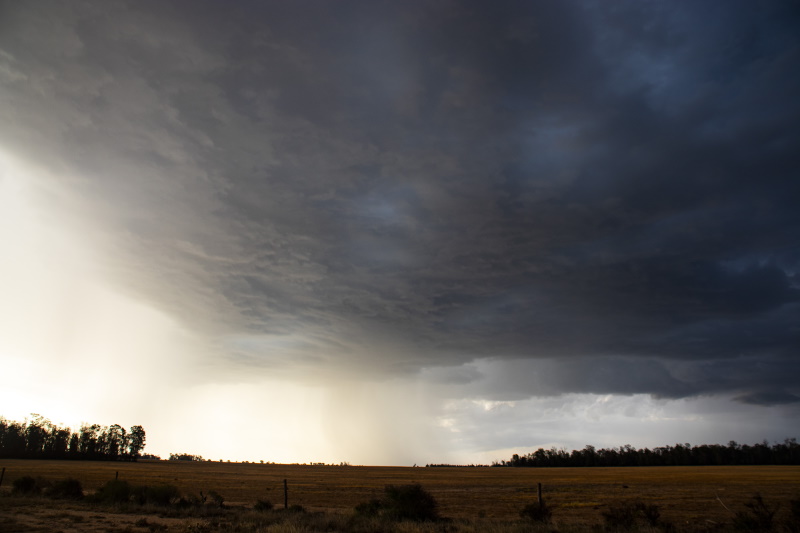 Image 4: Thunderstorms over inland southern QLD on Wednesday 25 February, 2021 (Credit: Ben McBurney)
Heavy rain and severe thunderstorms lashing northern NSW and southern QLD
Thursday 25th February 2021
Severe thunderstorms and areas of heavy rainfall have been hitting northern New South Wales and southern Queensland over the past few days, with hundreds of thousands of lightning strikes, golf ball size hail and 24 hour totals in excess of 300mm in some areas.
A low pressure trough fed by humid onshore winds has been triggering the volatile weather, with areas of rain and storms being active over the region since Monday.
Northeast NSW and southeast QLD were the focus of the activity on Monday and Tuesday, as lines of storms swept across the region. Storms on Monday generally were not severe but provided a spectacular lightning show, however activity became more widespread on Tuesday with golf ball size hail reported at Queen Mary Falls and Legume, and widespread areas of heavy rainfall. The rain was much needed, with many areas in the NSW Northern Rivers seeing 20-50mm, with isolated falls up to 100mm. In southeast QLD, falls of 10-30mm were commonplace with isolated falls in excess of 100mm.
On Wednesday, activity shifted inland with substantial rainfall reaching into QLD's Central West district and the NSW North West Slopes and Plains. Due to the convective nature of storms, rainfall was patchy but was heavy in some areas. Bonshaw on the NSW/QLD border recieved 89mm to 9am today, whilst Petrona Alert and Raymond (both west of Spinsure in central QLD) received 130mm and 146mm respectively.
The coast didn't miss out either, with torrential falls over parts of the NSW Northern Rivers and Mid North Coast. 24 hour totals in excess of 100mm were recorded at Baryulgil, Glenreigh, Wooli, Minnie Water, Corindi River and Woolgoolga.
Today, heavy thunderstorms have been affecting parts of the area again, particularly northern inland NSW where thunderstorms have brought heavy falls, including 72mm at Caroda near Narrabri.
Looking ahead, the trough will continue to linger and cause showers and thunderstorms over the next few days, mainly on and west of the ranges although coastal areas may see some activity on Sunday. More isolated heavy falls are expected under thunderstorms.
---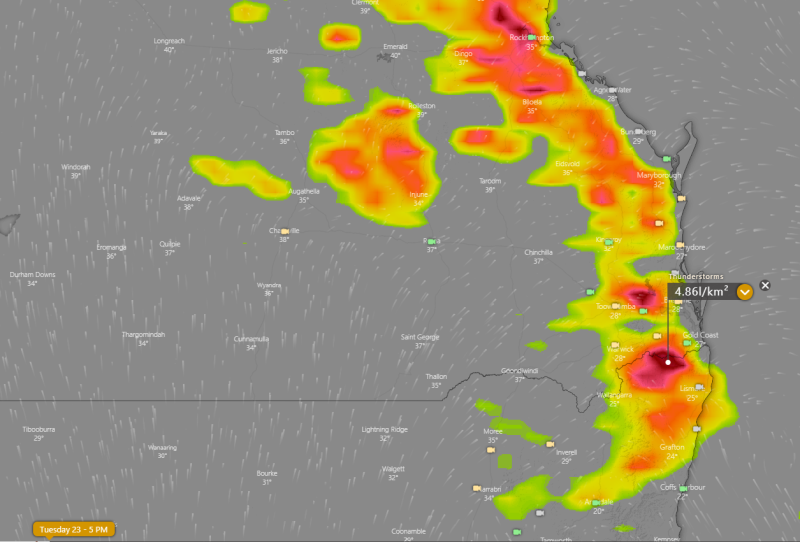 Image 1: ECMWF Thunderstorm forecast for Tuesday 23 February, 2021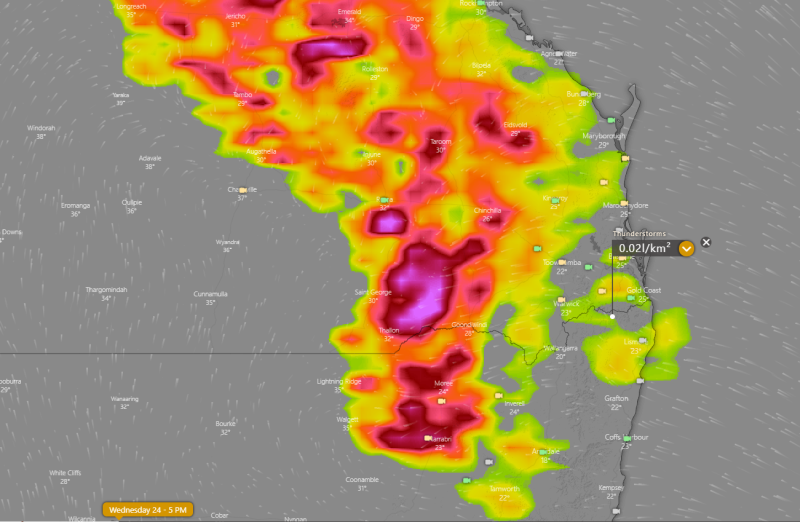 Image 2: ECMWF Thunderstorm forecast for Wednesday 24 February, 2021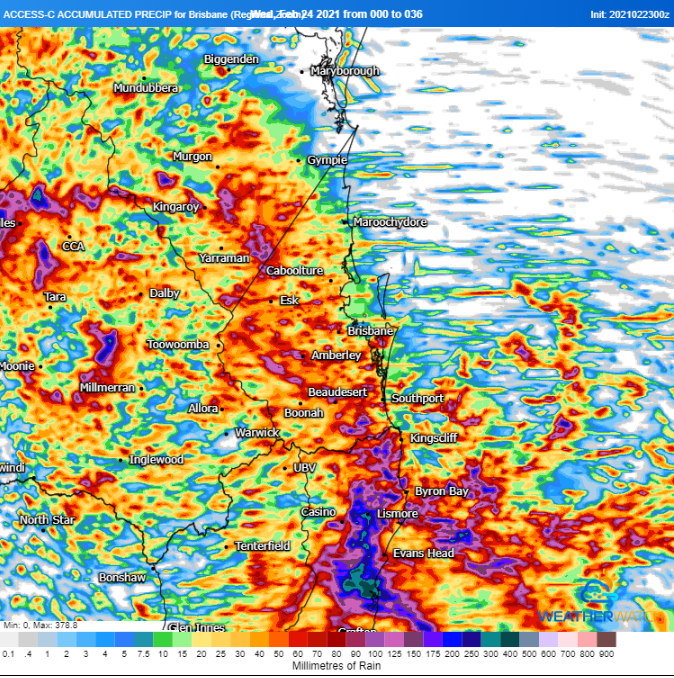 Image 3: ACCESS C accumulated rainfall for the next 36 hours
Thunderstorms likely for northern NSW and southern QLD
Tuesday 23rd February 2021
Thunderstorms are likely over northeast NSW and southeast & central QLD today as a trough moves over the region, and is fed by humid onshore winds with the aid of a southerly change as well.
Storms have fired from the early afternoon over the northeast NSW ranges, Darling Downs & Granite Belt and inland Wide Bay & Burnett, and will progress east during the afternoon and evening.
While activity will favour inland areas more, coastal areas in northeast NSW are likely to see some activity, as well as parts of southeast QLD, but the more widespread (and generally more severe) activity will occur inland. A few cells have potential to become severe, with the main risk of damaging winds and very heavy rainfall, however there is also the risk of large hail.
There is potential for some very heavy falls under activity with storms this afternoon, as well as in showers overnight and into Wednesday. Localised todays in excess of 100-150mm are possible, particularly in northeast NSW.
On Wednesday, thunderstorm activity will shift to inland parts of southern and central QLD and northern NSW, with severe thunderstorm activity again possible. Large hail, damaging winds and very heavy rainfall are all threats.
---
Image 1: Observed 72 hour rainfall up to 9 am today.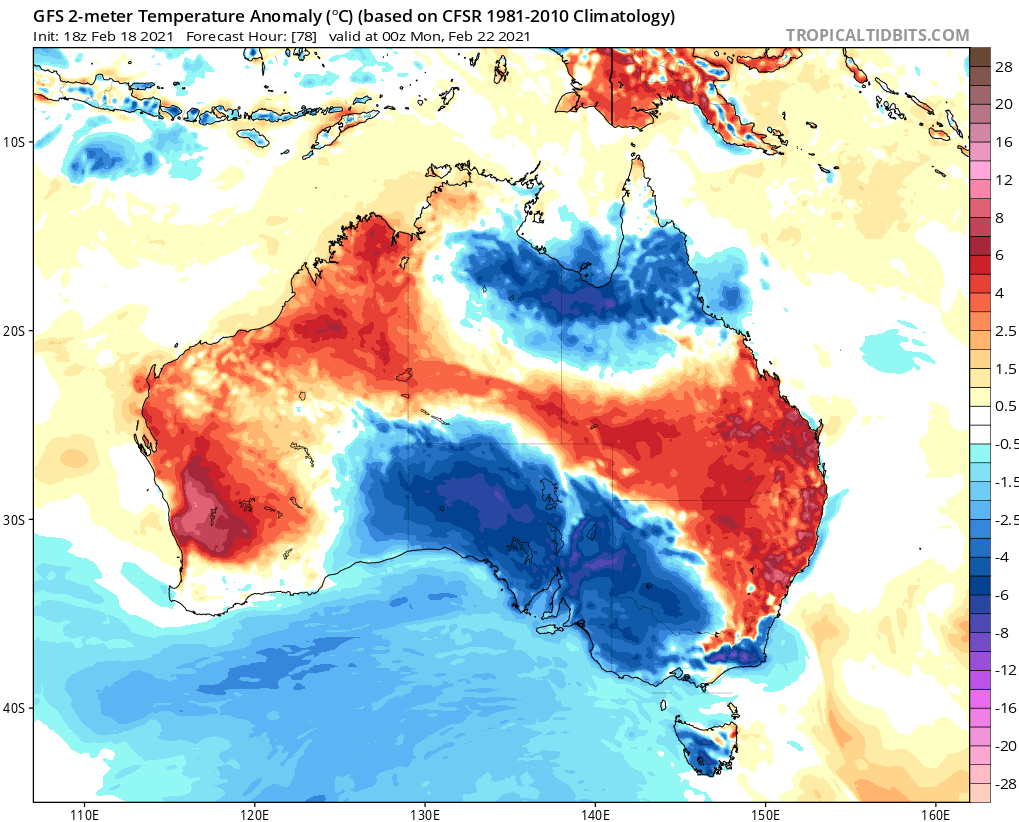 Image 2: Forecast temperature anomalies for 10am Monday AEST by the GFS model (Source: tropicaltidbits.com).
Recent moderate to heavy coastal rainfall to be followed by heat in southern central QLD/NE NSW
Friday 19th February 2021
A vigorous east to southeasterly flow bringing in moisture from the sea combined with some cooler air in the midlevels has been causing frequent moderate to heavy showers and local thunder along the southern Queensland and northern New South Wales coast in the past few days.
These have resulted in rainfall amounts building up in these areas with the highest total in the 72 hours up to 9 am today being 220 mm at Upper Springbrook. Many other sites along the northern New South Wales and far southern Queensland coast recorded in excess of 100 mm. Unfortunately though most of these heavier falls were coastal.
These showers and local thunder are expected to persist in these areas into the weekend with locally moderate falls.
However by Sunday this activity should become more isolated and maximum temperatures are likely to become hotter as winds become less onshore.
Monday is likely to be even hotter with maximum temperatures significantly above the February average, reaching the mid to high 30s on the central and western Downs as well as inland parts of the SE Coast forecast district. Meanwhile temperatures near or just above 30 degrees are expected on higher parts of the ranges in the eastern Downs and also along the coastline where seabreezes are likely to moderate the heat a little.
Initial storm potential early next week is expected to be localised if any because of drier air.
However they are likely to become more widespread by Tuesday and Wednesday as moisture improves. A few of these storms may even become severe.
While some heat is likely to linger in these areas after Tuesday, the hottest conditions are likely to start shifting into central Queensland by then.
---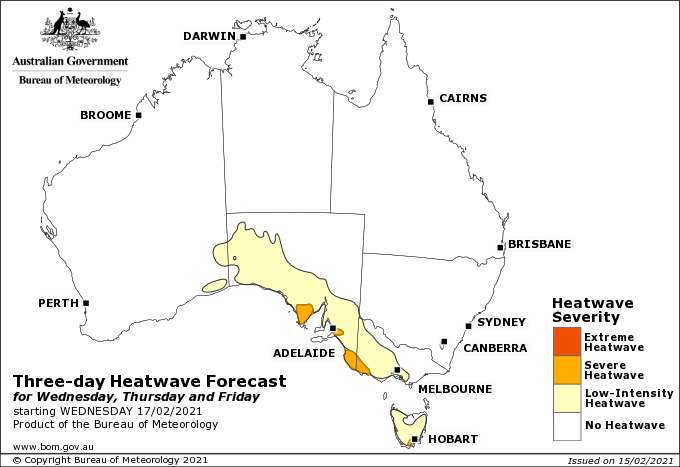 Image 1: Bureau of Meteorology Heatwave Forecast from Wednesday to Friday across southern Australia, showing low intensity (to locally severe intensity) heatwave conditions
Image 2: Temperature anomaly forecast for Thursday 18th February, 2021 for southern Australia (Source: WXcharts.com)
Hot week for southern Australia as a low-intensity heatwave grips the region
Monday 15th February 2021
As the east coast of Australia gets soaked this week, things will be very different in the south as a band of heat moves over the region, causing the most sustained period of heat so far this summer for many areas.
Many parts of southern Australia have had a cool start to the month with temperatures running around two degrees below average for February, with summer overall much cooler than in the last few years thanks to much more cloud cover and rain over the nation. However thanks to a break in the monsoon the heat isn't finished yet, as a low (to locally severe) intensity heatwave affects the region.
Today, most areas are enjoying temperatures in the mid to high 20s, tending to the low 30s over inland areas. However, parts of southwestern Australia are sweltering through their third consecutive day in the mid 30s, with Perth set to hit 37 degrees today. As a cooler change affects the far southwest from tomorrow, it will slowly push the hottest part of the airmass east during the week.
Esperance will see its hottest pair of days on Tuesday and Wednesday as the mercury rises into the mid 30s, whilst Adelaide is set to see its first significantly hot day on Tuesday, and is predicted to reach the mid 30s through until Friday. Melbourne will bask in low 30s heat from Tuesday until around Friday or Saturday, whilst Hobart can expect to rise into the low 30s on one or two days later this week.
Since the airmass is not that hot, inland areas aren't expected to be significantly hotter than many areas closer to the coast (except the coastal fringe), with temperatures only three-to-four degrees hotter. Northern parts of SA can expect up to around 40 degrees as a peak maxmium (much cooler than it can get to at this time of the year), whilst northern Victoria can expect to only reach as hot as around 37 degrees.
A cooler change is expected to clear the last of the heat out of southern Australia later in the weekend and into NSW and QLD.
---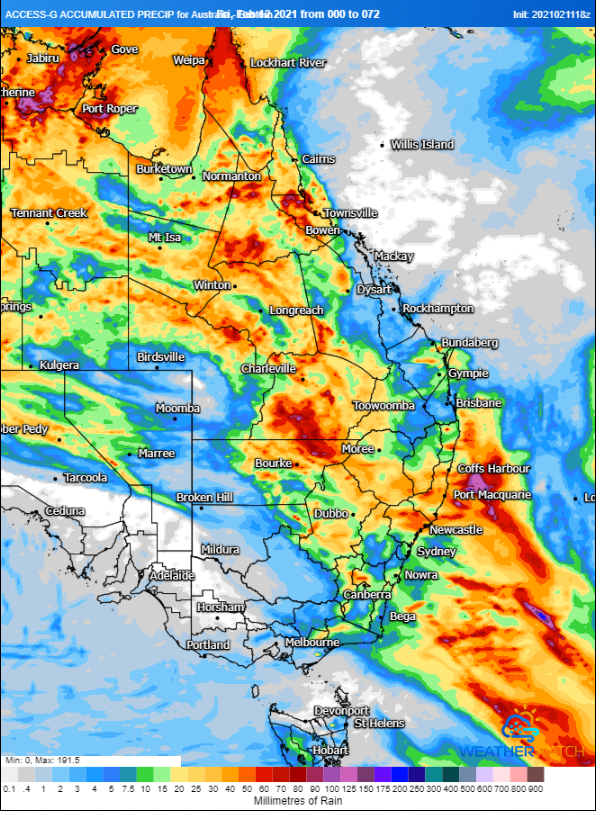 Image 1: Accumulated precipitation across the next 72 hours from the ACCESSG Model over eastern Australia(Source: Weatherwatch Metcentre)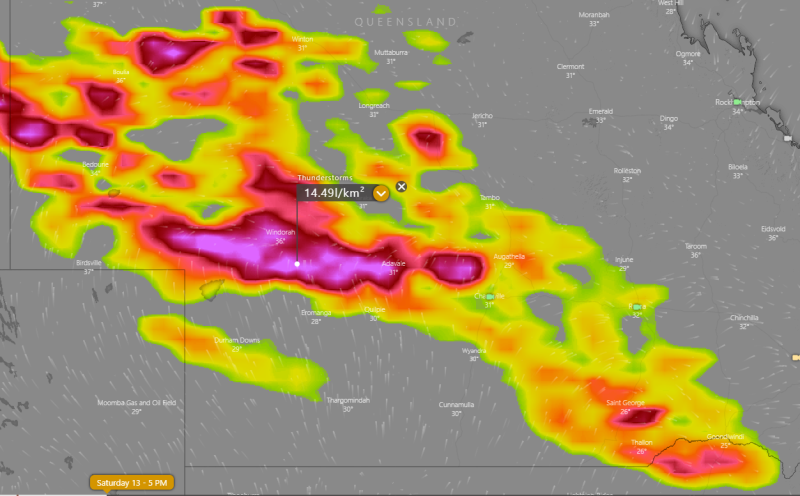 Image 2: Lightning forecast for inland Queensland at 5pm EDT Saturday 13 February, 2021 (Source: Weatherwatch Metcentre)
More heavy rain ahead of NSW and inland QLD
Friday 12th February 2021
After heavy rainfall hit the region last weekend, more good rain is likely across parts of New South Wales and inland Queensland from later today and into the weekend as a trough triggers thunderstorms and rain areas.
A trough of low pressure will gain moisture fed by humid onshore winds over the east of the country, causing an increase in rain and thunderstorms across the region. Today, areas of rain and thunderstorms are affecting central and southern parts of NSW, stretching into the northwest of the state.
Into early Saturday morning and throughout the day, the activity will focus over central and northern parts of NSW and into southwest QLD. Widespread rain and isolated thunderstorms are expected to affect northern and central NSW, with widespread falls of 10-30mm, and isolated totals up to 60mm. Over QLD, thunderstorms are expected to be more widespread with activity focused over southwestern areas with some of these expected to be severe, with heavy rainfall and damaging wind the main threats, as well as frequent lightning. Widespread falls of 5-15mm are expected, with heavier falls of 20-40mm under thunderstorms.
On Sunday, this activity will focus mainly on central inland and northern QLD with widespread falls of 10-20mm, and totals up to 50mm under thunderstorms. In coastal areas, rain will be much more patchy, with totals of 1-10mm and localised falls up to 20mm.
Into early next week, isolated showers are expected along the northern NSW coast, becoming heavier from mid-week and spreading into central and southern parts of the coast. Heavy showers and storms will continue over northern parts of QLD.
---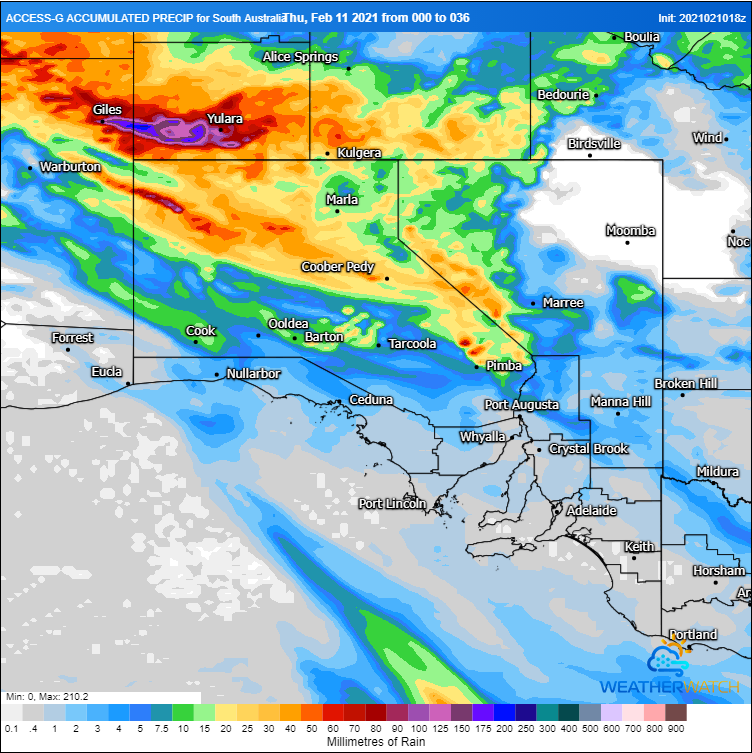 Image 1: Accumulated precipitation across the next 36 hours from the ACCESSG Model over SA (Source: Weatherwatch Metcentre)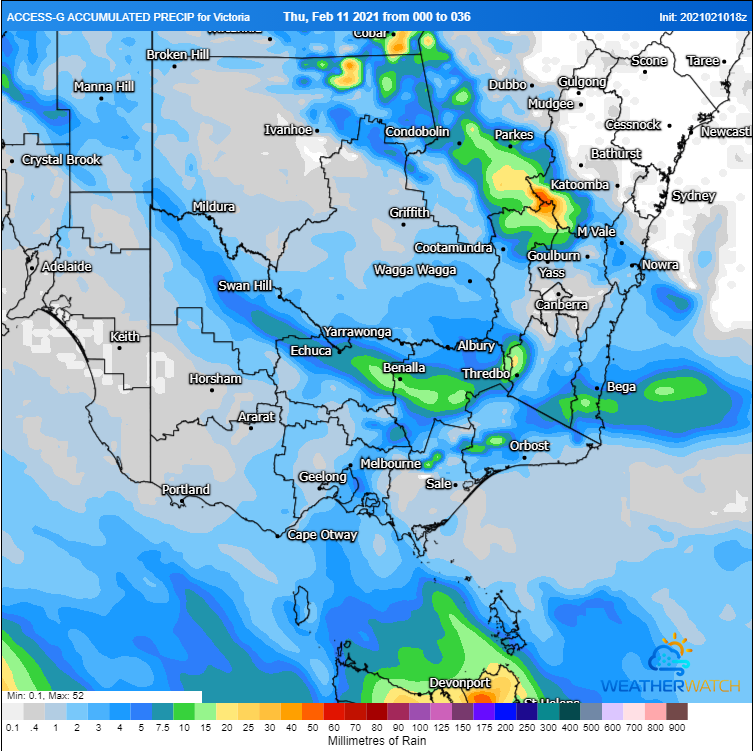 Image 2: Accumulated precipitation across the next 36 hours from the ACCESSG Model over VIC (Source: Weatherwatch Metcentre)
High temperatures across SA and VIC before a cooler change and rain
Thursday 11th February 2021
Temperatures are soaring into the mid to high 30s and 40s across southeastern Australia today, however relief is on the way as a cooler change and rain spreads across the region, although the heaviest falls will be confined to the interior.
Compared to recent years, summer has been remarkably cool across southeastern Australia and the start of February has been no different with a week of unseasonably cool weather to start off the month. The last few days have seen more summer like conditions as temperatures have risen into the 30s across large parts of the region, with today set to be the hottest day of the spell. Adelaide is forecast to hit 38 degrees and Melbourne 34 degrees (although conditions will be humid), with areas north of Whyalla in SA reaching into the low to mid 40s, and non-elevated areas north of Melbourne rising into the mid to high 30s, reaching 40 degrees at Mildura.
The high temperatures combined with strong winds are causing elevated fire danger across the states today as well, with fire weather warnings for severe fire danger current for Mallee and Wimmera in Victoria, and Eastern Eyre Peninsula, Lower Eyre Peninsula, Mid North, Mount Lofty Ranges, Yorke Peninsula and Lower South East in South Australia.
Today will be the last hot day for most of the region as a gusty southwesterly change moves in from the west and a cloud band brings showers and patchy rain areas. This rain is the result of the remnants of a tropical low that has affected the NT and WA across the past week, causing flooding over some areas. Unfortunately for most of SA and VIC falls will be patchy and mainly light, with most areas seeing falls of 1-5mm. Heavier totals are likely over the Flinders, Eastern & Lower Eyre Peninsulas, Yorke Peninsula, West Coast and North West Pastoral in SA, with falls of 10-20mm, and parts of the northwest of SA seeing up to 60-80mm. In VIC, the heaviest falls are likely over the North East, with totals of 10-20mm.
In the wake of the change and cloud band, cooler conditions are likely to return for the remainder of the week. However, warmer conditions are likely to return from next week.
---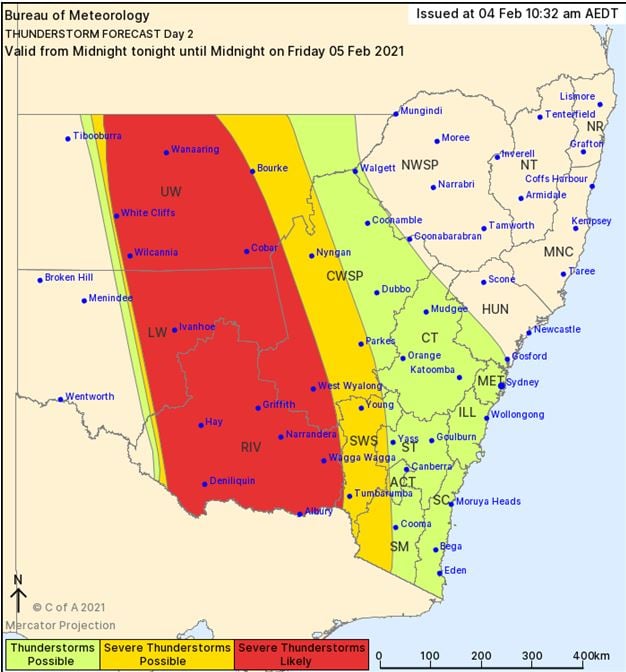 Image 1: NSW BoM Day 2 thunderstorm outlook.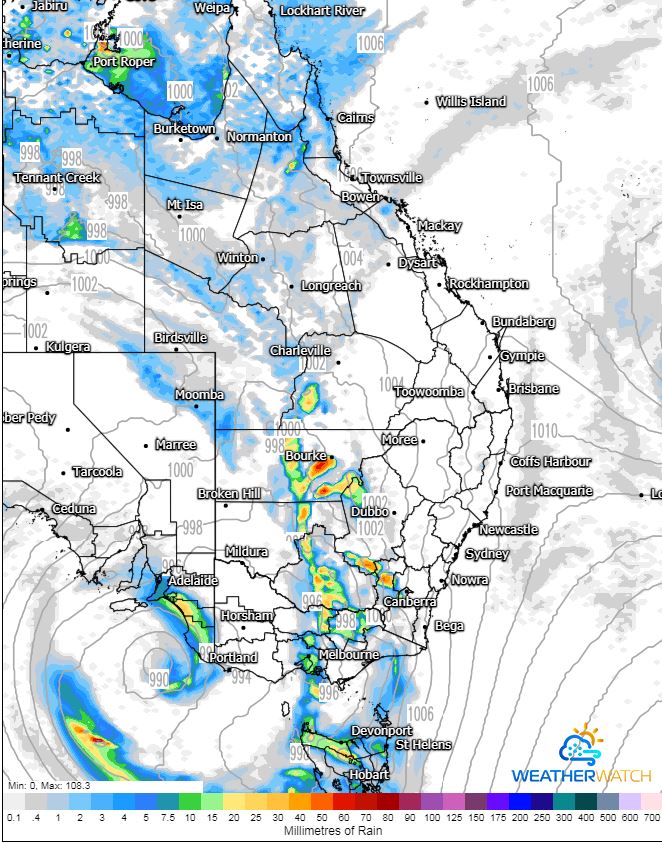 Image 2: ACCESS G MSLP for Friday evening. Image via WeatherWatch MetCentre.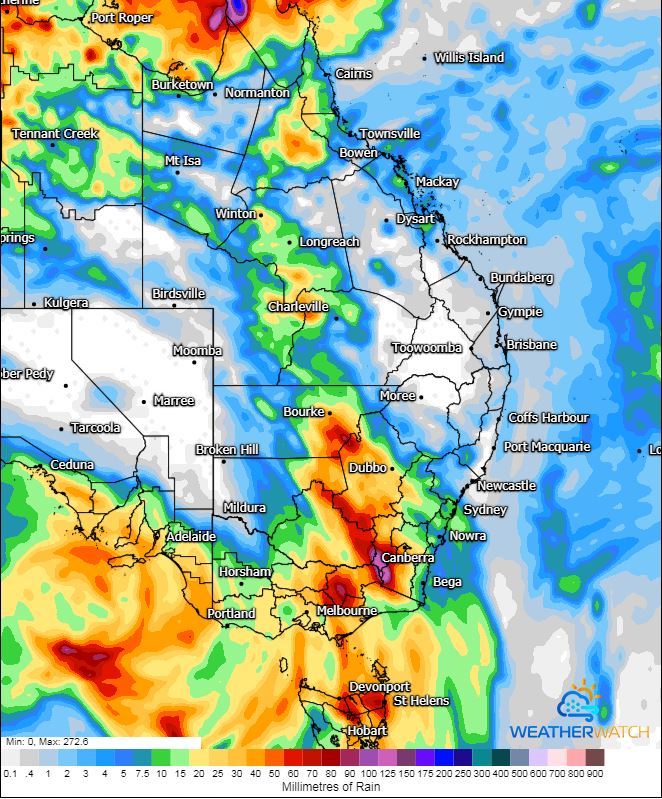 Image 3: GFS accumulated precipitation next 60 hours. Image via WeatherWatch MetCentre.
Significant severe weather event for Southern Australia
Thursday 4th February 2021
A multi-day, significant weather event is about to unfold across Southern Australia as a very strong upper level system develops.
A strong upper low moving towards South Australia will help induce a surface low on Thursday and intensify significantly into Friday. This low is expected to produce damaging wind gusts to 90km/h for coastal regions and elevated terrain of South Australia. This system will also produce a significant swell, with the potential for a small storm surge to develop which may inundate low lying coastal regions, with 3-5m waves expected for coastal regions. Heavy showers, rain periods and isolated storms are also expected with this system, with the potential for some flash flooding to develop, particularly for the Mount Lofty Ranges and South East districts.
Heavy rainfall is expected to develop across Northern Tasmania late Friday and into Saturday with rivers across Northern Tasmania expected to respond rapidly to heavy rainfall. A Severe Weather warning is current, with widespread totals of 40-80mm expected and isolated falls of up to 150mm possible, leading to flash flooding and rapid riverine flooding.
Across NSW and Victoria, moisture will increase across the interior of these states today as humid east to northeasterly winds develop with increasing instability and wind shear. A few thunderstorms are expected for inland NSW with the potential for one or two to become severe and produce damaging winds, large hail and heavy rainfall leading to flash flooding.
Overnight Thursday and into Friday, a large rain band and embedded thunderstorms is expected across NSW and VIC with moderate to locally heavy falls likely to develop. Falls of 30-50mm are expected, with isolated heavier falls of up to and exceeding 100mm possible, particularly for Northern Victoria and far Southern NSW. This may lead to significant flash flooding and riverine flooding across this region. A Severe Weather warning is current for damaging winds and heavy rain across Central and Northern Victoria with a flood watch likely this afternoon.
Late Friday afternoon, the potential will exist for a band of dangerous thunderstorms to develop across Central NSW, extending into Northern VIC should enough daytime heating occur. Very strong vertical wind shear, moderate instability and high moisture levels are expected to lead to robust storm development from Cobar-Ivanhoe-Deniliquin in NSW, extending south towards Echuca-Shepparton-Seymore in Victoria. A few storms in this region may become supercells and produce damaging to destructive winds, large hail and heavy rainfall. The threat for an isolated tornado or two will also exist across this region during the late afternoon or early evening.
Further north into Queensland, storm activity will continue across the western half of the state with locally damaging winds and heavy rainfall leading to flash flooding possible on Thursday and into Friday. This activity will continue into Saturday whilst shifting a touch further east into parts of the Warrego and Maranoa.
---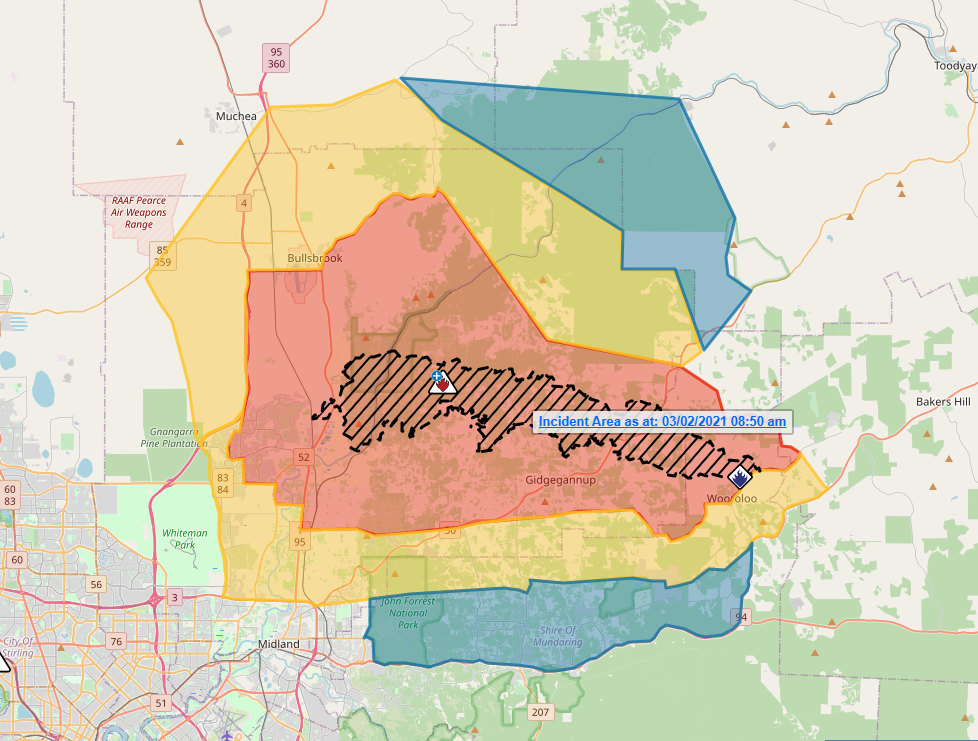 Image 1: Bushfire Emergency Area via the Emergency WA website.
Wooroloo Bushfire rages on claiming 71 homes
Wednesday, 3rd February 2021
Two hundred firefighters are actively working in difficult terrain as erratic and strong winds continue to challenge crews on the front lines who are protecting what they can and putting containment lines in place this morning. As of this morning, 71 homes have unfortunately been claimed by the flames of the bushfire, however no deaths have been reported so far.
The southern flank of the bushfire and it's proximity to the top of Brigadoon and Upper Swan are still a cause for concern. The plume from the bushfire had also prompted heavy smoke warnings across parts of the Perth CBD, Joondalup, Fremantle and Rottnest Island.
The tropical low well north of the bushfire is also expected to continue a southwesterly trend over the next few days, bringing a reprieve in hot temperatures, however bringing with it strong winds that may hamper firefighting efforts.
Firefighters are expecting strong southerly winds to push the fire in a north/northeasterly direction today, therefore people situated within the Shady Hills Estate area need to keep up-to-date with warnings and enact their bushfire plans early. A meeting for evacuees only will be held at 1:00pm at Brown Park, Swan View.
A bushfire Emergency Warning is in place for people in parts of the Vines, Bailup, Ellenbrook, Gidgegannup, Millendon, Walyunga National Park, Upper Swan, Aveley, Henley Brook, Avon Valley National Park, Red Hill, Belhus, Baskerville, Herne Hill, Bullsbrook, Wooroloo, Brigadoon in the Shires of Mundaring, Chittering and Northam and the City of Swan.
---
Subscribe Today To Our Newsletter