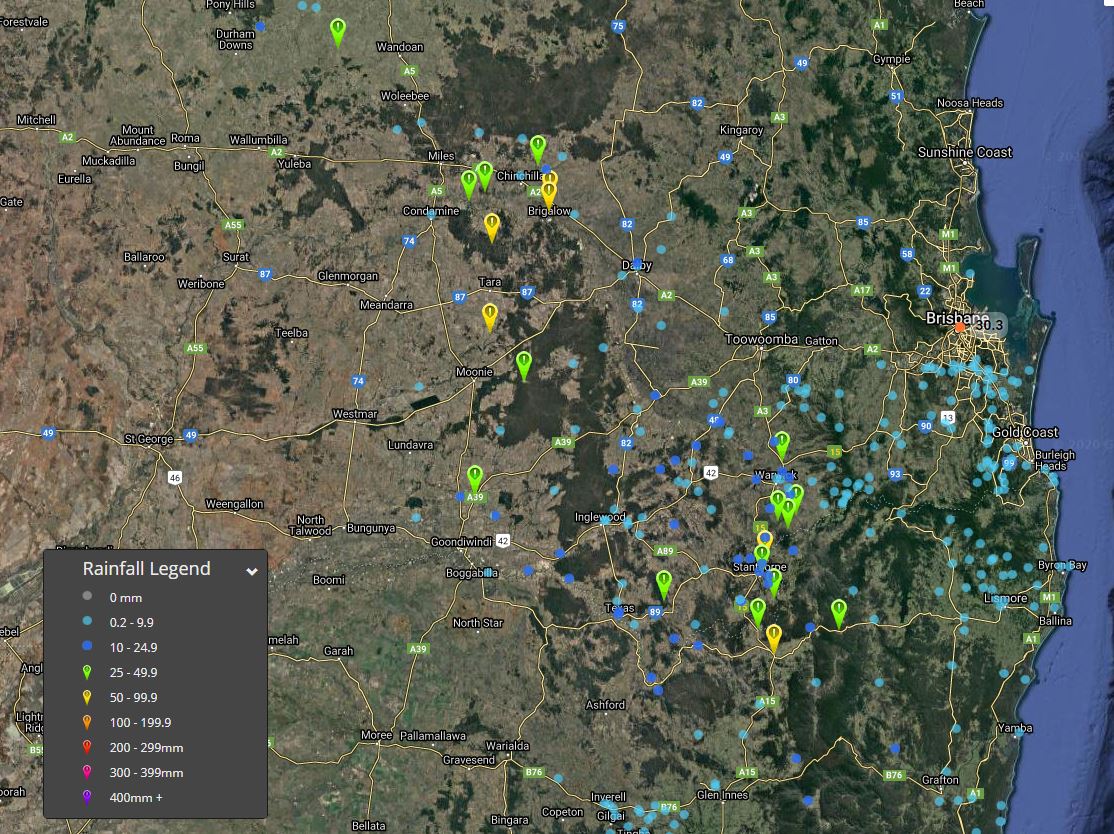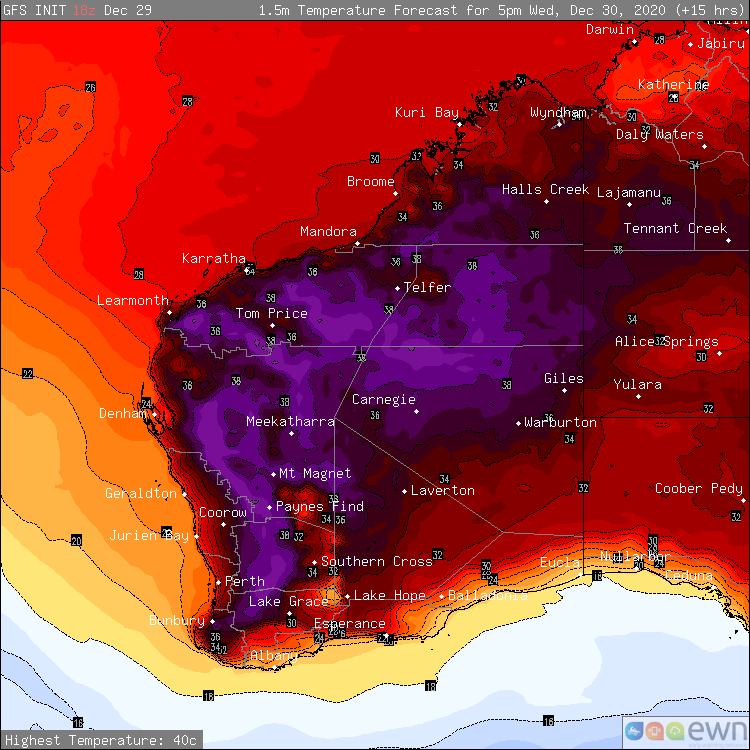 Image 1: December Heat - Surface temperatures for Western Australia at 5:00pm 30th December 2020
Temperatures soar in South Western WA with thunderstorms expected through northern and southern regions today
Wedensday, 30th December 2020
Temperatures continue to soar between the Christmas and New Year period for vast portions of Western Australia, with thunderstorms forecast through eastern parts of the South West Land Division and extending into parts of the Gascoyne today.
The temperature reached 43° at Geraldton Airport yesterday with the Perth Airport reaching 39°, which is +10° above the usual average. Morawa Airport also shared the honours with Geraldton reaching 43° within the Central West district.
Other notable temperatures from yesterday included 42° at Paraburdoo Aerodrome and 41° at Badgingarra Research Station, 41° at Gin Gin Aerodrome and 41° at Lanclin in the state's Lower West. The top six highest temperatures recorded across Australia yesterday all belonged to Western Australia.
Halls Creek Airport was the beneficiary of thunderstorm activity across the eastern Kimberley yesterday afternoon recording 9.4mm in a 24 minute period, with 11.8mm recorded within the hour. The wettest location was through the western Kimberley, where Debesa recorded 101mm of rainfall within a 24 hour period.
The hot daytime conditions are expected to retract into central and northern regions during the week and into this coming weekend, as a low pressure trough moves ashore through southwestern parts of the state. As a result of the trough, scattered showers and thunderstorms are likely through parts of the Kimberley, Pilbara, inland Gascoyne, the South West Land Division, Goldfields and far western parts of the Eucla today.
The primary risks today are for localised strong to damaging winds, as thunderstorms situated through southern parts of the state produce very little in the way of rainfall. Conditions are expected to remain similar towards this coming weekend, with consecutive days of thunderstorm activity expected largely concentrated through the central and northern interiors. Localised strong to damaging wind threats and heavy rainfall are likely with thunderstorms through northern parts.
---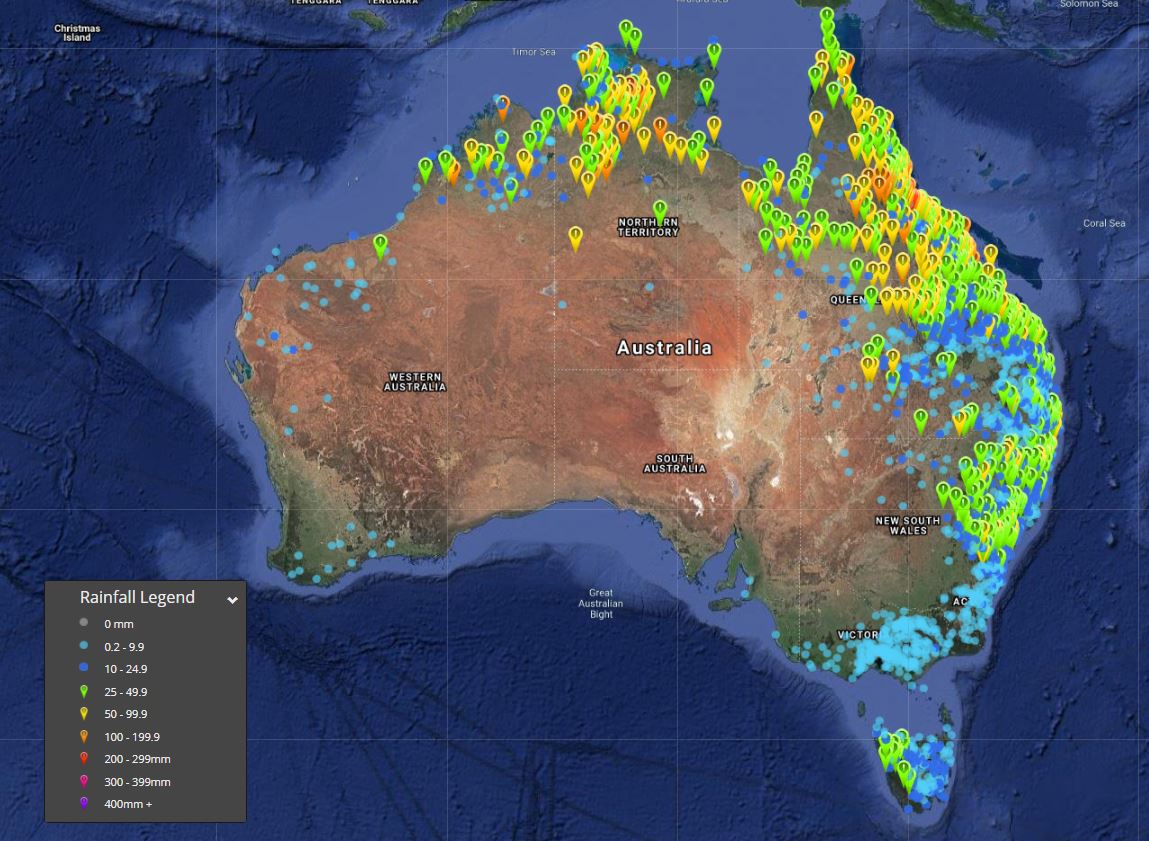 Image 1: 72 hour rainfall totals to 9am 30/12/2020.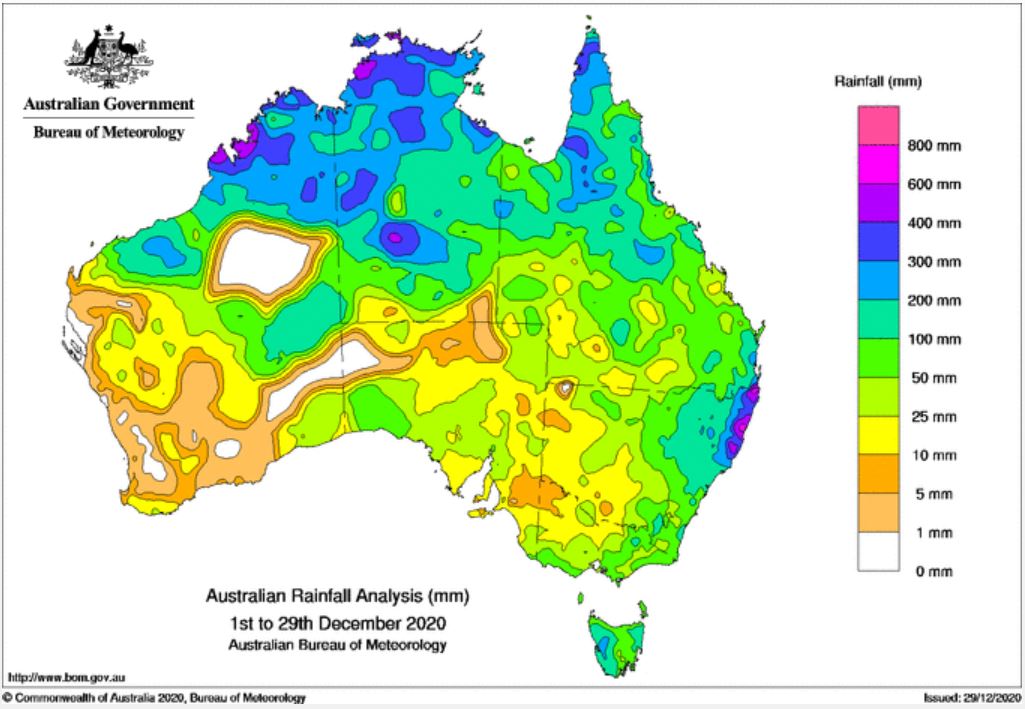 Image 2: Accumulated rainfall totals 1/12/2020 - 29/12/2020. Image via Bureau of Meteorology.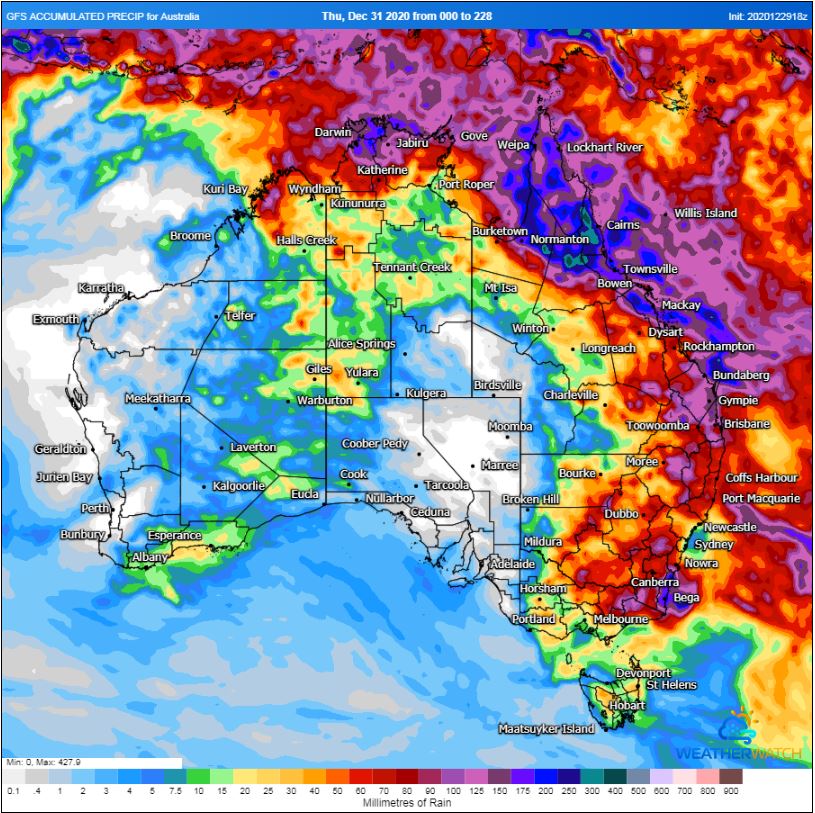 Image 3: GFS rainfall accumulation next 8 days. Image via WeatherWatch MetCentre.
La Niña is in full swing, as rainfall increases across Australia
Wednesday 30th December 2020
For the past few months, Australia has been sitting in a La Niña phase however most of the rainfall had been centred across Southern Australia, with Victoria, Tasmania and NSW registering solid falls, particularly in October.
December has seen the tide turn as an active monsoon and deep easterly winds across the Western Pacific feed into Eastern Australia, driving moisture-laden air through the interior of the continent, helping to generate widespread showers, storms and rain periods.
Over the past week, parts of NSW, QLD, NT and WA have seen widespread falls of 25-75mm with heavier falls exceeding 200mm for some locations, leading to flash flooding and riverine flooding. Persistent falls associated with continuous storm activity has seen the Thomas River at Muttaburra (Central-Inland QLD) rise just below the moderate flood level on top of flooding across parts of the NT and WA earlier this month.
On Tuesday evening, storm activity continued for NSW, generating further heavy falls. Repentance in the Northern Rivers picked up 106mm to 9am this morning with Nashua 106mm, Alstonville 102mm, Terry Hills AWS 105mm (Greater Sydney region) Evans Head 82mm, Dorrigo 53mm and Oberon 26mm. These totals come on top of a significant rain event in early December which produced minor to major flooding for parts of the Mid North coast, Northern Rivers and inland parts of the state.
Further north into QLD, heavy falls were widespread with several regions of the state registering 24-hour rainfall totals in excess of 100mm. Mt Vince West, inland from Mackay picked up 154mm, Paget 159mm, Walkerston 111mm, Gleneagle 136mm, Native Wells 135mm, Warahgai 145mm, Quilpie 51mm and Marathon 74mm.
Rainfall wasn?t confined to QLD and NSW with parts of the NT also recording over 100mm to 9 am this morning. Coolibah picked up 106mm, Maude Creek 109mm, Nutwood Downs 109mm, Howard Springs 82mm and Charles Point 57mm.
During Wednesday and Thursday, further showers, storms and rain periods will continue for Eastern QLD, northern parts of the NT and WA. Heavy falls are likely for parts of the Central and Northern QLD with another 100-150mm expected over the next 24 hours.
Thunderstorm activity will once again increase for parts of Western NSW, VIC and QLD during Thursday onwards, bringing the threat of severe thunderstorms with damaging winds, heavy rainfall and the potential for hail. High moisture content in the atmosphere will promote heavy rainfall which may lead to flash flooding and riverine flooding for some locations.
---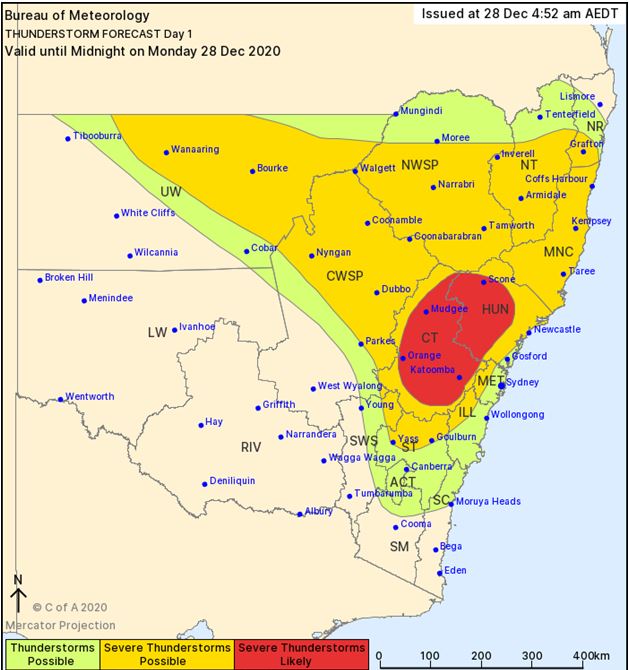 Image 1: BoM Thundrestorm threat map day 1. Valid 28/12/2020
Image 2: BoM Thundrestorm threat map day 2. Valid 29/12/2020
Thunderstorms lash NSW with more to come
Monday 28th December 2020
Severe thunderstorms have lashed New South Wales over the last 48 hours, producing large to giant hail, damaging winds and heavy rainfall with further storm activity forecast today and Tuesday.
During Saturday afternoon an isolated supercell developed west of Oberon, carving a path northeast through Lithgow on its way towards Cessnock before gradually weakening. Large to giant hail was observed with 6.5cm hail measured.
Storm activity rolled on into Sunday, with hail the size of golf balls falling on the suburb of Wauchope, west of Port Macquarie during the late afternoon. Damaging winds were also associated with this storm, with reports of damage to property.
During Monday afternoon another round of thunderstorms are expected for parts of Central and Northern NSW, with further severe activity expected. Damaging winds, large hail and heavy rainfall will all be possible this afternoon, with the possibility of a supercell of two developing.
Storm activity is expected to continue from Tuesday towards the end of the week, as a very active pattern persists across the state in association with a La Niña pattern.
---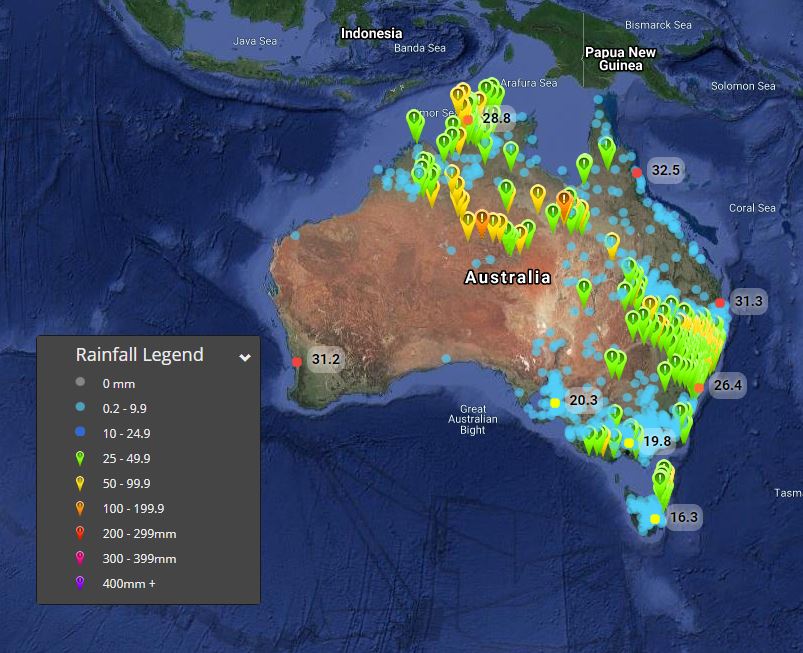 Image 1: Australian rainfall totals, 24hrs to 9am 22/12/2020
Heavy December rainfall impacts multiple states and Territories
Wednesday 22nd December 2020
An impressive northwest cloud band stemming from a tropical low across Northwestern Australia has delivered impressive rainfall totals across multiple states and Territories over the last several days, with some locations registering their highest December totals on record.
Tamworth, in NSW recorded its highest daily since February 2012 and its highest total for the site since it opened in 1993, picking up an impressive 92mm to 9am Tuesday 22nd December. Further widespread rainfall was recorded across NSW over the past 24 hours, as tropical moisture streamed across the state. Narrabri picked up 54mm, Boggabri 98mm, Gunnedah 72mm, Upper Horton 74mm and Port Macquarie 71mm. These heavy falls caused flash flooding across central-inland parts of NSW with riverine flooding also expected, with numerous wet days leading into this event.
Further north into QLD, Mt Isa picked up 115mm to 9am this morning, with Camooweal picking up 116.4mm, making these totals their highest daily rainfall totals for December. Other notable totals include, Glen Idol 61mm, Carters Bore 95mm, Cliffdale AL 58mm.
Across the Northern Territory and Western Australia, a tropical low continues to produce heavy rain across central parts of the NT and extreme Eastern regions of WA. Pine Hill in the NT registered 81mm to 9am this morning, with Rabbit Flat 77mm, Vaughan Springs 58mm, Territory Grape 73mm, Dum-In-Mirrie 54mm and Cullen River 62mm. In WA, Billiluna picked up 70mm, Halls Creek AP 28mm and Ruby Plains 44mm.
During Wednesday, further showers, storms and rain periods will continue to cause moderate to locally heavy falls possible. Another 40-80mm can be expected for central parts of the NT, with isolated falls exceeding 100mm likely leading to further flash flooding and riverine flooding.
Further south in Tasmania and Victoria, a broad area of low pressure continues to produce scattered showers, rain periods and isolated thunderstorms. Nullawarre in Southwestern Victoria topped the rainfall totals to 9am this morning with 71mm with Cape Nelson picking up 45mm, Portland AP 40mm, Port Fairly 38mm, Springvale 31mm and Frankston 31mm.
In Tasmania, a severe weather warning remains current for heavy rainfall leading to flash flooding and riverine flooding with St Patricks Head scoring 87mm to 9am this morning, Gray 85mm, St Helens 59mm, Eddystone 59mm, Mathinna 56mm. A flood watch remains in place for creeks and streams across Northeastern Tasmania today.
---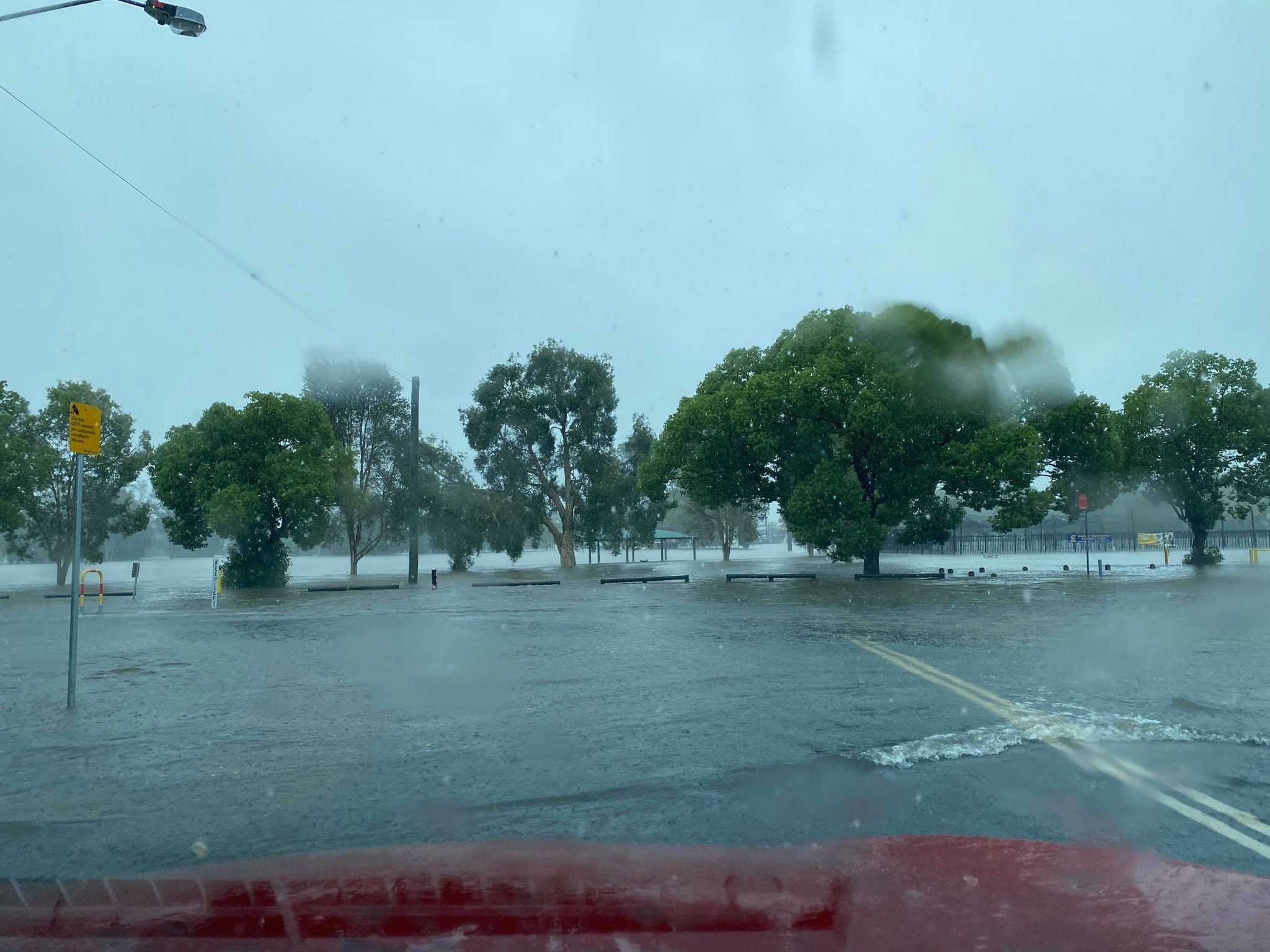 Image 1: Flash flooding in Lismore, NSW Wednesday afternoon. Image via Dave Ellem.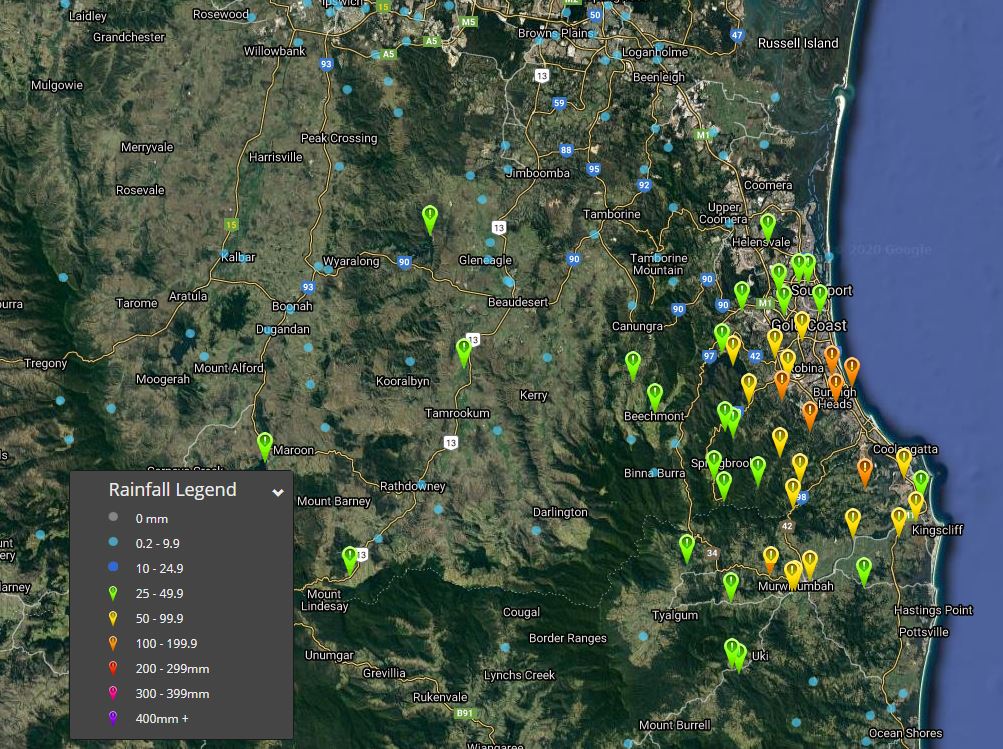 Image 2: Rainfall totals for SE QLD since 9am, 17th December 2020. Image via EWN.
Intense flash flooding across the Gold Coast and Northern NSW
Thursday 17th December 2020
A moist and unstable airmass across SE QLD has resulted in heavy showers and storms across the Gold Coast on Thursday, causing hazardous conditions for coastal regions.
Training thunderstorms have dumped over 100mm for several locations since 9am this morning, with Oyster Creek at Burleigh registering a staggering 168mm, Bilambil Heights 149mm, Coolangatta 115mm, Tallebudgera Creek 109mm, Burleigh Waters 104mm with localised heavy falls ongoing.
Today's falls are on top of heavy falls overnight, with Oyster Creek picking up 101mm to 9am this morning, Coolangatta 72mm and Currumbin Creek 87mm. This has led to dangerous flash flooding across the region. Sadly, a 69 year old man lost his life after being swept away by flash flooding near Killarney, QLD last night as rapidly rising water consumed the man's vehicle.
Whilst today?s focus is in South East Queensland, yesterday parts of Northern NSW, in particular Lismore and surrounds copped and absolute drenching. In the 24 hours to 9am this morning, Lismore Airport picked up a staggering 203mm with the bulk of that total falling in a 6 hour period (11am-5pm) making Wednesday 16th its highest daily December rainfall total in history, with records dating back to 1884. Dangerous flash flooding occurred making the entire region a nightmare for locals with a 5-minute trip turning into a half-day event.
Further showers and storms are expected across the region this afternoon and evening, before steadily easing into Friday and across the weekend.
---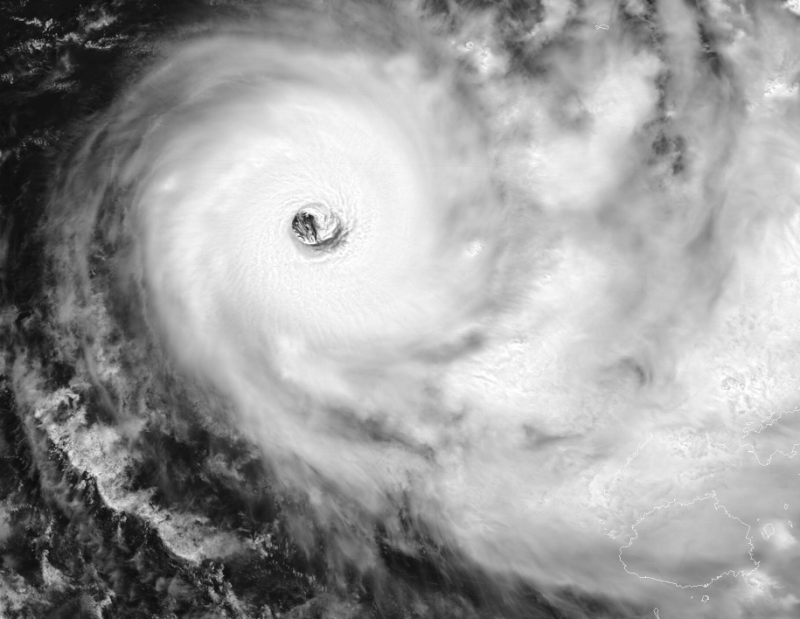 Image 1: Satellite imagery of Category 5 Yasa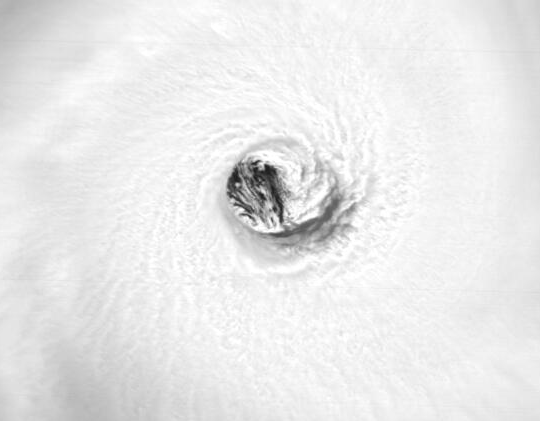 Image 2: Satellite imagery of Category 5 Yasa showing the very clearly defined eyewall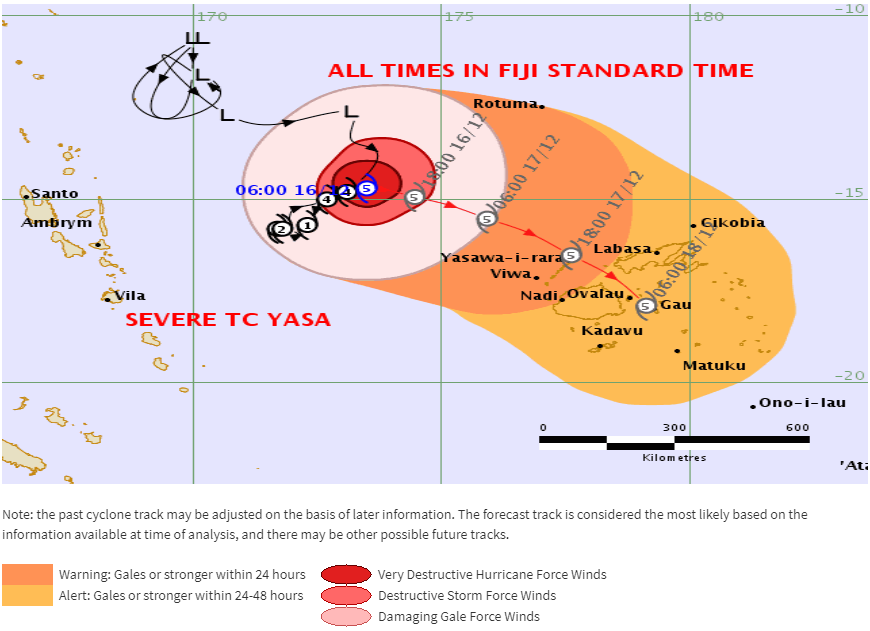 Image 3: Tropical Cyclone Threat map issued by the Fiji Meteorological Service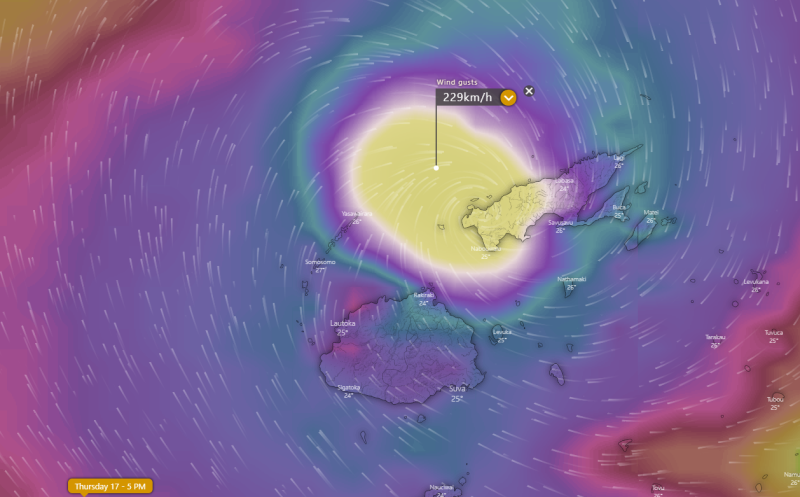 Image 4: Wind gust forecast for Thursday 17th December, 2020 by the ECMWF Model (Source: Windy.com)
Category Five Cyclone Yasa set to lash Fiji
Wednesday, December 16th 2020
Severe Tropical Cyclone Yasa, which strengthened into a category five system overnight, is set to make a direct hit on Fiji from Thursday as it begins to accelerate southeast from today.
Yasa has strengthened rapidly over the last two days, only developing into a category one system early on Monday, quickly intensifying to a category five earlier today.
Modelling of the cyclone's path has not changed substantially over the last few days either, with Yasa likely to make a direct hit on the Fijian Islands as a category five on Thursday, with devastating effects likely.
The Fiji Meteorological Service is warning for very destructive winds and widespread flooding, with average wind speeds of 165km/h with wind gusts of 230km/h. The heavy rain and storm surge (with waves possibly more than six metres) are likely to inundate low-lying areas and bring the risk of landslides.
At this stage, the eye of the cyclone is expected to pass between the two main islands (Viti Levu and Vanua Levu), however only a slight change in trajectory could put the eye over the mainland. With the path of Yasa, all of Fiji will feel its effects.
Conditions will begin to ease later Friday or over the weekend.
---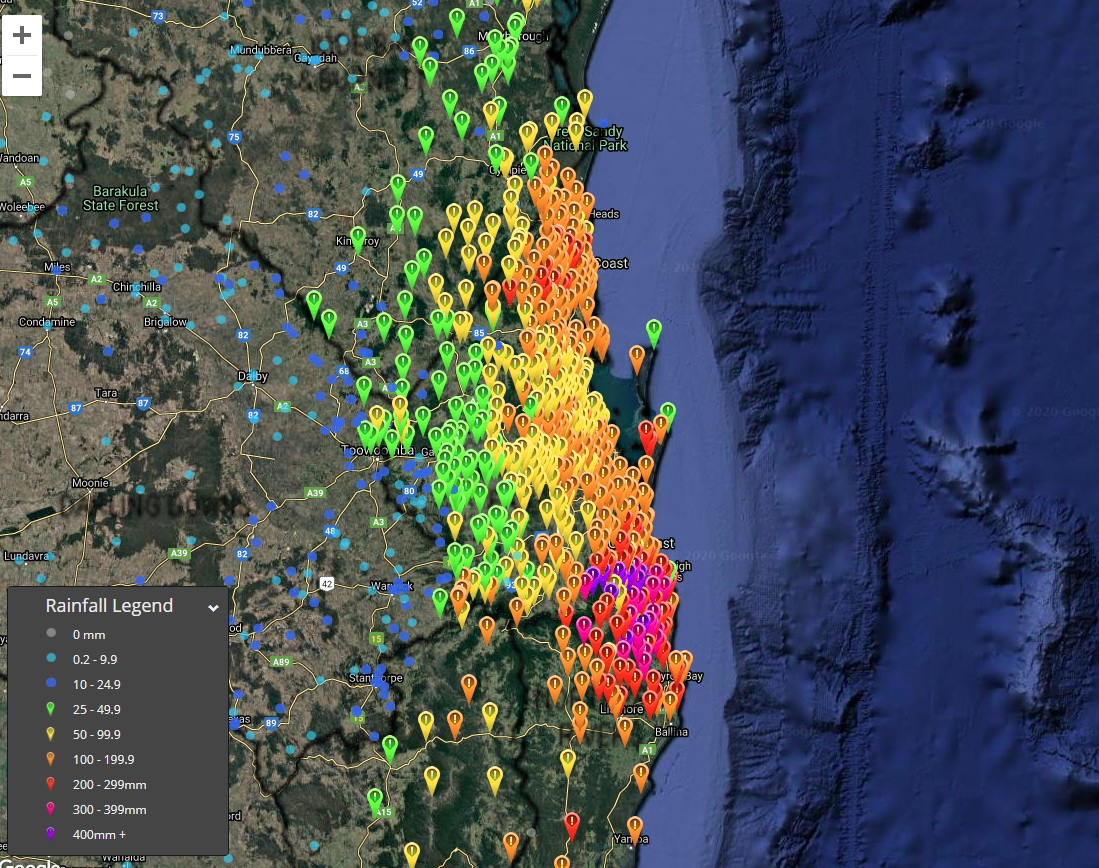 Image 1: Observed rain amounts in the 96 hours to 9am today (zoomed to southeast Queensland).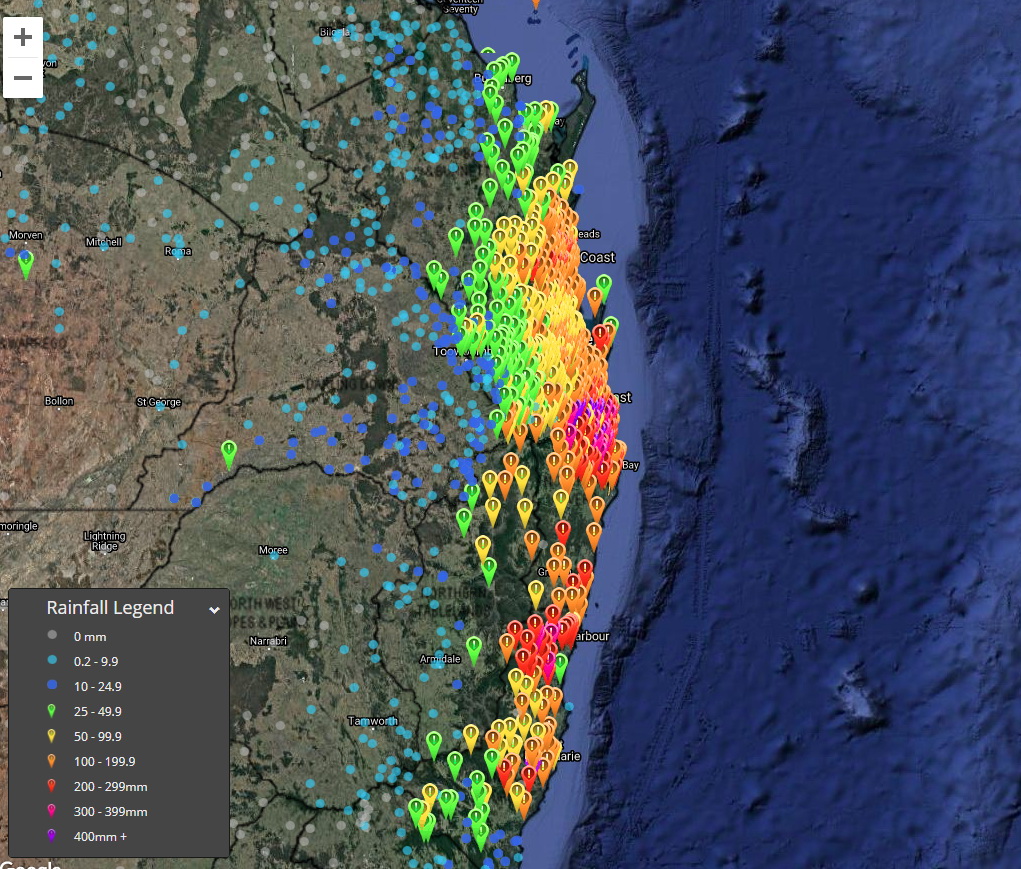 Image 2: Observed rain amounts in the 96 hours to 9am today (broader view).
Major weather pattern turnaround sees coasts of southern QLD and northern NSW receive huge drenching.
Monday, 14th December 2020
In what's become much more like a classic La Nina pattern in summer, the stable synoptic pattern that was preventing large rain events from affecting eastern Australia finally and suddenly gave way last week to a very broad easterly flow. This brought copious amounts of moisture onto the east coast.
This moisture combined with the formation of a large upper low as well as a deep surface trough and low that came ashore has caused the southern Queensland and northern New South Wales coasts to experience widespread showers and heavy rain areas. This has resulted in extremely heavy rain along parts of the coast and hinterlands with severe flash flooding in some areas. Unfortunately though, most of the heavy falls didn't penetrate too far inland.
Some of the highest totals during the 96 hours to 9am today include:
739mm at Upper Springbrook (southeast Queensland)
567mm at Lower Springbrook (southeast Queensland)
522mm at Currumbin Creek (southeast Queensland)
507mm at Upper Tallebudgera (southeast Queensland)
475mm at O'reillys (southeast Queensland)
431mm at Doon Doon (northeast New South Wales)
424mm at Tomewin (southeast Queensland)
424mm at Upper West Burringbar (northeast New South Wales)
407mm at Binna Burra (southeast Queensland)
401mm at Limpinwood (northeast New South Wales)
Very strong winds also occurred in these regions yesterday and today with trees and powerlines coming down in some areas. Some of the stronger wind gusts recorded since the start of Sunday include:
113km/h at Cape Moreton
111km/h at Double Island Point
104km/h at Cape Byron
89km/h at Archerfield
82km/h at Redcliffe
The very strong onshore winds also caused dangerous surf particularly along the southern Queensland coast today as well as significant coastal erosion and inundation of some low lying areas near the sea. Waves up to 12 metres were recorded by the waverider buoy off Tweed Heads.
Most of the rain areas are expected to continue contracting further south along the New South Wales Mid North Coast today and tomorrow. However scattered showers and storms will occur from time to time in the humid unstable airmass over southeast Queensland and northeast New South Wales for the rest of the week. Some of these storms may become severe with brief but locally heavy rainfall being the main threat.
---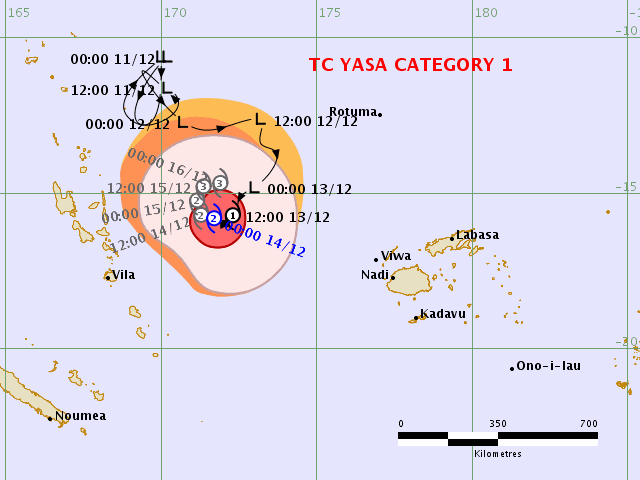 Image 1: Tropical Cyclone Threat map issued by the Fiji Meteorological Service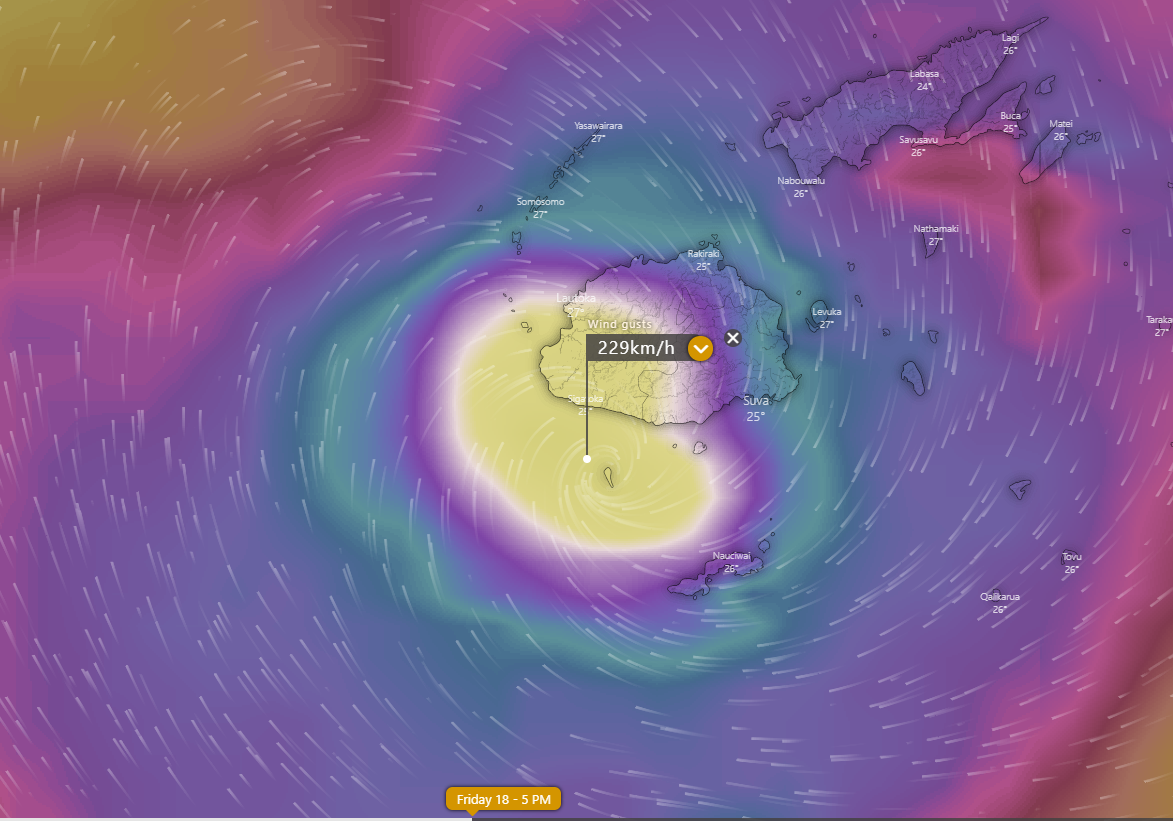 Image 2: Wind gust forecast for Friday 18th December, 2020 by the ECMWF Model showing the possibility of a direct impact on Fiji (Source: Windy.com)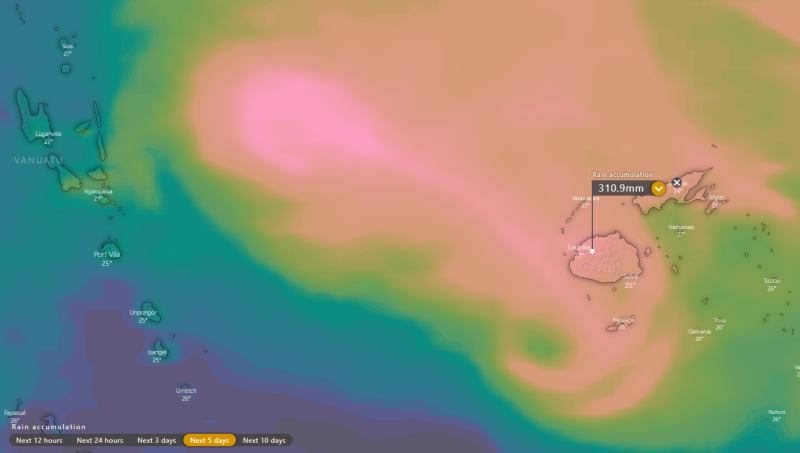 Image 3: Accumulated precipitation from the ECMWF Model over the next 5 days (Source: Windy.com)
Tropical Cyclone Yasa forms near the Pacific Islands; Fiji at risk
Monday, December 14th 2020
Tropical Cyclone Yasa was officially named overnight as the tropical low that has been been developing over the last few days between Fiji and Vanuatu deepened further, posing a threat to the Pacific Islands.
Two tropical systems have been affecting the Southwest Pacific over the last few days as a Madden-Julian pulse affects the region, with the secondary (and currently weaker) system lying near Tonga.
Whilst this weaker system (Tropical Cyclone Zazu, Category 1) is expected to move southeast, Yasa is expected to do a full clockwise loop over the next few days, moving southwest today, before turning northwest and then northeast over the next two days to be back to its current location by Thursday.
Yasa is currently a category 2 system, and is expected to intensify further into a category 3 system over the next two days, and possibly a category 4 system later this week. By Wednesday, Yasa will adopt a more southeast track and move faster, and is expected to approach the Fiji mainland and islands on Thursday and Friday.
Heavy rain is expected to develop over northern parts of Fiji on Wednesday, with gales affecting the northern islands and far northern mainland by Thursday. Some models are indicating a direct impact on western parts of the Fijian mainland and islands around Friday, with wind gusts in excess of 200km/h, very heavy rainfall and significant storm surge. However, the nature of tropical cyclones are unpredictable and the situation will likely change over the coming days.
---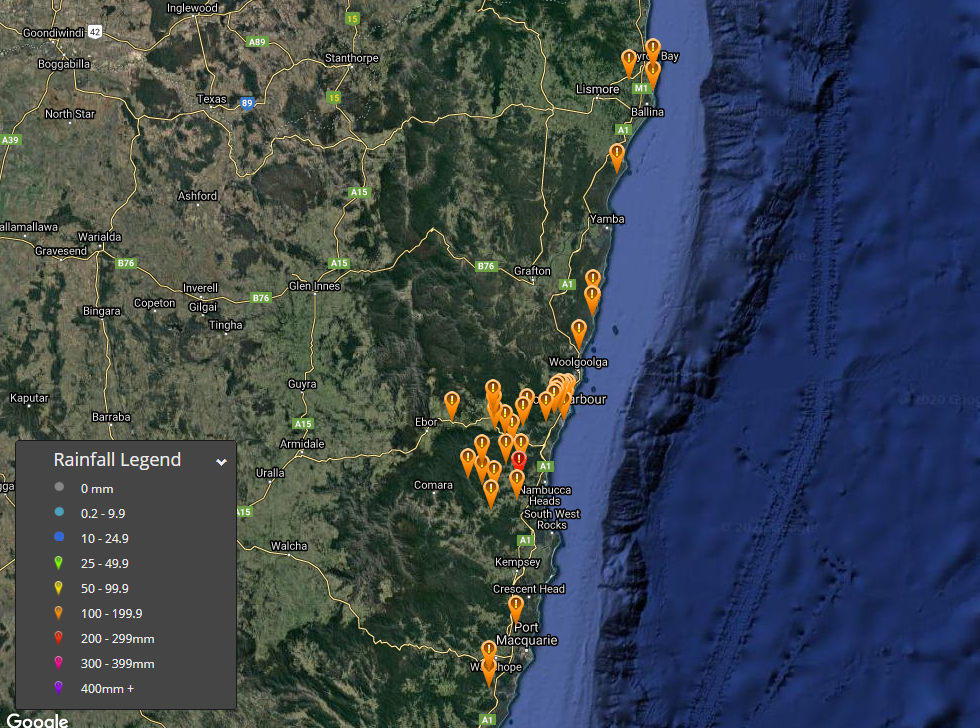 Image 1: NSW locations that received >100mm of rainfall since 9:00am yesterday to 9:00am 12th December 2020.
Significant rainfall totals for the Mid North Coast of NSW overnight
Saturday, December 12th 2020
Rainfall up to 300mm was recorded in a 24 hour period to 9:00am this morning for Nambucca Heads as a low pressure trough edged northward yesterday and overnight into the early hours of this morning. A Severe Weather Warning for Heavy Rainfall, Damaging Winds, Abnormally High Tides and Damaging Surf is current for people situated within the districts of Northern Rivers and the Mid-North Coast.
Heavy rainfall is expected to further increase the risk of flash flooding and rises in creeks, streams and estuaries. High water levels due to spring tides are also forecast over the next few days, which adds to the risk of flooding in lower tidal areas. Flooding is anticipated to be evident in the following catchments from today and leading into early next week: Tweed and Rouse Rivers, Brunswick River and Marshalls Creek, Wilsons River, Richmond River, Orara River, Coffs Coast, Nambucca River and the Hastings River.
A moderate to major Flood Warning is current for the Bellinger River in response to significant rainfall totals recorded overnight. Some of the rainfall totals over 100mm within 24 hours to 9:00am include 300mm Nambucca Heads, 203mm Bowraville, 161mm Crystal Creek, 160mm and both Missabotti and Utungun respectively, 154mm Dorrigo and Coffs Harbour, 152mm Thora and Boambee, 150mm Middle Boambee, 137mm Gleniffer, 136mm Bowra, 133mm Pillar Valley and Minnie Water, 129mm South Arm, 122mm Girralong, 121 Coopers Shoot, 120mm Lake Ainsworth, 118mm Meldrum, 112mm Evans Head, 108mm Wooli, 106mm Thumb Creek, 101mm Taylors Arm and 100mm recorded at Nashua.
Further moderate to heavy rainfall areas are expected to continue into tomorrow, especially for parts of the Northern Rivers and extending into southeastern parts of QLD. Heavy rainfall areas may occur about the coast relative to adjacent inland districts. Localised moderate to heavy rainfall areas producing totals of up to where between 100mm-150mm within a 24 hour period may occur leading into Monday, elevating the risk of flash flooding with creek and river rises possible. Rainfall is expected to ease leading into Tuesday with the westward progression of the surface trough.
---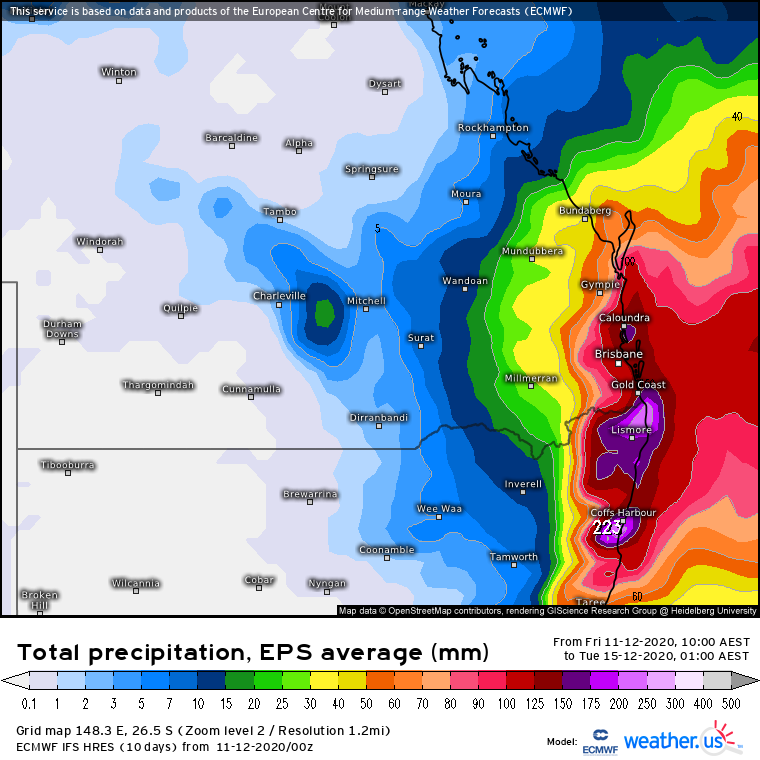 Image 1: EC ensemble forecast total rainfall between today and Tuesday (Source: weather.us)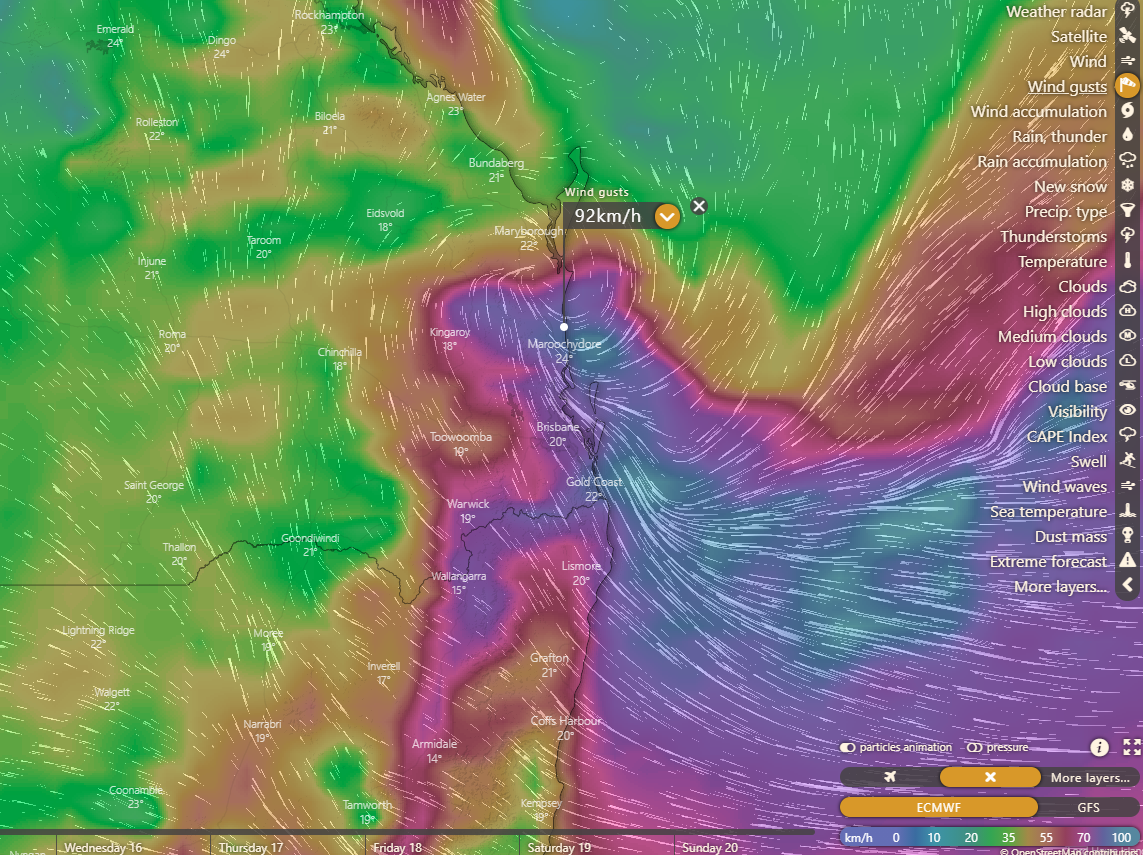 Image 2: EC model wind gusts for 8am Monday (Source: Windy.com)
Northern NSW coast, far Southern QLD coast to be drenched by flooding rain with strong winds. Moderate to heavy rainfall elsewhere in Southeast QLD and Northeast NSW.
Friday, 11th December 2020
A dramatic turnaround from the very dry conditions that have prevailed in these regions until now is about to unfold thanks to a coastal low forecast to develop in a deepening trough as well as an upper low.
The existing showers and patchy rain areas in these areas are set to become heavier along the northern New South Wales coast on Saturday. These heavier falls are then expected to spread further up over parts of southeast Queensland on Sunday and Monday as the surface trough with the embedded intensifying low comes ashore onto the Southern Queensland coast, though heavy rain may back off at times. Very heavy falls are expected to occur on the southern side of this low, most likely along the northern New South Wales coast and far southern Queensland coast. However the northern limit of these very heavy falls may change depending on exactly where the low crosses.
While rain amounts elsewhere in southeast Queensland and northeast New South Wales are likely to be lower especially north of where the surface low crosses as well as further inland, moderate to heavy rainfall is still likely in much of these remaining areas from showers and rain areas with localised embedded storms.
On average rainfall between today and Tuesday is expected to accumulate to 150 to 250mm along the Northern New South Wales coast and Southern coastal fringe of Queensland with possible locally higher amounts up to 300mm or greater. 50 to 150mm is expected on average along and east of the ranges in most of the remainder of southeast Queensland and northeast New South Wales. 10 to 50mm is expected further inland in areas like the central Darling Downs in Queensland and parts of the Northwest Slopes and Plains in New South Wales. Significant flash flooding and up to moderate flooding of some rivers is likely near the northern New South Wales coast and far southern Queensland coast. Some flash flooding is also likely in other parts of southeast Queensland and northeast New South Wales, mainly east of the ranges.
Strong wind gusts in the order of 60 to 80km/h are also likely to develop later on Sunday along the southern Queensland coast and Moreton Bay islands as well as the ranges inland of the coast. Localised brief gusts closer to 100km/h or stronger are possible along some of the most exposed parts of the coast and islands. These strong winds should then spread further down along parts of the New South Wales coast and adjacent ranges on Monday. These winds may result in downed branches and powerlines in some of these areas.
Dangerous surf is also expected to develop along the exposed southern Queensland coast on Sunday before spreading down along the northern New South Wales coast on Monday. Abnormally high tides will also exacerbate coastal erosion especially on Sunday morning's high tide.
While Tuesday may see the more widespread rain areas breaking up, scattered showers, storms and possibly some local rain areas are expected to persist in the warm moisture laden northeasterly flow.
---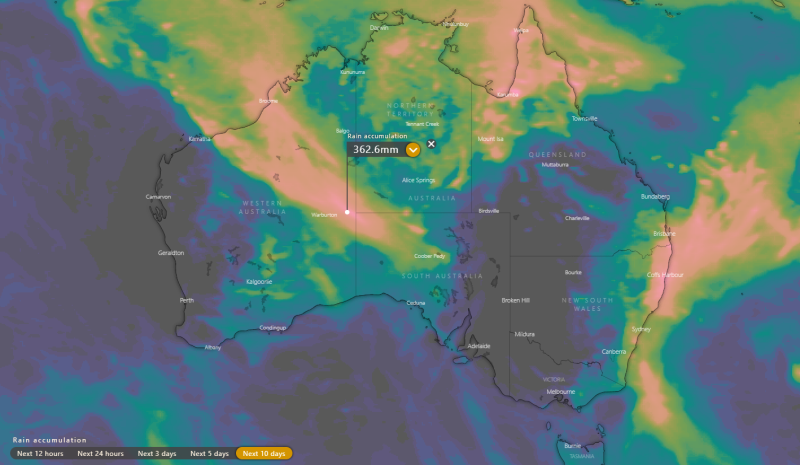 Image 1: Rainfall accumulations over the next 10 days for Australia (Source: Windy)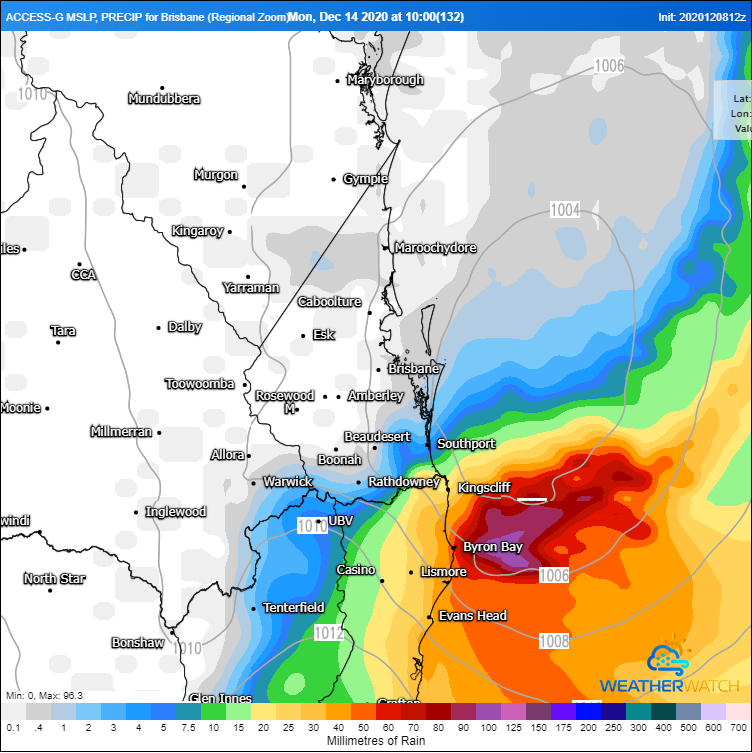 Image 2: A low pressure system is expected to develop off the southeast QLD Coast on Sunday 13th or Monday 14th December (Source: Weatherwatch Metcentre)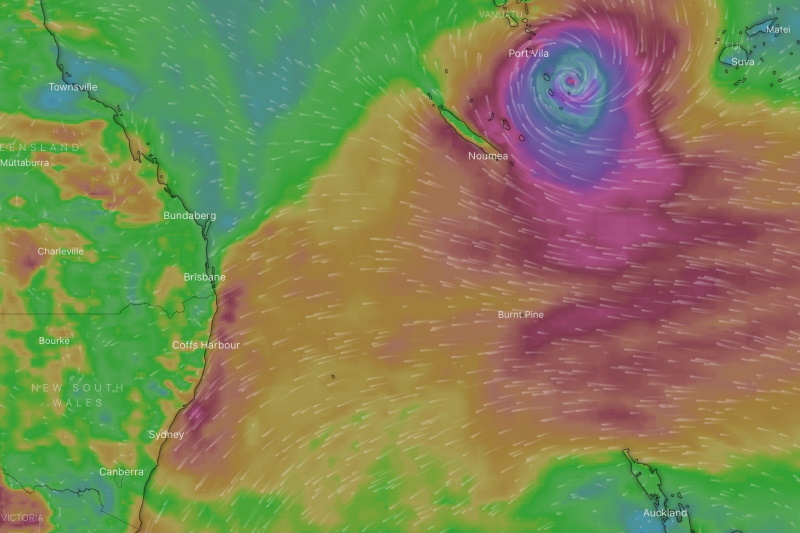 Image 3: Possible tropical cyclone developing near the Pacific Islands next week (Source: Windy)
La Nina finally turns on the tap over Australia
Wednesday, December 9th 2020
La Nina is finally making itself felt after a dry and record hot November, as widespread rain affects the country over the coming week (at least).
A tropical low over northwestern Australia is already producing heavy rainfall over the Kimberley, with widespread totals of 50-100mm recorded over the past two days. This system will spread into the nation's interior later today and into tomorrow, whilst another low brings another burst of rain to the Kimberley from Friday, generating a sustained train of rain across the nation's northwest into the interior. Widespread accumulated falls of 50-150mm are likely with some areas seeing in excess of 300mm, producing areas of flooding and causing some communities to become isolated.
At the same time, the northern tropics will become more active during the week, with showers and storms (tending to rain) becoming particularly widespread from the weekend into next week, with widespread falls of 50-150mm likely across the Top End and Cape York Peninsula.
Over southeast Queensland and eastern New South Wales, heavy rainfall is also expected to develop later this week, into the weekend and into next week as an upper trough combines with a deepening coastal trough and unstable easterly winds. Several models are indicating a surface low will develop, most likely off the southeast QLD coast on Sunday and move south into early next week, and if it moves close to the coast, will bring very heavy rainfall and potentially strong winds. Under this scenario, widespread falls of 100-200mm are likely.
Beyond this point there is model uncertainty, with some models indicating an unstable and wet easterly stream continuing into mid to late next week over eastern NSW and southeast QLD. However, this will be dependent on the movement of a tropical low and potential tropical cyclone which is expected to develop around the Pacific Islands next week. This system is not expected to impact the Australian coast at this stage.
---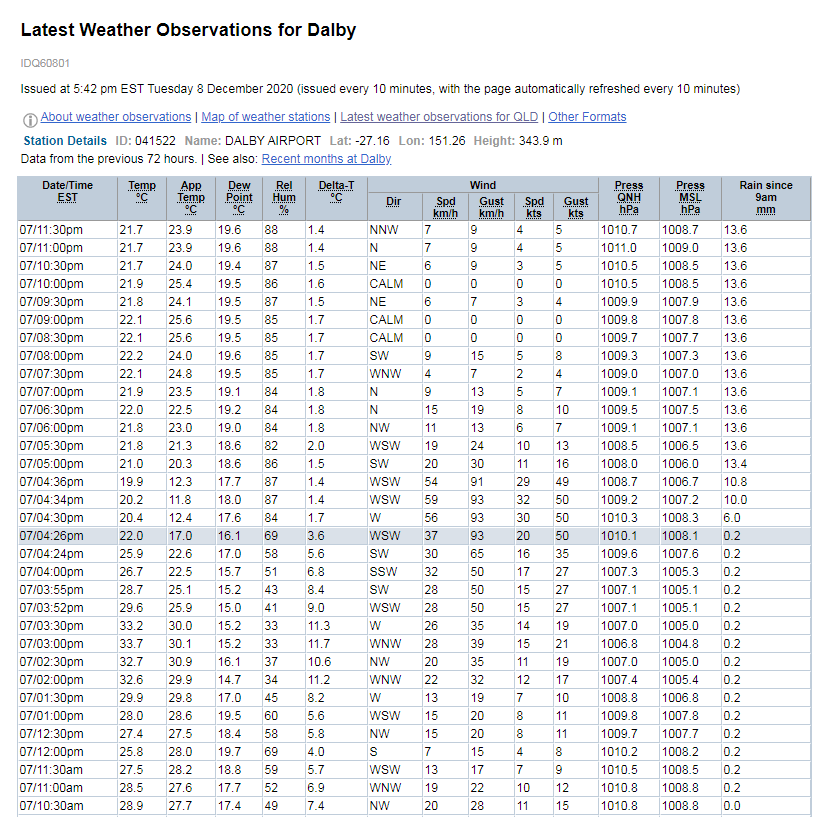 Image 1: Dalby AWS Observations for December 7th, 2020 via the Bureau of Meteorology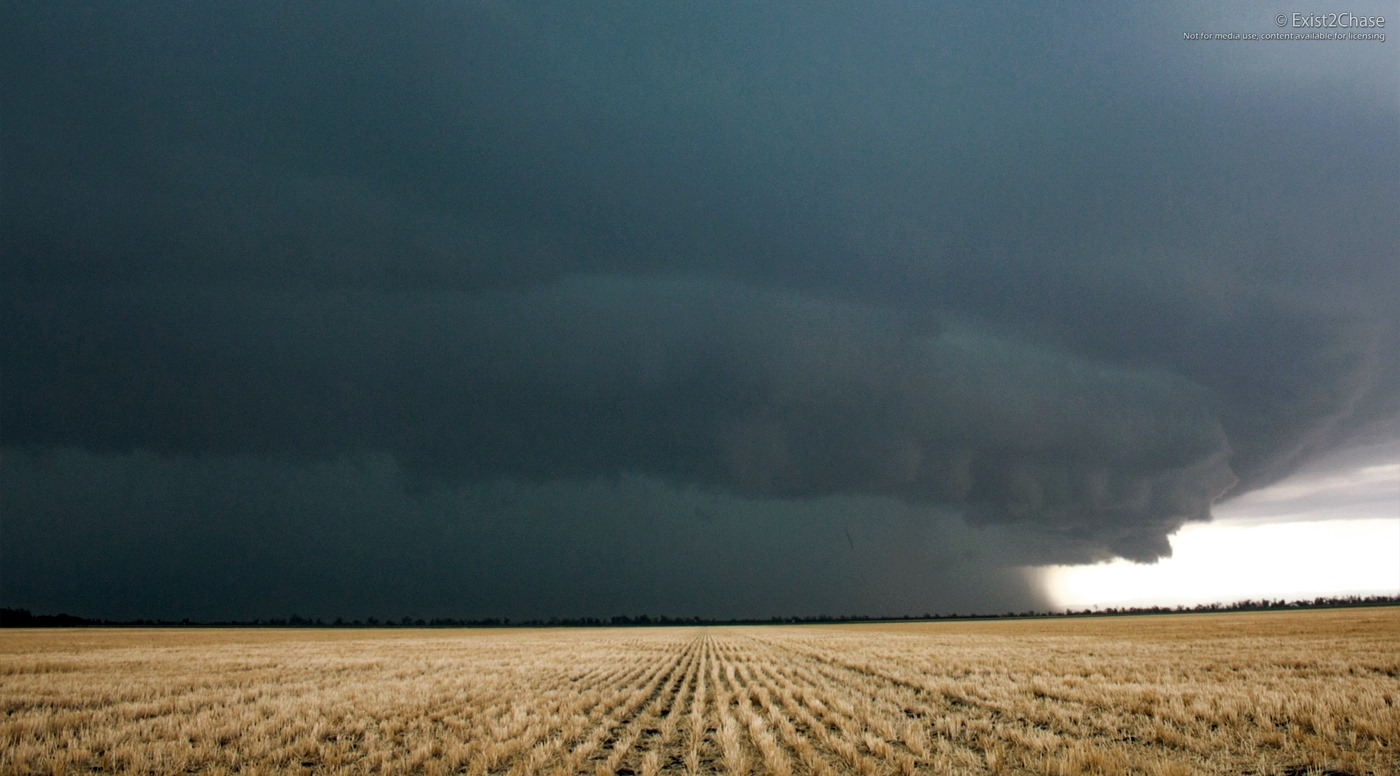 Image 2: The severe thunderstorm that struck Dalby at peak intensity at 4:30pm via the Early Warning Network's Andy Barber.
Another electrifying night for inland and coastal districts
Tuesday, December 8th 2020
Severe thunderstorms returned once again to parts of southeastern inland and coastal QLD yesterday with all severe elements recorded inclusive of localised strong to damaging winds, large hail and heavy rainfall.
Some noteworthy observations as a result of severe thunderstorm activity included 2-3cm hail reported from Woodford at both 1:00pm to 1:15pm, with multiple reports of large hail from the Bongaree and Ningi region measuring to 5cm in diameter at 2:10pm.
In relation to winds observations, the severe thunderstorm that struck Dalby just after 4pm produced significant wind gusts to 93km/h at 4:26pm. Another gust of 91km/h was recorded two minutes after at 4:36pm by the automated weather station. Kandanga recorded very heavy rainfall with 35mm of rain received within a 15 minute time period to 4:50pm.
Very lightning active thunderstorms also resulted in multiple blackouts across parts of the southeast during the afternoon and evening. At 4.15pm Energex reported more than 21,000 customers had lost power including 13,892 in the Moreton Bay Region and 7,447 on the Sunshine Coast.
The Brisbane Valley region recorded temperatures of up to 26° overnight making it the hottest evening since January earlier this year.
---
Image 1: EC accumulated rainfall totals next 10 days. Image via Windy.com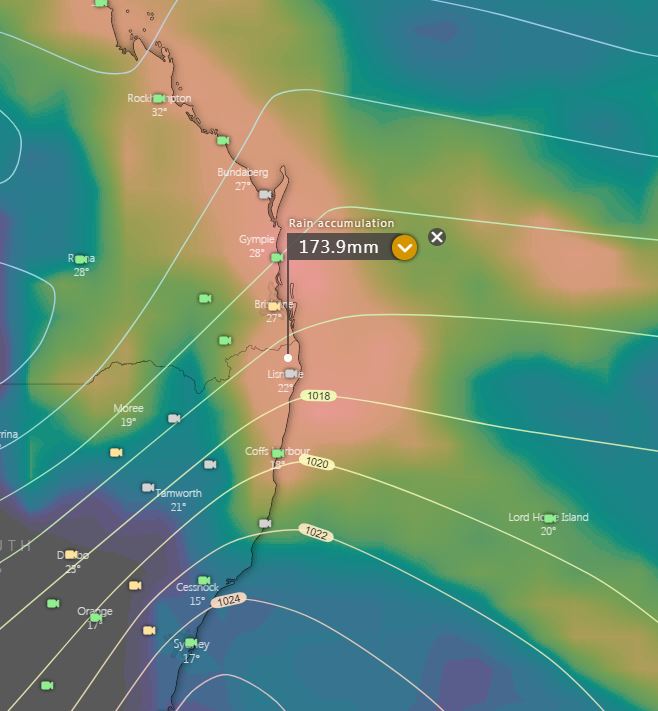 Image 2: GFS accumulated rainfall totals next 10 days. Image via Windy.com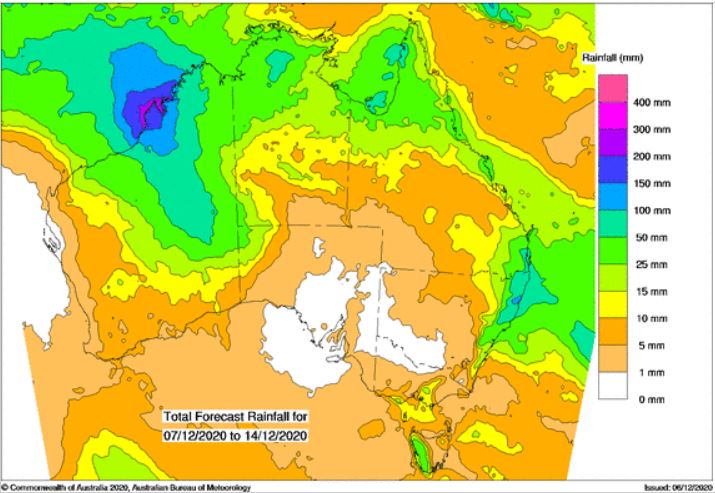 Image 3: Bureau of Meteorology 8 day PME rainfall forecast.
Potential rain on the horizon for Eastern Queensland and NSW
Monday 7th December 2020
After a dry November, December is showing signs that solid rainfall is on the horizon for Eastern Queensland and NSW.
A deep easterly wind regime is expected to develop later this week, with moisture-laden air feeding into QLD and NSW as an upper cold pool of air drifts in a northeasterly direction. This deep easterly feed is more typical of a La Niña event, something that we haven't witnessed over the last several weeks.
The very cold air aloft will combine with increasing moisture to generate scattered storm activity across inland QLD and NSW on Friday with showers expected to increase across the coastal fringe of NSW and QLD. At this early stage, a few severe storms are likely with hail, damaging winds and locally heavy falls.
Late Saturday and into Sunday, a small low or trough may develop off Eastern Australia in response to the upper system increasing winds and showers or rain periods to parts of the Mid North Coast and Northern Rivers of NSW, South East Queensland and Wide Bay and Burnett regions of QLD.
Whilst it is too far out to pinpoint exact rainfall totals and what areas may see enhanced falls, at least widespread falls of 10-20mm are expected. Operational Consensus Forecasts (OCF) is signalling locally heavy falls for some regions with 50-100mm possible.
Further updates to come throughout the week.
---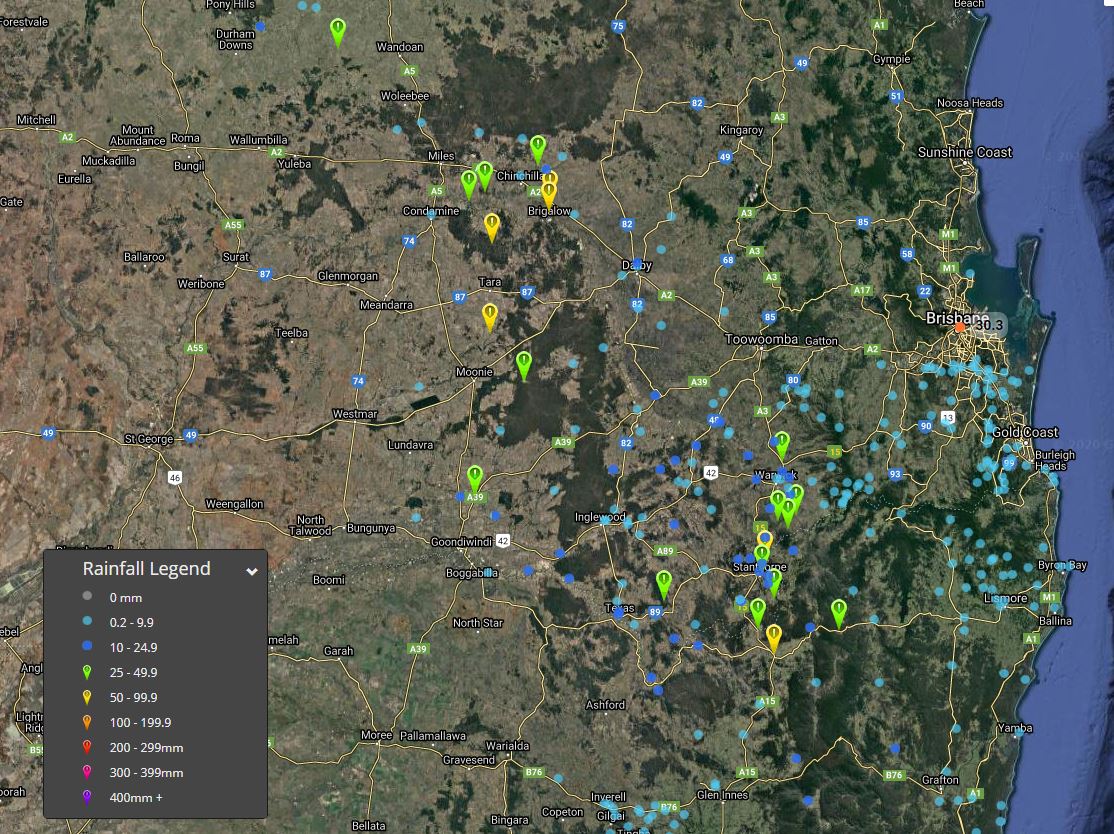 Image 1: 24 hours rainfall totals to 9am 3/12/2020.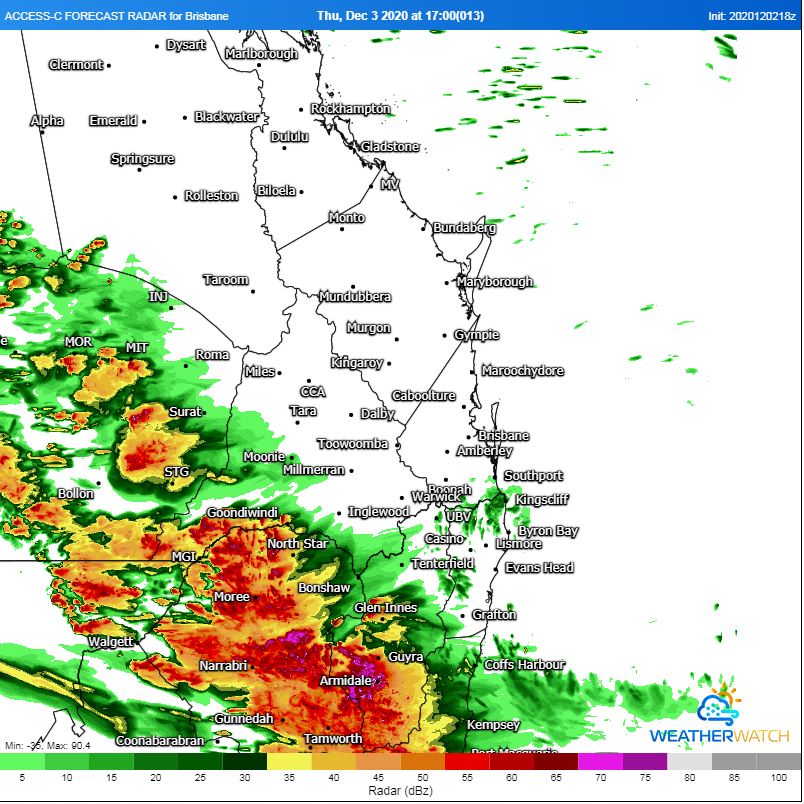 Image 2: ACCESS C Forecast Radar 5pm EST. Image via WeatherWatch MetCentre.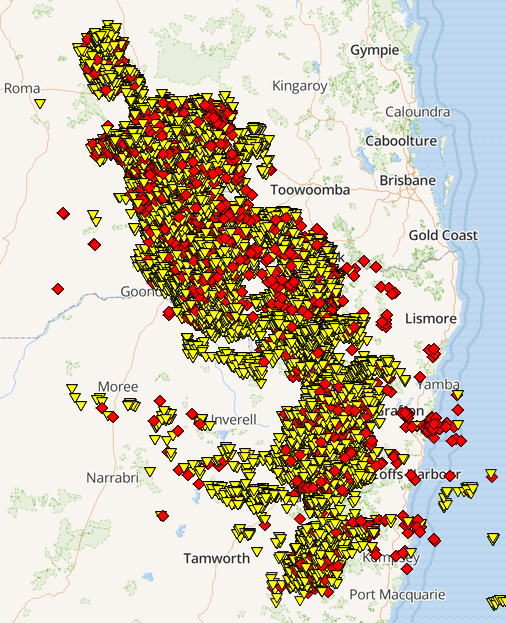 Image 3: Lightning across northern NSW and southern QLD between midday 02/12/2020 - 3am 03/12/2020
Severe storms strike inland Queensland and NSW
Thursday 3rd December 2020
Severe thunderstorms fired up across inland NSW and QLD on Wednesday afternoon with damaging to locally destructive winds, hail and heavy rainfall leading to flash flooding.
Dalby, on the Darling Downs of QLD, recorded a destructive winds gusts of 145km/h at 6:06pm Wednesday afternoon as a small but intense storm moved across the town.
Intense rainfall occurred with a westward moving MCS (Mesoscale Convective System) with Brigalow Bridge (Southeast of Miles) picked up 90mm in the 24 hours to 9am this morning, with 80mm coming in the hour from 12am to 1am. The Deep Crossing picked up 81mm, Bedarra 51mm, Dalby 14mm, Cherrabah 42mm, and Glen Niven Dam 60mm.
In Northern NSW, rainfall totals weren?t quite as heavy but were extremely welcome. Tenterfield scored 53mm making yesterday its single wettest December day since 2nd 2015. Near by areas of Drake picked up 32mm, Wallangarra 38mm, Newton Boyd 18mm, and Glen Elgin 10mm.
During Thursday afternoon, scattered storm activity is likely to redevelop with and increasing threat for severe storms. Damaging winds, large hail and heavy rainfall will be possible across Northern-Inland NSW and Southern QLD. Any rainfall will be welcome for these drought stricken regions, with further storms expected on Friday and Saturday afternoon.
---
Subscribe Today To Our Newsletter