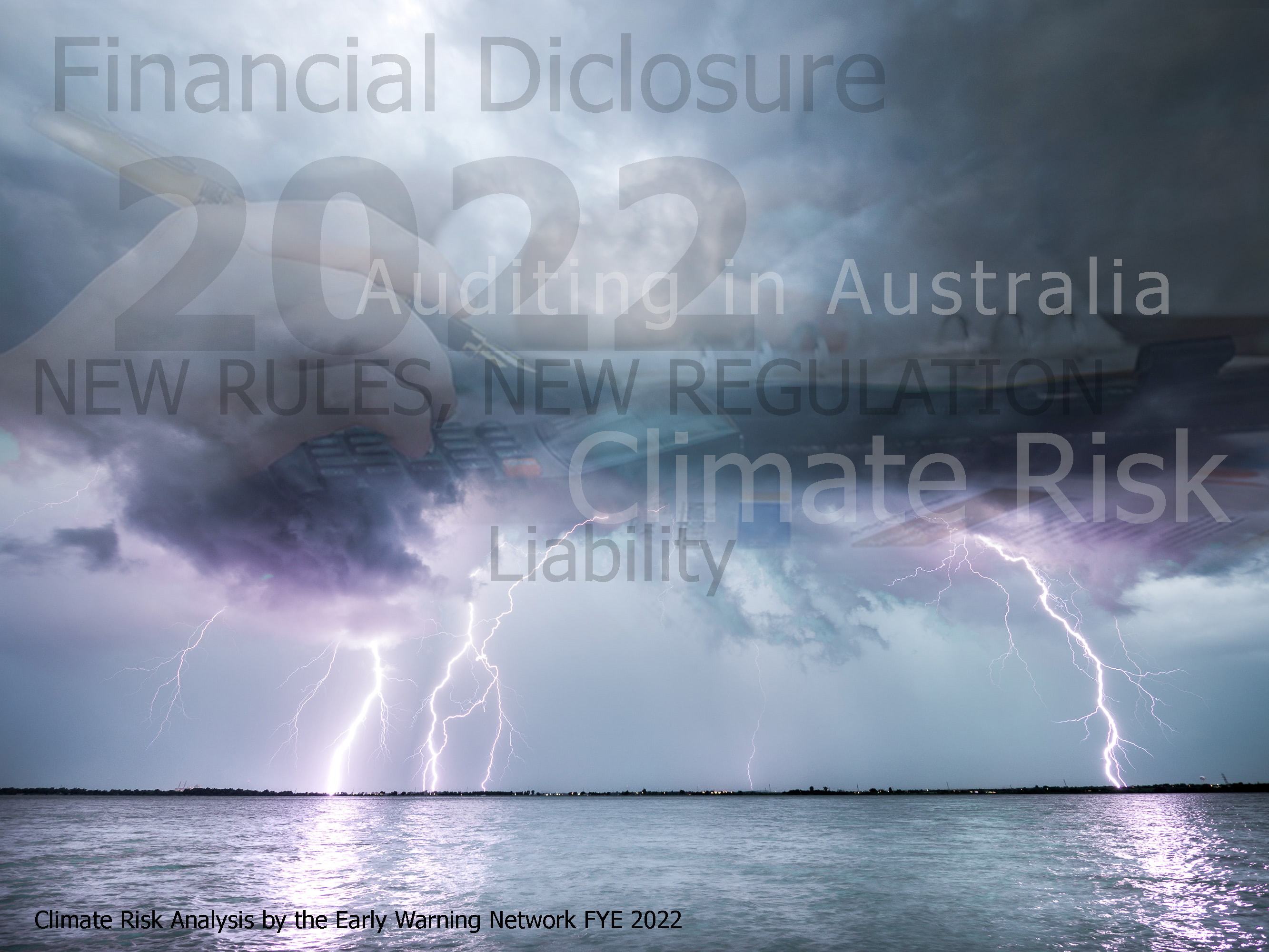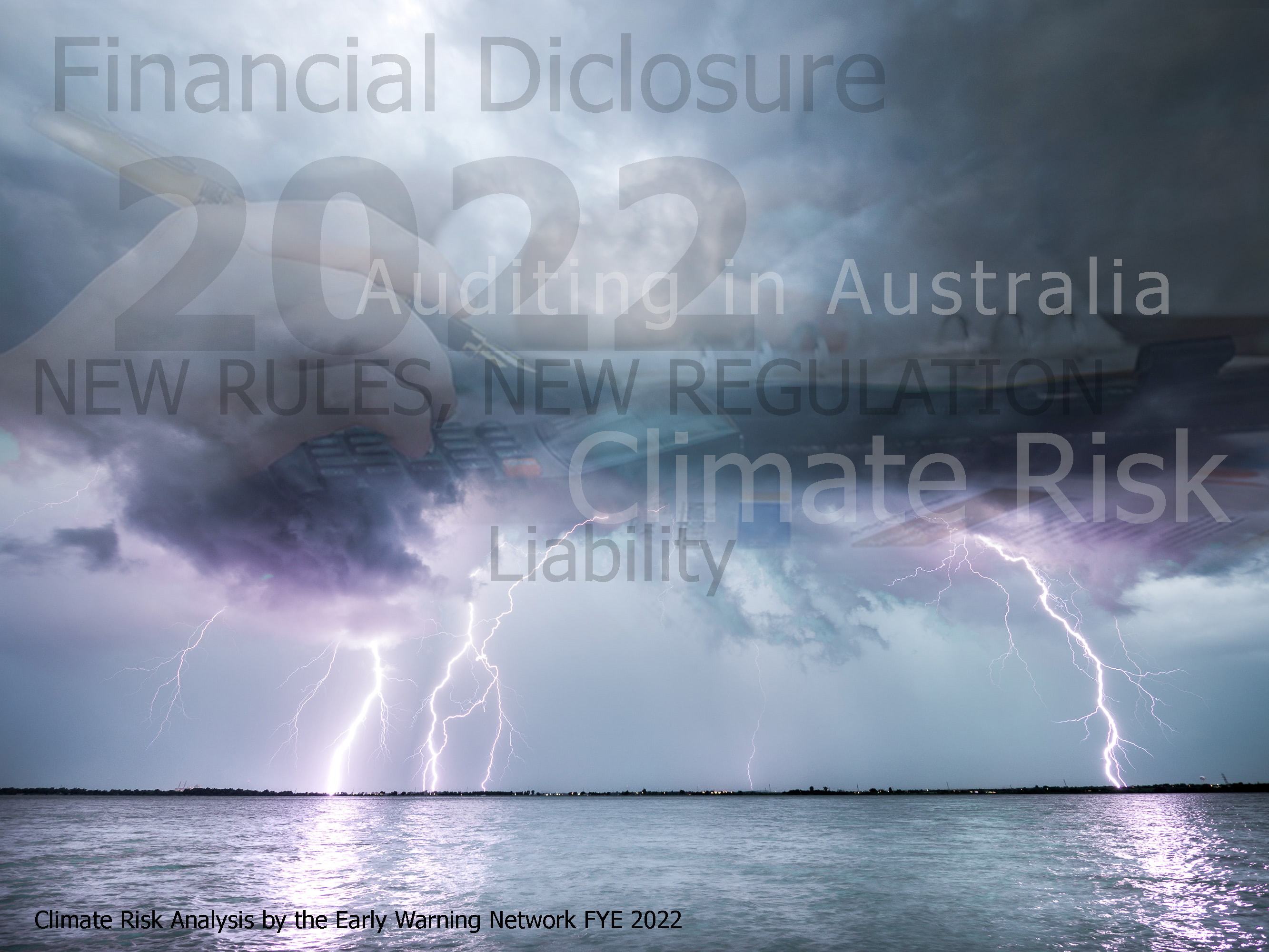 Once upon a time concerns around the changing climate in business circles were viewed largely through the lens of it being an ethical issue. Today - while it certainly remains an ethical issue! - climate risk is also recognised as having substantial implications for businesses in an array of areas. Something which can be quantified. When it comes to the role of independent auditors in this regard, the early years of the 2020s realised significant activity developing in this area. Put simply, pressure is growing upon independent auditors to factor in the risks surrounding foreseeable climatic threats when performing their role.
Having an understanding of the dynamics surrounding this activity is very much worthwhile for stakeholders across the board. This applies to business owners and operators, those who work in the accounting sector, and those among the wider general community. This is because this problem is not only one that is already looming large in the corporate sector in 2021, but it's indeed set to grow in significance in the years ahead.
The Importance of Auditors to Business
When it comes to examining the current state of a business, and the foundation on which the future can be built, the role of independent auditors are of course critical. Auditors provide an assessment of how the business is performing in the present, and they can also offer an insight into how it can expect to perform in the years ahead once certain expected benefits are realised, and certain challenges go from being an issue to deal with 'down the line', to being a daily hurdle.
It's no understatement to say without auditors, any attempt to pursue major business activities would essentially become a guessing game. While it's ultimately the senior leadership of a company such as its executive directors who will define the strategic direction of a business, the work of independent auditors aids in ensuring any assessment of a company's performance credibly and accurately estimates existing virtues and problems, alongside anticipated future benefits and risks for an organisation. That's why the role of auditors in combating the present problem of 'greenwashing' (AKA 'green sheen') is so important to raise awareness and discussion of.
Defining Greenwashing
As it stands there are many nuances to the practice of greenwashing. As a result, the precise definitions surrounding it can vary slightly. This said, just as overall many practices can fall under the broad umbrella of greenwashing, the central theme throughout all is that a business is knowingly attempting to mislead others by portraying itself as being more protective of the environment that it actually in fact is. As a result of this, the practice of greenwashing can result in some substantial consequences for a business, its investors, and the wider community.
The Role of Auditors in Responding to Greenwashing
Independent auditors are expected to provide an assessment of a business 'without fear or favour'. When this occurs and is done properly, the leadership of a business can have confidence that an assessment made by these auditors is not inaccurately glowing in its praise of a company, nor does it gloss over (potential) problems. For investors, the work of independent auditors gives them confidence that an accurate picture exists of the company's current state, which informs an investors capacity to decide with confidence whether to invest or not invest, now or in future. For any would-be lenders to a company, a fair picture is needed of its fiscal health and overall standing in order to weigh up whether to lend to the business, and if so with what terms and conditions. Furthermore, a prior assessment may come to be relied on in future as a lender looks to hold company leadership accountable under those terms and conditions and ensure they meet the performance goals expected of them. Greenwashing can undermine all of this.
The Expenses of Inaccuracy Amidst a Changing Climate
The practice of greenwashing is of great concern to the many stakeholders. The reality is it appears clear time is ticking away for those companies who have engaged in it to be able to change course before it's too late. Whether it's internal pressure from staff, investor activism, public authorities, or media coverage, the fact is there are an ever-growing array of parties who are pushing for change in this area, and growing increasingly critical of those who stand in the way of it.
The core of this is the reality that climate-related incidents will in years ahead be expected to create risks so significant that they will account for costs in the trillions of dollars across the world. Businesses that are proactive in taking action today that seek to mitigate climate risk stand to benefit in the long term from doing so. Not only because their operation will be well-placed to weather the storms that come with our climatic extremes, but also because they can make a genuine claim to leadership in this space that any competitor - notwithstanding the ever-rising tide against greenwashing - which continues to drag their feet will be unable to do.
Building a Positive Platform for Business Growth with EWN
When it comes to mitigating the impact of climate risk, the next 10 to 15 years will be critical. The Early Warning Network features a team with expertise in meteorology, climate intelligence and spatial risk, offering round-the-clock monitoring of weather risks for our clients, and our staff are ready to provide the insightful data necessary for organisations to make informed decisions about operations in this 10 to 15 year time period.
To discuss how we can help your business call (02) 6674 5717, email support@ewn.com.au, or contact us via our enquiry page here.
Subscribe Today To Our Newsletter